1986 German Grand Prix race report
Inside the stadium
The Grosser Preis von Deutschland  used to be held on the majestic 14 mile Nürburgring. Circumstances and people changed all that and we had the "Kleiner Preis von Deutschland " on the flat but fast Hockenheimring. Then the Germans built the New Nürburgring  and we all fell about laughing, until the German Grand Prix was held there last year, whereupon we all crept away very depressed. This year the German Grand Prix was back at the Hockenheimring and we had mixed emotions, but before setting off for Germany I felt that this could be a fun weekend.
The media were prattling on about Nigel Mansell equalling some achievement of Jim Clark, and scoring 5 wins out of 6 starts, or something, but the real gem which seemed to set the scene came in a Press handout issued by Creative Planners of Chertsey in Surrey, on behalf of Marlboro Cigarettes. I quote: "Based around a tight infield bowl originally built to accommodate political rallies in the 1930s, Hockenheim features two long fast straights broken by two chicanes designed to restrict the high-speed slipstreaming which used to be a feature of the circuit".
Now I first went to the Hockenheimring in 1950 to race motorcycles and I do not recall seeing the bowl that Creative Planners talk about, and when I was there in 1955 on test with the Mercedes-Benz 300SLR sports car I still did not see this bowl that used to accommodate political rallies in the 1930s. However, when I went to the Hockenheimring in 1966 for the ADAC 500 Kilometre sports car race, the vast concrete bowl (or stadium) was just being finished, paid for with the compensation money from the new German Autobahn which sliced across the old egg shaped Hockenheimring. In 1950, and subsequent years, I went to race motorcycles at the town of Nürnberg, or Nuremberg as we call it in English, and this was on the opposite side of Germany, near the Eastern border. Here indeed we raced through a vast stadium that had been built in the 1930s by the Third Reich for political rallies, and it was mighty impressive. The circuit was, and still is, called the Norisring as Noris  is the old name of Nürnberg. A little learning is indeed a dangerous thing, especially when creative planners get to work with it.
This race for the German Grand Prix was being held on July 27th, which is "sort of" mid-summer, so it was reasonable to expect a bit of mid-summer madness and as it turned out the whole weekend was hilarious, unless you could not bring yourself to enter into the spirit of things. When I arrived in the paddock I knew something was up, for I found the "hard-core" of the specialist motor racing press in a huddle over morning coffee at the ELF hospitality corner. As I could hear the racing cars beginning to go out for Friday morning testing, I left "the press" and went to where the noise and interest lay.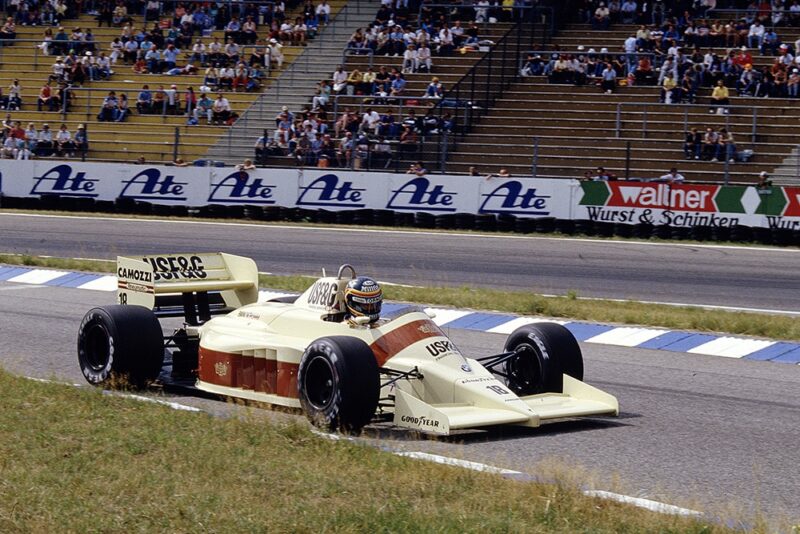 It seemed that everyone had been making announcements about 1987, or if they hadn't, the rumours were sufficiently strong to be acceptable, so that the whole atmosphere in the paddock was one of 1987 and what was going to happen. The 1986 German Grand Prix seemed a bit superfluous. I am all for looking ahead, but this was ridiculous, though I had received a warning, after all. "Keke" Rosberg had issued a long and amusing printed statement about retiring at the end of this season, and as if to show he meant it, he was setting the pace out on the track. The Porsche V6 engines have never been able to take extra-high turbocharger pressures, we have been told, which is why the McLarens are never a serious challenge in testing and qualifying. That's what we have always been told by McLaren drivers and those members of the McLaren team who are allowed to talk.
Qualifying
On Friday afternoon, in qualifying, and again on Saturday afternoon in qualifying, guess who was fastest. Rosberg; and he had just announced that he was retiring at the end of the season. It wasn't that everyone else was going slowly, not by any means, and Prost was second fastest, less than one tenth of a second slower than Rosberg. Behind them were Senna (Lotus), Berger (Benetton), Piquet (Williams) and Mansell (Williams) and all six drivers were more than ten seconds under the old 1984 lap record.  This was the serious stuff out in front, especially as the average speeds for the lap were approaching 150 mph, with maximum recordings of over 210 mph.
Behind the pits mid-summer madness was in full swing. This driver was going to that team; this team was changing its engine supplier; that team was pulling out; this designer was leaving team (a) and going to team (b); that designer was getting the boot; this team was going to buy that team, lock -stock-and-barrel, simply to get hold of its engines; she was leaving him and going out with guess who?"; these sponsors had had enough and were pulling out; that tyre company was giving up; you know who he had got his eye on, don't you?; if that driver doesn't watch it, he'll be out of work; the new engine blew to smithereens on the test-bed; their new car isn't going to work; they must be getting very cheesed off after pouring all that money into the project; did you see who was coming out of that motorhome; it will be interesting to see if they can make it work; he's prepared to spend X billion dollars to get what he wants, he's that ruthless; that driver thinks he is worth as much as a double World Champion, he should read Niki Lauda's new book; who is on pole-position? Rosberg?  But I thought he was retiring.
Rosberg's statement to the Press was priceless, and has to be quoted in full herewith:
"As I know only too well, there has been a lot of speculation over the past weeks over the moment when I would stop driving and competing in Formula 1. I can easily put all these rumours aside as only my manager and my wife have known all along which moment I had chosen to end my driving career. However Formula 1 being a very commercial sport where long-term planning is vital, I have chosen this weekend to announce that I will stop driving at the end of 1986 season. My international career started in Germany and therefore I find it only too suitable to make this announcement today during the German Grand Prix.
I am very happy that I have now no difficulties following the decision which I took actually a few years ago. What has made it so easy? There are a few very important reasons: firstly four mostly memorable and successful years with Williams (World Champion 1982, 3rd in the World Championship 1985) and secondly a chance to drive my last active year with McLaren — the most professional Formula 1 team of them all.  It has been a fantastic experience to see how things are run by the best!
I know some people reading this will wonder why I am so positive about McLaren when the last guy leaving them didn't have one nice word to say. (He is referring to Niki Lauda and his recent book — DSJ). I don't know — or care — what his problems were, but I find it most disturbing that through those powerful words the outside world has created a completely misleading impression about all the people at McLaren. It made even myself wary before starting with this team. I am happy to say that what I found out suited me and I am happy to stop Formula 1 in this pleasant, but extremely competitive atmosphere.
Also one should not forget that since Go-Karts I've now been racing every weekend for 22 years and I'm also approaching an age where I have to start thinking of doing something else or it might be too late!
There are actually two other things which make stopping fairly easy: the current regulations and the ones suggested for next year.
Another F1 farce — and I thought I had already seen most of them. As you may have noticed, I have purposely avoided using the word "retire", because it indefinitely not in my mind. I will be very active in various areas of sports promotions through the same agency which so excellently has looked after me through my active years.
To my many friends in Formula 1 I can say that I hope we will be seeing a lot of each other — probably more than in the past. At the same time I know I disappoint a few people by not disappearing completely, but that's the whole point!   Keke Rosberg"  Monte Carlo, 23.07.1986
"P.S. I would like to use this opportunity to pass on a personal message: Alan, your date is on — Saturday Monaco GP 1987!! "
So now we know. The hard-driving, cocky, little Finn who has given so much pleasure to the racing fraternity, and a hard time to the PR  "gnomes and fairies" will bow out at the end of this season. His P.S. refers to a bet he had with our colleague Alan Henry (A.H.) who bet him a bottle of champagne that he was going to retire at the end of this season, when chatting with him at Monaco earlier this year. The actual bet was to the effect that if Rosberg was not entered for the 1987 Monaco GP because he had retired from Formula 1, then AH has a bottle of champagne coming to him.
As mentioned earlier, Rosberg's reaction to getting this load off his mind, was to record the fastest lap in both qualifying sessions. He put this down to the fact that John Barnard had  "detuned" the handling of the McLaren so that it could be thrown around in typical Rosberg-style, as he was never going to change the "precision style" of Prost, that gets the best out of Bernard's design.
After this press notice everyone chuckled and said,"Good old Rosberg, he hasn't lost his sense of humour and fun, in spite of having Ron Dennis looming over him all this season." On Sunday morning another Press notice appeared, this time on notepaper headed  "PIQUET — Nelson Piquet, Souto Maior, Le Botticelli, Port Fontvielle, Monaco — France."  It read as follows: As  I know only too well, there has been a lot of speculation over the past weeks over the moment when I would stop driving and competing in Formual 1. So, on the occasion of the German Grand Prix—an important event for me because my Formula 1 career began here at Hockenheim — I would like to take this opportunity of announcing that I have decided to race in Formula 1 for another eight years. In effect, I am re-starting my career, having realized after 18 years in the sport that I have never enjoyed myself more. The time has come to pay tribute to all my friends and to all those who have done so much for me.
In particular, I would like to pay tribute to the Canon Williams Honda team. Even though one of William's former drivers did not have a good word to say about the team, I had no doubts about signing a contract with Frank Williams in mid-1985 and I am pleased to say that my hopes have been fulfilled. The Williams team motorhome is a paradise of tranquility, the Williams public relations team is the most professional in the business and, of course, the results of Patrick Head's work speak for themselves. Nor, looking back, can one forget Bernie Ecclestone's Brabham team — a team that helped me to win two World Championships — and who knows?  perhaps some more in the future.
Two more things have decided to make me continue: I am impressed by the new regulations as I am looking forward to making 32, rather than 16, starts per year: I love racing that much. Finally despite considerable activity, I still have no idea at all about what I would do If I ever stopped racing.
Therefore, I continue, Nelson Piquet, Hockenheim" July 27.
"P.S. — Laura, see you at Monaco 1987!!!"
So  by now you know. I don't mind admitting that Nelson Piquet is my favourite racing driver of today, and I was a founder member of the Nelson Piquet Fan Club. Reading his impish-like riposte to Rosberg's announcement, you either fell about laughing, or you look disdainfully down your journalistic nose and said haughtily, "What a load of rubbish, and in bad taste." I don't mind admitting that I fell about laughing. It was mid-summer after all. Piquet's P.S. was iust as serious as Rosberg's I am sure, and now we all want to meet Laura.
Race
Piquet's Page appeared early on race morning.  In the afternoon he went racing, and annihilated everyone, thanks to the Williams team, the Honda engine men, Patrick Head's overall control and not forgetting dear old Frank Williams, convalescing at his Berkshire home in front of the television; after all it was Frank who built this solid team. Such was the strength of the Honda engine on the bhp-to-mpg control that Piquet was never troubled throughout the 44 laps, being able to make two pit-stops for new tyres and regain the lead quite easily after each stop.
The Williams mechanics were superb and had all four wheels changed in around eight seconds each time, giving a faultless exhibition of team-work and discipline, and each time Piquet was back onto a searing pace on the very next lap. On worn tyres he was down to a lap in 1 min 52 secs just before he stopped on lap 16; his laps after the stop were 1 min 49.8 and 1 min 49.9. He stopped again on lap 28 after a lap at 1 min 55 secs and went straight back in and recorded 1 min 49.0, 1 min 49.6, 1 min 49.6,  and on lap 34 made his fastest lap of the race in 1 min 47.7 secs. This is just one of the reasons why he is my favourite racing driver. This time his team-mate Nigel Mansell was unlucky, or unfortunate depending on how you view it. Clearly his car was not handling 100% and he could not match the pace of the leaders, and for a long time could not cope with René Arnoux's Ligier, though the tough little Frenchman was not lingering, in fact he was driving as hard as he always drives.
That Senna (Lotus-Renault), Rosberg (McLaren-Porsche) and Prost (McLaren-Porsche) could do nothing about Piquet and the Williams-Honda could be put down to engine management and fuel-consumption. All three were being forced to drive slower than they are capable, simply because their cockpit fuel metering recording device was warning them that if they went any faster they would use up their 195 litres of fuel before the finish. Piquet has no such problems, his read-out was saying "OK lad, go for it." This fuel economy farce was particularly hard on Rosberg who was in great form and had the advantage of being on pole-position, and Senna who made the sort of start from third place on the grid, that must have had Gilles Villeneuve chuckling with pleasure up on his cloud. It was a real cracker, straight between the two McLarens and into the first corner in the lead, but then the fuel metering warning said "Watch it, you are going too fast." Another unfortunate was Gerhard Berger, who was in a menacing second place on the opening lap but then fell back and had to make a long pit stop to have the inlet system of his BMW engine repaired. It lost him two laps which he could not make up, even though he drove his heart out and set up a new lap record.
These Formula 1 Fuel Economy runs are fun to watch, providing you don't know what is actually going on in the cockpit or over the pits-to-car radios, and when it was all over one had to admit that the paddock had been more fun than the race track. Perhaps we should all sit around in the sun and write Press Notices or spread rumours. rather than put on the farce that Grand Prix racing has become. Saturday afternoon is not a farce, for that final qualifying hour really gets the adrenalin flowing, for there are no restricting rules, apart from the limit of two sets of tyres per driver. Otherwise it is the glorious free for all and you can see who can really handle a 1000 horsepower Formula One car weighing 550 kilogrammes (1,212 lbs). If race-day wasn't so much fun sometimes, one might as well go home on Saturday evening, knowing that you had seen all that was worthwhile.
Among the various announcements made or denied over the Hockenheim weekend was one from the Honda Motor Company Ltd., and there was no mid-summer madness about this one. This was from the Head of Honda Engine Research & Development and it was announced that the supply of Honda V6 engines would continue to the Williams team for 1987, and in addition, similar engines would be supplied to Team Lotus; part of  the new deal with Lotus was their acceptance of the Japanese driver Satoru Nakajima as number two to Ayrton Senna for 1987. This is hard on young Johnny Dumfries, but not as stupid for Team Lotus as it might seem at first, for Nakajima has been doing all the test-driving for Honda in Japan, the Formula 1 engine being tested in a slave Williams chassis supplied by the Didcot firm. Team Lotus was quick to acknowledge its satisfaction with the deal with Honda. The Williams team had little to say and Gerard Ducarouge was ready to start work on the design of the Lotus 991 to take the Honda V6 engine. Senna was wondering how long it would take him to learn to speak Japanese, and is probably already quizzing Nakajima about characteristics of the Honda power and torque curves, and the cockpit and handling drill. Next year is going tube exciting.
Returning to the actual race, though it was easy to forget, the two Porsche-powered McLarens both ran dry of fuel on the last lap, even though their instruments said they were on target. Rosberg never re-appeared after starting the last lap in second place, but the unfortunate Prost had to suffer the ignomy of coasting to a halt within sight of the finishing line as Mansell and Arnoux went by, to take third and fourth places. Prost had been fourth as he started his last lap; he passed the stationary Rosberg to take third place behind Senna, and came free-wheeling into the stadium with his tank dry. Now the automatic timing mechanisms, and the time-keepers for that matter, only record the passage of a car as it crosses the timing strip. What happens after that is of no official interest, so Prost was never credited with taking third place from Rosberg on that last lap, which is why he is behind Rosberg in the results, even though he was ahead of him on the road when he came to rest. Results are calculated on the last time a car records its passage over the timing strip, so both McLaren drivers were given as 1 lap behind. In fact, Rosberg was only half a lap behind, and Prost was only 100 yards behind. When he came to rest he jumped out and started pushing the car, but realised there is a strong rule about pushing a car on the track, which could cause exclusion, so he walked away in disgust. Sad, but wise. A similar rule-infringement could have been perpetrated at the start by Alan Jones, but similar level-headed outlook and knowledge prevented it.
Jones arrived on the assembly grid in his Lola-Ford V6 only to find there was a serious water leak. Without hesitation he hopped over the pit rail, into the spare car and rushed out of the pit lane just in time. While he went round the circuit to rejoin the assembly-grid his race car was wheeled away, and he took up his grid position in the T-car. It was far from properly adjusted for him so work commenced on the spot. Some people would have wasted time doing this in the pit lane and then found they were too late to leave the pits. When the signal was given to Rosberg to lead the field round on the parade lap Alan Jones was still strapped into his cockpit, so he was late away. If this happens the rules state that you must not overtake anyone on the parade-lap, to avoid the possibility of a silly-excitable-collision, and that you must stay at the back of the grid. This Jonesey-boy did quite correctly and started the race from the back row, which has to be better than starting from the proper grid-position in a sick car, or being disqualified for overtaking, as John Watson was in South Africa in his last regular race for the McLaren team.
Apart from Rosberg and Prost running out of fuel on the last lap, Senna's Lotus-Renault came into the stadium for the last time hiccoughing and spluttering and he trickled over the finishing line at about 80 mph, instead of the normal 160 mph, and came to a stop just round the first corner, also out of fuel. It is not surprising that the slowing down lap requirement has been quietly forgotten. As if to rub salt (or fuel?) into the wounds, Piquet and Mansell did a triumphant extra lap and still had fuel in their tanks, and Piquet generously stopped and picked up Rosberg on the Williams side-pod and carried him back to the finishing area.  I wonder if he offered him a lift saying, "I thought you were going to retire at the end of the season?" —  D.S.J.
***
Results (top five) —  German Grand Prix, Hockenheimring, 27 July
44 laps of 6.797 km circuit.  299.068 kilometres (185.832 miles)
1.  Nelson Piquet (Williams FW11/Honda V6)  —  1hr 22min 08.263sec
2.  Ayrton Senna  (Lotus 98T/Renault V6)  —  1hr 22min 23.700sec
3.  Nigel Mansell  (Williams FW11/Honda V6)  —  1hr 22min 52.843sec
4.  René Arnoux  (Ligier JS27/Renault V6)  —  1hr 23min 23.439sec
5.  Keijo Rosberg  (McLaren MP4-2C/Porsche V6) —  1 lap behind — stationary, out of fuel
Conditions: Warm
Winner's Avg. Speed: 218.463 km/h
Fastest lap:  Gerhard Berger (Benetton B186/BMW 4-cyl)  —  1min 46.604sec on lap 35, av. 229.534 kph (142.625 mph) — new record