German Grand Prix – Hockenheim, 30 July, 1995 – 45 laps of 4.235 mile circuit (190.575 miles)
1: Michael Schumacher – Benetton B195-Renault V10 – 1h 22m 56.043s
2: David Coulthard – Williams FW17-Renault V10 – 1h 23m 02.031s
3: Gerhard Berger – Ferrari 412 T2-Ferrari V12 – 1h 24m 04.140s
4: Johnny Herbert – Benetton B195-Renault V10 – 1h 24m 19.479s
5: J-C Boullion – Sauber C14-Ford Zetec-R V8 – 44 laps
6: Aguri Suzuki – Ligier JS41-Mugen Honda V10 – 44 laps
The race in brief
Damon Hill makes a blistering start to lead Michael Schumacher and David Coulthard, pulling out nearly two seconds over the German's Benetton on the first lap. Massimiliano Papis' Footwork fails to make it across the line because of gearbox problems, whilst Mika Salo's Tyrrell lasts only a few metres more until it loses drive.
Entering the first corner on lap 2 Hill's Williams slews sideways and slides into the gravel trap, eventually hitting the tyre wall hard. Subsequently, Williams reveals that a left-hand driveshaft showed unusual signs of wear. Schumacher now leads from Coulthard, Gerhard Berger, Rubens Barrichello, Mika Hakkinen and Eddie Irvine.
Gerhard Berger pits on lap 5 for a stop-go penalty, which drops him to 14th. Mark Blundell moves into sixth.
After starting in the spare brake problems force Pedro Dinzi's Forti out on lap 9.
Footwork's interest in the race ends with Taki Inoue's gearbox malady on lap 10.
Jean Alesi makes an early stop with engine problems on lap 11, having previously taken sixth from Blundell. Pier-Luigi Martini's season ends when his Minardi's engine lets go.
Alesi pits again on lap 12, this time for good.
On lap 14 Olivier Panis' Ligier becomes the eighth retirement.
On lap 15 Barrichello is the first to make a planned pit stop, dripping his Jordan to fifth.
Blundell retires his McLaren on lap 18 with an engine problem. Barrichello now back to fourth.
On lap 19 Schumacher makes the first of his two stops and rejoins over 15 seconds behind Coulthard. Hakkinen is still third from Barrichello, Berger and Johnny Herbert.
Hakkinen comes in for his only scheduled stop on lap 20. The McLaren rejoins in fourth as Barrichello's Peugeot engine expires. Heinz-Harald Frentzen's Sauber moves up to sixth.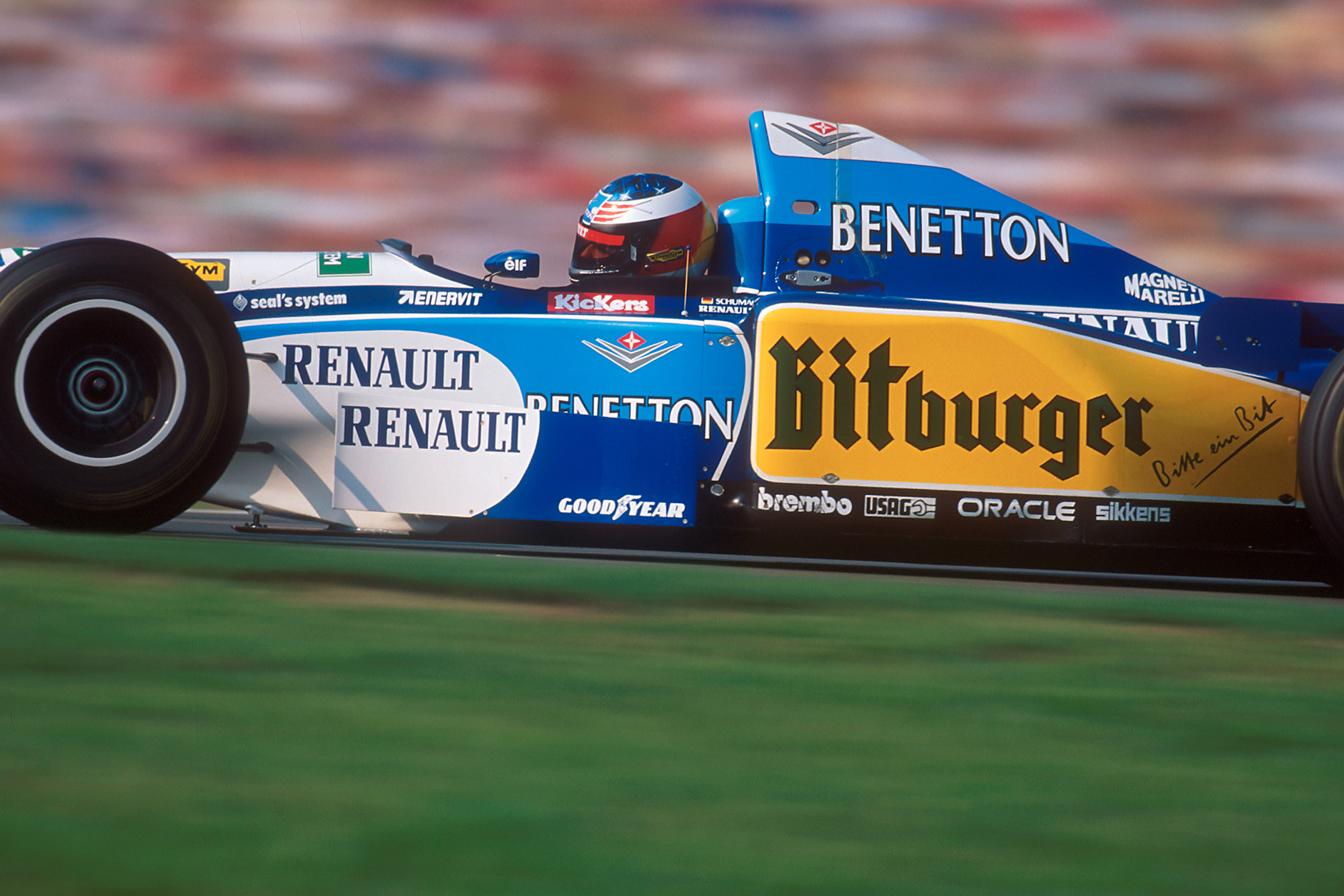 Coulthard makes his only stop on lap 23 and rejoins in second, over 17 seconds adrift of Schumacher.
Luca Badoer is forced to spectate from lap 29 onwards after his Minardi's gearbox breaks.
Schumacher pushes hard and extends his lead to over 25 seconds by lap 31.
Frentzen out when his Ford V8 fails on lap 33.
Hakkinen loses third on lap 34 when the Mercedes engine in his McLaren, which had been tightening for a number of laps, finally packs up. Berger moves into a lonely third, from Herbert. Schumacher makes his second stop but rejoins while still in the lead, nearly eight seconds ahead of Coulthard. The Sauber of Jean-Christophe Boullion moves up into fifth, ahead of Irvine.
Irvine stops on lap 42 with electrical problems. Aguri Suzuki (Ligier) moves into sixth and subsequently wins a battle with Ukyo Katayama's Tyrrell for the final point.
Schumacher wins by 5.988s from Coulthard, thus becoming the first German to win his home Grand Prix in the modern, post-war era.