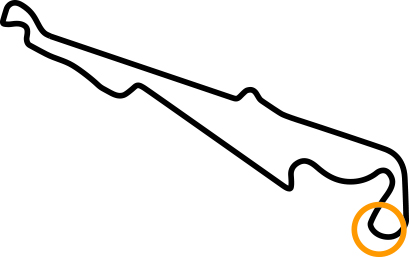 The Double Droite du Beausset at Paul Ricard might just be the most spectacular viewing spot on the F1 calendar. That probably sounds incongruous for a track that produces little racing action, but this is simply watching the dynamics of an F1 car around a long, demanding corner.
It's not often you get to observe changes in the cars' stance at different parts of the turn and how that determines their subsequent behaviour. It's just after the flat-in-top Signes, so the left-hand tyres have just had a major workout and are about to get another.
A kink feeds them into the first half of the 180-degree turn, slightly downhill. They're doing about 110mph as they begin to turn and this is where it gets fascinating. That downhill contour induces understeer on even the best cars, but they are turning for so long that the loads upon the rear build up regardless and the rear begins to pivot around, even with the understeering front. It's effectively a four-wheel understeer drift that endures.
Sergio Pérez's Racing Point has a lot of understeer. To make a comparison with Lando Norris, the McLaren has less understeer but less oversteer too, ie it's drifting less. But the lesser degree of rotation at the rear is overcoming the shallower degree of understeer, for he is being pulled out wider than Pérez before being able to get back on the gas.
The Mercs are fastest – and look it. Hamilton and Bottas can take a shallower line in the deceleration zone, their grip such that they can begin turning earlier for the second part of the corner and thus accelerate earlier, too. Differences between the cars are as visible as ever, but expressed in a unique way. It's a pity the TV cameras cannot capture it.