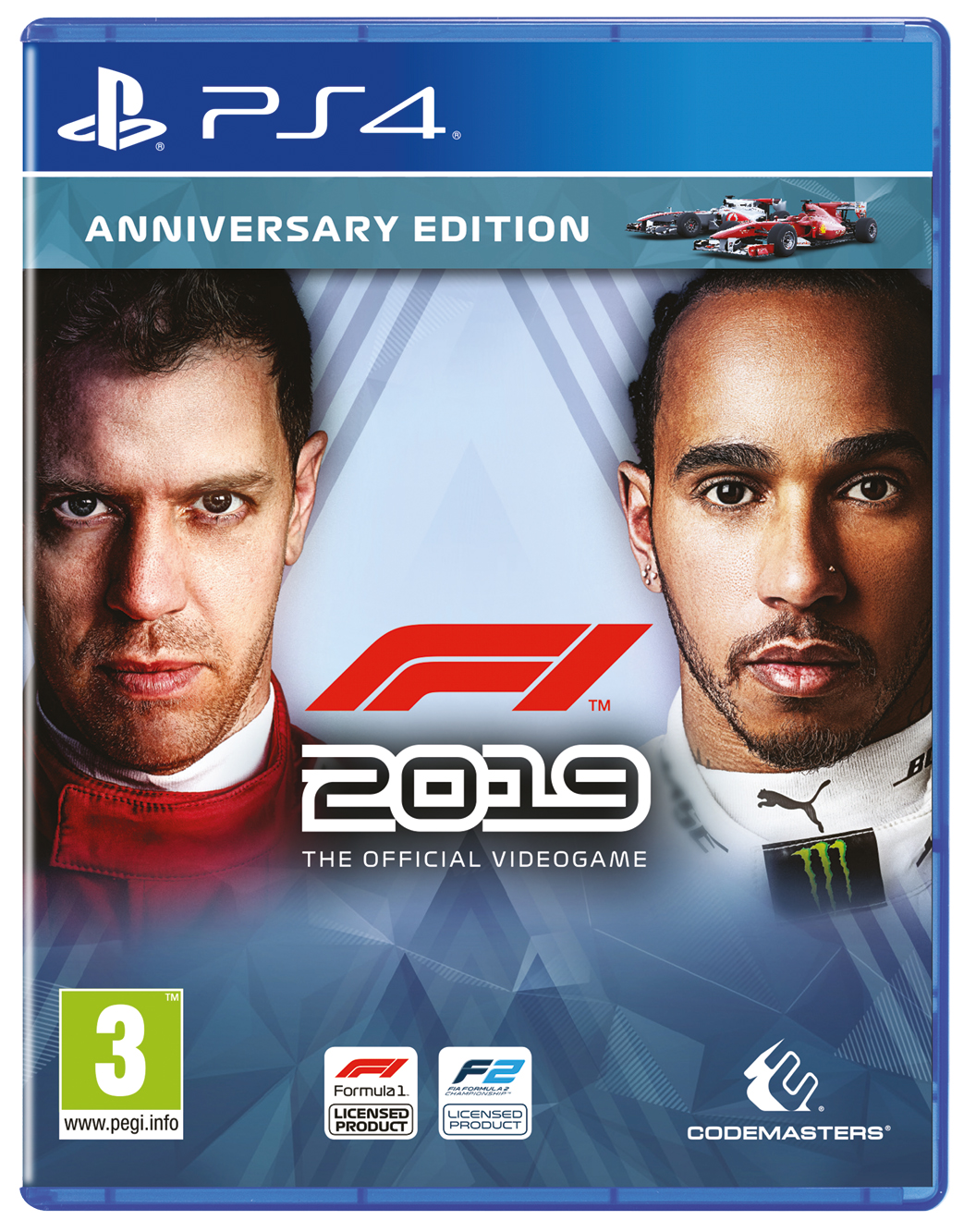 F1 2019
Codemasters £45.99. Platforms Xbox One, PS4, PC. Tested on Xbox One with controller, PS4 with Thrustmaster wheel and pedals
Codemasters' latest in its F1 series is the best yet: F1 2019 builds on its predecessor with improved graphics, a handful more classic F1 cars and the inclusion of F2.
But most significant is the revamped artificial intelligence, which is uncannily human in its behaviour. No longer are you able to breeze past your rivals at the first corner by ducking to the inside and braking late; F1 2019 makes you work for every single overtaking manoeuvre. Now, every pass feels wholly rewarding.
F2 does add a new dimension to the game, with your career beginning in the 2018 F2 season (2019 F2 cars and drivers will be added post release). The cars are a handful in their own way, offering no less of a challenge than the F1 machines.
The game begins with you and fictional team-mate Lukas Weber pitted against snotty (fictional) rival Devon Butler in F2, giving you a taste of the series for a season before you graduate to F1 – but that's the extent of the story. From then on, Butler and Weber will race against you in F1, but fade away.
Other additions include a new transfer system that allows any driver to move to another team – Sebastian Vettel could drive for Mercedes in your game. And F1 2019 delves further into the realm of fantasy as Ferrari is actually blisteringly quick in the single-player mode.
Somewhat sadly, those deviations from the world of F1 as we know it make F1 2019 more appealing than the real thing. Every race is worth competing in, every move worth taking (thanks to the 'flashback' system that allows you to rewind your own mistakes) and every track now worth visiting thanks to the graphics overhaul.
The rain looks incredible, slickly glazing the circuit surface as a drier line gradually forms, while night races now have the cars gleaming under the floodlights of Bahrain and Singapore.
It's the finest offering under the official F1 licence. The only drawback is a half-baked extra piece of content in the form of the 'Legends Edition', which adds Ayrton Senna's McLaren MP4/5B, Alain Prost's Ferrari F1-90 and little else. Avoid that and stick to F1 2019's core content.
With a wheel and pedals, F1 2019 is a blissfully authentic recreation of the sport – even if it takes some creative licence to stop the current Mercedes dominance.
---
MY GREATEST DEFEAT
Will Buxton. Published by EVRO, £19.99. ISBN 978-1-910505-40-3
The concept is sound – a collection of essays in which successful racers analyse moments when things went awry – and the cast (Emerson Fittipaldi, Ari Vatanen, Alain Prost, Niki Lauda, Alex Zanardi, to cite but five) is strong, but… It would have had a greater chance of fulfilling its potential had the featurettes been presented as structured prose rather than simple Q&As. There is some decent content, but the format makes for a less engaging read. SA
---
TRACTION FOR SALE – FERGUSON FORMULA FOUR-WHEEL DRIVE
Bill Munro and Pat Turner. Published by EP, £54.99. ISBN 978-0-9931018
It's ironic that Harry Ferguson's four-wheel-drive system was originally aimed at producing a 'people's car' but finally appeared in an expensive sports coupé. But what he and Tony Rolt achieved was to crack the whole 4WD problem for road cars and feed vital technology, including ABS, into the industry. This informative book outlines the firm's sea of clever engineering. There's much racing too – rallycross Capris, P99, Novi Indycars, F1, Metro 6R4 – but the book's message is the huge but invisible influence the Ferguson company has had. GC
---
BROOKS STEVENS AND THE STEVENS FAMILY LEGACY
Compiled by Robert Birmingham. Published by HenschelHaus, $60. ISBN 978-159598-648-1
As one of America's leading industrial designers, Brooks Stevens has had many books and articles on his career; this is more a memoir of the family's car enthusiasm, their racing exploits, the Brooks Stevens museum and the design firm. At the core are Stevens's striking car designs – Excalibur J and SS, Studebakers, etc. It's hardly a slick work, with some dodgy snaps and amateur typesetting, but it adds background to a significant figure. GC