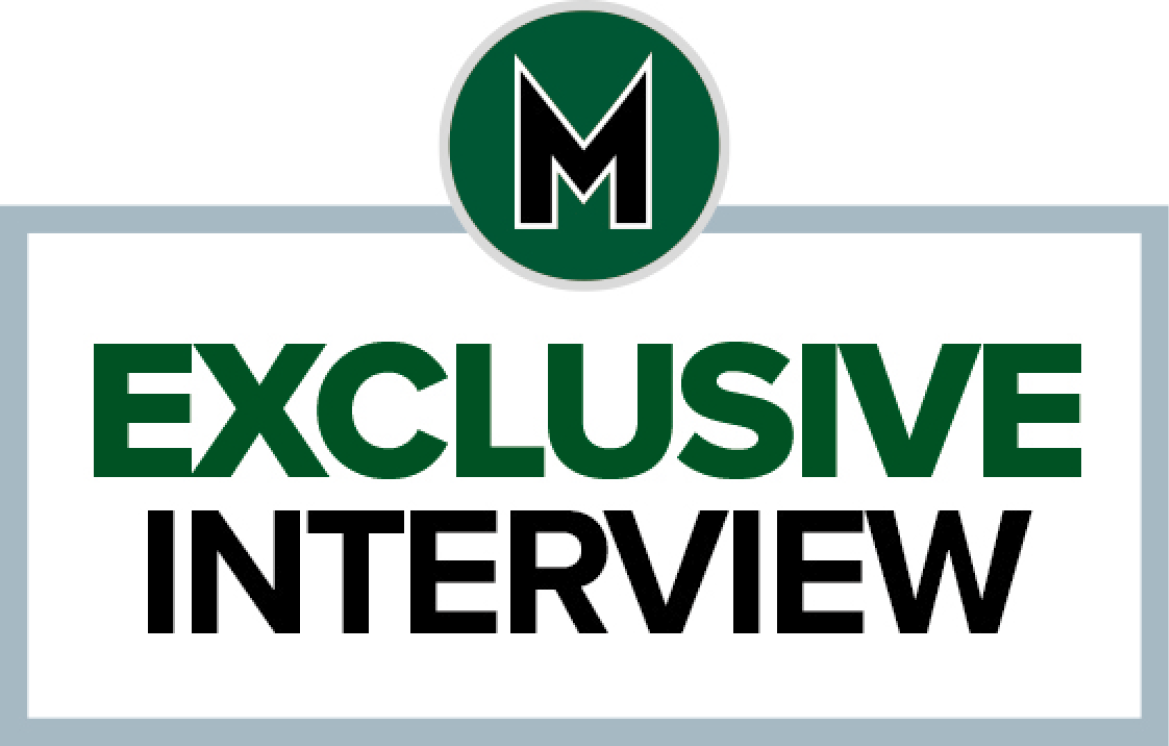 We sit down at Red Bull with the man Christian Horner insists is now the world's best Formula 1 driver. The photographer can't resist the cheeky temptation to sit Max Verstappen with his back to a window that overlooks the Mercedes three-pointed star outside. But that association is very much in the news as we chat, Max still fresh from his dramatic win in Austria.
Horner's is one hell of a claim when Lewis Hamilton is in his full pomp and breaking all the records. There would, of course, be one way of finding out: have them both in F1's fastest car as team-mates. It's the pair-up that F1 – on the back of six straight years of Mercedes domination and staring at possibly many more – craves. If there has to be a dominant team, having the king and young pretender together slogging it out would surely lend the sport a Prost/Senna dynamic.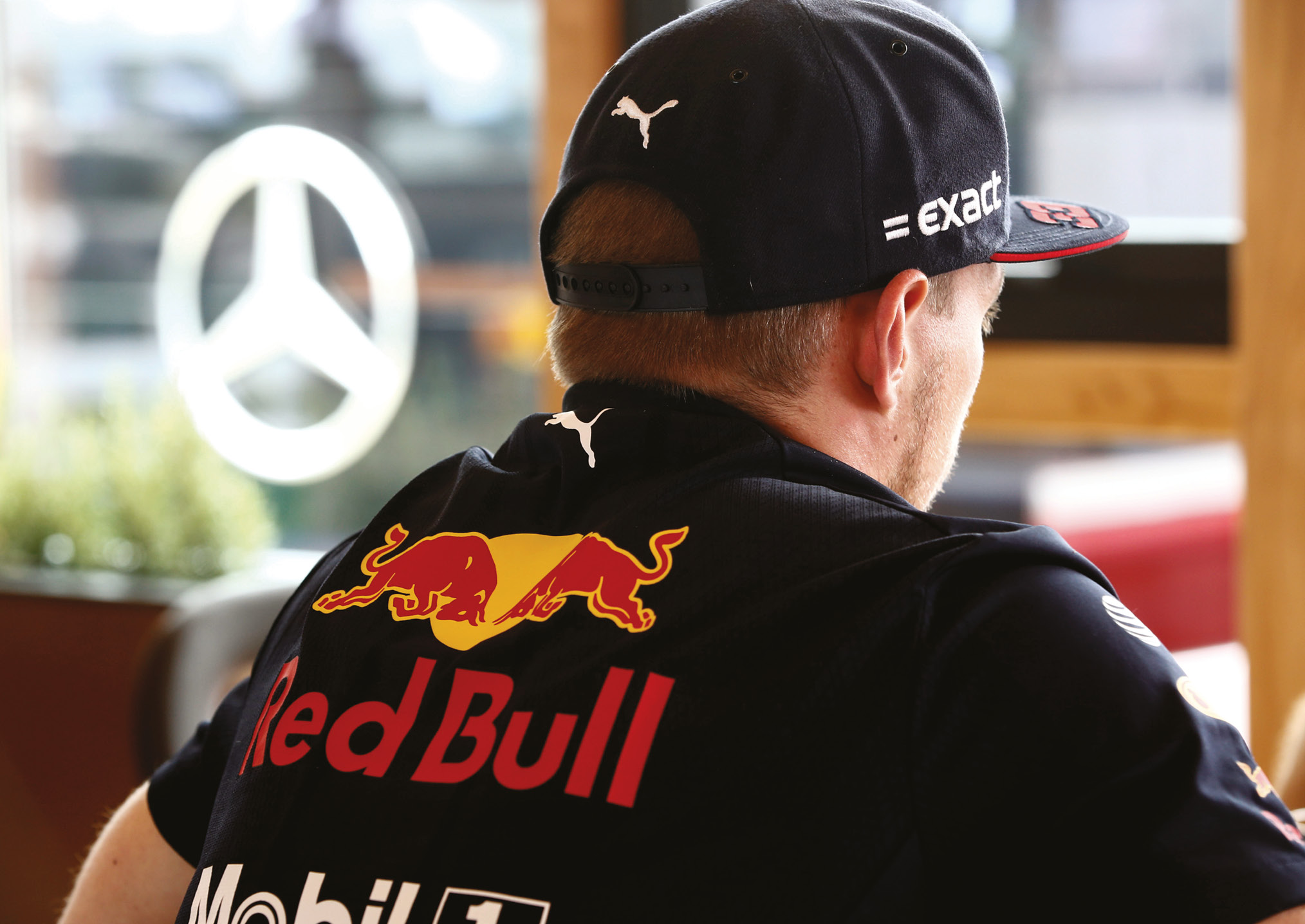 Speculation is rife as the possibility emerges that Verstappen could choose to be on the driver market as early as next year, if certain Red Bull performance clauses are not met… and Valtteri Bottas is only contracted at Mercedes until the end of this year. But even beyond that clause and the assumption it will be met, Verstappen's contract runs only one year longer, to the end of 2020 – as does Red Bull's with F1 and Honda's with Red Bull…
As with any subject, Verstappen doesn't hesitate before answering. "I'm just looking at what the options are and what is coming in the next few years. With the new regulations in 2021, not many people know what's going to happen. For me it's important what happens in the coming races, in terms of improvements, and also knowing what Honda is going to do in the future. So I'm just listening, talking with Red Bull. What's guaranteed, what will happen in the future?" He's clearly thinking of imminent decisions though, when he talks of seeing what happens in 'coming races' driving his thought process.
Aside from Honda's continued closing of the gap to Mercedes and Ferrari, Verstappen will be assessing if he thinks Red Bull can regain its place at the top of the aerodynamic pack, a status it had even into the hybrid era but which has been lost this year. "It's been better since we got the new front wing in Austria," he says. "The latest regulations hurt us; we were really good at designing the front wing around the car and with these new wings it's a bit easier to lock the fronts again. The stability of the car when steering is all a bit more disconnected than before. Also the tyres this year have not helped us. I said as early as the Abu Dhabi test last year that I preferred the 2018 rubber, the way it behaved, because with the latest Pirellis at the test you had oversteer then mid-corner understeer, which is basically the wrong way around. You want more stability on entry and a bit more front-end grip mid-corner. I think they went the wrong direction and it seemed to suit Mercedes a bit better. We lost mid-corner rotation, which was always our strong point – allowing us to keep up a higher minimum speed than
the others."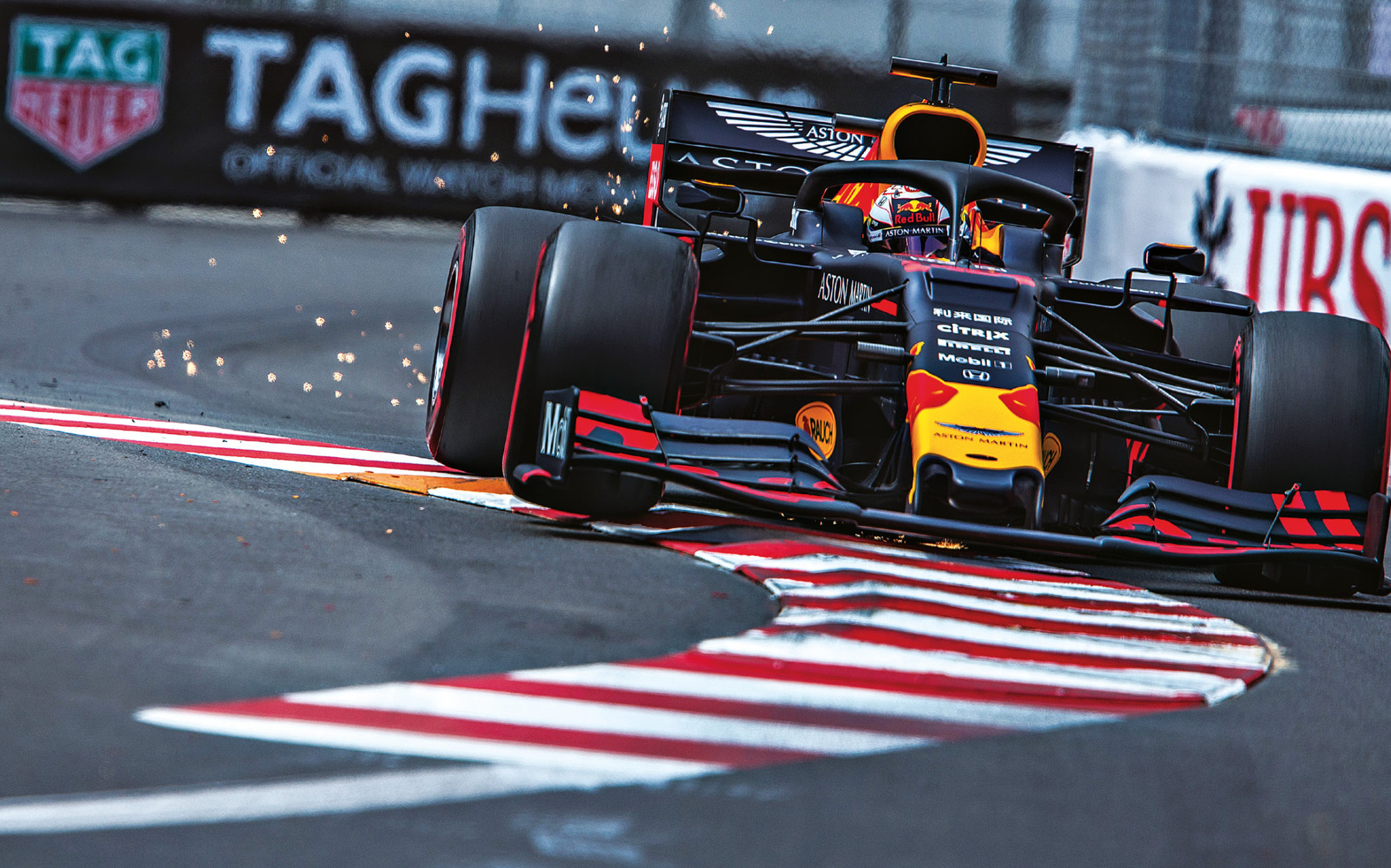 Can that progress be maintained? Is it just a temporary setback from the new regs and tyres, or indicative of something more fundamental? How committed is Honda to the challenge? The answers to these questions are what might or might not lead him to Mercedes.
What would be in it for Mercedes, given the certain edginess it would bring to the team's internal operations? Potentially a couple of things. With its own superstar now 34 (13 years older than Verstappen), it would secure it a mega-talent of the new generation rather than risk letting him go to a rival for the long term. Secondly, it may be that the corporate side of Mercedes – as opposed to the racing side – would like the positive publicity. If continued Mercedes/Hamilton domination is perceived to be generating negative PR, perhaps it might prefer to inject some excitement, even if that meant a less serene time. Regardless of Toto Wolff's shareholding, the race team is serving the company, after all.
When the idea was sprung upon Hamilton in Austria, with Verstappen sitting next to him, he seemed taken aback. "I think the team's pretty happy with Valtteri and me," was his initial response. "But I do know Max is definitely interested in opportunities… If there is a chance, then great." Turning to Verstappen, he said, "Sure, I don't mind driving with you. I'll drive against whoever."
"Yes, well he had to say that," says Verstappen with a ready smile. "I'd have said that [in his situation]. He's not going to say, 'Oh, I'd hate it.' But I don't think about these things," he continues, not entirely convincingly. "Also, I'm not purely focused on Lewis. There are other great drivers in the paddock who can achieve similar things." Ouch…
"A move to Mercedes? I am just looking at what the options are"
So how good does he believe Hamilton is? Here, if one didn't know better, you might think he was baiting him. "It's car-dependent. I don't think he's had the pressure of a team-mate over the years. He should really have won it in 2016 as well if it wasn't for engine failure… but after the summer break there were a few poor starts and stuff where he lost first place. But he never really had big pressure from his team-mates."
Hamilton has been delivering for many years now. Verstappen, for all his scintillating peaks and Hamilton-like ability to jump straight onto the high wire, has only been delivering error-free performances since last season's rash of mishaps culminated with his disastrous accident in Monaco, putting him at the back of the grid in the fastest car. Since then, he's been flawless. What's been behind that transition?
"I think it's little margins that can go really wrong or really well. But you always learn from your mistakes and I definitely did – but to say that I completely changed the approach was not true. It was just fine-tuning a few things that make the end result of the whole weekend a lot better. Just learning, adapting, trying to get better. I don't think I tried to drive harder or faster. Maybe I just took it back a bit and that's made me go faster. I was maybe trying too hard..? It's about picking your moments when to push and when not to. Then learn from your errors. Sometimes it's good to make mistakes because you need to feel it first before you start to change things.
"Also you have to remember that my progress was so fast, with only a year in F3 between karts and F1. I guess some of the mistakes I made in F1, others made in lower categories where there's not much media around. For me, I prefer to make them in F1 than staying in lower categories."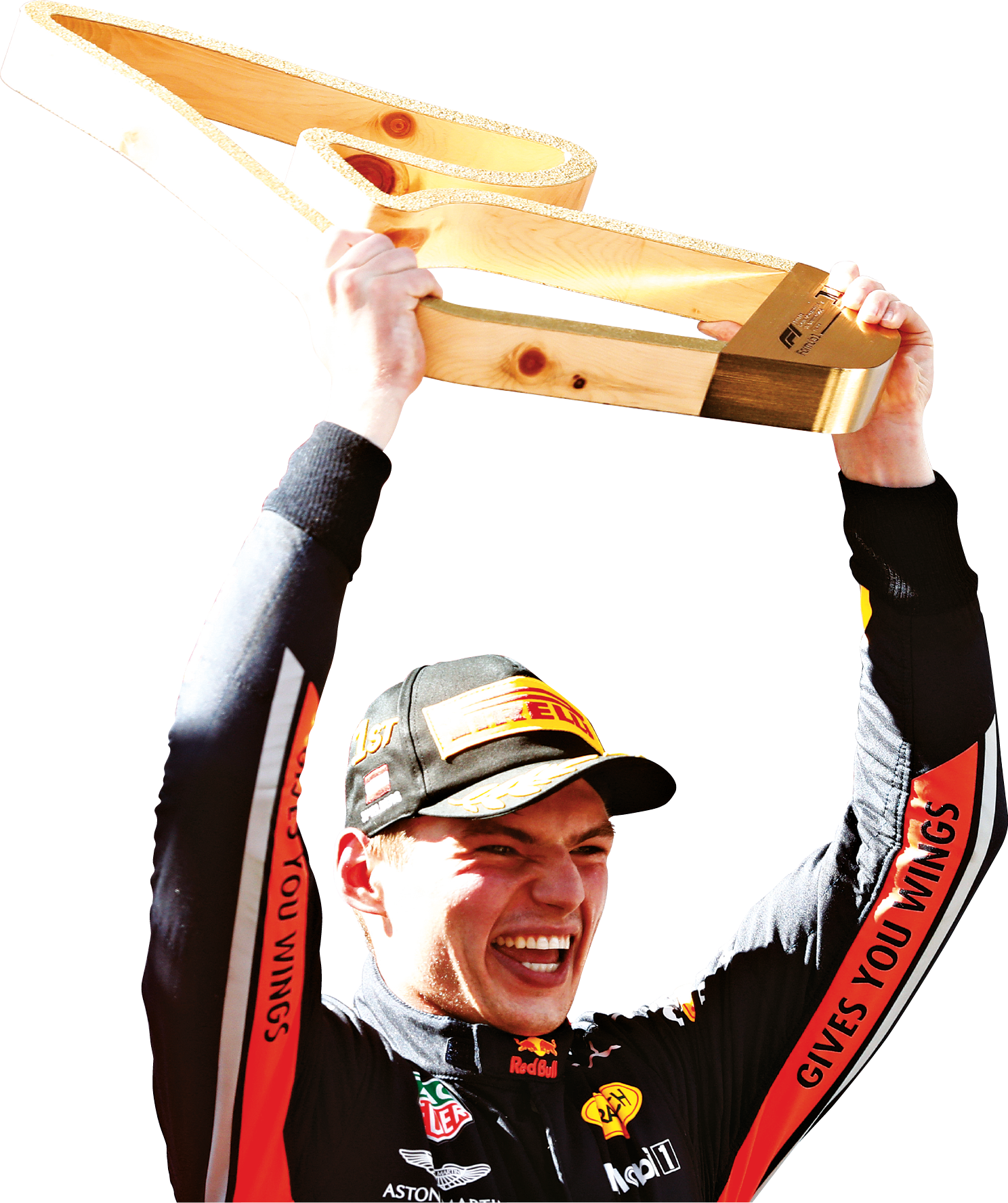 Is there more to come? "Hopefully it's just natural. I think you can always improve as a driver. But mainly nowadays in F1 when you're in there for five years, it has to do with experience, what you experience through the whole year rather than purely driving. It's more about just putting the pieces together by experience."
Which tallies with Horner when he gave further justification for his assessment. "If you look at his performances this year, he is giving everything, every single lap. In his fifth year of F1 he has become complete. In the last 12 months he has got maturity as well. The way he handles pressure has been extremely impressive… He's passionate. That's part of the reason people warm to him. He's not afraid to say it as it is. Is that a bad thing? I'd rather have a driver like that, that has that passion, has fire in his belly – you can channel that."
But six grand prix wins and no poles is a relatively paltry score. It's understandable he needs to be convinced that Red Bull-Honda is going to be able to step up. He might only be 21, but for someone of his calibre five years in is a long time to be waiting.
"So I'm 21 now. I hope I'll be in F1 another 15 years. Yeah, until I'm 36. You also have to remember that I started when I was 17, so a bit earlier than some. I guess it depends also on how competitive you still are at 36. If you're still in a championship-winning car, fighting for podiums, then yes. Obviously I'm not going to drive at the back. If you've achieved victories and podiums, when I'm 36 I'm not going to stay here just to drive last. That's for sure."
"There are other great drivers in the paddock, not just Lewis"
There have been little glimpses of how a 'Hamilton/Verstappen in equal cars' dynamic might look. At Malaysia in 2017, with Hamilton chasing the title, Verstappen staked all on knowing his rival would be cautious – and pulled an audacious outbraking move for the lead.
A few months later in China with Verstappen on vastly grippier, newer tyres, catching leader Hamilton with just a few laps to go, the Merc left a tempting gap around the outside of the fast Turn Seven, not normally a passing place. Verstappen had no need to be surrendering to the temptation of that gap, given that he had so much more grip he could have passed in a very straightforward way into one of the last couple of corners. But that audacity overruled the logic of the moment as the Dutchman attempted to steer his Red Bull around the outside of Hamilton on a marginal corner. One little twitch of Hamilton's wheel as he corrected a (real or induced?) slide – and Verstappen was obliged to take to the run-off to avoid contact, losing him the race to Red Bull team-mate Daniel Ricciardo. Not always responding to the moment is probably one of the improvements Verstappen means when he talks of having become better since then. But leaving that tempting gap illustrated the sort of shrewdness Hamilton might need to prevail. Within such ambiguity does conflict breed.
Both men clearly love the essence of wheel-to-wheel racing, but Hamilton recharges his batteries between racing with his other life – in showbusiness, fashion or seeking thrills on two wheels. When Verstappen's not racing, or on the simulator, he's at his laptop doing sim racing. "Yeah, I do a lot of online racing. Recently I was doing the Le Mans 24 Hours online and I also did the Spa 24 Hours [which he won alongside Lando Norris]. In sim racing I prefer endurance to sprint racing because I think it gives you a lot more satisfaction when you work for something. You have a lot more fun, working together with your team-mates and stuff. I race with Lando. We're pretty similar in age, same generation and he's really fascinated about it. We talk a lot online and we're on a WhatsApp group and stuff."

The product of nature and nurture, with both parents talented drivers, Verstappen was born into racing and has never known a life outside it. If you're not sure of his total immersion in racing, consider his response to what he might do after retiring from F1 aged 36. "Oh I see life after F1. What I would love to do is go to a private track with a race car, not an F1 car, and just do your own driving. Just enjoy it. No pressure, no one around, you can just do your thing. If you want to do 10 laps, you do 10 laps. If you want to do a long run you do a long run. Come in, have a break, look at the data, just enjoy it, the driving. Still going to the limit of course. That's what I'd love to do."
So what does he need from the car, to do his best stuff? "A pointy car but with a rear that is just stable enough to have a controlled balance. I like a strong front end. I don't really like understeer, it's just killing the whole feel of the car. But yes, strong front end with a rear that is just on the edge. But of course, you still need to rely on that rear." Sounds pretty much like what Hamilton looks for, too.
But when Verstappen talks of other drivers in the paddock being comparable with Hamilton, he's talking of others of his own generation. He relishes battles with his old karting rival Charles Leclerc, such as the one that won him the Austrian Grand Prix a few laps from the end – and which caused the stewards to take a closer look. At Silverstone – prior to having an extended reprise of that dice in the race – he was still thrilled by the manner of that win.
"I was surprised he hung on quite so long around the outside. I expected him to back out and try for the undercut, like most people would do. So that's how we ended up in that situation where we had that little touch. In his position you risk it and wait for the guy to be penalised. Whereas if it had been Turn Four you wouldn't risk it, because you'll just end up in the gravel. Then if you had ended up in the gravel, it's your fault. But because you have that run-off it goes to the stewards… I think we have too many rules. Maybe over the years the drivers have created it themselves. And we need to step away from it. We should be able to race hard. I don't mean hitting each other really hard, going off the track massively. But little touches at low speed, not at 200mph in the middle of the straight, but outbraking someone and you're squeezing each other a bit. I think that's exciting – better than having a DRS pass, which isn't really overtaking. I think that move in Austria was exciting for the people, because I was catching and you could see it was going to come before the end of the race."
With Verstappen and Hamilton in the same car, there would surely be race after race like that…
---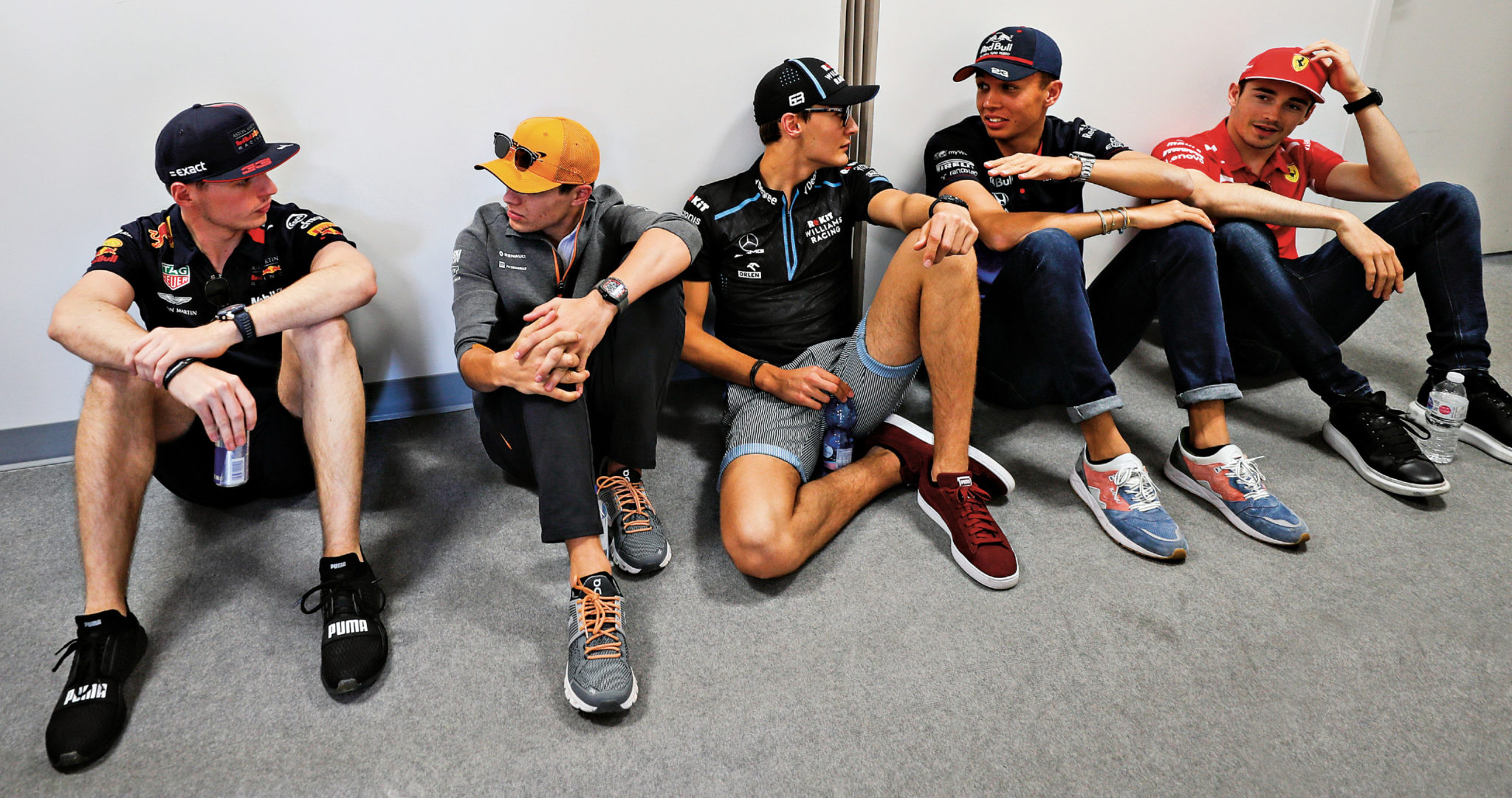 F1's Whatsapp generation
Max Verstappen is at the head of a new wave of young drivers. Relaxed in person and on social media, they point to a vibrant future for the sport.
MAX VERSTAPPEN. Born Hasselt, Belgium. Age 21. First car race 2014 Florida Winter Series. F1 debut 2015 Australian GP, aged 17 years, 166 days
LANDO NORRIS. Born Bristol, UK. Age 19. First car race 2014 Ginetta Junior Championship. F1 debut 2019 Australian GP, aged 19 years, 124 days
GEORGE RUSSELL. Born King's Lynn, UK. Age 21. First car race 2014 Citroën 2CV Championship. F1 debut 2019 Australian GP, aged 21 years, 30 days
ALEXANDER ALBON. Born London, UK. Age 23. First car race 2012 Formula Renault Alps 2.0. F1 debut 2019 Australian GP, aged 22 years, 359 days
CHARLES LECLERC. Born Monte Carlo, Monaco. Age 21. First car race 2014 Formula Renault Alps 2.0. F1 debut 2018 Australian GP, aged 20 years, 160 days