20 Greatest moments from 'modern' Goodwood
A season without a visit to one of the 'big three'… It's almost unthinkable. Just to rub it in, Damien Smith reminds us what we're missing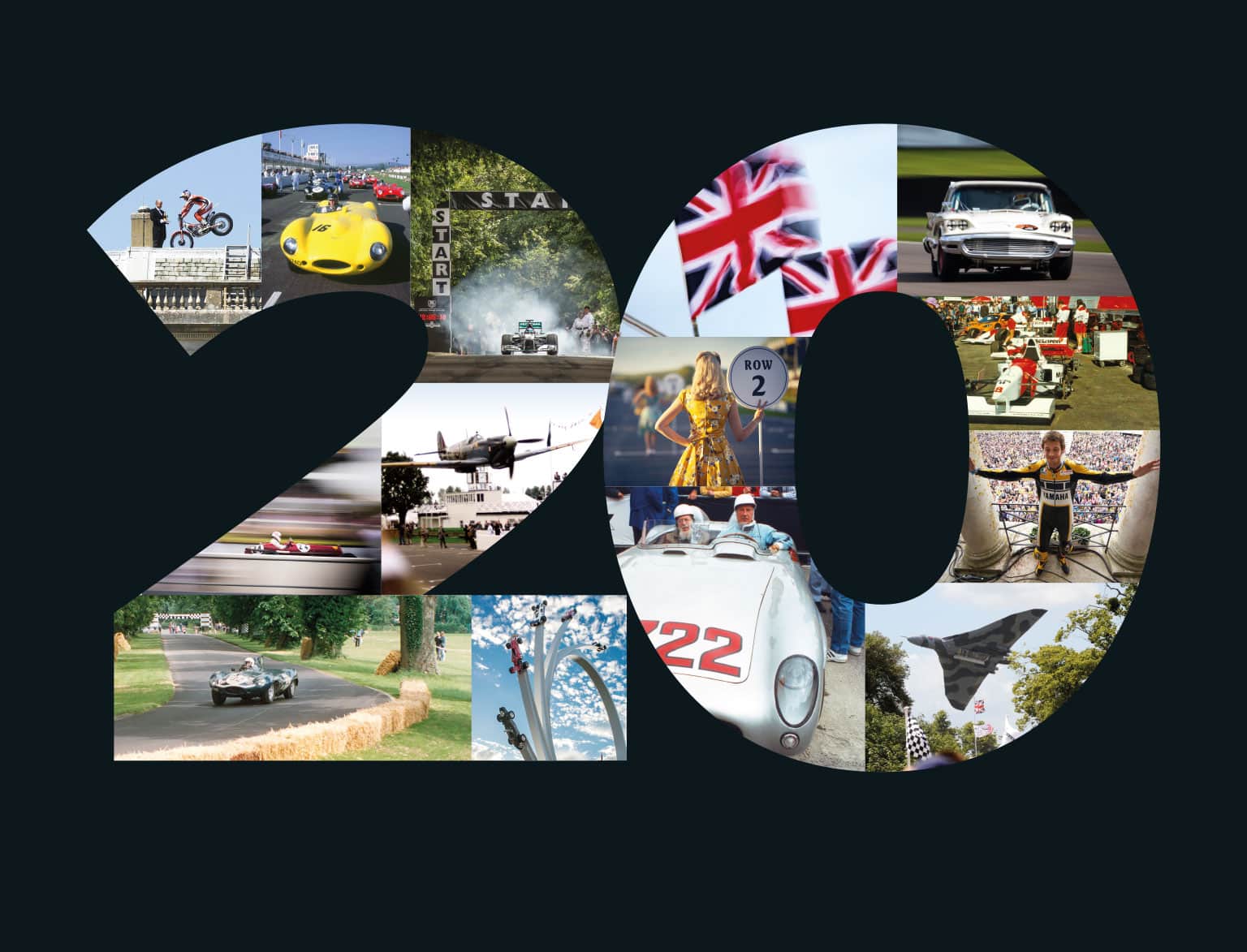 They had no idea what they were starting
When Lord March, now the Duke of Richmond, assumed responsibility for the Goodwood estate, his focus quickly narrowed on bringing back competitive motor racing to the scruffy circuit that had hosted its last grid in 1966. But local noise restrictions and red tape made it a long shot. So what else might be possible? Almost as an afterthought during a track inspection, Charles March asked FIA race director Derek Ongaro to take a look at the parkland around Goodwood House. What about a hillclimb? A mouth-watering cast of old racing cars lined up for the first Festival of Speed in 1993, along with an unexpectedly large crowd of around 25,000, including a curious George Harrison who turned up in his Gordon Murray-designed Rocket. It was chaos, but charming and bewitching, too. Goodwood was on to something.
---

Brundle steals Button's Brawn
In 2009, Brawn GP made history by becoming F1 World Champion in its one and only season. Seven years later, the Brawn BGP 001 made its first public appearance since, as Martin Brundle ran it in the FoS. McLaren responsibilities barred Jenson Button from being reunited with his old flame. When he wandered over to Brundle sitting in the Brawn at the top of the hill, it was like he was dating his old girlfriend.
---

King Richard's English crown
There's something gloriously odd about Americana in an English country setting. 'King' Richard Petty was always high on the wish-list and finally made the Festival of Speed in 2006. "Junior Johnson and Darrell Waltrip told me I needed to go, and Lord March had called me three or four times," he said. His high-winged Plymouth Superbird only capped his top-billing status.
---

That's quick, Nick
Volkswagen's remarkable all-electric ID.R has finally eclipsed the record, but we suspect Nick Heidfeld's violently edgy run on the hill in 1999 will always be the ultimate expression of FoS sorcery. The German said Ron Dennis had exerted some pressure – for the pride of Woking. And boy, did he deliver, in just 41.6 seconds.
---

Valentino with love
Goodwood loves its bike stars, but it took years to lure the biggest of them all. In 2015 MotoGP was racing at Assen in The Netherlands on FoS Saturday, but a plane was organised to fly the riders direct to Sussex – and among them was the rider: Valentino Rossi, fresh from another race win. "He arrived at the front door in the middle of the party, at about 10pm, in shorts and a T-shirt," said Charles March. "From that moment he was so enthusiastic and absolutely got it. A big moment." Manic scenes the following day when Rossi made a papal appearance on the balcony will surely never be matched.
---

Demonstrating new history
One of the welcome aspects of the Members' Meeting is its widening of the Revival's 1948-66 repertoire. The Gerry Marshall Trophy for 1970s saloons is often the racing highlight, but the high-speed demonstrations have further stretched the canvas. It's a matter of taste, but in the interests of diversity we've gone for the modern-era endurance racers that ran last year.
---

Snakes in a train
One Shelby Daytona Cobra is special. But to gather all six originals in one place at one time… it's a cliché – but only at Goodwood. The reunion at the 2015 Revival showed for the umpteenth time how persistence and persuasion pay off when the Goodwood team is on the hunt. Although these snakes had a nasty bite. It was said only an eye-watering £80,000 secured the appearance of the sixth and final car.
---

Art for racing's sake
The sculptures in front of Goodwood House, erected each year in honour of a great car maker, have inevitably grown in scale and ambition. British artist Gerry Judah works wonders each time, beginning an FoS tradition in 1997 with a polystyrene arch dedicated to Ferrari.
---
The highest low point
The planes have always been central to the Goodwood thrall. The Vulcan displays, in the days when the last of the Cold War bombers was still active, are increasingly precious memories, while WWII flypasts were almost taken for granted before legislation following the Shoreham air disaster diluted the show. Ray Hanna didn't concern himself with such red tape at the first Revival in 1998 when he buzzed the pit straight in Spitfire MkIX MH424 – below the height of the flag poles on the pit building. Watch the video clip now and if you didn't know better, you'd swear it had to be CGI.
---

Richard burns McRae
Britain's two greatest rally stars, pitted in a head-to-head on Goodwood's hillclimb and rally stage… But for Colin McRae and Richard Burns in 1999, this was only a bit of fun… wasn't it? Burns and his Subaru team showed a craving to get one over McRae and his Ford Focus. Sure enough a well-honed set-up paid off for the Englishman. The match has taken on greater meaning now both are gone.
---

And the flag drops again
The day most of us thought would never come. On September 18 1998, Charles March succeeded in what had appeared an impossible quest, as the Revival meeting was established to celebrate what his grandfather had started back in 1948. The Woodcote Cup took the honour of first race since 1966 and was won by Ludovic Lindsay in ERA R5B, while new traditions began as a stream of famous names from every era poured in for the RAC TT Celebration. Out on the banking, a tear or two might have been shed.
---

Friends reunited
This one really did raise a lump in the throat. Motor Sport's celebrated former Continental Correspondent was frail by 1995, but ill health wouldn't stop Denis Jenkinson dropping into '722' beside his old friend Stirling Moss one last time. Their reunion in 1995, to mark the 40th anniversary of their fabled Mille Miglia win in the Mercedes 300 SLR, both delighted and drained Jenks, who needed a lie down on a Goodwood House sofa after their run up the hill.  As for Stirling, he'd made the pass with a leg in plaster and required a cushion to drive – which explains why his head stuck out so high, while little Jenks, his famous navigational roller box on his knees, was barely visible beside him.
---

Irv the Swerve plays it straight
There were occasions during his time at Ferrari when Eddie Irvine appeared to have forgotten to take his charm pills. But it was as if he'd overdosed at Goodwood in 1996, as Ferrari made its first official visit at the fourth FoS. Irvine fired a glorious 412 T2, the last V12-engined F1 car, up the hill with genuine verve. Ferrari was so impressed, it pledged to return – again and again.
---

Silver shock and awe
Mercedes and Auto Union grand prix cars had featured before, but not like this. The high-speed demonstration of Silver Arrows 1930s grand prix monsters bombarded the senses at the 2012 Revival, and left that eye-watering whiff of shoe polish we'd always read about.
---

The Brickyard comes to Sussex
A yard of bricks, straight from Indianapolis Motor Speedway's original stash, lining the FoS startline is the physical legacy of the Indy 500 centenary celebrations in 2011. An unbelievable cast of Indycars and drivers lined up in front of the house for a genuine flavour of '(Back Home Again in) Indiana'.
---

The trials of Goodwood life
Letting Dougie Lampkin loose within the Regency grandeur of Goodwood House seems like condoning an act of vandalism. But that's not accounting for the incredible skill, balance and dexterity of the trials riding king. In 2008, he hopped and bounced his way through the elegant rooms and stairwells, then popped out on to the roof – where a butler was waiting with a refreshing glass of champagne. Naturally.
---

Gurney for president
When the Festival of Speed was founded, Dan Gurney and his Eagle-Weslake F1 car was high on the wish-list of dream car and driver reunions – and it happened in 1997, 30 years after his victory at the 1967 Belgian GP. Gurney, who died in 2018, was also the subject of a special tribute at the Revival, when a tongue-in-cheek campaign from 1964 was recalled. Dan Gurney for president? There are worse choices…
---

Bräck-a-bricking it?
Swedish Indy 500 winner Kenny Bräck didn't appear to be when he twirled a Ford GT40 with gusto during a wet TT Celebration in 2013. Instead, on-board footage of him sawing away from lock to lock suggested a man utterly in his element. You can't see his big grin, but you can well imagine it.
---

Thunderbird is go!
Tom Kristensen suits the large cigar that has become a tradition for Revival race winners. The nine-time Le Mans winner has become a hugely popular Goodwood racer. His lairy antics behind the wheel of a 1959 Ford Thunderbird in the St Mary's Trophy in 2017 were superb.
---

'A host, of golden daffodils'
By 2014, the Revival had become a monster. Answering calls for something more low-key and with two 'noisy days' on its annual racing licence still free for use, Goodwood revived another tradition. On that first bright and sunny morning at the 72nd Members' Meeting, a sea of daffodils established a signature look for the new spring fixture. "There are 300,000 bulbs," Lord March explained. "It's all thanks to a Dutchman we know who sends me bulbs every year. They were all planted in just one night, by a machine he won't let anyone see…"
---
Top picks from famous faces
Highlights from The Revival
Richard Attwood
The day I won both the Glover Trophy in my BRM P261, and the RAC TT Celebration, sharing an ISO Bizzarrini with Mark Hales, is one of many great Revival memories, especially as we took the lead in the TT with just two laps to go. The ones you don't expect to win are the best.
Tiff Needell
Racing the Lotus 30 in the rain. This is the car that even my boyhood hero Jim Clark said he couldn't tame and now I know why. Wheelspin everywhere, the car was never straight, but we got a podium. Goodwood is all about memories: I was there as a kid in the grandstand.
André Lotterer
I won the TT in a Cobra – that was pure joy. It's an honour to drive these cars, and now it's my favourite meeting. The atmosphere is so magical, the track is great to drive, and winning made me realise that if you have fun you do well.
Ludovic Lindsay
Winning the opening race in Remus, my ERA, at the first Revival was incredibly special. It was a tough race, very quick guys all round me, and I had some oil on the pedals, so no room for a single mistake. Sharing an E-type Jaguar with Gerhard Berger in the TT and coming second was great, too.
Nick Mason
Sharing my Ferrari GTO with superstars like Moss and Surtees. Stirling showed me the best lines but it had little to do with going faster, it was all about how to block anyone who might want to overtake. Surtees was fantastic, I saw how incredibly competitive he was.
Highlights from the Festival of Speed
Jochen Mass
Driving Mark Donohue's Sunoco Porsche 917/30 on slicks, damp track, and 1300bhp. But what a surprise, it's such a great car, no oversteer, no understeer, the best all-rounder I'd driven over the years. No wonder he won the Can-Am championship in '73.
Sir Jackie Stewart
Goodwood is where I started with Ken Tyrrell and where I've been reunited with my Tyrrells and the Matra. Getting back into the cockpit is like putting on a pair of favourite old gloves. The Festival is also about the people, reunions with mechanics and drivers. It always brings a smile to my face.
Derek Bell
In 2013 the Festival held a tribute to my career with 26 cars, a wonderful weekend. My son Sebastian, who was just 15, drove my Porsche Carrera GTS, followed up the hill by John Surtees in the TS7 in which I came sixth in the US GP in 1970. I won my first race at Goodwood so it was a day of memories.
Bernie Ecclestone
It's a super show. Herbie [Blash] was always telling me I should go, I knew they'd got the F1 teams there. Charles does a good job, you know, all the attention to detail. And so much to see.
Sebastian Vettel
The Festival is the best toy box in the world, like a huge party with cars, and it's great to see so many fans, a way of keeping in touch with them. I had a lot of fun, did some donuts in the Red Bull. For sure, I'd like to come back one day.
Mario Andretti
It's always such a tremendous pleasure to meet all the fans, sign the photos they bring. The British fans are the best educated in the world. I would have been back this year instead of going to the IndyCar race in Toronto. It's a terrific event.
Gordon Murray
I've been to all but two Festival of Speed events. The one that stood out for me was the Jack Brabham celebration when I was reunited with so many colleagues and cars from my 17 years at Brabham to celebrate the life of a great driver, a true friend and a gentleman.
The drivers were talking to Rob Widdows
---
Digital extra