Double time for the British GP
Silverstone is gearing up for two world championship grands prix in as many weeks. David Coulthard, the BRDC president, talks to Simon Arron about the challenges of 2020 and beyond
This year Silverstone will host a British Grand Prix like no other. For a start there will be no spectators in the grandstands as a result of the social distancing rules during the COVID-19 pandemic, but just as unusually it will be followed a week later by a second grand prix at the same venue.
"I don't see any downside in having two races at Silverstone, certainly from a British fanbase point of view," says David Coulthard, the newly elected president of the British Racing Drivers' Club (BRDC), the body that owns Silverstone. "It would obviously have been nice to welcome some spectators, even if numbers necessarily had to be restricted. In any event, I believe the sport's fans well understand and will be happy that live sport is back, even if it is available only on the box."
Coulthard is looking forward to both meetings – the second of which will be called the 70th Anniversary Grand Prix, in honour of the fact that the first World Championship race took place at the circuit in 1950. And as someone who won his home race twice – in 1999 and 2000 – Coulthard is confident of a home win: "This is a very positive time for motor racing in the UK, with Lewis Hamilton aiming for his seventh world title – and with Lando Norris, George Russell and Alex Albon on the rise we are looking very well served for the future."
Coulthard's BRDC presidency was confirmed last summer and he entered the role at a time of relative stability for the organisation and its Silverstone HQ. The on-off-on-off-on British Grand Prix had a fresh deal that keeps it on the world championship calendar until 2024, and the venue's on-site hotel – touted for years – was finally taking shape, even if it's still a little too early to pick up a room key. But that was before a pandemic knocked the world from its stride.
In the past, the BRDC has made it plain that annual hosting fees made it difficult to run the British Grand Prix at a profit – despite attracting one of the campaign's most populous crowds. This year, and despite hosting two world championship grands prix, there won't be a single paying punter. On the surface, it's not an equation that concludes with a happy number.
"After many years of having to meet difficult F1 contracts," Coulthard says, "the latest negotiations were done in a way that enables Silverstone to run as a profitable business – and I think that's fair. Without revealing any numbers, I think the Formula 1 management realised the necessity – pre-COVID – for circuits to be able to operate effectively as businesses.
"It's not ideal having no spectator income, but the two parties – with the BRDC headed by Stuart Pringle and the board – were able to find a workable solution. Actually [he adds, with a chuckle], from what I saw in the UK during the June heatwave, it seemed to be OK to have about 15,000 people on a beach, so perhaps we should just think creatively and put some sand around the track…
"We obviously won't get the numbers that were projected at the start of the year. The Experience Centre opened a few months ago to a royal fanfare – actual royalty and racing royalty, in the form of Lewis Hamilton – but shut its doors again promptly due to the lockdown. There have been various reviews to understand what the long-term effects will be, but you minimise where you can and make sure you come back stronger. I don't think it will be any more challenging for us than it will for many other businesses."
Beyond this year's grands prix what is his vision for the next phase of the BRDC's evolution? "Lots of good work has already been done," he says, "but I'd like to hope I can bring a 360-degree view to the role. I competed at a high level as a driver, I have always been a fan of the sport and in addition to my racing background I wear assorted other hats that are relevant to what we do here, particularly in terms of event management and broadcasting. I should be able to bring along a broad understanding of contemporary racing and compare that with what we are able to do at Silverstone.
"For instance, I know what a fantastic job the Melbourne promoter does to make its asset sweat for a full four days across the duration of the Australian GP. I have been going to Albert Park since its first F1 race of the modern era, in 1996. Some BRDC members might have attended, but they won't have the same touch points that I've had. Hopefully I'll be able to introduce ideas in areas where we aren't doing things as well as we might.
"I want to learn from those that have hands-on experience of the racetrack and to question or encourage them with observations from what I've learned on my travels, to see where that takes us. I won't go in with all guns blazing, not at all. I take it as an honour and a privilege to represent the members and to maintain the position of the BRDC as a hugely respected club around the globe.
"As in every business, you have to bear in mind the commercial imperatives but the bottom line is this: at its core the BRDC is a motor racing club and we want to appeal to and connect with the sport at all levels. It's not just about MotoGP, F1, World Rallycross, the Silverstone Classic and other international events we host – we need to be able to support motor racing at all levels.
"At present the only thing I'd like to see is the installation of a bespoke kart track. Why is Silverstone not a one-stop shop for everything in motor sport? The only thing we have missing is the grass-roots element."
While the UK remains a thriving motor sport hub, it has lost many once-prolific manufacturers – Reynard, March, Lola and suchlike – thanks to the increasing imposition of one-make regulations that have stripped the sport of its diversity. In this shrinking market, does Coulthard see himself as a figurehead for a whole industry?
"Ours is a significant industry for the UK. I think we need to do more to sing the praises of great British engineering and the way it attracts top-class overseas brains to come across and help make some of these F1 teams successful. The place they choose to come and live, and educate their kids, is Britain – we need to remind people how positive that is."
It seems fitting that Coulthard's first British GP in his new role will be such a unique one: "I was brought up going to Silverstone. My father attended the British GP regularly and I used to travel down to watch long-circuit karting there in the mid-1980s, long before I got anywhere near racing a Formula Ford at the track. Way back then who'd have thought that the BRDC would ever want to put its trust in me?"
---
Shapes and colours
As the cars line up at Silverstone, Peter Stevens, creator of some of F1's best liveries for Brabham, gives his verdict on 2020's colourful grid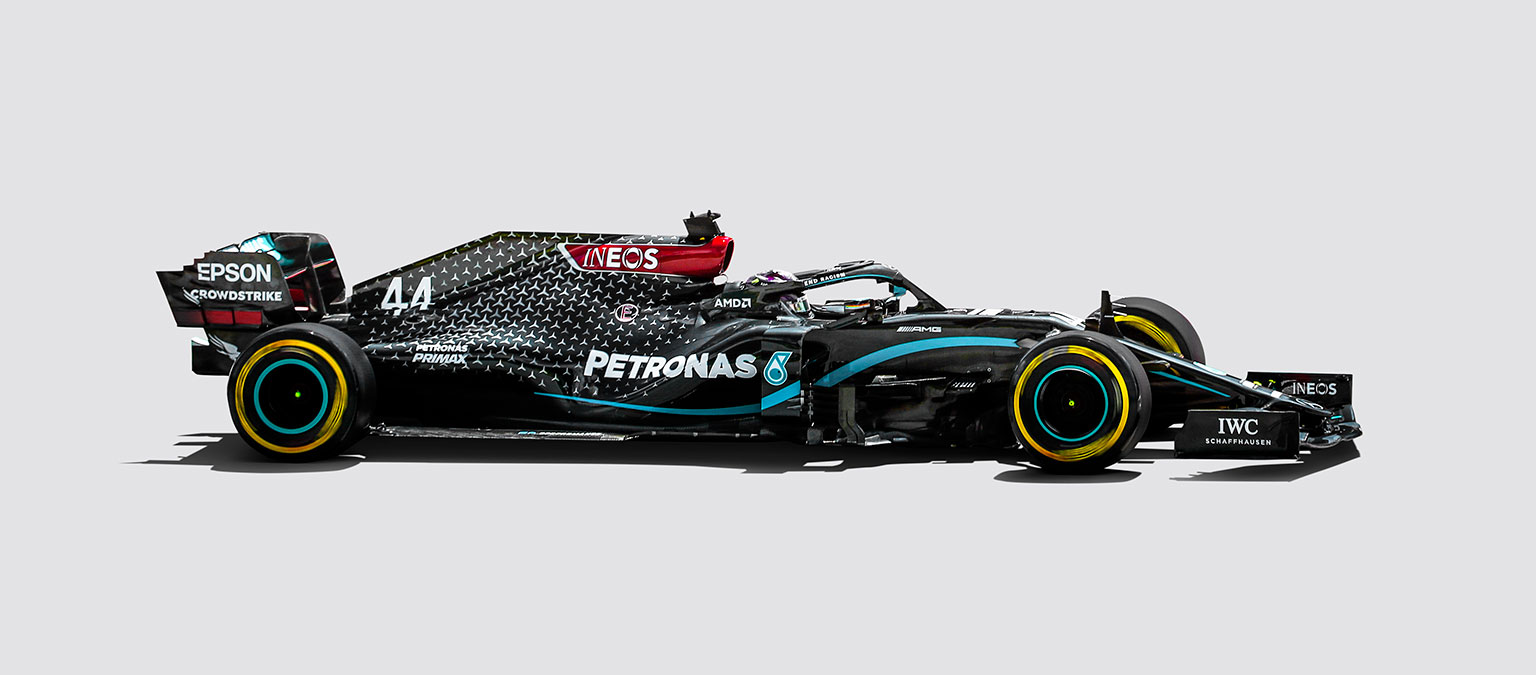 MERCEDES
The black is very dramatic, and hides much of the fussiness of the turning vanes around the sidepods. The main grumble is the INEOS sticker in dark red. It's a shame because that colour is all wrong in that context. When I worked for Bernie Ecclestone his opinion was a Brabham was blue and white, and if you want to become part of our group you have to follow the simple colour palette. That was his idea. You'd think Mercedes would have the means to say 'have your name in silver or bugger off', which is what Bernie would have done.
FERRARI
It's just red… but that matt red looks very weak compared to shiny red. Matt colours pick up a lot of light from the sky, but not in an attractive way. The red looks washed out on the Ferrari. The matt blue on the Red Bull works, but the red looks pink-ish to me.
RED BULL
They are clever. When you watch the race you can't miss the Red Bull. It looks identical from year to year, so it looks stable, like they know what they are up to. The red and the yellow and the very dark matt blue, you can see it coming.
McLAREN
The orange is strong, but again the livery doesn't respect the shape. It's done by somebody two-dimensionally. The blue is strange because if you turn the colour right down the blue and orange are very similar tones. A colour-blind person wouldn't see the change.
RENAULT
The Renault is disappointing because there is even less yellow. It makes the nose flatter than it is and makes the car look less attractive than it may be. The graphic agencies that do these liveries just have a straight side view, which doesn't respect the shape of the car.
RACING POINT
You can't miss the pink, but the white stripe with the lettering over the engine cover is like a sticker, which undermines it a bit. You are telling people you are part of a sophisticated sport, but if it's just a sticker you look like a secondary sponsor.
ALFA ROMEO
The metallic shiny red differentiates it to Ferrari and picks up the light. It looks expensive and classy. I think it works well, and the big white logo is very clever because it leaves a retinal image behind, which you tend to remember. The black hides the muddly aero bits.
ALPHA TAURI
This represents a Red Bull clothing line, which the livery doesn't tell you, but maybe that doesn't matter if the clothing line is coming after everyone has seen the name. The engine cover logo is nicely done because you can see the bull's head detail.
HAAS
It's a desperate mess. The white sidepod breaks the car up; it's one colour and then suddenly another. It looks like Haas has bought the sidepod, but the car is a Haas so the whole design should be like it. You have a short chance to get noticed, so you have to be clear.
WILLIAMS
All I remember is it doesn't say ROKiT on the side anymore. It left no impression. I took notes as I watched the Austrian GP, but I deliberately didn't mention the colours to see what I'd remember and I can't remember anything about it, other than George Russell…