Motor Sport memorabilia and gifts: September 2021 selection
From art and memorabilia to scale models and books, you will find a hoard of collectibles at the Motor Sport Magazine shop
Carroll Shelby-signed Aston Martin model
Before he became America's answer to Colin Chapman and had his life immortalised by Matt Damon on the silver screen, Carroll Shelby was himself a fine driver.
He went on to make his name as a performance and racing tuner through creating classics like the Shelby Cobra, King Cobra, multiple souped-up Ford Mustangs and even the powerhouse Ford GT40, but prior to that, Shelby was one of America's best all-rounders. Back in 1959 he made history by helping Aston Martin to its breakthrough Le Mans 24 Hours victory, sharing a DBR1 with Roy Salvadori. That made him only the second American ever to win at La Sarthe, following Phil Hill's victory just a season earlier.
Few racing cars have managed to match the DBR1 for looks, and fewer still for its price – chassis No1 from 1956 was sold at auction back in 2017 for £17.5m, a world record for a British car. While that may be a smidge over what most can afford, this 1:18-scale recreation is perhaps the next-best option. Intricately modelled, supplied in a bespoke mahogany case complete with Aston winged badge, and topped off by a plaque hand signed by Shelby himself. Only two have been made, so get your order in now.
£399.95
---
McLaren Monaco print
Perhaps it says a lot about the state of modern Formula 1 that a one-off livery generated such a buzz around the Monaco Grand Prix. The famous Gulf Oil colours may have become over-used in unofficial quarters in modern times, but McLaren's decision to bedeck its MCL35M in orange and blue to celebrate its partnership with the fuel giant brought the colours back to F1 for the first time since 1976 (on Alessandro Pesenti-Rossi's Tyrrell). Now you can give the fresh design a place on your wall thanks to this range of art prints featuring Daniel Ricciardo's car. Available in sizes from A4 to A1.
From £17
---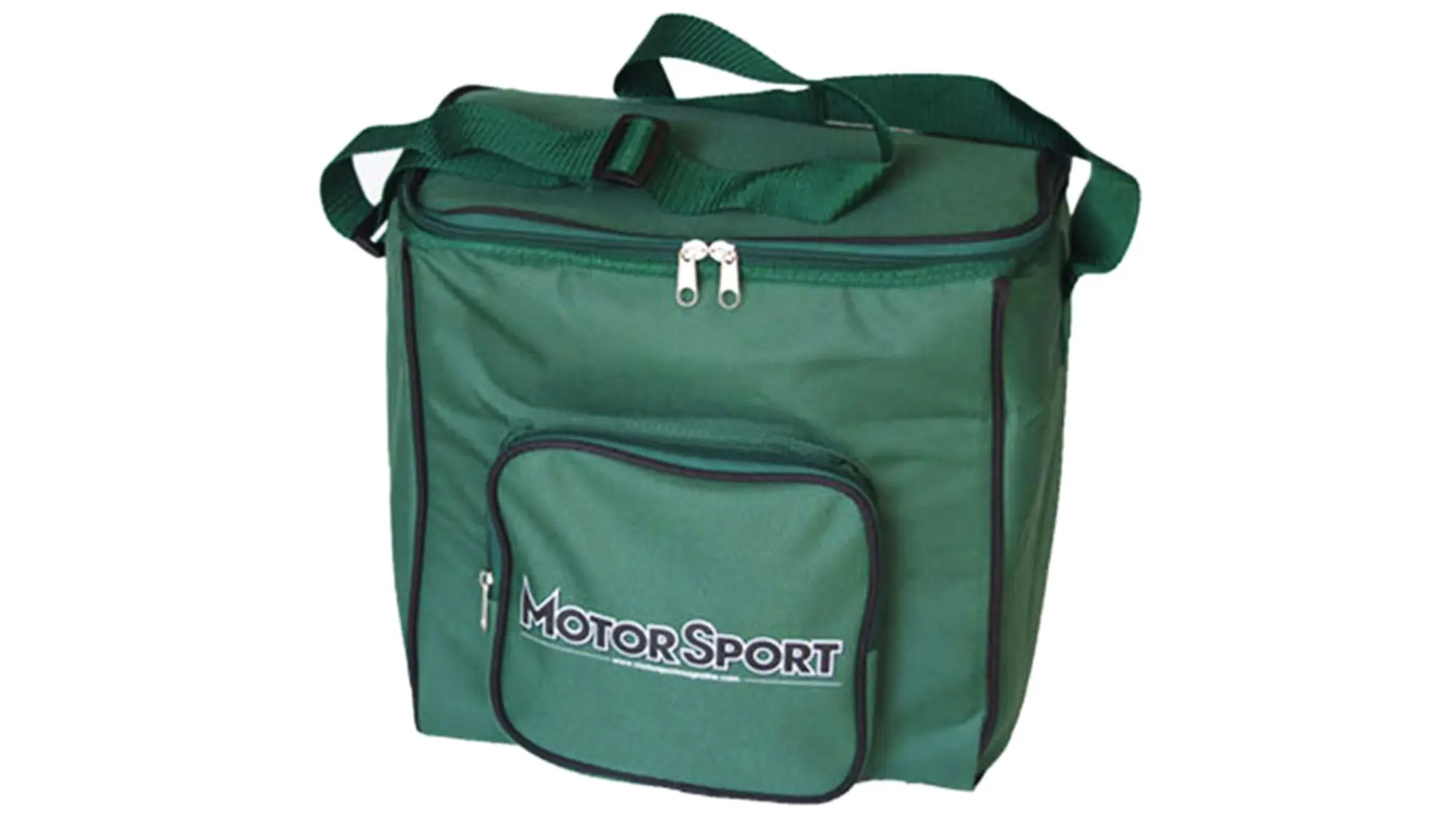 Motor Sport cooler bag
Isn't it great to be back trackside? We've been loving the feeling so far… even if certain sections of the Government find it hard to understand that a venue like Brands Hatch, must be capped to 4000 spectators, yet five times that can cram into a football stadium. It's a good job we can keep our sour grapes chilled on the banking with our own branded insulated cooler bag, bearing the logo of everybody's favourite racing magazine.
£19.99
---
Signed Lotus book
There are few things more exciting than delving headfirst into even the most disorganised of second-hand book shops. There's something about the thrill of the chase to find a new and interesting rarity. Maybe even an investment item. This second edition copy of The Story of the Marque: Lotus certainly doesn't come from a disorganised bookshop – it's from our friends at Hortons Books – but it certainly does qualify as a highly desirable piece. Inside you'll find 176 pages of historical Lotus information, plus verified signatures from Jim Clark, Trevor Taylor and Colin Chapman. We defy you to find another one like it.
£3450
---
Michael Schumacher signed cap
Lewis Hamilton may have knocked him off his perch somewhat in recent years, but few would deny that Michael Schumacher remains one of the greatest ever F1 talents. With career stats that many believed unbeatable prior to Hamilton, Schumacher remains a titan of the sport. Since his skiing accident in 2013, he's withdrawn from public life. Authentic hand-signed merchandise is rarer than you'd think, and this cap is the real deal, supplied with a certificate of authenticity.
£799.99
---
Piggyback Le Mans print
Surely there's no better way to pep up a wall space than by gathering three of the finest Porsche 917s together in one beautifully framed print? Automobilist has done exactly that, capturing this wonderful image of Helmut Marko/Gijs van Lennep's Martini-coloured 917K alongside Richard Attwood/ Herbert Müller's Gulf Oil example. Oh, and in the background there's the legendary Pink Pig of Reinhold Joest/Willi Kauhsen, just for dramatic effect.
£230
---
About the Motor Sport shop
With hundreds of special and unique racing-themed products, and many new items regularly added, the Motor Sport shop is aimed at both serious and casual collectors with a number of price points to suit your budget.