9600 HP: The World's Oldest E-type book review
Sixty years ago the Jaguar E-type wowed Europe after a hair-raising dash from Browns Lane to the Geneva show, says Gordon Cruickshank
THERE'S A PHOTO IN THIS HUGE and typically weighty offering from Porter Press that takes me back 35 years. It's the dim interior of a barn with a row of scruffy Jaguars all in need of attention. The barn is on Philip Porter's farm HQ, "And that," Philip told me reverently, "is the world's oldest E-type Jaguar." I looked at the remains of the once beautiful coupé, seeing rust flaking off the nose where the letters 9600 HP were dimly visible through the grime.
"Eventually I'll restore that," said Philip, and I wondered how long it would take.
It did take a long time, fitted round Porter's many other enterprises including Jaguar clubs and his busy publishing house, but lately 9600 HP has been recapturing its life as Jaguar's original press car with a glorious story.
That story began with racing driver Bob Berry's non-stop dash from Coventry to Geneva to get the car to the '61 show for press day. Transport difficulties meant the firm feared 9600 might be the only car there, and as it was only finished the night before, Berry's sprint was crucial. He made it with minutes to spare, and the E-type burst upon the world. All of this development and the panics to get the first car ready is supported by extensive first-hand memories.
Given Porter's huge output on Jaguar, especially E-types, a good deal of the material here is familiar, though there's new information on Malcolm Sayer, so it's good to get onto the star car's own story, relayed in intensive detail. MOT certificates and bills for maintenance, letters from owners, even photos of where the car lived, mix with period images of the car. He was even able to reunite Bob Berry with the car, seen peering into the shambles of its pre-restoration interior.
But this is also Philip's story – how he got into writing and collecting, his first E-type, his friends and colleagues in the business. A shot of him in tweeds and deerstalker reminds me that like WB he is a member of the Sherlock Holmes Society, and a qualified airship pilot.
Having bought the car in 1977, it was not until 2000 that he was actually able to drive it, and naturally the restoration at CMC is closely reported, as is its second bite at fame. The almost overwhelming parade of information, including its press coverage, verges on indulgent – but then this is one very special car.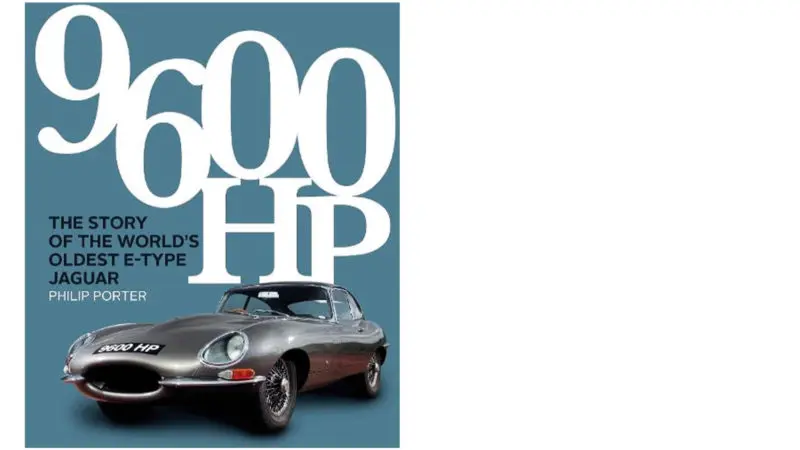 9600 HP: The World's Oldest E-type
Philip Porter
Porter Press, £45
---
Tjaarda — Master of Proportion
Gautam Sen
Not so well known, perhaps, but Tom Tjaarda shaped some very pretty cars in his time at Ghia and Pininfarina including the first Ford Fiesta, Fiat 124 Spider and De Tomaso Pantera, and many concept cars and one-offs on Ferrari and other running gear. Using much first-hand input from the late designer, Sen does a good job of collating his life, illustrating many concepts and designs that I had never seen, though he perhaps exaggerates his influence – all designers respond to current fashions. Tjaarda had a real sense of proportion, perhaps due to his architectural origins, and it's a shame he's overlooked. GC
Dalton Watson, £110
---
The Maserati A6G 2000
Walter Bäumer
Amazing to think anything as rare and exotic as an early Maserati could be scrapped, yet the chassis listings in this detailed book show that it happened. In fact the bulk of this book consists of individual histories of the Trident's profitable 1950s straight-six GT and the very different bodies the four main Italian coachbuilders fitted to them. The section on design and development, while brief and staccato, is generously illustrated with large photos and documentation.
Handsome but expensive – like the cars it portrays. GC
Dalton Watson, £91
---
The Spiders' Web
John Bradshaw
Basil Davenport's spindly Spider hillclimber and the two cars it became is/are just about the most recognisable things on the hills, with their GN heads poking out each side of the razor-edge bonnet, and this cheerful selfpublished work gives chapter and verse on their twin stories. A thick floppy paperback with surprisingly good photo quality, it mixes reports (many from MS) and results with colourful reminiscences. GC
JRB Publishing, £40