Suzuki XR69 belonging to seven-time TT winner Mick Grant up for auction
A rare Suzuki XR69 TT belonging to seven-time TT winner Mick Grant will be up for auction his weekend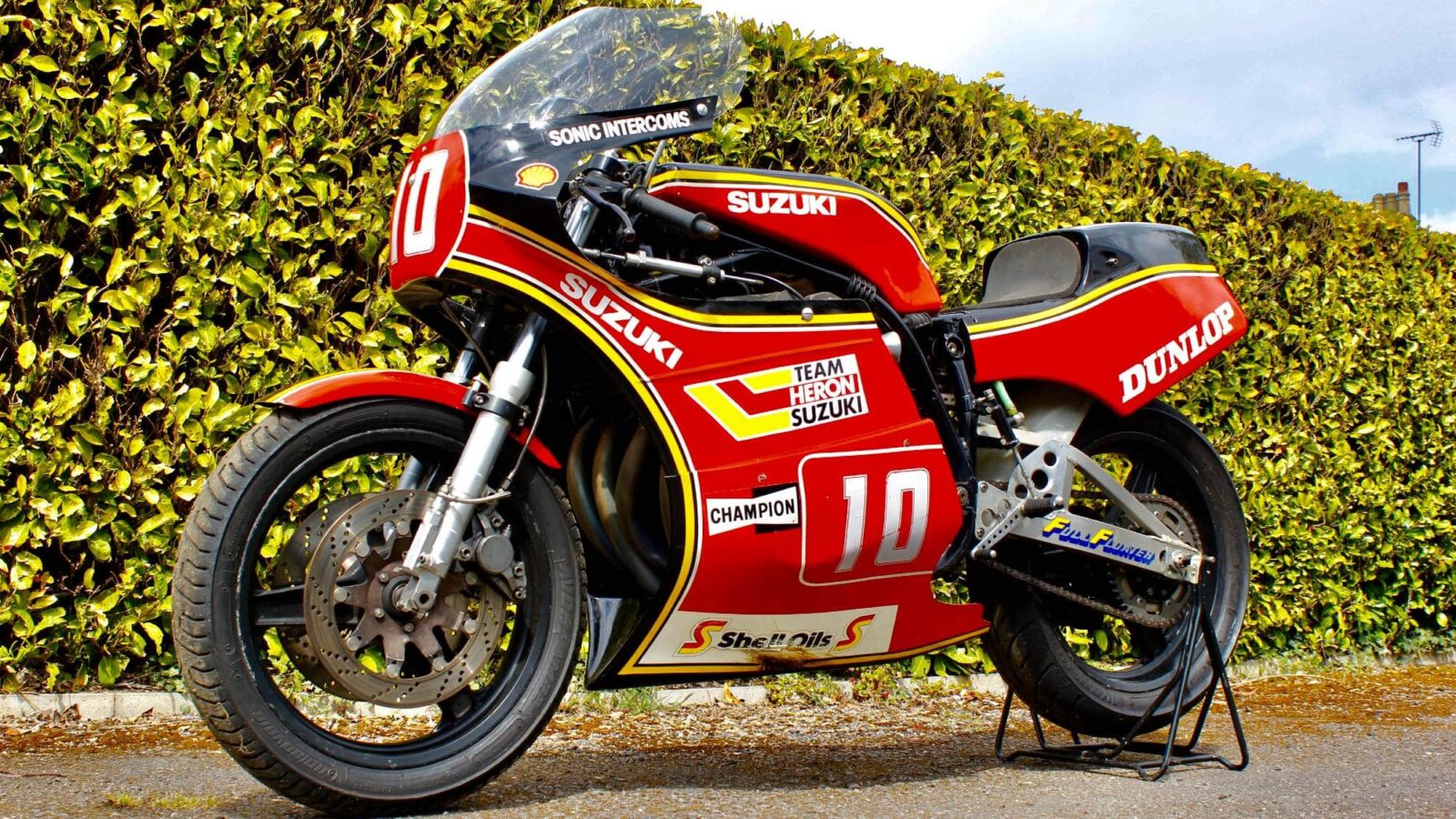 While one Japanese manufacturer dominated the four-stroke racing scene, another was working away on a special machine developed to topple Honda from its throne.
Suzuki's performance road bikes couldn't quite match the race-winning machinery out of Honda's Minato HQ, but when Pops Yoshimura approached Suzuki for help with his GS750 based racer, a special creation was developed to do just that.
The result was the Suzuki XR69 which dominated the Formula 1 TT championship in the early 1980s. Now one of the rare machines is up for auction, of £95,000-£110,000.
Yoshimura began the project in the hope that tuning his engine to extract more power would result in a Honda-beater but found that he'd created another problem in that it was now too powerful for the original GS750 frame.
Suzuki then began using parts from its GP frame to overhaul the bike into a true racing machine. Fitted with a steel tube frame, similar to that of the XR23, the frame was wrapped around the four-cylinder air-cooled engine and then topped off with GP-spec rear suspension and forks.
What they were left with was a bike that was capable of taking on Honda on the circuits as well as on the TT schedule. The XR69 made its competitive debut at the start of 1980 and saw off many Honda CB900s that had previously had the measure of its competition.
Mick Grant would get his hands on one such XR69 ahead of the 1982 TT race. Though he wouldn't win that year's event, the seven-time winner did score success at that year's North-West 200 with the bike that he has now offered up for auction.
"It's pretty near the top of my personal hit parade of bikes I've raced," Grant said of the Suzuki.
"My full factory XR69 has been in my possession since I retired from racing in 1985. It is the exact specification as when I raced it. It was given to me by Suzuki. To the best of my knowledge there were only five or six of the special bikes made.
"For some reason my bike seems to be the best specification of them all, it has a dry clutch, magnesium carburettors, billet forks and twin sparking plugs.
"I only know of two others that still exist, one is an ex-Roger Marshall bike with a collector in Ireland, and the other is an early twin-shock XR built for Graham Crosby.
"This machine is in very good mechanical and working condition. In the past I've demonstrated this machine in South Africa and at Oliver's Mount, Spa Francorchamps, Brands Hatch, Mallory Park.
"It is a lovely bike to ride and still feels as fresh as when I was racing it. On this bike I had lap records and second places in the Isle of Man. I won the North West 200 on it, set the lap record Donington Park and came second in the Macau GP."
Its history has been documented with photos and video shot in 1982 by Shell for promotional material.
While the bike has been up for auction before, it has never sold meaning the potential owner would be the first to claim it on the open market.
Bidding at Car & Classic is already up to the £60,000 mark ahead of Sunday's 8pm deadline.
Gallery
1982 Suzuki XR69 TT