On the road (again), July 2020: Return to normality
- Last updated: November 14th 2022
Fully 112 days elapsed between a rallycross event at Lydden Hill in March and motor sport's emergence from its pandemic inertia. Time to head, then, for Lincolnshire's B-roads…
It had become almost a reflex. Since stepping away from full-time Formula 1 coverage at the end of 2012, it has been routine to rise at various degrees of early at weekends, before heading out in search of motor sport in all its forms. I have become accustomed to attending 50-odd events per annum and it never occurred that life could ever be different, but…
After more than three months of listening to bygone Test Matches recycled on the radio, watching YouTube clips of motor racing from Oulton Park and leading wildlife photography expeditions into the back garden, a small slice of relative normality is upon us.
British Automobile Racing Club
CADWELL PARK, JULY 4
There were options east and west. Drive in the general direction of Holland and MotorSport Vision Racing was hosting a cocktail of its own championships at Snetterton, a prelude to the following day's opening EnduroKA fixture of the campaign – the 12 Heures du Norfolk. The M4, meanwhile, was a corridor of certainty, a pathway to the charms of Castle Combe's assorted home-spun series. Both equally desirable, but instinct eventually led me towards the Lincolnshire Wolds and Cadwell Park, where classic touring cars nestled between the French (Citroën 2CVs) and the frantic (superkarts).
This was mostly a practice day, a gentle amble back towards habits we once took for granted – albeit without spectators. Their absence apart, the biggest obvious differences were the rampant signage – a trigger to remind one and all of their social responsibilities – and the fact the paddock Tannoy mentioned only rarely the necessity of hurrying to the assembly area, its more urgent refrain being a polite exhortation to wear protective masks, stand two metres apart and wash your hands both frequently and thoroughly.
This, of course, was on top of Cadwell's long-standing natural hazards. Unlike modern circuits that have parallel access roads, this one involves a degree of scrambling through brambles and thistles (when trackside) and also has more than its fair share of concealed rabbit holes (and, for that matter, unconcealed rabbits).
The finer details of how circuit owner MSV prepared for its competitive reawakening can be found in the current (September) edition of Motor Sport. This might not quite have been the world with which we have long been familiar, but it was a positive step taken rather sooner than many had thought likely.
It wasn't possible to sit on the café terrace and admire the view while feasting on sausage, egg and hash browns, but it still felt good to be back.
Historic Sports Car Club
BRANDS HATCH, JULY 11-12
All motor sport venues have pockets of regulars, groups of enthusiasts who gather in their favourite spot come rain, shine or amphibian plague. By the time drivers peeled out onto the track on the stroke of 9am, Saturday morning, with the public welcomed back to MSV tracks within a week of racing's resumption, many were already perched in their folding chairs, as though they'd patiently been waiting since the previous November when last cars had raced here. The paddock might have been out of bounds – competitors in one bubble, everyone else in t'other – but it was almost as though little had changed.
Out in the sticks, the trackside fringes bristled with butterflies – humans might have been adjusting to a cautious new world but, in our absence, nature had carried on regardless – a clear sign that it can manage perfectly well without us.
The HSCC attracted a vast entry for its annual Legends of Brands Hatch showpiece, engaging quirks including David Lloyd's Jensen CV8 in the Historic Touring Car Championship race, but older cars are wont to be a tad leaky… and oil slicks can take an eternity to mop up when marshalling troops are circumstantially reduced. Delays and interruptions were quite frequent, but between times there was some sublime combat. Highlights included an early tussle for the lead between Andy Newall (Chevron B6) and Anthony Reid (Lenham P69) during Saturday afternoon's Guards Trophy; both slipped down the order after the safety car emerged and triggered a reshuffle. They recovered to take second and third, Michael Lyons replacing Reid for the second stint, but father and son Westie and Sam Mitchell proved to be just out of range in their shared Chevron B8.
Earlier, Lyons had started the Aurora XL race (Formula Libre, in old currency) from the back at the wheel of his family's Eagle FA74. His mother Judy had practised the car, qualifying solidly last on 2min 11.647sec, but Michael coaxed a 1min 23.751sec from it as he carved through the field to wrest the lead from James Hagan's Hesketh 308 on the eighth of 14 laps. Lyons Jr had been scheduled to race a Lola T400 but borrowed his mum's car after his own was damaged in a practice mishap.
And while Historic Formula 2 cars are a perfect visual and sonic complement to Brands Hatch's gorgeous 1970s patina, patchy reliability buffed the edge from the two races. Of the 18 cars that qualified, only nine finished the opening race and 11 the second. Andy Smith (March 79B) won the first and was on course for a double until hobbled by a misfire that handed the advantage to Miles Griffiths (Ralt RT1).
Driver of the weekend was Cam Jackson, who scored five victories – two in Formula Junior (Brabham BT2), two in Classic FF1600 (Van Diemen RF80) and one in Historic Formula Ford (March 709). He was denied a shot at a double in the latter after assorted delays forced the second race's cancellation due to time constraints. One of the contributory factors was an Alfa Romeo 2000 GTV, which pulled off with a small engine fire and ignited the grass run-off…
Classic & Modern Motorsport Club
CADWELL PARK, JULY 26
A relatively fresh invention, the Classic & Modern Motorsport Club, and diversity is its central motif. If it has a wheel at each corner, it's probably eligible for one or other of its races. Hence one entry that featured Clan Crusader and Jowett Jupiter against Lister Jaguar, Austin A40 and Mini Marcos – perhaps as far from one-make racing as one can get.
Unlike the aforementioned jaunt to Cadwell, this one featured spectators… and significantly better weather.
Historic F3 cars could have been designed with Cadwell in mind, but unfortunately only eight were fit to take the start. Despite the dimensional and sonic contrast, superkarts also manage to look completely at home; Lee Harpham won all three races at a canter, but the majority of his rivals hunted in packs.
The Northern Sports & Saloon Championship had the advantage of a 33-car entry… and the disadvantage that about 25 per cent of the field clattered into itself at the first race's dawn, triggering a lengthy clear-up and an early lunch break. Woolfitt brothers Jon and Paul scored a win apiece, in Spire and Lotus Exige respectively.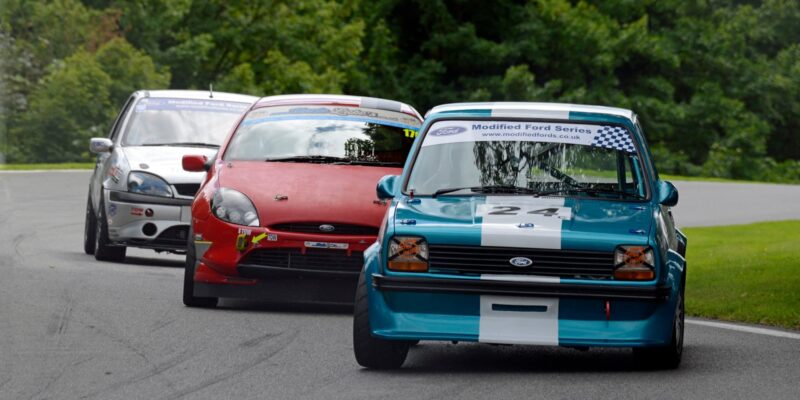 For all the sculptural delights in the Classic Era Challenge, my favourite car of the meeting was Terry Davies's Mk2 Ford Escort, which looks relatively standard, has a four-door shell (not sure I'd ever seen one of those race before), is finished in plain Terracotta (a familiar hue to anybody who bought a Ford 40 years ago) and even retains original door cards. It has a 2.0-litre Cosworth turbo snuggling beneath its snout, however, and is commensurately brisk. He twice had to stop to address technical trouble in the opening Modern Challenge & Modified Fords race but came through from the back of the grid to finish seventh in the second.
Beauty is available in many forms.