Racing that delivers the 'wow' factor: On the road, April 2022
- Last updated: November 14th 2022
International racing stars diced with talented enthusiasts in an action-packed month on the British racing scene — all witnessed by Simon Arron
Simon Arron's journey, following the best of national racing, took him to truck racing at Brands Hatch, rallycross at Lydden Hill and some of the best historic racing you're likely to see this year — with some spectacular images to boot.
His April diary begins with a visit to the invigorated Oulton Park
British Automobile Racing Club
Oulton Park April 2
I accept that it's not quite the same as seeing a flock of Maserati 250Fs bobbing along the straights at Reims, or watching Jim Clark glide through Raidillon in a Lotus 33, but there is still a certain majesty about Oulton Park on a bright spring morning, when the paddock bathes in sunshine beneath a fog of cool breath.
It's ever a treat to be back at a venue I still regard as my natural home, even if it is 200 miles from where I live…
The day had barely started when the red flags came out, the British Endurance Championship field having been reduced by two following a hefty accident on the approach to Cascades. A nearby marshal suggested it might be time to repair for a coffee, as 12 barrier posts had been dislodged. First, though, there was time to admire the handiwork going on around the lodge that gave the circuit's final corner its name: this year, for the first time, it has become a rentable asset for those that consider hotels in Tarporley or Crewe to be too far away. The adjacent trees have been pruned, presumably to improve the view of the circuit from the upstairs windows; if the walls were repainted white, it would look as though the past 40 years hadn't happened.
The BEC race began brightly, with a spirited contest between Kevin Clarke/Ryan Lindsay (BMW Z4) and Wayne Marrs/Tom Jackson (Mercedes-AMG GT3). Shortly after Lindsay had taken over, however, the BMW suffered a broken driveshaft and the Mercedes went on to win by more than a lap.
The CNC Heads Sports & Saloon Championship attracted its customarily engaging blend of shapes and sizes, but the field spread far too thinly and far too quickly.
The best action – hardly a surprise, this – was produced by the Legends National Championship, back at Oulton for the first time in several seasons. For all its fizz and sparkle, though, cars like this would be a perfect complement for the shorter – and sadly underused – Fosters circuit.
I can't speak for the drivers, but for the viewing public it would surely be a bonus to see the cars pass by twice as often when the racing is as good as this?
---
Historic Sports Car Club
Brands Hatch April 3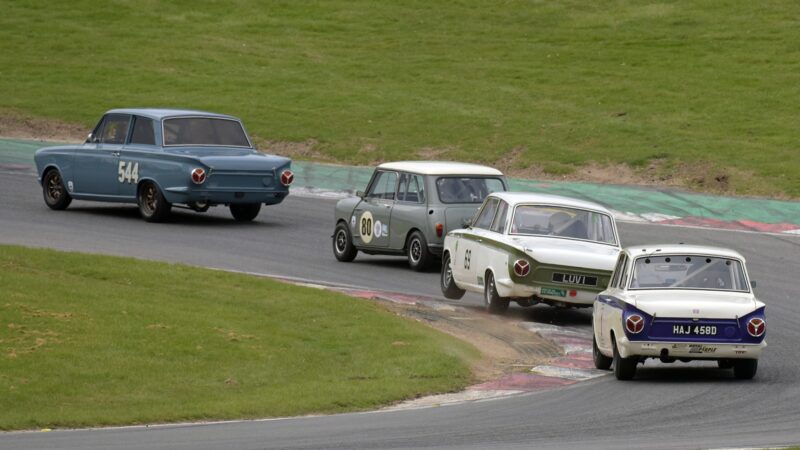 Consecutive days spent at circuits 232 miles apart might be considered eccentric by some, but to me it seems a relatively short-haul exercise (possibly because I used to regard it as completely normal to drive from Spa-Francorchamps to Oulton Park).
The HSCC's first meeting of the year was a touch more relaxed than my commuting habits, with a clutch of free practice sessions in the morning and – on this, the second day – a leisurely eight-race schedule. In truth, though, it felt even lower-key than that might sound, because the entry in certain classes was beyond thin – only 15 historic touring cars, for instance, so where have they all gone? It's not so long since there used to be almost that many Lotus Cortinas on the grid…
The saloons produced the star of the meeting, though, in Bill Sollis. The Mini veteran hustled a bunch of Cortinas on his way to fourth overall in the opening race and won the second outright – a bright spot on a day that featured some lovely cars, albeit in insufficient numbers.
There was supposed to have been a stand-alone Formula Atlantic race as a worthwhile revival movement gathers impetus, but with only 11 of 15 original entries materialising the grid was combined with the risible six-car Classic F3 field. Atlantic cars were a sonic and visual treat in period – and remain so.
It was particularly nice to see Anthony Dehham's Martin BM12 in action, the first time I'd seen the car since its creator Brian Martin took it to ninth place in a BP Formula Atlantic Championship race at Oulton Park… on October 7 1973.
---
79th Members Meeting
Goodwood April 9
Ever since it reopened as a heritage circuit 24 years ago, sound has been one of Goodwood's greatest assets. This, though, had nothing to do with internal combustion but was a very loud "Wow!" from a young lad as he walked around a corner of the paddock to be confronted by a row of muscular Americana.
Just the kind of reaction we need if our sport is to be preserved and developed by future generations.
That said, it wasn't just the young that appeared impressionable. Factory Aston Martin driver Darren Turner was spotted loitering among the V10 Formula 1 cars, some of which were static exhibits while others were pencilled in for demonstration runs. "It's nice to be able to see things up close," he said, "particularly for the general public, who never had access to them in period."
Not everything was bright and shiny – the customary host of daffodils was not so much golden as deceased – but the Members' Meeting always has a nice feel and a sense of balance. The Goodwood Revival shares similar competitive eloquence, but you really need to get out into the countryside – away from the chicane area – to escape a slight sense of suffocation. The GMM is calmer and, to my mind, all the better for it (though a stroll out to the back of the circuit remains highly recommended).
Traditionally people get very excited about particular exotics, whether they be lightweight E-types or Ferraris of a particular stripe. The car I'd most hoped to see this year was Jay Sadler's ex-Tom Walkinshaw Racing BMW 530i, but there was a BMW-sized hole in the outer paddock's Gerry Marshall Trophy enclave. "We have done an awful lot of work to it," said Sadler, "and it is very nearly ready. Nearly, but not quite…"
If this seems a prosaic choice, bear with me.
In 1978 the car ran in Pentax colours – and the sponsor ran a photographic competition, for which first prize was a BMW 316. I entered a shot I'd taken during the British GP support race, at Brands Hatch, and it was selected as one of six finalists. Come the day of the prizegiving, mine was one of the last two names to be announced – a 50/50 shot at a BMW, or so I thought. I wasn't too unhappy when it transpired that I was one of the runners-up, for I came away with a new Pentax K1000 body, a couple of lenses, a nice camera bag and a certain sense of pride.
More than 20 years passed before my mum revealed that Pentax had phoned to check I had a full driving licence. I was 17 at the time and about to take my test, which I duly failed by crossing my hands on the wheel at a tricky right-hand hairpin in Sale town centre. But for that, apparently, the 3-series would have been mine.
With hindsight, though, camera kit was probably the safer option.
British Rallycross Championship
Lydden Hill April 14 & 18
It had always been an ambition to spend five days at racing circuits across the Easter weekend, yet somehow I'd never quite managed it (four was the record, equalled many times). This year, however, there were options aplenty.
The first question, though, was whether Lydden Hill would be accessible for the British Rallycross Championship's pre-season test day. A chunk of the M20 had been transformed into a poorly equipped waiting area for trucks unable to cross the Channel… and parts of the A2 were at a standstill thanks to a single, stationary HGV that had broken down on the M25 and triggered queues on all major connecting roads. For those heading to Lydden, fortunately, the delay was brief and wholly inconsequential.
The test day felt slightly more laidback than usual, with no major guest appearances from such as Sir Chris Hoy (a big fan of the Lydden catering cabin's chicken wrap, I'm told) or John McGuinness, but the atmosphere was lovely, the sound of skylarks high above the adjacent meadows occasionally being broken by the bark of a rallycross supercar under full acceleration.
The only real downside was the appalling M2 lane discipline on the return journey, about 70 per cent of users apparently oblivious to the fact it's OK to use the empty lane on the left.
Efficient use of available road space really shouldn't be complicated.
On Monday the choice lay between the British GT Championship at Oulton Park or the second of two racing days at Lydden, which seemed simpler and was also a nice way to bracket the weekend.
The action paused almost as soon as it had started, after junior driver Holly Woolley's Suzuki Swift tumbled across the Canterbury Straight and landed upside down on the bank. She was fine and cleared to carry on driving, but the same courtesy was not extended to her crumpled hatchback.
It was one of a number of sizeable mishaps during the day, but between times there was some fantastic racing. My only reservation remains the sport's continued use of 'joker' laps, which often break up the field – not that separation ever prevents the supercars from looking anything other than spectacular.
Having notched up his maiden BRX success on Saturday, Oliver Bennett notched up a repeat success in round two.
Rarely has a MINI – upper or lower case – looked so ridiculously brisk.
---
Masters Historic Festival
Donington Park April 15-16
Can there ever be a bad start to the day when the sky glows navy blue just beyond 5am? Roof down, heater on, tune the Spotify playlist to 'progressive rock' and then set sail for the M40. M42 and Donington Park, via a quick cheese toastie at Warwick Services.
It might seem counter-intuitive to head that way from Beckenham to Leicestershire, but it's a more relaxing route, with less traffic, fewer roadworks and, consequently, no interminable 50mph stretches.
In some classes, sadly, there were even fewer cars than there had been on the M40 – though Ray Mallock and Chris Drake salvaged the front-engined Formula Junior races by proving the old adage that you only need two cars to create a decent contest. Having won the opening rear-engined FJ race by about a fortnight, Alex Ames (Brabham BT6) started the second from the back, due to concerns about his clutch withstanding a second race start. It was fine, though, and he was up to third by the opening lap's conclusion. It took him until lap nine to work his way to the front – and this time Clive Richards (Lotus 22) stayed close, the pair of them little more than a tenth apart by the flag.
Masters is no longer allowed to use the label 'historic F1' for its, erm, historic F1 series, but 'Masters Racing Legends' could mean almost anything. Carnet complications, post-pandemic travel caution and, one supposes, a shortage of ferries have all combined to deter once-regular competitors from mainland Europe, but a varied field of 15 cars was entertaining enough, even if period reliability did take its toll.
Martin Stretton (Tyrrell 012) looked set to win the opening F1-that-can't-be-called-F1 race until he was slowed by fuel pick-up problems, later traced to a faulty collector pot. He ended up second, behind Steve Hartley (McLaren MP4/1), but tore through the field to win race two after starting from the pit lane.
As always, the Pre '66 Touring Car race was a hoot – partly because of the fierce competition, partly because of a cheerful disrespect for track limits but mostly due to the tail-happy body language of the larger cars.
A pity they were allocated only the one race.
---
British Truck Racing Championship
Brands Hatch April 17
Purists might wince, but racing trucks have a cartoonish appeal that draws in sizeable crowds – a factor perhaps enhanced by the very improbability of their existence.
The racing is frequently good, too.
This was the second leg of a two-day event, with a trio of truck races supported by the dependably excellent Legends and a litany of races for classic touring cars of assorted vintage.
Ryan Smith (Daimler) and David Jenkins (MAN) had taken a win apiece in the first two truck events, albeit after Smith had been forced wide by a backmarker at the end of the second. Jenkins won again in Sunday's opener, but the following race was perhaps the most bizarre.
Initially red-flagged after a mix-up at Paddock, it resumed after a short delay – and Michael Oliver (MAN) promptly clattered into the tyre wall at Clearways. He reversed out, visited the pits to have some debris tidied up and then completed an unwanted hat-trick by going off again at both Paddock and Druids, the second incident causing the race to be stopped for good.
The only consolation was that his dad Stuart's Volvo had been leading comfortably at the time…
Away from the heavy metal, a busy paddock was absolutely dripping with charisma (and Ford Capris, come to that).
The sight of a fully functioning Alfasud always raises a smile, a slice of automotive artistry from a time when British Leyland was trying to persuade the world that the Austin Allegro was a good idea…
---
Classic Sports Car Club
Thruxton April 24
You can always tell when you're on the way to a proper race meeting, because you'll pass a number of competing cars on open trailers hitched to vans. And on this spectacularly sunny morning, the A303 was a rich seam of such things.
It has been mentioned in this column several times, but the CSCC's motto – "Racing for cars of all ages" – merits repetition, because it guarantees depth and diversity that you simply don't find elsewhere.
Such as a Hillman Minx, in this instance the last of the breed – a cut-price version of the Hunter produced between 1967 and 1970.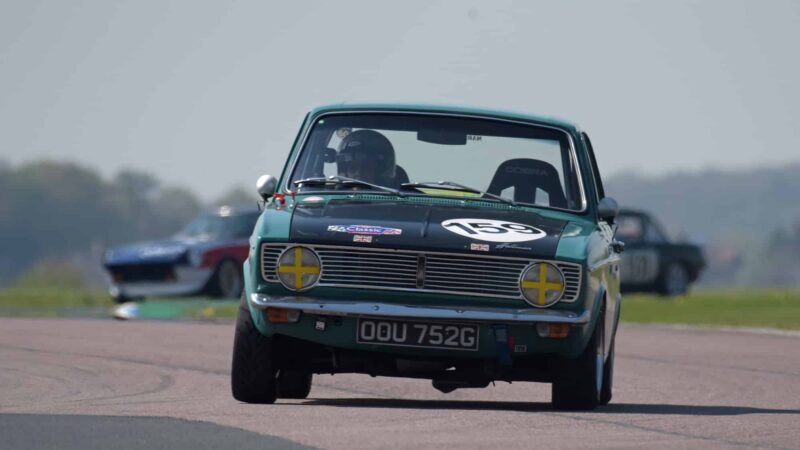 Owner Michael Tearle last raced in 1989, in Pre '74 FF1600, and this was his racing comeback. "I was supposed to shake the car down last weekend in a Goodwood sprint," he said, "but the throttle pedal was built to the usual cheap-as-possible Rootes standard, so naturally it sheared and my weekend was restricted to driving to the noise test and back. I have now made a replacement that wouldn't look out of place in a tank.
"The car was prepared by somebody who intended to use it on the hills, so most of the hard work had already been done when I acquired it. I liked its left-field nature and, besides, I could never have afforded a Lotus Cortina."
Sadly the car expired only a couple of laps into the 40-minute Swinging Sixties race, but Tearle plans a full season of CSCC events and to develop the Minx as he goes along.
Such projects are the very backbone of British club racing.