Plane & car cufflinks — the best miniature styles
- Last updated: November 5th 2021
Choose from car part cufflinks, miniature models of racing and road cars, or personalised options with our selection of the best car cufflinks
Motor Sport Shop gift guide
There's something that makes intricate, car cufflinks impossible to resist, whether they feature tiny mechanical parts; miniature models; or quirky personalised features.
It makes them ideal gifts for car fans, including those who are tricky to buy for.
We've highlighted several of the many options currently available from the Motor Sport shop below. Click on the links to jump to a particular category, or scroll down to view all of our top picks.
For the full range of car cufflinks in the Motor Sport shop, click the button below.
Car part cufflinks
---
Mechanical gear rose gold cufflinks
£260
You don't have to be a fan of planetary gears to appreciate these intricate cufflinks, featuring fine, wire-cut cogs that rotate within a rose gold-covered gear. Racing enthusiasts will appreciate the carbon fibre backing (to save weight, of course).
---
Gearknob cufflinks
£25
The classic spherical gearknob has been recreated for your wrist, complete with five-speed pattern, plus reverse. This pair of rhodium cufflinks strike a balance between affordability and sports car style.
---
Bluebird K7 cufflinks
£175
These cufflinks may not come from a car, but they do commemorate one of Britain's greatest land speed record breakers. Donald Campbell set multiple water speed records in his revolutionary jet-powered Bluebird K7 boat, and was attempting another on Coniston Water when the craft flipped, killing its pilot and sinking to the bottom of the water.
It was recovered in 2001 and restored, with a portion of the unused salvaged aluminium being combined with sterling silver to make these unique cufflinks in the shape of K7. They come in a presentation box with a certificate of authenticity signed by Campbell's daughter, Gina.
---
The Driver's Society | Borrani 2 Ear Spinner | Cufflinks
£150
Not only are these elegant cufflinks a replica of the famous Borrani wheels, but they are also made out of the aluminium from the original Borrani wheels.
With their light weight and incredible detail, they are the ideal gift for any fan of classic motoring.
---
Bentley original engine part cufflinks
£165
The Bentley S2 was made for three years in the late 1950s and early 1960s, powered by a then-new aluminium V8 engine, developed with Rolls-Royce.
Now, 60 years on, bearings from that engine have been re-made into these industrial but stylish brass-mounted cufflinks, which bear the stamps that validated parts at the time.
Personalised car cufflinks
---

Personalised tax disc cufflinks
£40
Their appeal is likely to be entirely lost on a new generation of drivers who've known nothing except digital car records, but many will feel a nostalgic glow at the sight of the now-defunct tax disc.
Each one can be personalised with a date, car make, registration number and price to celebrate a particular anniversary or a fondly-remembered car.
---
Personalised number plate cufflinks
£40
With ten characters available, you can choose the personalised plate that you, or a loved one, has always wanted for a fraction of the price of a real one.
Each set includes a white front and yellow rear plate, or two white cufflinks and there's also the option of a metal engraved box to make it an even more special gift.
Car cufflinks
---
Bentley Blower cufflinks
£25
Celebrate the might of the Bentley' Boys' supercharged green "lorry" with these hand-painted metal cufflinks for just 25.
---
Vintage racing car silver cufflinks
£315
Evoking 1950s grand prix racers, this British-made solid silver set of cufflinks has a hand-enamelled finish and come in a luxury box with a hallmark certificate.
---
Jaguar E-type upcycled cufflinks
£175
Once described as "the most beautiful car ever made" by Enzo Ferrari, these cufflinks replicate the Jaguar E-type. Not just that, but there are only 750 pairs in existence as they are made from the aluminium pistons of a 1961 series 1, fixed head coupe Jaguar E-type.
Aeroplane cufflinks
Jet engine cufflinks
£230
These intricately engineered cufflinks whir into action when blown on or moved; the fins spinning with all of their mini might. They are made of aircraft grade aluminium too, so the hard knocks of life should be no problem for these tiny turbines.
---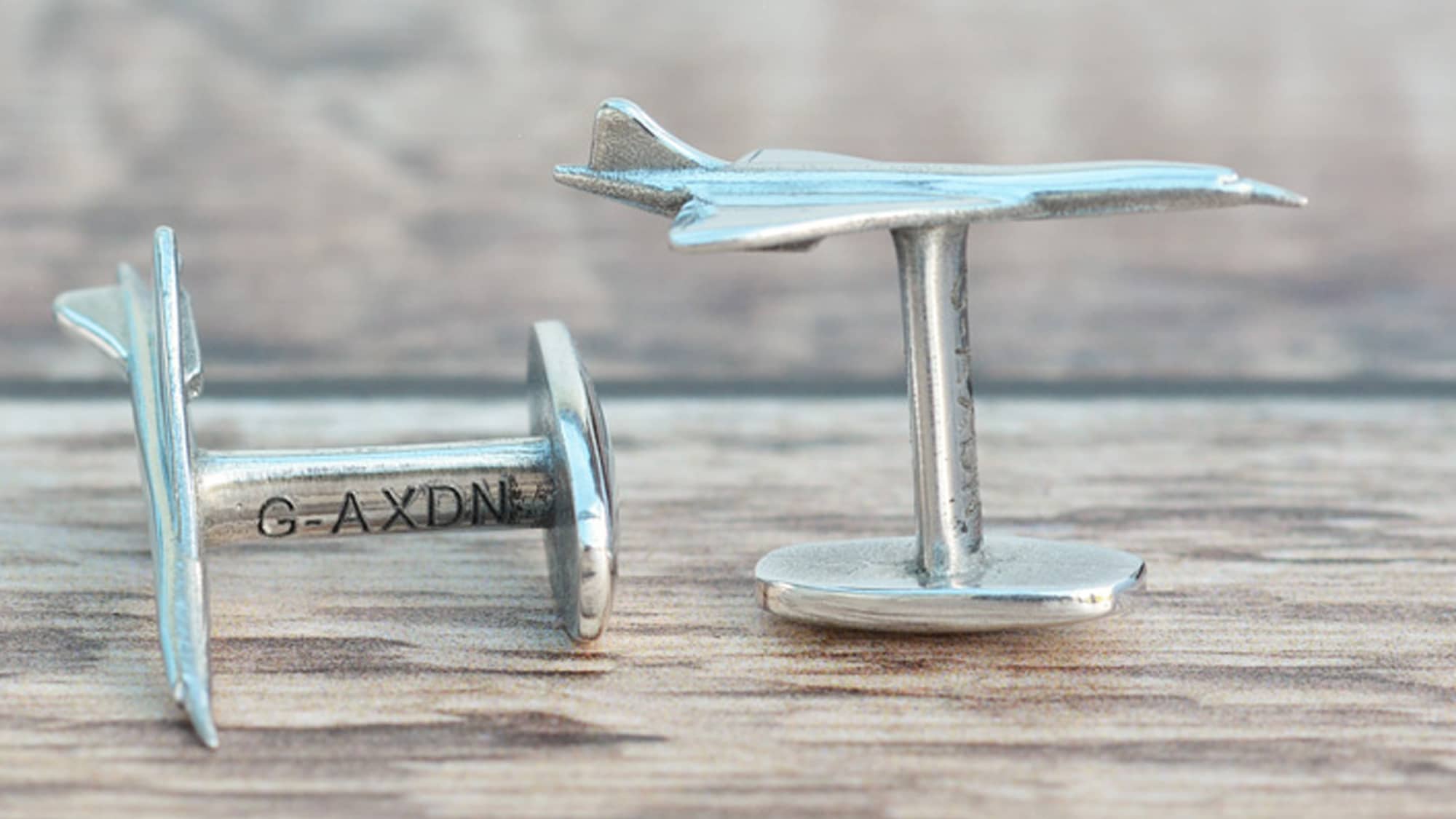 Concorde reclaimed aluminium cufflinks
£175
Concorde can no longer carry you in the air, but you can still take a part of it with you, thanks to these cufflinks that use reclaimed aluminium from one of the fleet, a pre-production craft with the registration G-AXDN. That code is etched onto each of the limited edition run of 4,500.