'Britain's greatest test driver': Norman Dewis 1920-2019
- Last updated: December 5th 2019
Norman Dewis, who developed the Jaguar C-type, D-type and E-type, has died. In his 33-year Jaguar career, he covered a quarter of a million miles at more than 100mph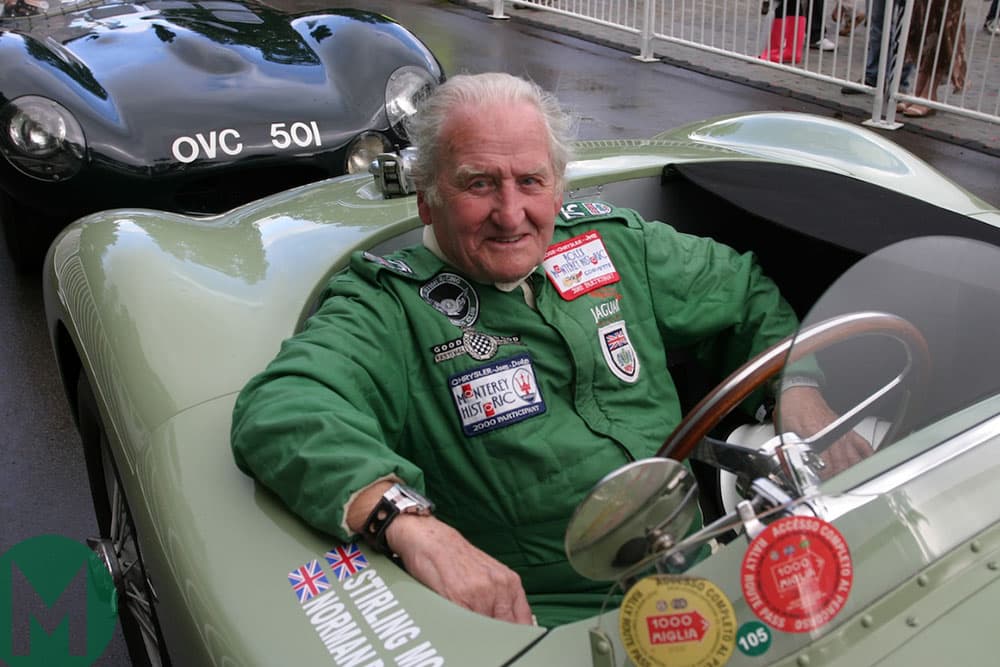 Norman Dewis Photo: Steve Havelock
Norman Dewis, Jaguar's legendary test driver who developed disc brakes, the D-Type, and set a production car speed record of 172.4mph, has died aged 98.
His 33-year career, as chief development driver at the British manufacturer, gave him a pivotal role in the creation of 25 Jaguars, including the C-type, D-type and road-going models such as the E-type, Mk II and XJ saloon.
It's thought that he covered a quarter of a million miles at more than 100mph.
Dewis served on Blenheim bombers in the war and competed in the Mille Miglia with Sir Stirling Moss.
He also raced in the 1955 Le Mans 24 Hours with the Jaguar works team, and famously survived barrel-rolling an XJ13 at 135mph.
It was one of many high-speed accidents, which were sometimes deliberately provoked. In 2000, he told Motor Sport: "You need to know what happens when a tyre blows at a car's top speed. So the tyre blows and you just hold onto the car, hope it stays on the road. This is the job of a test driver. You have to do these things."
Hailed by Jaguar as Britain's greatest test driver, Dewis retired in 1985 but remained in the public eye until recently. He drove at the Goodwood Revival, acted as an ambassador for Jaguar and gave sharp-witted talks of a life lived at full pace.
---
More: The extraordinary life of Norman Dewis, a hero
---
Norman Dewis was born in Coventry on 3 August 1920 and won a scholarship to art school, but didn't take up the place, after his father died suddenly when Norman was aged 14.
As the family breadwinner, Dewis went out to work as a grocer's delivery boy, but soon began working at the Humber car factory, which was on his street.
Dewis moved to Armstrong-Siddeley, aged 15, as an apprentice but his career was interrupted in 1939 by the war. He joined the RAF and was a gunner in the centre turret of a Blenheim bomber.
After the war he started at Lea-Frances and was then recruited by Bill Heynes, Jaguar's engineering boss in 1951, joining the company as development test driver. It was a role that put him in close contact with Sir William Lyons, the company founder.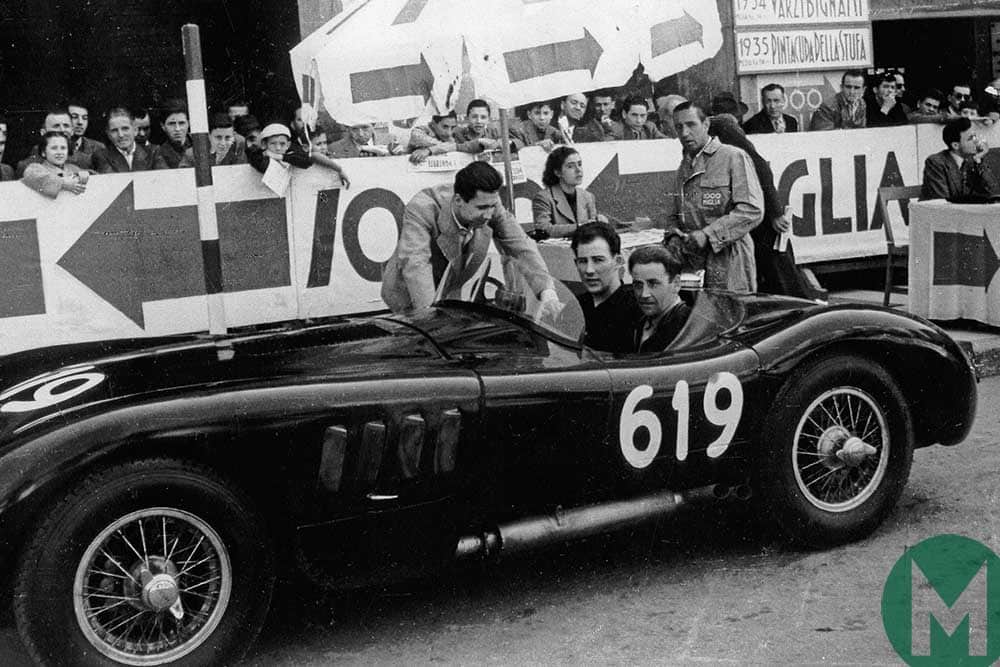 Dewis and Moss at the 1952 Mille Miglia
Dewis introduced standardised test procedures, to improve the quality of production cars, and began developing the disc brake concept. The technology was fitted to Stirling Moss' Jaguar C-type in the 1952 Mille Miglia, and Dewis accompanied him as a passenger. They were third overall, and 100 miles from the end, when a collision with a rock ended their race.
A year later, Dewis was in the driving seat for an attempt at the production car speed record, on a closed stretch of Autoroute in Jabbeke, Belgium. His XK120 had been modified with a full-length undertray and perspex canopy. "We were so stupid," he said. "When I got in, they screwed the perspex down from the outside. [Aerodynamicist] Malcolm Sayer said the car would start to take off at 160mph. And there I was bolted into it." Dewis set a production car speed record of 172.4mph.
He raced at the 1955 Le Mans 24 Hours, reaching 192mph on the Mulsanne Straight in a D-type, which he had tested extensively.
---
More
---
Much of Dewis' time was spent at the high-speed MIRA track in Warwickshire, where he would regularly cover 500 miles a day at 130-140mph, seven days a week. "Everything had to be recorded by the driver," he said. "You'd have to memorise so many things at a time, so you might do 20 laps at 140mph, come in and a guy would say 'gearbox temperature' and you'd tell him; 'water temperature' and so on. If there was a problem with any of the numbers, a change would be made and you'd go out again."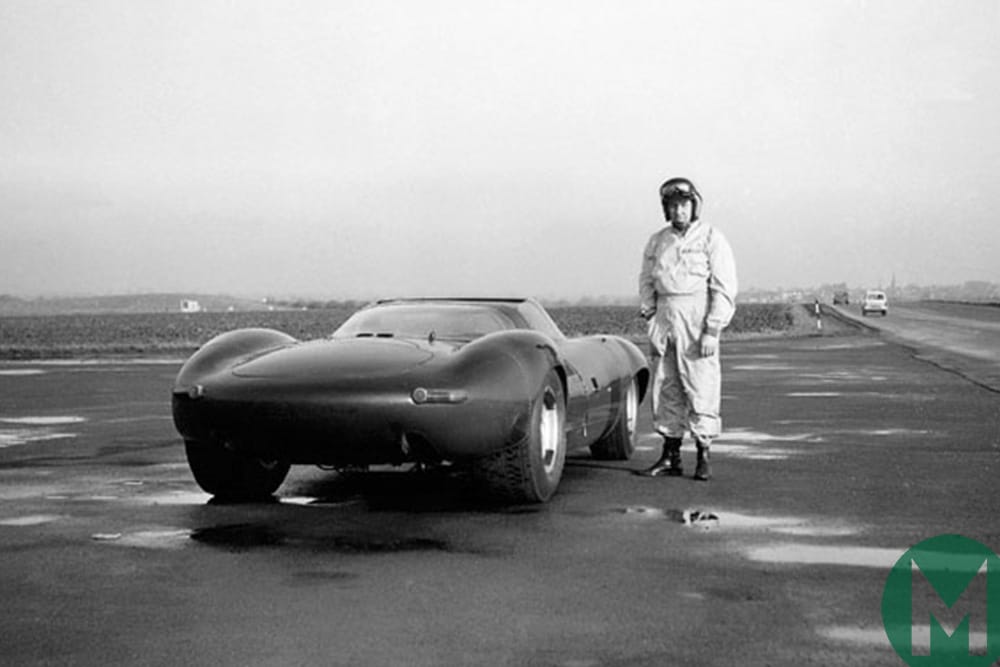 Dewis with the XJ13
Dewis put in weeks of testing to ensure that the Jaguar E-type would achieve the goal of a 150mph top speed, then drove a car overnight to the Geneva Motor Show for its public debut.
He secured permission to spend his weekends developing the XJ13 – after receiving a dressing down from Sir William Lyons for secretly testing the car after the project was cancelled.
It was in the XJ13 that Dewis suffered his dramatic crash. "I know she caught me out, but she's still a lovely thing," he said. "I was high on the banking at about 135mph when the offside rear wheel broke. It spun down the banking onto the infield, dug in, did two cartwheels and then a series of barrel-rolls. I wasn't strapped in, but while it was all going on I managed to wedge myself under the scuttle. The wreck ended up on its wheels, and I got myself out."
After a hospital check-up, and with no broken bones, Dewis returned home, telling his wife, Nan, that he needed an early night after a busy day. The full story soon emerged, however, thanks to a headline on the front page of the Coventry Evening Telegraph: 'Mr Norman Dewis crashes experimental vehicle at 140mph'
After retiring in 1985, Dewis continued to work with Jaguar, taking part in D-type drives to Le Mans, and demonstration laps of the car at Goodwood. He and Moss took the start of the 2012 Mille Miglia in a C-type to mark the 60th anniversary of their initial entry. In 2015, he was awarded an OBE for services to the motor industry.
Earlier this year, at the age of 98, he was still involved with Jaguar, helping to promote the electric I-Pace.
Motor Sport extends its condolences to the family and friends of Norman Dewis
Jaguar's 2015 tribute to Norman Dewis