Capital gains — the 2019 Crystal Palace Sprint
- Last updated: December 5th 2019
The FIA Formula E Championship returns to London in 2020, but it's not the city's only motor sport fixture. Simon Arron took his cameras to the Crystal Palace Sprint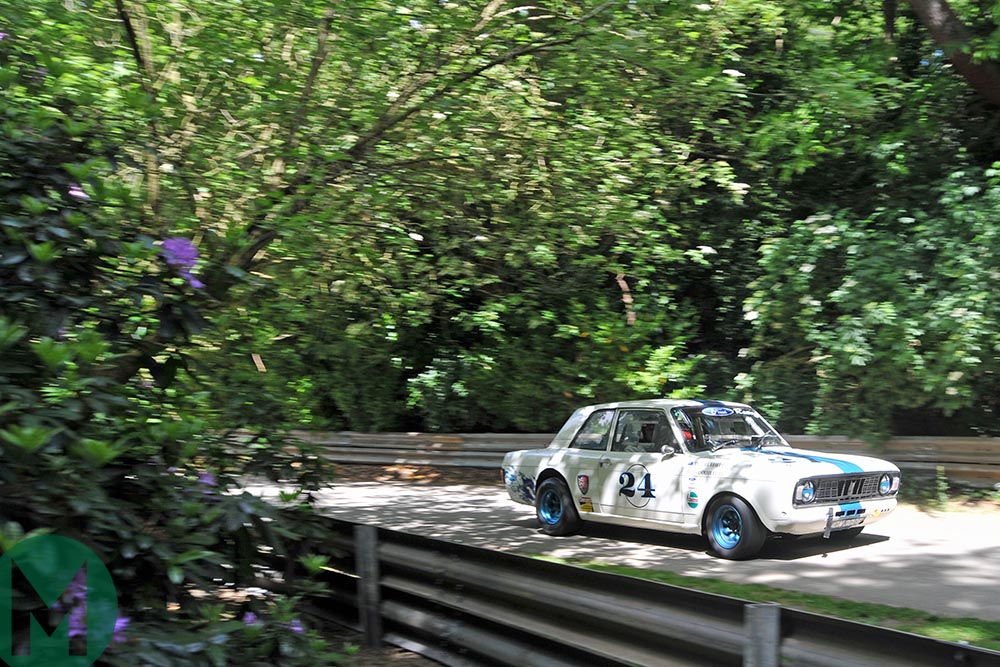 Jon Doubleday passes the rhododendrons as he heads towards the finish on The Glade. His ex-Doc Merfield Ford Cortina V8 raced on the full version of Crystal Palace in period.
Photo: Simon Arron
It was almost as though it had been left as a taunt. When first I moved to the London area, a permanent position with Motoring News having lured me from my native North-West, there was still a sign attached to one of the Crystal Palace Park gates, advising that it would be locked whenever the motor racing circuit was in use.
The track had been decommissioned for almost a decade by then and I wondered whether anyone would mind if I pinched the warning as a souvenir, but then one day it was gone – I'd been beaten to it either by Bromley Council or somebody else with a passion for collecting pointless nonsense. It always rather rankled that the track had not been kept open until I'd at least had the chance to witness its competitive charms – something I assumed were consigned forever to history.
Crystal Palace stirred again briefly in the late 1990s, a Sevenoaks & District Motor Club sprint running for four seasons from 1997 (guess who missed all of them?), but it was revived once again in 2010 and I finally managed to attend the following year, taking an early-morning return flight from the Monaco GP and reaching the venue shortly after noon.
It was worth the jaunt.
---
More
---
At about 700 metres the course is short, starting on one of the roads that formed part of the circuit's infield section during the 1930s before winding towards the old start/finish straight and then on through North Tower and concluding on The Glade. The entry is ever diverse and usually features a few cars that competed at Crystal Palace in its pre-truncated glory – examples this year including Julian Grimwade's Frazer Nash Norris Special (driven by Guy Smith at the final car meeting, in September 1972) and Jon Doubleday's ex-Doc Merfield Fraud Cortina (a Mk2 with a V8 tucked behind its snout). There was also a classic motorcycle demo, a watchable alternative to queuing for hot dogs during the lunch break. And it has a grass paddock, in the manner of yore.
The park might no longer echo to the European F2 Championship's symphony, and the likelihood of the full circuit ever reopening is somewhere south of nil, but for two days a year it remains possible to get a feel for one of motor sport's lamented bygones – something for which we should be grateful.
And if whoever took that sign happens to be reading this, I'm still interested…