Ferrari Museum celebrates 90 years of racing, from Ascari to Vettel
- Last updated: December 5th 2019
From the first car to wear the Prancing Horse, to the latest F1 challengers: museum exhibition charts 90 years of Ferrari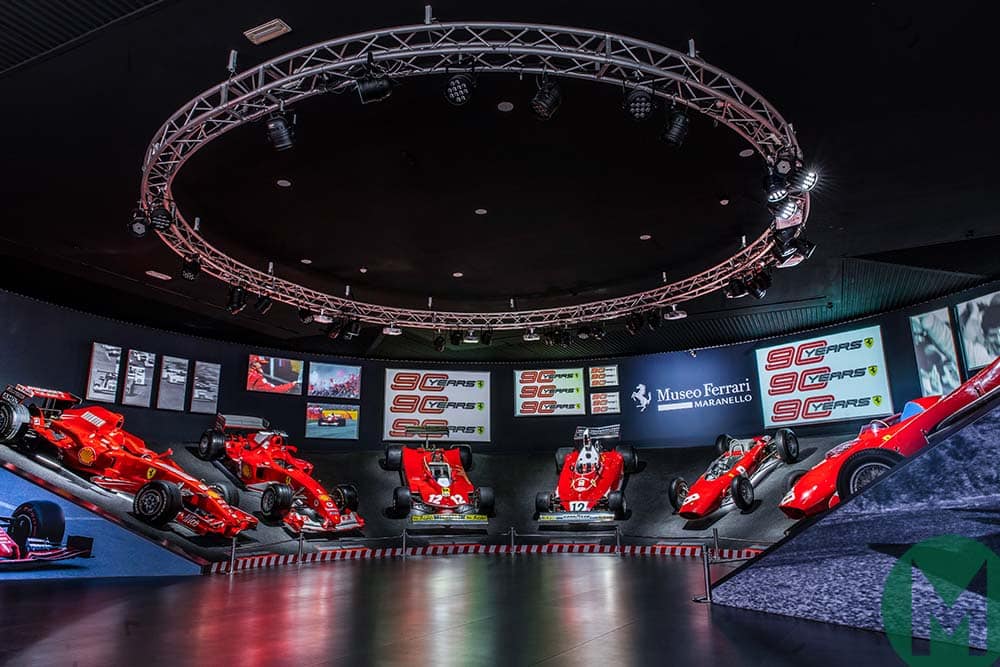 Ferrari is celebrating 90 years of racing with a new exhibition that features some of the team's most successful cars.
Race-winning models driven by Alberto Ascari, Juan Manuel Fangio, John Surtees, Niki Lauda and Michael Schumacher are among those on display, charting the history of Scuderia Ferrari since it was founded on 16 November 1929.
Enzo Ferrari began his venture racing Alfa Romeos, as part of a team called Società Anonima Scuderia Ferrari.
The "90 years" exhibition includes the first car to wear the Prancing Horse, an Alfa Romeo 8C 2300 Spider, which raced at the 1923 Le Mans 24 Hours.
It also features last season's F1 contender: the SF71H, as raced by Sebastian Vettel and Kimi Räikkönen.
---
More
---
War meant that the first Ferrari-badged car was only produced in 1947; the exhibition features the dominating Ferrari 500 F2, in which Ascari took two world championship titles, in 1952 and 1953.
Also on display is Fangio's 1956-championship-winning Ferrari D50, and the Dino 246 F1, which Mike Hawthorn drove in 1958, on his way to winning the championship by a single point, ahead of Stirling Moss.
The Ferrari 156 F1, in which John Surtees took his maiden Grand Prix victory, is included in the exhibition, as is Niki Lauda's 312 T, which helped him to his first world championship.
The 1979 312 T in the exhibition was another title-winning car in the hands of Jody Scheckter.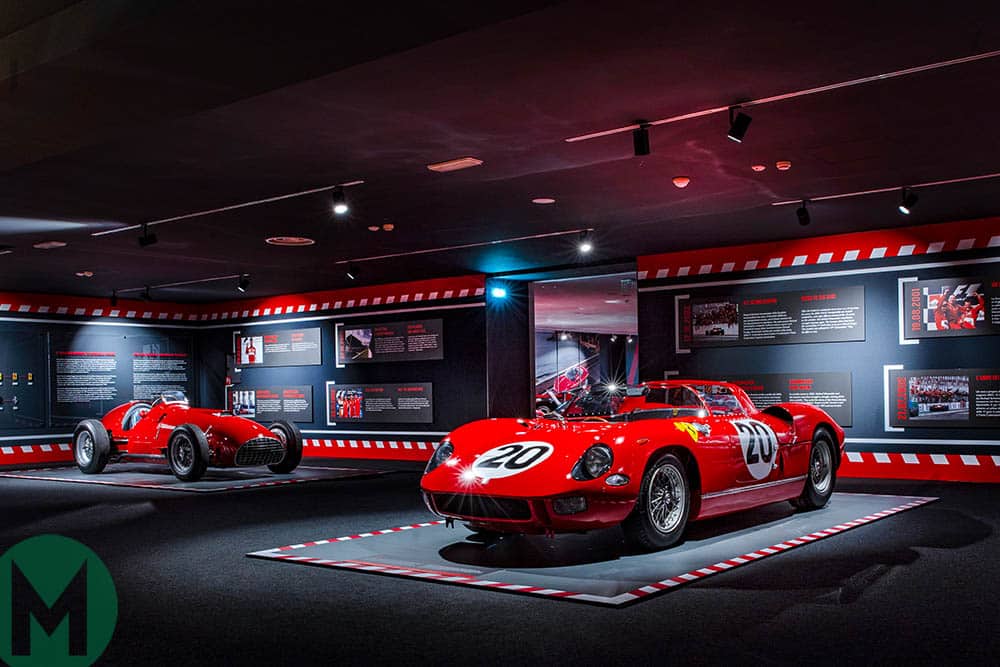 Wisely, the display skips the 1980s and 1990s, saving space for the F2004 car that took Michael Schumacher to 13 victories in the 2004 season, as well as his seventh – and final championship.
Kimi Räikkönen's 2007 championship-winning car is included too: the same chassis, which crossed the line first in Brazil to secure the title by a point.
The exhibition also charts the team's success in sports car racing, with the 166 MM, which was the first Ferrari to win the Le Mans 24 Hours in 1949, and went on to win the Mille Miglia, as well as the as the 1964 Sebring 12 hours-winning 275 P, which also secured victory in that year's Le Mans 24 Hours.
The cars will be on display until May next year, alongside a "Hypercars" exhibition, with examples of the high-tech, high-performance cars of their era, beginning with the 1984 288 GTO, and including the F40, F50, Enzo and LaFerrari.
On the opposite scale to Ascari's car is the museum's new room that replicates Ferrari's style centre, where buyers can customise their new car, selecting from colour palettes, fabric swatches and leather samples.