In remembrance, various races will pay tribute. Perhaps the largest gathering of Moss competition cars ever will be on parade and display, the crème de la crème being his Mercedes-Benz SLR '722', on a rare trip out of Stuttgart, in which he won the 1955 Mille Miglia with our very own continental correspondent Denis Jenkinson – though it's not yet certain if this exquisite Silver Arrow will run.
Other Moss machines running will be the Rob Walker-liveried Lotus 18, the four-wheel drive Ferguson P99 and his Aston Martin DBR1.
The Kinrara Trophy has been renamed the Stirling Moss Trophy, and will see Jaguar E-Types, AC Cobras Aston Martin DB4GTs and other cars of similar era and provenance dice it out around Goodwood.
Jenson Button will be taking part in this race in an E-Type, sharing the car with his friend and endurance racer Alex Buncombe, as will father-and-son racers and commentators, Martin and Alex Brundle; plus former F1 and sports car race Jochen Mass.
More minis, more fun
If there's anything that the returning Silverstone Classic taught us this year, it's that there's few categories more entertaining than that of the Minis. Sliding, sometimes door-bashing and always charmingly noisy.
At Goodwood, the John Whitmore Trophy will take the form of a two-driver 45-minute race celebrating the Mini Cooper S and featuring a grid packed with racing personalities.
Le Mans-winner Brendon Hartley will be battling with Le Mans-winner David Brabham, Le Mans-winner Romain Dumas and Le Mans-winner Neel Jani. We could go on. And will. Jochen Mass (Le Mans winner) races here too, as do BTCC drivers Matt Neal, Anthony Reid and Andrew Jordan. Martin Brundle and Karun Chandhok have F1 experience, while Jean-Eric Vergne and André Lotterer come from Formula E.
There will also of course be the RAC Tourist Trophy and the St Mary's Trophy for 1950s Touring cars.
Festival of Britain remembered
Like innumerable other countries around the world, Britain has had its fair share to overcome in the last eighteen months. Seven decades on from the nation showcasing its best and brightest in various fields in times of post-war hardship, it's appropriate that the Revival has the Festival of Britain as a theme. The Goodwood Trophy, for grand prix and voiturette cars, will be renamed the Festival of Britain Trophy.
As well as there also being a recreation of the Battersea Pleasure Gardens, there will be Victory parade to remember the 75 anniversary of the end of WWII. Military vehicles will run on the circuit, in tribute to key workers and service people.
If it is broke…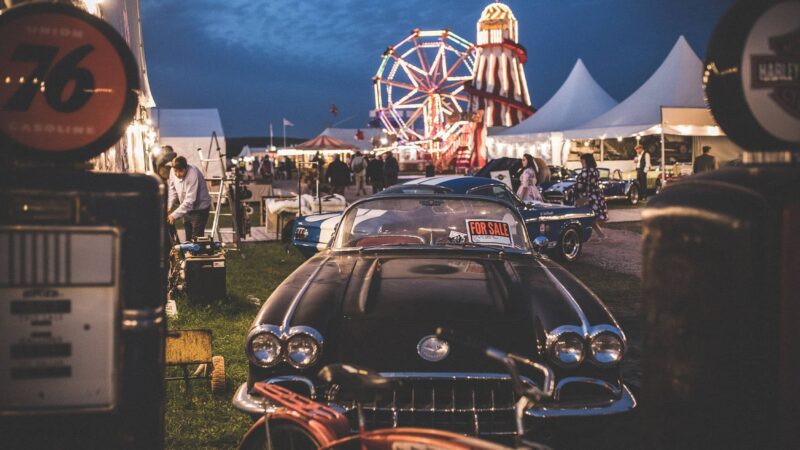 Tinkerers of Goodwood will rejoice at seeing a new 'Make-Do and Mend' area on the outside of Woodcote corner.
The stand will showcase restoration projects as well as featuring specialist guests talking and giving Q&As throughout the weekend.
Furthermore encouraging the throwback theme, there will be 600sq ft 'Dig for Victory' patch, commemorating Britain's homegrown food efforts when supplies were cut off during WWII.
New circuit features
New viewing areas on the infield will allow attendees to get closer to the action, whilst enjoying themselves all the more at the same time.
One of these is on the inside of the Lavant Straight, called the RAF Westhampnett in tribute to the former airfield's name. Spectators will be treated to a shopping area, food stalls and additional outdoor seating.