Bloodhound land speed record attempt set for 500mph test in South Africa
- Last updated: December 5th 2019
Bloodhound land speed record bid is back on track with plans for a 500mph test in South Africa this October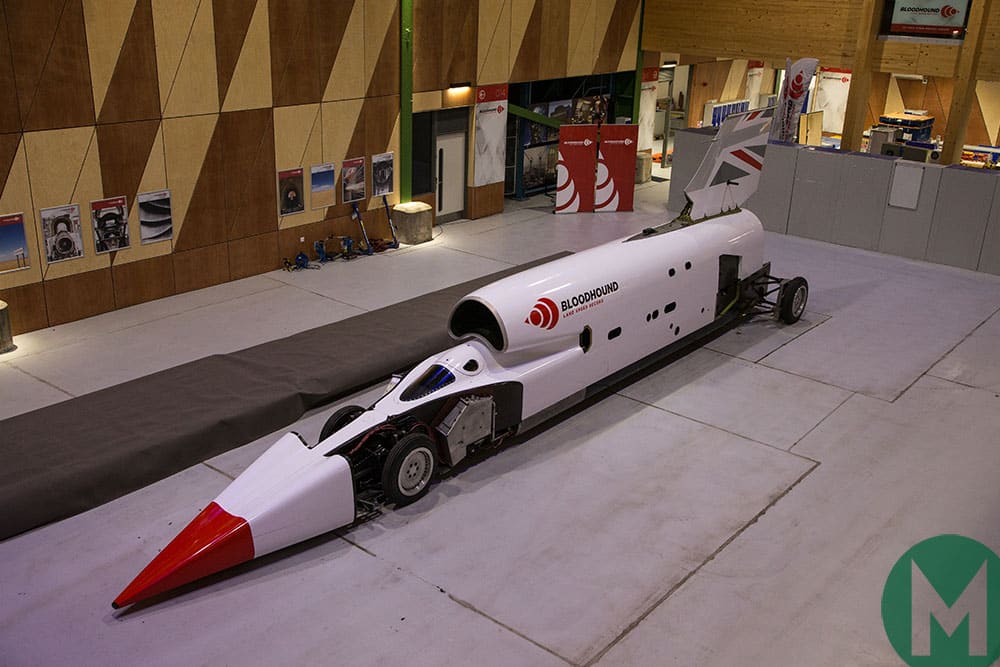 Photo: Bloodhound LSR
The British team targeting a 1,000mph land speed record will begin high-speed testing of its Bloodhound LSR car in South Africa, in October this year.
It will be the first time that the rocket- and jet-powered car will run on the Hakseen Pan, in the Kalahari desert, where the full supersonic record attempt is due to take place next year.
The trial runs are also the first to be carried out since the project was rescued from administration in March 2019, by Ian Warhurst, a Yorkshire-based businessman.
Andy Green, the RAF pilot, who holds the current land speed record of 714.144mph, continues to be Bloodhound's driver. He will be aiming to hit 500mph during testing, using the car's Rolls-Royce EJ200 jet engine from a Eurofighter Typhoon.
Data from hundreds of sensors across the car will be used to assess its stability and performance during a critical phase between 300mph and 500mph, as mechanical grip decreases faster than aerodynamic forces are building up.
"I'm thrilled that we can announce Bloodhound's first trip to South Africa for these high-speed testing runs," said Warhurst.
"This world land speed record campaign is unlike any other, with the opportunities opened up by digital technology that enabled the team to test the car's design using computational fluid dynamics (CFD) and that will allow us to gather and share data about the car's performance in real time."
If the test is successful, the team will return to the same location, in Northern Cape, late next year, for a full rocket- and jet-powered attempt to break the land speed record. They will then have to determine whether the car is capable — and safe — to attempt 1,000mph.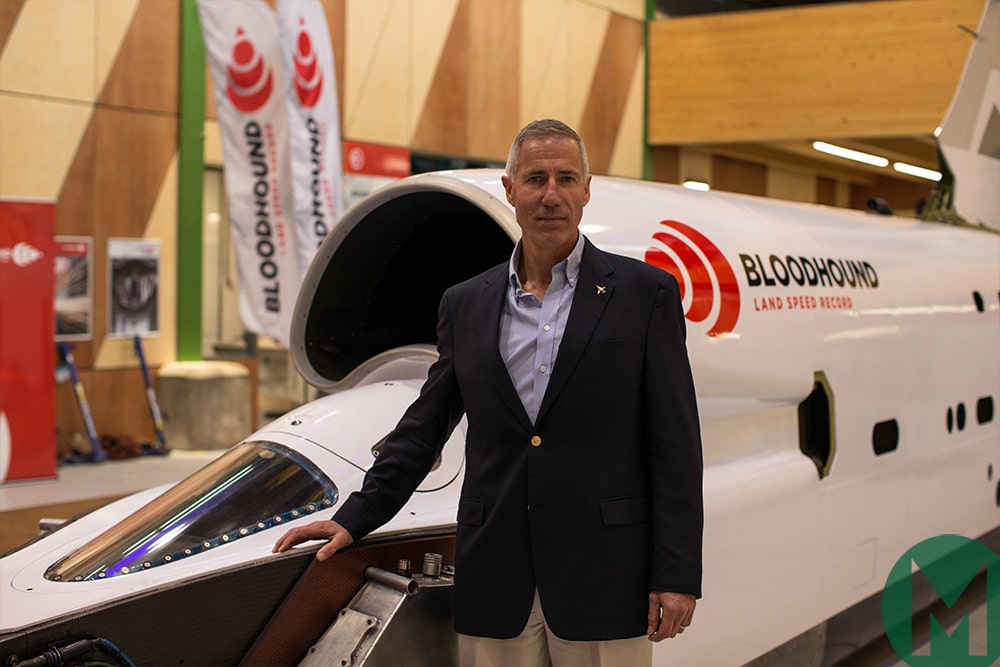 Andy Green Photo: Bloodhound LSR
The Bloodhound project fell into administration last October, after an investor could not be found to finance the £25m needed to finalise the car's development.
In December, just before the project was liquidated and the car broken up, Warhurst stepped in to save it, using proceeds from the sale of his company, which makes spare parts for turbos.
The car has been repainted in red, white and grey, from its original blue and orange livery, and work is ongoing to prepare for October's test.
---
Related content
---
Bloodhound first ran down the runway at Cornwall Airport, Newquay, in 2017, when Green tested the jet engine by accelerating from standstill to 200mph in eight seconds.
The car has since been converted for the desert, with uprated springs and dampers, a parachute braking system, and a fire detection and suppression system.
It has also been fitted with solid aluminium wheels, tested to rotate at 10,200rpm.
"High speed testing is a key part of setting a new world land speed record," said Green. "Building on everything we achieved in Newquay in 2017, we'll learn a tremendous amount by going fast on the desert the Car was designed to run on. This is where science meets reality and it all starts to get really exciting!"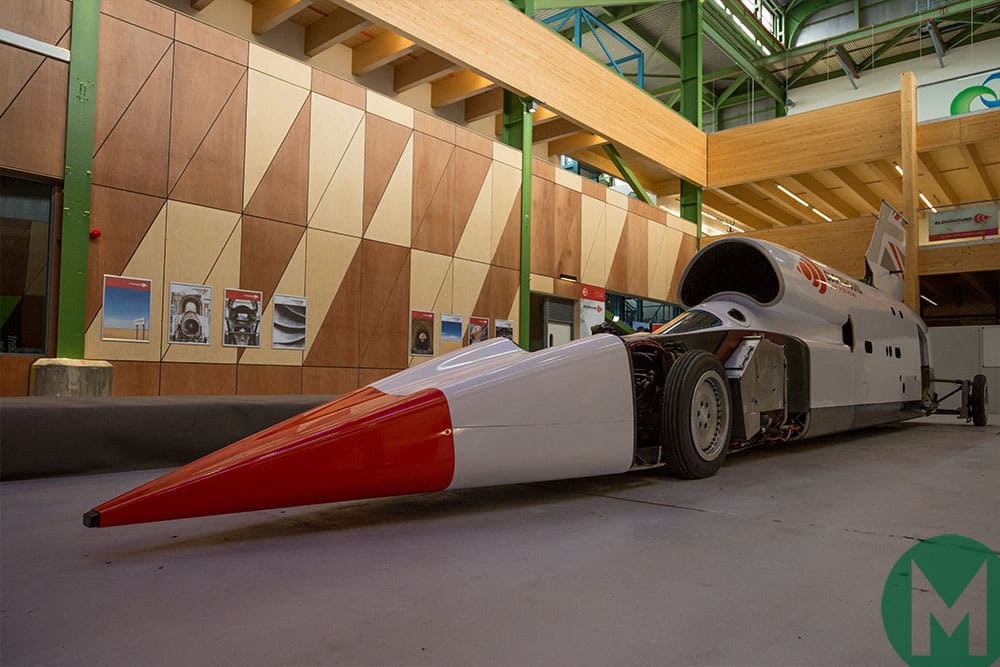 Photo: Bloodhound LSR
The original team had already organised the clearance of a vast area of the Hakseen Pan dry lakebed. Members of the local Mier community moved 16,500 tonnes of rock from 22 million square metres of ground.
"The section of the track we'll use is 16km [10 miles] by 500m, with large safety areas on both sides," said Warhurst. "This allows us to lay out up to 12 individual tracks side by side.
"This is important as we can't run over the same piece of ground twice because the car will break up the baked mud surface as it passes. We need multiple tracks so we can build speed slowly and safely – going up in 50mph (80km/h) steps, comparing real-world results with theoretical data – and Hakskeen Pan is the perfect place to do this.
"We're running the car on a brand new surface. The wheels have been designed specifically for this desert lake bed, but it will still be vital to test them at high speeds before making record speed runs."
Bloodhound will make up to ten runs during the October test, collecting data on the car's aerodynamic performance to understand how much power will be needed to break the record.
More than 500 sensors and cameras will collect data, which will be shared with students at Swansea University, to validate the project's Computational Fluid Dynamics model.