'Bellissimo!': Rossi's right-hand man reveals how VR46 team is ruling MotoGP
Valentino Rossi's VR46 MotoGP team and Riders Academy are ruling MotoGP – holding the top two places in the championship and winning two of 2023's first three races. Team director Uccio Salucci tells Mat Oxley how they do it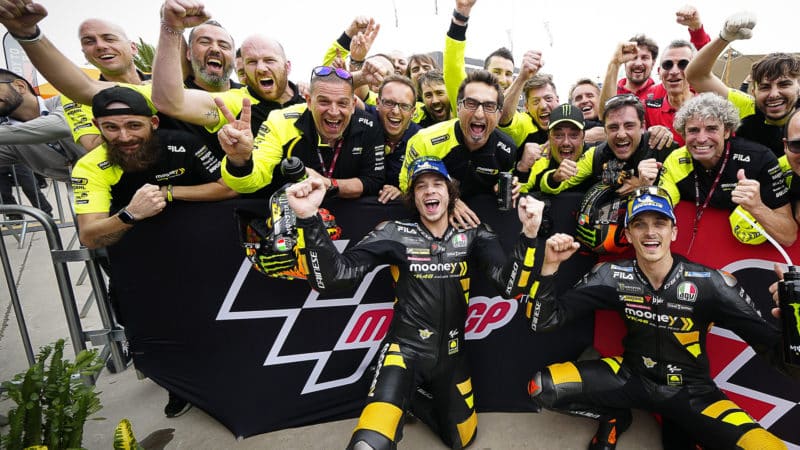 People often say that Valentino Rossi's life unfolds like a Hollywood movie: from one unlikely scene to another, plenty of romance and a plot twist around every corner.
And now the next scene is unfolding before our very eyes: Rossi has retired from MotoGP but the team he created is now winning races, making headlines and dominating the paddock's consciousness.
Marco Bezzecchi won the rain-soaked Argentine MotoGP race earlier this month, Rossi's half-brother Luca Marini finished a close second in Sunday's Grand Prix of the Americas and Bezzecchi leads the world championship, on a second-hand Ducati Desmosedici, ahead of another VR46 Academy rider, Pecco Bagnaia.
Only a fever-brained Hollywood scriptwriter would consider such a storyline – and then he'd bin it, sure that no one would believe it…
That's always been the thing with Rossi: things fall into place, apparently driven by a kind of natural energy, but of course that's not how things work in the real world.
Rossi's success comes from a love of what he does and an obsession about getting everything 100% perfect, from applying the stickers to his own race bikes to setting up the best independent team in the paddock, with all the multitude of complexities that involves.
And there's no one better to talk to about this than Uccio Salucci, childhood friend, right-hand man throughout Rossi's grand prix career and now team director of the Mooney VR46 MotoGP team.
Oxley: The success you're having with the VR46 team seems like another chapter of the Rossi story because whenever we think the story is coming to an end there's always another chapter…
Salucci: Yes, we are like Highlander! (A science-fantasy action TV series that ran from 1992 to 1998, which Salucci and Rossi watched from their couches in Tavullia)
I am very happy about this, because when Vale (Valentino Rossi) stopped racing in MotoGP in 2021 we wanted to continue with his projects. Vale is here with two projects – one is the academy, the other is the team. Both are in a good moment because we have a lot of passion.
I put all my passion into the team and Carlo Casabianca put his into the academy. When I work on this project I always have the face of Vale looking over my shoulder, saying, "Please, Uccio, try 100%!". This is a big motivation for me.
For sure, Valentino is the legend of this sport, so the academy and the team need to be at the same level as Valentino. To be at that level isn't easy, but we try in a good way.
The weekend in Argentina was like a dream for us. When I called Vale after the race he was very happy, very emotional, because it was very big for him. When I got back to Italy I went to dinner with him and his face was like when he won a race! This was the first time I'd seen his face like this since he last won a race [in 2019]! He was like, "Uccio, f**k, we won in MotoGP, with our team!". It had been many, many years since I'd seen his face like this, so for me this was bellissimo, because Vale and I are like brothers.
When Rossi stopped racing bikes at the end of 2021 your life changed hugely, because you had been by his side since the 1990s…
It was not easy. My life changed a lot because I had spent many years with Vale. Now we are in another situation. I'm not with him at all the races, now I manage the team with the other guys together, while Max [Montanari] continues with Vale in car racing. Last year especially wasn't easy for me, but I continued at 100%, for him, and now this is the result. But we need to remain very, very calm and focused.

Rossi comes to very few MotoGP races, so what is his involvement?
When him and I are in Italy we have two meetings a week at the VR46 offices. He wants to know everything: what's happened in the team, what happened at the last race, about the budget, who works here and why, why I want to change something, everything!
If I say, please, I want to change something – I want to move one guy from here to there – he says, why? Then I need to explain to him. He has maximum involvement. Every day I send him two WhatsApp voice messages, telling him what happened today: this, that and the other. After two hours he answers and says, "Ah, okay, for this one, maybe you can make that change. But what do you think about this one, blah, blah, blah?".
I have the last word, but he wants to know everything, so maybe he says, "Okay, Uccio, if you want to decide like this, then it's okay, because you are there, but please pay attention!".

When Rossi started his first Moto3 team in 2014 I thought this must be the beginning of the end, because no way can you race 100% and manage a team on the side, but in retrospect his ability to compartmentalise is everything.
Exactly – Valentino is very clever. He has the intelligence to manage the situation, also with the academy. He does two meetings with me, then two about the academy with Carlo Casabianca. Valentino manages all the situations, which is very important for us, especially for me. Last year I worked with the team and the academy, but we are growing up and now that the level is so high I need to be concentrated on the team and Carlo on the academy.

Did you stay in Termas on the Sunday night to celebrate Bez's win or did you have to fly home?
F**k, we had to fly, so we had the party with the team and the academy the next Friday in a restaurant in Pesaro, close to Tavullia. We had a very good party, with Marini, Bezzecchi, Bagnaia, everyone, a lot of fun. But before that we went training with minibikes and there was Pecco and Bez in their leathers, first and second in the MotoGP championship. I thought, 'f**k, it's unbelievable'. It was a very strange feeling. Strange but good.

Your team seems a bit more rock and roll than the others…
Yes, our team is a little bit different – we have a very good atmosphere. We still have the same mechanics from Moto3, from Moto2 and now MotoGP. It's a big, big step, but our guys are very good. It's a good group, more or less the same since 2014, so I don't want to change it. We always have the same people – this is very important.
I spoke a lot with Dall'Igna [Gigi, Ducati race boss] at the end of 2021 because he was pushing us to take more Ducati mechanics, but I said, "Please, no, Gigi, because I want to continue with our project, with our staff". He said, "Okay, but the Ducati is not a Japanese bike, it's not simple". But we want to continue like this and now our mechanics are very, very good, and we are continuing with the bikes we used last year [Bezzecchi and Marini both have GP22s now] so it's fantastic.
We have three Ducati engineers inside our box, the same as the other teams. For sure next year we will still have Ducatis. I don't know, but if we change bikes for 2025, Ducati will take their engineers and some engineers will arrive from another factory. My idea is that our team remains our team. If we change bikes we will just change the engineers and I hope to keep our own mechanics.

How do Marco and Luca compare?
They are very different – Luca is a scientist, Bez is more old school.

I remember seeing Bez in his first Phillip Island MotoGP weekend last year – he was fastest after 15 minutes of FP1 – incredible!
Completely! Their approach is very different. It's good for the team because we can improve and grow up together. Luca is very calm – he arrives at the top level, ticking all the boxes – tick, tick, tick – so when he arrives he knows why he's there and he stays there. Bez is more of a natural talent, more like Valentino than Luca.
Last winter I asked Bez to improve in this area, to stay more in the garage, to stay more with his engineers and the data, and to try to crash less, because his talent is good but that's not enough in MotoGP. I also asked Marini to be a little more like Marco. Marini asked me, "Why?!" I said because you need to take the good parts of Marco. Now some parts of Bez are like Luca and some parts of Luca are like Bez. Both have improved.

How does the team work as a whole?
We work a lot together. We have meetings on Thursday afternoons, with both riders and all their engineers. I don't think other teams do this. We didn't do this last year because Bez had a GP21 and Luca had a GP22. I remember when I was at Petronas with Vale it wasn't like this – Vale went one way and Franky [Morbidelli] the other. Now in MotoGP you shouldn't make war with the other rider in your box, so now it's better like this.

What happens if you beat the Ducati factory team to the title?
Sincerely, it's very difficult! I speak to Dall'Igna – he's very happy about our work and he always says that for him the important thing is that a Ducati wins – he doesn't care if the bike is red or black or whatever. We have a good relationship.