A few weeks earlier, during the pre-British GP media conference, another colleague asked Ducati's number-one title hope Pecco Bagnaia a question about his recent drink-driving conviction.
Following the conference the journalist was taken aside and berated by a Ducati PR staffer and later via Whatsapp by another member of the factory team's PR staff.
It's important to understand that what riders do away from the tracks isn't out of limits when it comes to questions from the media. And a top motorcycle racer getting done for drink/driving is a big story, whether Ducati like or not, especially considering the company's fancy anti-drink-riding marketing campaign.
What's unusual about MotoGP is that nearly all the journalists that cover the championship are motorcycle-racing fans, so they are part of the paddock family and rarely go digging for dirt.
If MotoGP was a huge deal – like football, Formula 1, tennis or golf – the media centre would be full of national newspaper journalists who wouldn't be so kind to the sport, whether they write for quality publications or muck-raking tabloids.
On Sunday at Silverstone, as far as I could see, there was only one national newspaper journalist present at the post-race media conference. Inevitably he questioned winner Bagnaia about the drink/driving incident, because that's his job, whether you like it or not.
For this he received a withering look from a Ducati PR staffer. However, he was not taken aside for a rollicking, presumably because the PR knew that Ducati would suffer much more for chastising a journalist read by six million people than for berating a humble MotoGP freelancer.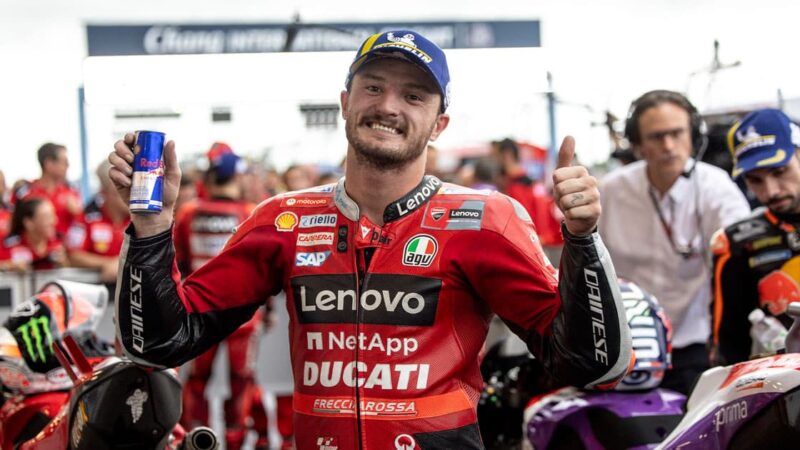 Of course, if Ducati's PR team had done their job they would've briefed Bagnaia before the British GP and told him, "Pecco, for sure you will be asked by journalists about the drink/driving thing that happened in Ibiza, so just say that you are very sorry for what happened, add that you have learned from your mistake and that should be the end of the matter."
Instead, they presumably hoped the media would've forgotten about the incident, so he was ambushed by questions, which he handled reasonably well.
My own difficulties with Ducati's factory team started with a blog I wrote about teams using illegal tyre pressures in May's Spanish GP. An engineer from a rival team gave me the tyre-pressure sheet for the Jerez race which revealed that winner Bagnaia, Jorge Martin, Alex Rins and Andrea Dovizioso had run below the legal minimum.