"I think we really deserve this podium because it's been a long five years, especially two years ago it was very difficult and I suffered a lot. The bike wasn't competitive, so I crashed many, many times. Sincerely, it was one of my most difficult years. Now the future looks promising, so hopefully we can keep the momentum."
Within the next few races Espargaró will have Maverick Viñales for a team-mate. That's a very strong line-up, so long as Aprilia can fully harness Vinales's talent.
Albesiano has been working towards this moment for eight years.
"Of course it really started for us last season [with the 90-degree engine], but everything is always a progression and this year we've really reached our engineering targets, especially in chassis issues, like centre of gravity position, aerodynamics and tyre management."
Albesiano isn't only talking tyre management in the race, but also how the team manages the Michelin mystery in the garage.
"We have one guy dedicated to tyre management – how to treat the tyres to get the best from them. Even a difference of 0.5 bar can make a difference when the competition is so tight."
This year Espargaró has been able to battle much more strongly thanks largely to an adjustment to overall bike balance
"The area we have improved the most this season is in braking," Albesiano adds. "We improved the braking phase a lot and this makes a big difference, especially in race situations."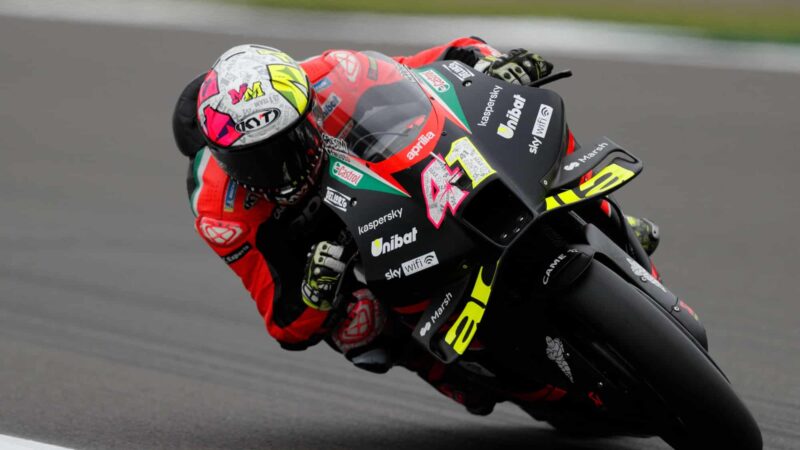 The dynamics of a V4 engine usually make V4-powered MotoGP bikes a bit twitchy and unstable, but the RS-GP looks like the friendliest of the V4s.
"Two years ago our bike was not like this – it was much more nervous, so it was difficult for the rider to use all the power. Stability is a key factor in MotoGP, so we have worked a lot on aerodynamics, chassis stiffness and getting the centre of gravity in the right place."
Of course there's more to come.
"There is a margin to improve even more in the braking phase and in the cornering phase, by using the tyres in the optimum way, by putting the correct load on them."
MotoGP's next race is at Aragon – Espargaró's favourite.
"Aleix loves the track and we expect to be very strong there, like we've been at other tracks many times this year. Our performance was good from the start of the season – it was just a matter of waiting for the right conditions and situation."
Aprilia achieved its first podium in a historic race – the first premier-class grand prix since the 1972 Yugoslav GP to feature six different makes of motorcycle in the top six.
The winner that day at Opatija – a rock-lined street circuit that wound its way along the Adriatic coast – was, of course, an MV Agusta triple, ridden by Alberto Pagani, because Giacomo Agostini's bike failed to make the finish.
Second was Chas Mortimer on an over-bored Yamaha TR3 350cc two-stroke, available to anyone for around £1200 (£17,000 in today's money). The podium was completed by Paul Eickelberg, riding a Konig, one of the strangest GP bikes of all time, because it was powered by a flat-four two-stroke outboard engine.
Eickelberg was the last rider not lapped by Pagani, which means the next three finishers took the flag something like three minutes after the winner.
Fourth was Guido Mandracci aboard a Suzuki XR05 two-stroke twin, fifth was Bo Granath on a Husqvarna two-stroke twin, created from two 250cc single-cylinder motocross engines, and sixth was Charlie Dobson, riding a Kawasaki H1R two-stroke triple, a tuned road bike engine in a rudimentary race chassis.
Things were different then.