Christmas at Casa Márquez
- Last updated: January 13th 2020
What will Marc Márquez give Repsol Honda MotoGP team-mate Alex Márquez for Christmas? Here's our best guess…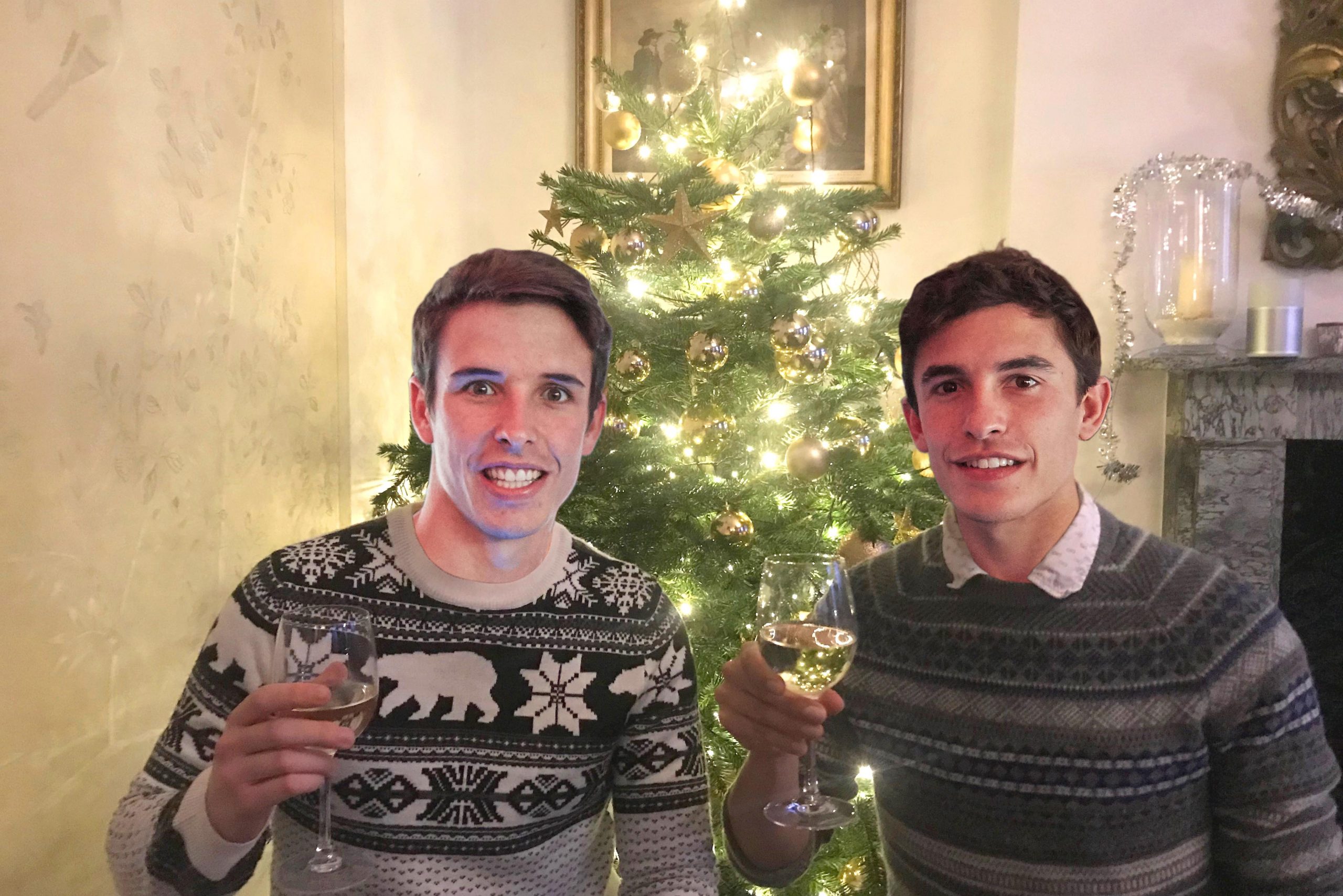 Christmas at Casa Márquez – as envisioned by Motor Sport
When my brother and I were kids, and even when we were young men, we fought like dogs, so I'm always impressed, not to say a little jealous, when I see brothers that really get along. Alex and Marc Márquez are like that: they live their lives together and they look at least as happy when big/little brother wins a race as when they do.
What will Marc give Alex this Christmas? That's an easy one to answer. Under the Christmas tree at Casa Márquez there will be a big book, from big brother to little brother: How To Win Races On An RC213V.
Included with this gift will be a full-time advice service, available worldwide from an on-site expert. Wherever Alex goes, Marc will be there to help.
This is what's most fascinating about having two brothers riding in the same team, because nothing like this has ever been tried before in top-level motorcycle racing. It's like a unique human science experiment: can arguably the greatest rider of all time teach his skills to someone else, in particular, to his brother?
Pretty much every rider in MotoGP has a riding coach these days, but this is different. Unlike other coaches, Marc is still racing. Even more importantly he will be racing the exact same bike at the exact same track at the exact same time as his young apprentice. Therefore he will be able to give the kind of detailed advice that's impossible with other rider/coach relationships.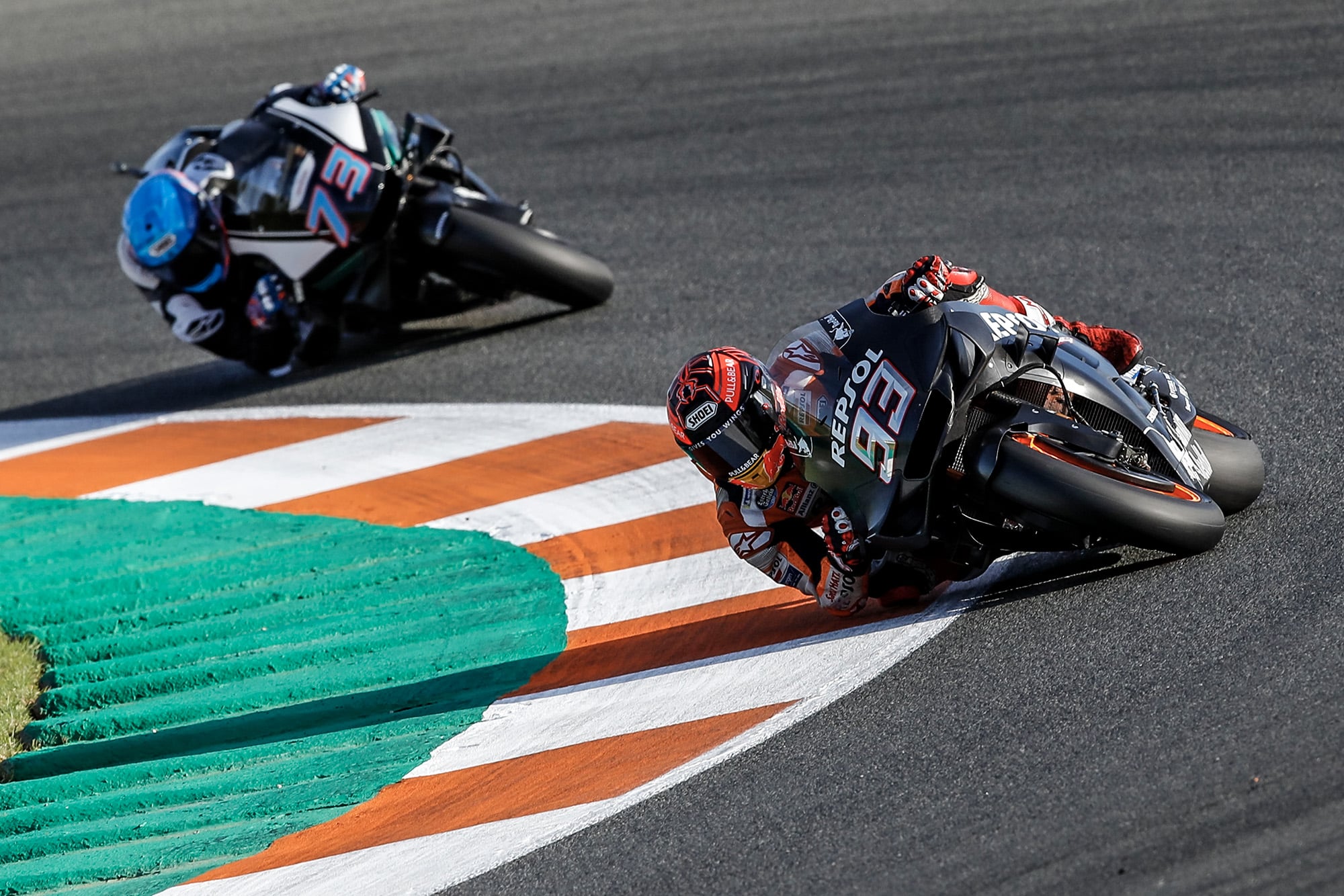 Marc shows Alex the way at the post-season Valencia tests Photo: HRC
Marc has made no secret of the fact that he wants to help his younger brother master MotoGP. He always tells us that Alex – three years his junior – is a better rider than him. I think he's just being kind when he says that, but there's no doubt that he believes in his brother and there's no doubt that Alex has a lot of talent.
Alex won the Moto3 title in 2014 and this year's Moto2 title, both new-era Dorna championships created specifically to prevent riders from enjoying a significant technical advantage over rivals; unlike the extinct 125cc and 250cc classes in which factory riders had a huge advantage over privateers.
It's worth remembering that only a dozen riders have won junior and intermediate world titles in seven decades of grand prix racing: Alex, Marc, Dieter Braun, Luca Cadalora, Loris Capirossi, Dani Pedrosa, Tarquinio Provini, Cecil Sandford, Phil Read, Valentino Rossi, Bruno Ruffo and Carlo Ubbiali. That's quite something, sharing that achievement with so many greats.
Alex may not possess the otherworldly skills of his older brother, but he knows how to be ride, he's a hard worker and he's not afraid. Those characteristics count for a lot in motorcycle racing.
During his first four years of Moto2 (2015 to 2018) Alex's average crash rate was 18 falls per season. That's a lot of accidents, but there were always riders that crashed more than him and he always came back for more. Last season his crash rate was much reduced – 12 falls over 19 MotoGP weekends – because the extra engine-braking of the larger-capacity, three-cylinder Triumph spec engine allowed him to use softer-compound front tyres, which gave him more grip and feel.
---
More from Mat Oxley
---
Of course, the big question is this: how accurately will little brother be able to apply big brother's detailed advice? If they compare their data and Marc advises Alex to use the front brake in a certain way at a certain corner, or the throttle, or his body weight, or whatever, how closely will Alex be able to implement that advice into his own riding technique?
Alex faces two huge challenges in 2020. First, to adapt to MotoGP. Second, to prevail over Honda's RC213V. Marc's knowhow and advice will be a huge factor in mastering both. Marc has always been able to tame the RC213V, where others have failed. Now he has a real interest in helping someone else learn the bike's secrets and also helping HRC to make the bike friendlier.
Marc doesn't only help Alex with riding advice. He has always helped him with his focus, his morale and his confidence. Perhaps the latter is where he can help the most.
Alex never seems to have the swaggering confidence that's been such a big part of Marc's success. That was evident when Alex crashed out of the lead at Silverstone last August, endangering his points lead. After that he seemed to seize up and lose the ability to ride fast and free. He didn't win another race all season, instead defending his points lead through steady points-scoring results.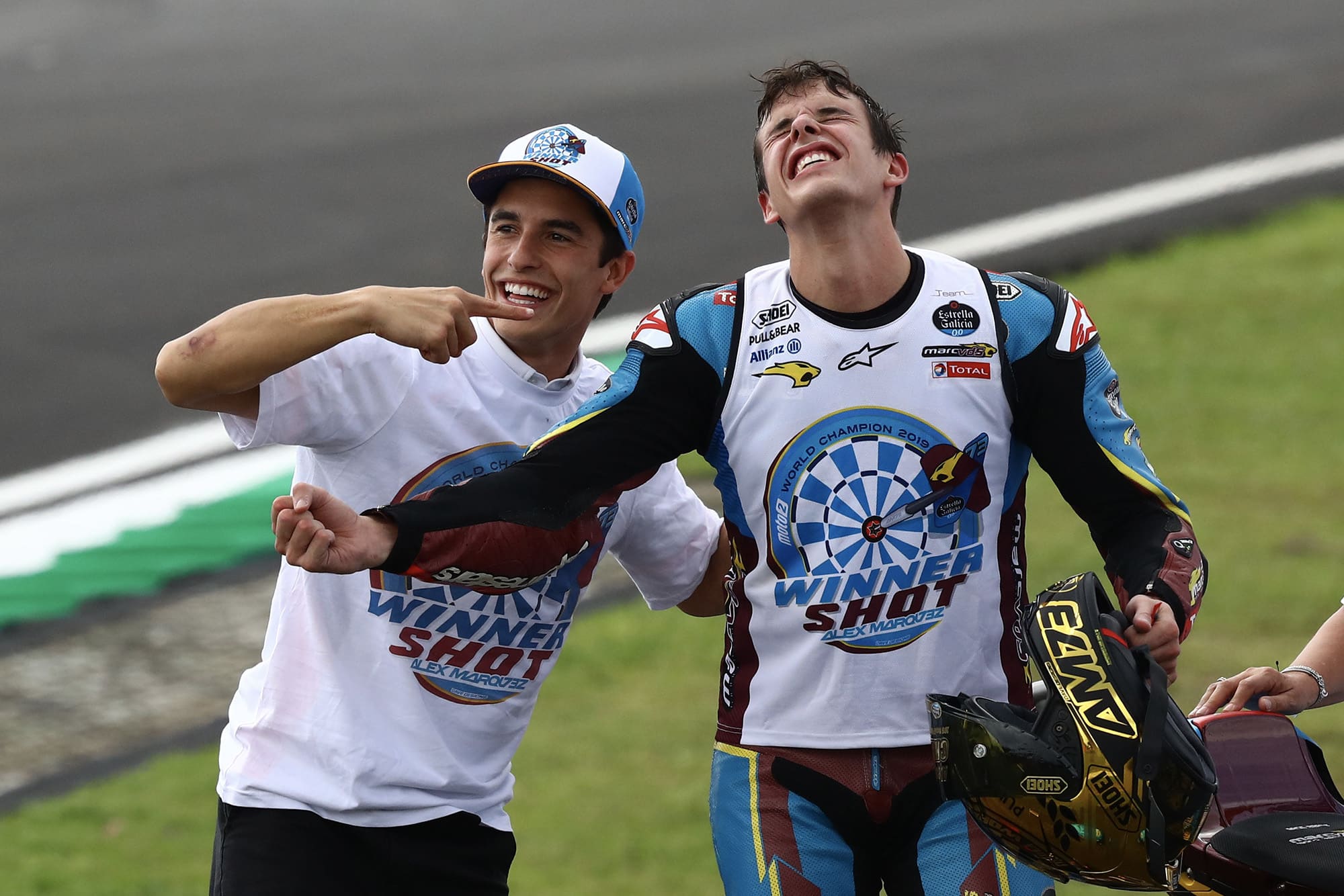 Marc celebrates Alex's Moto2 title at Sepang, November 2019 Marc VDS
Alex will need cast-iron confidence to get through 2020. Few things are more important than confidence on a 220 miles an hour motorcycle. If your brain ever finds itself on the back foot then it's game over.
How will Alex do in 2020? I have no idea. I thought Jorge Lorenzo would trouble Marc last season, so what do I know? Motorcycle racing is still a human sport more than anything else, and it's very difficult to predict how people react when they're under serious pressure. Some people flourish, others collapse. We simply don't know how Alex will react with Marc on his side, showing him the way.
He needs to take things step by step; try not to run before he can walk, which is never easy for young racers, who want everything now, not tomorrow. Again, Marc will be able to help him here, because he's been there and done that.
He will also need to ignore pressures from outside the garage, from the media and fans, who may want to crucify him if he's not immediately fast or if he crashes too much. He should concentrate on finishing races, building his feeling and growing his data, because you learn nothing by going too fast, too soon.
There is one other question: will Marc's mentoring of his younger sibling affect his own campaign? Will his desire to share the podium with his brother spoil his focus? Possibly, but probably not, because like most top racers Marc's mental bandwidth is much wider than normal people's. However, once again, we don't really know. But it will fun finding out.
Merry Christmas!