Doohan on Márquez's victory: "Once Marc gets his strength back he'll have a chance at MotoGP title'
Marc Márquez's first win in 19 months brings the six-times MotoGP champion from darkness to light, following advice from fellow comeback-men Mick Doohan and Alberto Puig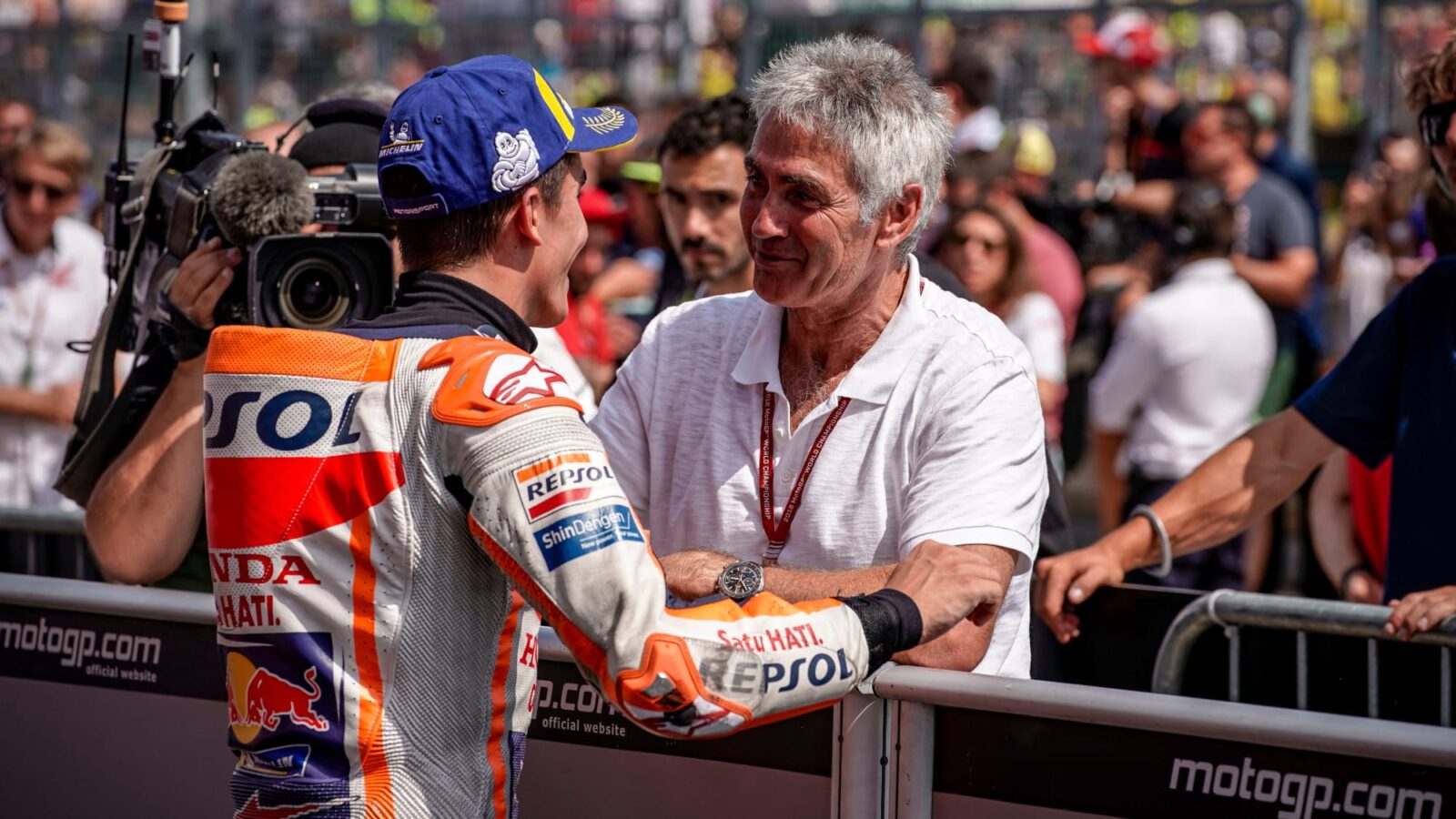 Yesterday Marc Márquez proved that he was back – recovering from a potentially career-ending injury to climb to the top step of the podium for the first time in 581 days. He's still not "the same Marc", as he likes to say, but nevertheless, he once again made the kill at his happiest hunting ground. He will surely only get stronger from here.
The six-times MotoGP king has been in some dark places since he broke his upper right arm last July, especially last autumn when his doctors realised that the fracture site had become infected. This can spell disaster for a healing bone.
The best way to deal with this? Talk to people who have visited those same dark places, where there's not even a glimmer of light, just gloom and deep, deep depression.
First, there was Márquez's Repsol Honda team manager Alberto Puig, whose MotoGP career was effectively ended by a 160mph crash at Le Mans in 1995, which shattered the tibia and fibula bones in his left leg.
"The injury was a disaster – everything in the leg was destroyed," Puig told me a while back. "The nerves were cut, the ankle and all the toes are fused, I lost all the muscle and then the bone got infected. For three years it was like that – I was taking one and a half grams of antibiotics every day and then they fitted an external fixator. Finally, they removed the bone and gave me a graft, from an animal."
What kind of animal, I asked?
"A cow! My leg is cow, it's crazy! I had 12 surgeries and finally I understood that I couldn't be competitive anymore because now the leg only works as a stick."
Puig came back from the crash to score one more podium – at Circuit Paul Ricard in 1996 – before realising the game was up.
"Later on I realised that also I had got some fear from the injury. I was no longer capable of racing from a physical point of view, but also from a psychological point of view. It may sound strange, but to be a rider you sometimes need to be an idiot. You just have to race the bike and if you think too much you delay all the processes and the lap time never comes. I love racing but I had to move on."
After Sunday's victory, Márquez told us that although there had been moments of fear when he was in the darkness – not only that he wouldn't be able to come back to racing but because he wouldn't have a right arm – he was convinced he would be back.
Because that's what racers must do. If they don't believe there's light beyond the darkness then it's over. Indeed it's impossible to be a racer unless you're an eternal optimist, even when you feel like you're drowning in a sea of negativity.
Of course, not everyone shared Márquez's belief. His struggles at his first races following the accident – seventh, sixth, crash, crash, crash – had the all-knowing social media warriors out in force: he had lost it, he would never be the same again.
I've no doubt that if social media had existed three decades ago those same voices would've broadcast the same opinions about Mick Doohan and his mangled leg.
Doohan's first few races following his Assen 1992 accident were even worse: 12th, sixth, DNF, fourth, seventh, fourth, second, DNF, second, second and finally a victory at Mugello 1993. And during his comeback, he had to deal with infections in the fracture site and several more crashes, because he couldn't ride his NSR500 how he wanted, which broke more bones, including his left scaphoid and his right shoulder. And after all that, five consecutive 500cc world titles: 1994, 1995, 1996, 1997 and 1998.
At Mugello last month Doohan and Márquez had a private chat, during which the six-timer asked the five-timer for advice: how do you find your way out of the darkness? Because after Márquez made his return at Jerez he realised that the road back to the top was longer than even he had expected.
"From the first time I rode a MotoGP bike in Portimao, I said, 'okay, I'm far, very far from my usual level,'" Márquez said on Sunday. "From that point it was very hard and the next races were even harder."
A couple of weeks ago Márquez had another chat with Doohan.
"When you are in a difficult place you try to find some help from somewhere. After Mugello, I had a phone call with Mick – 30 minutes and he was speaking and I was listening. My question was, what were your feelings and your problems in '92 and '93?
"Then he explained everything and he was talking about the exact same problems and feelings I have now: difficult to understand the bike, difficult to understand your riding style, stupid mistakes, stupid crashes, some races you will be fast, some races you will very slow and you don't know why… All these things are what I've been doing. So when a legend like Mick Doohan, who was an animal on the bike, suffered like that but came back in the future, this gives you good confidence to keep working."
Doohan has always been a straight-talker, so that's how the teak-tough Aussie was when he spoke with Márquez.
"I don't think I said too much other than just tell him how it is and to understand the situation he's in," said Doohan on Sunday evening, after celebrating his son Jack's first Formula 3 win during the French Formula 1 GP weekend at Paul Ricard. "I gave him my side of the story because I was in a similar situation all those years ago.
"I'm absolutely happy for him. Back when I had my injury we could test a lot more than he can, so he's not had much time to understand the bike after being off it for so long and get back some race fitness. I don't think he's ever dropped his overall fitness, so it's just race fitness that he's lacking.
"It was inevitable he was going to get back on top of it. It seems the Honda has drifted further away from the top, so it's great for them to win a race and more importantly for Marc to know he's still got it. Once he gets his full strength back he'll be competing for the championship."
"He's not up to full strength yet and I don't believe he's as confident in the bike as he was, so what he needs to do is keep getting some strong results, so that Honda can design the bike a bit better for next year and he'll have another chance at another title.
"The thing is that nobody sits still – everyone is out there pushing, week in and week out, trying to better themselves. Unfortunately, Marc wasn't able to come back from the injury quick. If it had been four to six weeks it wouldn't have been such a big deal, but because he was out for so long it was a long time before he was in a race situation, so he's been getting his belief and confidence back and getting his eye in. The other guys haven't slowed down and if anything they've got stronger – remember that [Fabio] Quartararo could already race with him in 2019 – and I think Marc understands all that."
Márquez may have won his first victory since November 2019 at a track that has always suited his riding style and now suits his injury, but it was anything but an easy ride.
When you've crashed out of the previous three races, you pile a whole lot of extra pressure on yourself because a fourth crash is only going to nibble away more of your self-confidence, so it becomes even trickier to walk the line.
Especially when it's raining. Other riders explained that some parts of Sachsenring had been made slippery by the rain shower that hit the circuit after the first few laps. Márquez being Márquez, even in his somewhat diminished state, knew that this was his time.
"When I saw some drops of rain on the screen, I said, 'okay, now is my time, because we are struggling with grip, so with some rain on the racetrack the grip is the same for us', so I kept the same pace, just being careful with the front. That gap I made was enough in the end because Miguel [Oliveira] was faster than me today, in normal conditions. It was difficult to take the risks and to use that mentality because I came into this race from three crashes in a row. I'm human, so this had an effect."
To reduce the pressure on himself Márquez played a trick that clever racers often play – they change the situation in their consciousness to something that will keep them calm or keep them strong.
"In one part of race it was difficult to keep concentrated, to keep focused, to not give up. I was riding too stiff because I was, like, I don't want to crash, I don't want to make any mistakes. But then I said, okay, forget about all these things. I changed [Miguel] Oliveira's name to Alex, my brother's name. When we train at home we normally train in this mode – the fastest guy goes behind and the slower guy in front. Sometimes Alex is faster than me, so I changed the name to my brother's, so I could say, 'okay, if he catches me it's not a problem.' But I believed in myself and I was pushing and I led all the laps, so this was nice."
What of the others? Oliveira proved once again that he is MotoGP's coming man, with a third successive podium. More on him later.
Quartararo fought like hell to beat the Ducatis – Jack Miller, Johann Zarco and Pecco Bagnaia, his closest title rivals – and he just managed it, even though he ran out of edge grip. This has long been a Yamaha problem. The bike uses a lot of lean angle to turn, so it burns the edge of the rear tyre, especially when there are several successive corners that give the tyre no chance to cool down. And there's nowhere like Sachsenring, with its seven consecutive left-handers.
Somehow Quartararo made it work for him, using his confidence in the front end. He finished 15 seconds in front of the next Yamaha – Valentino Rossi in 14th – and 18 seconds ahead of team-mate Maverick Viñales who took the chequered flag in last place.
Later Viñales complained, "with this bike it's impossible". Presumably, he hadn't looked at the results sheet when he said that. So it seems like another change of crew chief has done nothing to fix his woes. Who knew?!
Oliveira's Red Bull KTM team-mate Brad Binder rode a great race, charging through to fourth from 13th on the grid, despite his front tyre pressure going sky high because he was in the pack for so long. When tyre pressure increases the tyre's profile changes, which shrinks the contact patch and therefore grip.
Bagnaia was next and top Ducati despite ending the first lap way down in 14th. The Italian took too long to get his tyres working, otherwise, he might've made the podium. He uses a smoother, more precise style than Miller and Zarco, especially through faster, more flowing corners, so although it took longer for his tyres to come in, he looked after them better.
Sixth-placed Miller had grip trouble throughout. "I had a lot of off-gas lateral slides, then I had nothing left on the left side of the rear, even though I was constantly trying to be gentle and smooth," said the Aussie.
Zarco also ran out of grip from the left side of his rear tyre.
Suzuki had its worst race finish of 2021, world champion Joan Mir taking the flag in ninth, just behind Zarco. Perhaps the factory really is feeling the absence of former team manager Davide Brivio, whose greatest strength was fusing the work of Japanese factory staff and European team staff.