This helps Oliveira calculate the immediate future – what effect each motion of riding technique will have during the next few seconds. This is what racing is all about – being slightly ahead of the bike, so that each mental decision and each physical action is made to achieve something not right now but a few milliseconds down the road.
"He understands that if I do this it will lead to that which will lead to this," adds Trevathan. "So he gets on the gas hard somewhere and he really wants to make something happen but he knows that three metres later that's going to cause this on the bike and that's going to make the bike do this, which is going to take away energy, which is going to take away performance.
"So he has the ability to understand what's going to happen if he puts this input into the bike. It's like when you're having sex with your wife – you know all the places to touch. This is what the guy has, he really understands the way everything is working, more than most guys."
That's why Oliveira looks so in control. When he was chasing down Márquez at Sachsenring on Sunday he barely put a wheel out of line, even though he was sucking every last atom of performance out of his RC16.
"Miguel is silky smooth – when he was chasing Marc he was chipping away and making no mistakes, then in the last laps he realised that enough was enough," continues Trevathan. "We've never seen a KTM look that good on TV and he's been on TV a lot at the last three races. He puts it where he wants and the bike looks so stable. That's not because we've reinvented the wheel – it's purely the rider and his talent."
KTM had a disastrous start to 2021, caught out by a change in Michelin's front-tyre design. Oliveira scored just nine points from the first five races, compared to the 65 he's scored at the last three, since the revised frame (and new fuel) arrived.
"This is the thing about this sport – you have to face these curved balls and I guess it says a lot about a team that can turn things around," explains Trevathan. "Nothing is easy in MotoGP and nothing is for free. What's nice about Miguel is how he puts things together, how he asks questions, how he wants to understand what's going on with the electronics as well as with the chassis. All this gives you that advantage of fine tuning."
Even during Oliveira's 2019 rookie MotoGP season his Tech 3 team boss Herve Poncharal was amazed by the clarity of his feedback and his ability to accelerate machine development.
"In the garage he's so calm you won't believe it – the guy's got ice in his veins!" grins Trevathan, who previously worked with Pol Espargaró, after several years as an Öhlins suspension technician, mostly looking after Dani Pedrosa. "How you see him when he's under pressure on the track is exactly how he is the box.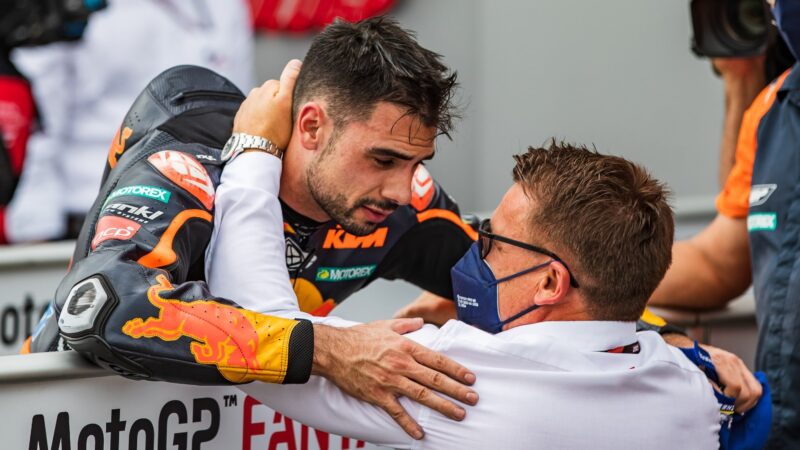 "He's so focused and so calm and he wants us to really understand what he means. He only says what he wants to say, you can't deviate and say, yeah, but you said this, so does that really mean this or… And he says, no, what I said is what I mean. He's so direct and I really appreciate that. He tells me it if it's good or bad, he tells me what he feels. I don't need a story about it – at this corner it did this and at the next corner it did that – just tell me what you feel! Miguel is really, really good at this."