New team-mate Enea Bastianini had a low-key weekend, following a Saturday complicated by technical glitches and a crash. He improved on Sunday to sixth overall, four tenths down, just behind Marini and Bezzecchi and just ahead of Alex Márquez.
Meanwhile, further down pitlane Michele Pirro and the Ducati test team were working hard on the next generation of gadgets coming out of Borgo Panigale, most noticeably a reimagined triple-clamp design, with the upper and lower pieces separated. The bottom triple clamp appears to be conventional, with its bearing inside the steering head, while the top clamp is separated via a bearing outside the chassis. The idea could be to improve turning, without losing stopping performance.
The only people that got close to Ducati at Portimao were Fabio Quartararo, Brad Binder and Aprilia.
Quartararo and Yamaha seemed deep in a downward spiral on Saturday, so they did what any sensible team would do: they went backwards to go forwards. The 2021 MotoGP champion found 1.3 seconds by reverting to 2022 chassis settings and aerodynamics. That put him third, three-tenths behind Bagnaia and four-hundredths behind Pramac's Johann Zarco.
Yamaha's YZR-M1 may have more horsepower this year, but so does the V4 opposition from Ducati, Aprilia, Honda and KTM. Thus MotoGP's sole-surviving inline-four was 3.6mph (5.8km/h) slower than the fastest bike, Jorge Martin's 213.5mph (343.7km/h) GP23, and had 12 V4s ahead on top speed.
Binder and KTM languished near the bottom of the timing screens for much of the weekend, until the hard-charging South African put it on the line on Sunday afternoon, shooting up to eighth, albeit half a second behind Bagnaia.
"That lap didn't come easy," he grinned.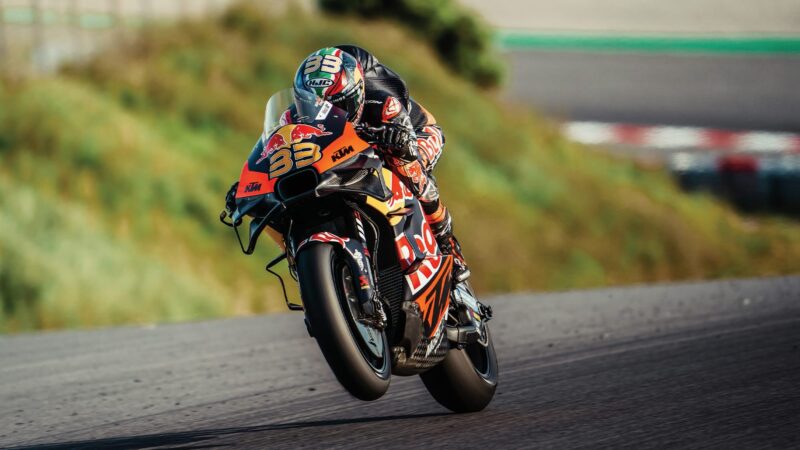 Meanwhile new team-mate Jack Miller ended his first pre-season with KTM down in 17th, 0.941sec behind his former Ducati team-mate. The Aussie knows it's going to be a hard slog getting the RC16 to the front of the pack but his relationship with crew chief Christian Pupelin, who came with him from Ducati, is already paying dividends, especially on electronics.
"We're getting there," said Miller. "Lap after lap I'm feeling more and more comfortable, leaning the bike over more, carrying more speed, releasing the brakes earlier and so on. The electronics need a bit of polishing – we've been rewriting code between exits."
"At the moment Ducati and Aprilia are unbeatable"
The speed of Quartararo and Binder reflects their own skills more than the performance of their motorcycles, which leaves Aprilia the only factory that currently has Ducati in sight.
Like the Bolognese, the crew from Noale has drunk heavily from the cup of F1 aerodynamics, from where the two Italian brands are leaving the others far behind, if only because those other factories never wanted to fight an aero war and now find themselves reluctantly giving chase. They may catch up, but it won't happen for a while.
At one point on Sunday afternoon the entire top ten was Desmosedicis and RS-GPs. No wonder Bagnaia added: "At the moment Ducati and Aprilia are unbeatable".
The last two days of pre-season testing were an aerodynamics riot, with wings, diffusers and all manner of aero accoutrements sprouting from here, there and everywhere – from fairings, swingarms, front forks, seats and probably a few other places I missed.
During the weekend Aprilia was the most inventive in MotoGP's mad race to emulate arguably the worst mistake ever made by the Formula 1 championship. And none of the people in charge of MotoGP seem to care.
Honda and Yamaha also evaluated numerous aero fitments, working to close the aero gap. Marc Márquez tried another ground-effect fairing, while test-rider Stefan Bradl evaluated a revised diffuser fairing.
Yamaha had a new Ducati/KTM double upper fairing wing, multiple side winglets and a seat wing that won its aero engineers the Portimao ugly-duckling prize. This huge wing resembles early 1970s F1 aero efforts, or perhaps a top-box mount. Quartararo's crew told him they hoped it didn't work, so they'd never have to commit the aesthetic crime of bolting it to the bike again.