No doubt Dorna should send him out on a lap of honour after the ceremony. If he does tour the circuit, where he won seven consecutive MotoGP races from 2001 to 2008, the hillsides can expect scenes of delirium that will probably eclipse anything that greets Sunday's MotoGP race.
In fact a Rossi lap of honour should become an annual rite at Mugello. I won't be around in 2059 but I can see the 80-year-old Rossi cruising around, receiving the adulation of the crowd, his legend undimmed by the passing of time. Perhaps the Pope will lend him the popemobile.
MotoGP is now one-third of the way through its first season without Rossi since shortly after Dorna took control of the championship in the early 1990s. Once Rossi had achieved god-like status in the 2000s the people in charge were forever terrified about what would happen when he finally hung up his leathers. We will soon learn whether their fears were justified.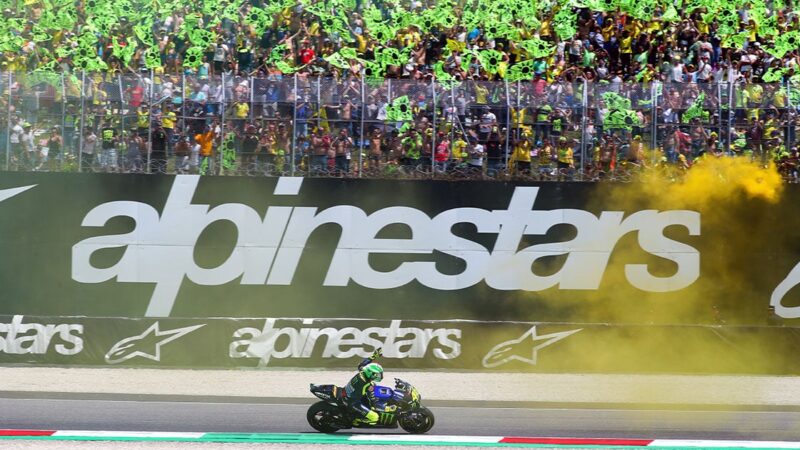 They say no sportsperson can be bigger than the sport but I'm not sure that was the case with Rossi. The Italian transcended motorcycle racing, attracting girlfriends, grannies and many more who would never have bothered if they hadn't been seduced by his charms.
In so doing he became MotoGP's money magnet. Companies wanted to spend money in MotoGP, even if they weren't spending it on Rossi or his team, because just by being there they could bask in his reflected glory.
I recall one sponsorship finder – circa 2005, when most paddock people assumed Rossi was on his way to Formula 1 – telling me, "It will be a desert around here when he goes."