Dorna is working hard to grow MotoGP – by introducing Saturday sprint races, increasing fan engagement and hiring a new chief commercial officer who used to work for the USA's National Basketball Association – but surely the best way to make MotoGP more popular is to create better racing, like fans enjoyed so much just a few years ago? To achieve that the championship needs either revised technical rules or a better front slick, or both.
Michelin makes great rear slicks but is struggling to create a better front slick. The company has been promising a new front for several years, while its current front becomes more and more overloaded, due to downforce aero, faster engines, stronger brakes and so on.
Its current tyre overheats when riders battles in a group, which increases tyre pressure, reducing grip, so riders must either slow down to cool the tyre or risk crashing.
We most recently saw this in MotoGP's last dry GP, at Portimao three weeks ago, where Maverick Viñales got close to leader Pecco Bagnaia, which overheated his front, so he had to ease off, then try again. It's MotoGP's yo-yo effect.
And if new tyre pressure rules are enforced from May's French GP onwards – to be decided at the Spanish GP later this month – this problem will get worse, so the racing will become even more processional, which will have fans turning off their televisions.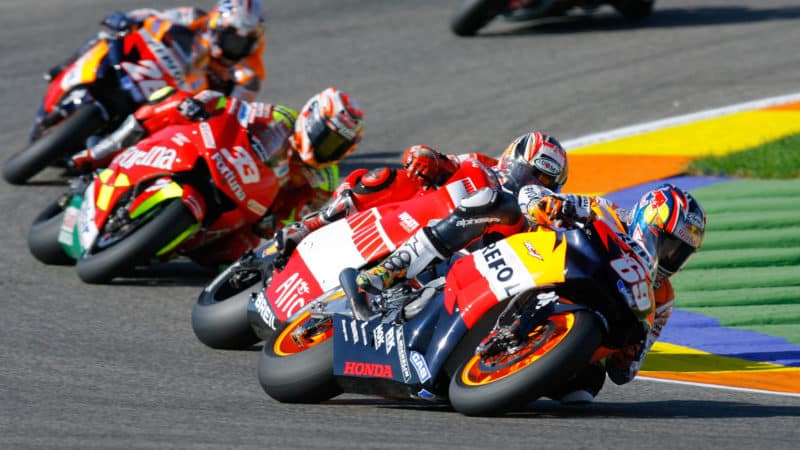 There is a simple way out of this problem. The Le Mans 24 hours is the first 2023 round of the world endurance championship, which is the only global bike racing series open to tyre competition. Bridgestone has won the last two titles – with Yoshimura Suzuki and FCC Honda France – and will be at Le Mans in force, alongside rivals Michelin, Dunlop and Pirelli.
Bridgestone was a major force in MotoGP from the early 2000s, taking its first pole position in 2001 (with Jeremy McWilliams), its first win in 2004 (with Makoto Tamada), its first title in 2007 (with Casey Stoner) and its second the following year (with Valentino Rossi). These were the first years that Michelin had been beaten to the MotoGP/500cc title since Yamaha's Wayne Rainey won the 1991 championship with Dunlop. In 2009 Bridgestone became MotoGP's first spec tyre supplier. The company decided to withdraw at the end of 2015, bringing Michelin back into the paddock.