Pre-rally testing puts Evans in contention for Rally Monte Carlo win
The 2020 Rally Monte Carlo is shaping up to be a thrilling battle and as unpredictable as ever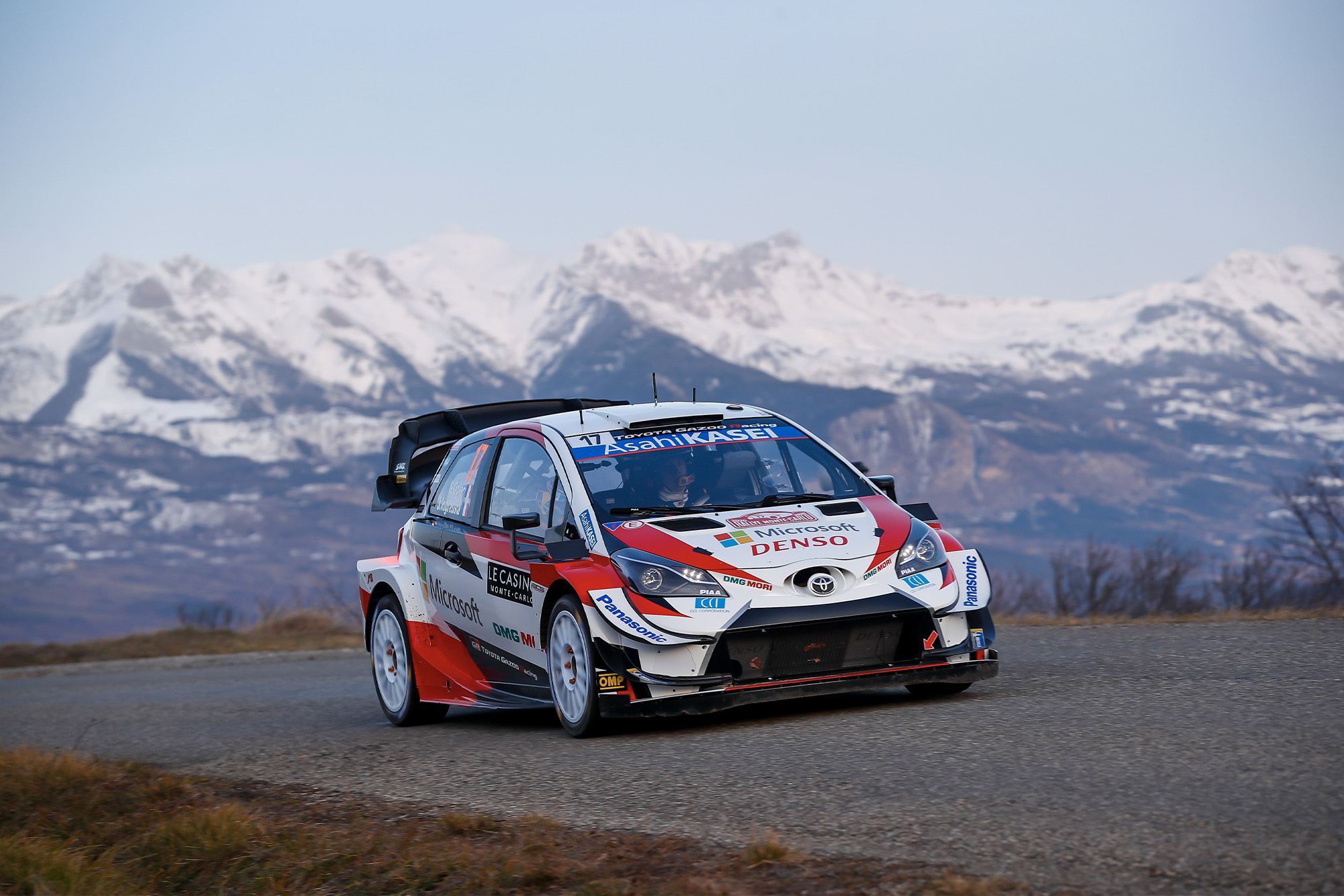 Over the winter of 2019/20 the WRC driver market saw a major shakeup. Citroen left the sport, reigning champion Ott Tänak made a shock move to Hyundai, and Toyota took on Sébastien Ogier and Elfyn Evans.
With Rally Monte Carlo marking the start of the season, these drivers had to quickly familiarise themselves with new machinery before tackling one of the most technically challenging events on the calendar.
Evans may have a wealth of experience with cars from the M-Sport stable, but according to the Welshman, adapting to the Toyota Yaris has not been a huge jump.
"Of course, there are differences between teams' philosophies, but it's not night and day different. It will still ultimately take time to adapt and we need some competition mileage to really find out how long that will take.
"But so far in testing, I've felt comfortable and I'm optimistic it will be a quick learning period," he explained prior to the start of Monte Carlo.
However, it is not just driving the car that takes time to learn; with driver-engineer interaction a vital element of performance development within rallying, learning a team is almost as important. Evans saying, "obviously the structure is a little different to what I was used to at M-Sport.
"I'd been there for so many years, I knew everybody. I've found [at Toyota] there are more people running half the number of cars, so there are a lot of new faces to remember. Getting used to who does what takes some time."
Fellow Toyota new boy Ogier shared a similar sentiment, though from a different perspective; the Yaris being his third different car in as many seasons. "the driving style of the car is a little different but a lot of it comes automatically. After a few KM you are able to learn the car quickly. But then there is a lot of stuff around that which is more difficult.
"Learning the team, who you have to ask for this problem or that. Also, you need to learn the layout of the car, the buttons, things like that. All of that takes time."
"I'm glad to be alive."
Impressively, Evans had already managed to test the Yaris on the range of surfaces he will encounter through the season, explaining, "we did a short day on gravel, some snow and ice, then the Monte Carlo tarmac testing. That's given me a flavour of all surfaces."
The new season also marks M-Sport youngster Gus Greensmith's graduation to an (almost) full time WRC seat, having subbed for Evans at three rallies in 2019. The standout aspects of the step up for Greensmith?
Huh huh! Tänakin ulosajo oli tosiaan raju! #ralli #mmralli #WRC #rally pic.twitter.com/HA4F7LBpJ5

— Tomi Tuominen (@T_Tuominen) January 24, 2020
"Obviously, they are faster, but it is more what the car can do for you. With these cars, they are capable of so much more, so you have to be a lot braver, you really have to trust the car and that takes some time to get used to." The difference between R5 and WRC he said, is night and day, "there is an R5, and then WRC, they are not even similar."
The current generation WRC machines have potent aero packages, which make the most notable difference on tarmac events. Fortunately for Greensmith, two of his 2019 outings were Rally Finland and Rally Germany. Describing the aero effect, he said, "it makes a big difference, especially in places like Finland.
"For me, it was quite natural [to adapt to this] you get the feeling of the car starting to compress down into the road the quicker you got. But sometimes, it does feel like you're going far too quick for the conditions and it sticks."
Predicting the unpredictable
The Monte Carlo is legendary for its mixed and unpredictable conditions. Starting on Thursday night, the cars climb up through the mountains surrounding the rally's base in Gap; conditions morphing from dry tarmac to mixed snow and ice. Teams have ice crews, who recce the routes before each stage, but their reports are far from definitive.
Talking to M-Sport's Malcom Wilson, who was out watching SS1 (his first time viewing a stage since 2009), he noted that the cut off for ice recce is around 90 minutes before the stage goes live. With temperatures plummeting as night draws in, conditions can shift from damp to frozen before the rally cars arrive.
Caution and tyre choice are the order of the day, and for the opening two stages, some opted for full slicks while others ran a mix of studs and slicks.
To deal with the shifting conditions, Evans said, "you have to find a good rhythm. Unlike some of the more predictable rallies where you have to go on the door handles from start to finish if you want to win, this does take a little more of a calculated, smart approach. That's not to say you can drive around slowly, it's a case of pushing hard, while still driving to the conditions."
Greensmith noted that experience was invaluable, "you have the drivers like Ogier and Loeb who know what they are doing, they can attack it and predict what will come. For me, with less experience, it is better to be on the safe side. We want a solid finish to start the year off."
However, even the likes of Ogier strike a cautious tone on the Monte, the Frenchman stating, "it is the one you have to approach with the most humility I'd say. It is such a challenge rally with challenging conditions, it is hard to anticipate what you will find."
Monte Carlo quickly reinforced its reputation for the unpredictable. Showing almost unbelievable levels of commitment, Hyundai driver Neuville pulled out a 20 second lead by the end of SS2, having opted for a full slick setup.
Attesting to the demanding nature of the final Thursday stage, Tänak, when asked how he found the stage, stated simply, "I'm glad to be alive." A sentiment he no doubt echoed on Friday morning, following a spectacular off on SS3, which totalled his I20.
Ultimately, those that took the safer option of running studs (in Evans' case one on the front and one on the rear), were unable to capitalise on the extra grip (on fully frozen roads, they are worth 17 seconds/km according to M-Sport technical director Chris Williams). By the end of Thursday's action, leading stud runner Evans was placed fourth, behind the slick shod trio of Neuville, Ogier and Tänak.
However, with three days of stages remaining, there are likely plenty of surprises still to come and by the middle of day two, Evans had eliminated Neuville's advantage to pull into the lead.