The 1973 French F1 Grand Prix: Peterson breaks his duck
- Last updated: December 4th 2019
The spectacular 'SuperSwede' finally took his first Formula 1 win, while a young Jody Scheckter ensured that wasn't the only thing novel about the 1973 French Grand Prix at Paul Ricard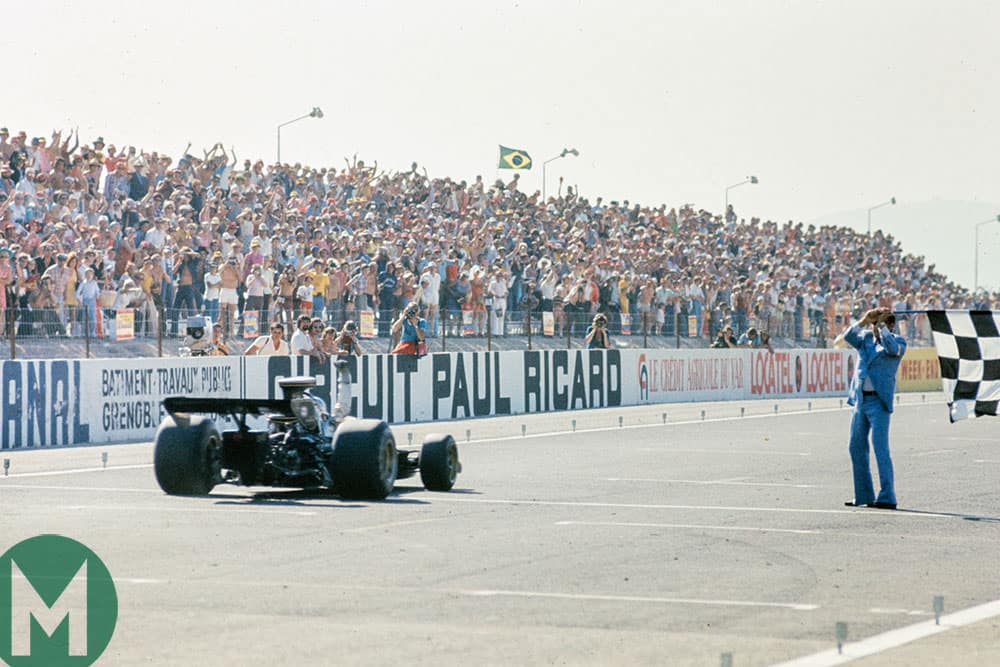 Ronnie Peterson passes the chequered flag at the 1973 French Grand Prix Photos: Motorsport Images
Ronnie Peterson, entering the 1973 French Grand Prix at Paul Ricard, would have been forgiven for thinking a Formula 1 win would never arrive.
The spectacular Swede had finished second in the table for March back in 1971, but with no race victories and four second-places. It included being pipped by 0.01sec at Monza; F1's closest ever finish at the time.
For 1973 he got his big break with Lotus, yet by the point of the French round, four pole positions had again somehow converted to zero wins.
In Spain, at the magnificent Montjuïc street circuit, Peterson led by a mile but his gearbox failed. At Monaco he'd led until fuel pressure problems. At home in Sweden at Anderstorp, the race prior to France, he'd led until the penultimate lap, when a puncture allowed Denny Hulme's McLaren by.
And in France, Peterson couldn't even rely on his qualifying talisman, as he started fifth, his best over a second off Jackie Stewart's pole in the Tyrrell.
It was only F1's second Paul Ricard visit and, while the track clearly represented a leap in facilities and safety with a modern echo, it was also thought sterile.
There was a conspicuous helping of novelty among the front-runners. McLaren's Peter Revson was committed to a Pocono USAC race, and in his stead stepped a much-touted youngster called Jody Scheckter. And Scheckter made a splash.
"For the first time in his life he gets into a McLaren M23, the team's normal spare car, and 'wham', he's on the front row of the grid, with Stewart on his right and [Emerson] Fittipaldi on his left," Denis Jenkinson explained in his Motor Sport report.
"It is only his third Formula 1 event, and his first in Europe…and he did not hesitate." Little wonder the report titled this one as "A shake-up for Formula 1".
Scheckter's introduction got even more impressive in the race, as he leapt into an immediate lead. "The young eager lad in the middle of the front row was up and gone in one of the quickest starts imaginable, leaving all the Aces looking like beginners," Jenkinson continued.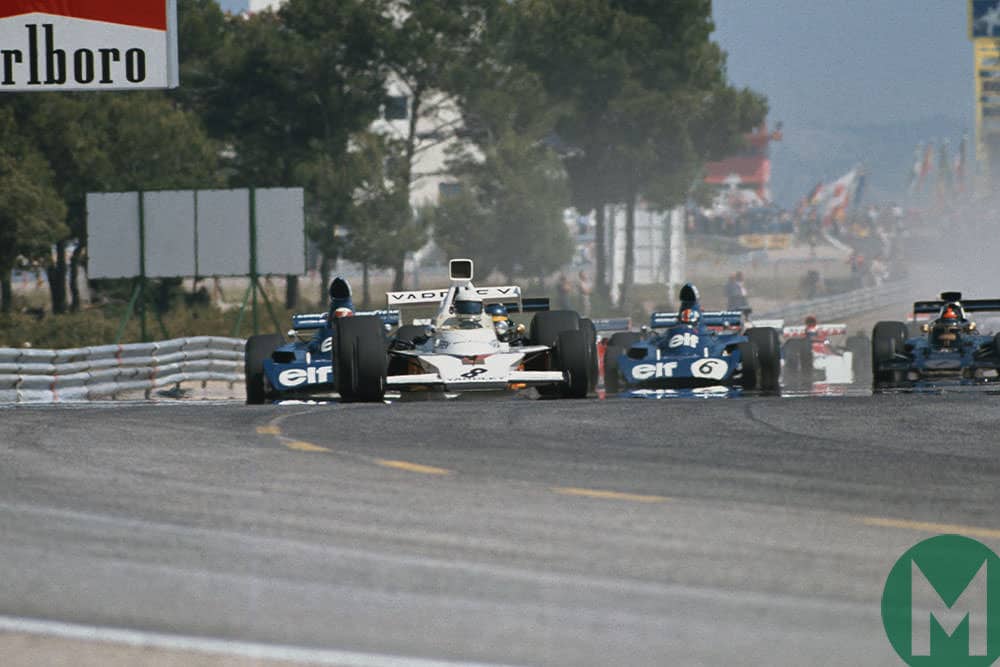 Scheckter leads the field, 1973 French Grand Prix
"'Jumping the start like Scheckter did is just show-off stuff' they all said, 'It won't last'."
But it did last, even with very prestigious people queued behind him: Peterson, then Stewart, Hulme and then Peterson's reigning champion team-mate Fittipaldi.
"'Let him have his one lap of glory, leading the Grand Prix of France', said the Establishment, 'he's a keen, young lad, and deserves it, but they'll put him in his proper place next time round'," Jenks continued.
"Forty laps later the Establishment had shut up completely, for Scheckter had been in the lead right to the end of lap 42, never having looked as though he was going to lose it, while all manner of desperate things had been going on behind him."
---
More: Paul Ricard's jet-set glamour — the French GPs that showed F1's future
---
Those "things" included first Hulme then Stewart pitting with punctures, dropping them from victory contention. This left only two black and gold Lotus 72s stalking the impertinent leader.
The next change came just before half distance. "Peterson let his team-mate by, to see what he could do about Scheckter," added Jenks. It transpired Fittipaldi could do little more than his Lotus stable-mate.
With 12 laps remaining, the leaders got bottled behind Jean-Pierre Beltoise's backmarker BRM through the twisty section, and at the track's final corner – not a common passing place – Fittipaldi decided that his chance had come.
He aimed for the inside of Scheckter, and the pair collided; Fittipaldi's front wheel hitting Scheckter's rear and tossing the McLaren into the air. Fittipaldi was out on the spot while Scheckter's crumpled machine continued only as far as the pits next time by.
"Fittipaldi came to find me in the pits and delivered a heated monologue at me about newcomers not holding up the world champion," Scheckter told Motor Sport years later. "He went on and on, and when he got to the end I pointed out that he'd had 42 laps to get past me, and if we found ourselves in the same situation in the future I'd do exactly the same again."
It left Peterson in a clear lead, albeit, as Jenks suggested, "not really believing that luck was on his side for once.
"As if with velvet gloves and velvet boots, Peterson completed the 54 laps, not daring to think about anything until he saw the chequered flag and a joyful Colin Chapman leaping into the air to celebrate yet another grand prix victory for Lotus and the John Player Team, but more important to Peterson, his first grand prix victory, after coming so close so many times."
As is often the way of these things, the bottle now uncorked, Peterson had three more wins before the year was out. Furthermore, he and the Lotus 72 became an iconic combination in F1 history.