2019 Belgian Grand Prix preview: Ferrari's best chance of victory so far?
- Last updated: January 13th 2020
Formula 1 finally returns to action at Spa-Francorchamps after the summer break. Here is the team-by-team preview ahead of this weekend's Belgian Grand Prix.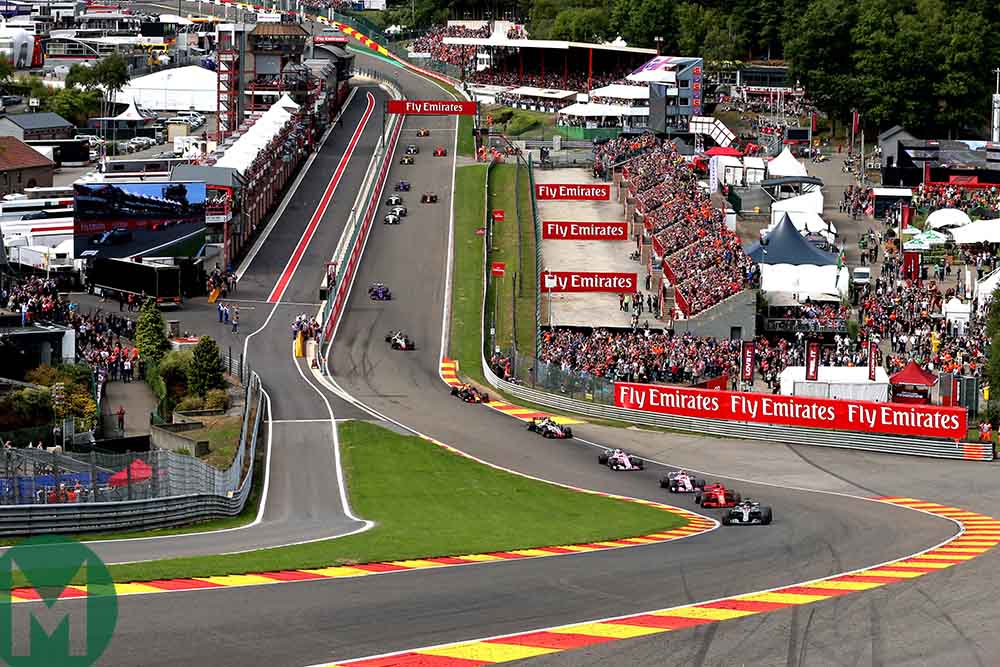 Over a year has passed since Sebastian Vettel's last F1 win. Can he notch up his first of the season at Spa? Photo: Motorsport Images
A Formula 1 summer break never goes by without the rumour mill going into overdrive and a shock story grabbing everyone's attention. Once more, Red Bull stole the show during the shutdown by announcing that Pierre Gasly would be replaced at the senior team by Alexander Albon. The Anglo-Thai driver was preparing to drive in Formula E just months ago and now he finds himself in a car capable of winning races. Gasly has now experienced the ruthlessness of the team's young driver programme that helped him into the Red Bull seat in the first place.
While Red Bull made the headlines, the resumption of F1 action at Spa-Francorchamps will present Ferrari with a chance of redemption after a torrid season up to this point. The Scuderia has underperformed and failed to achieve a single race win but, come Sunday, the Italian anthem could be blaring once more.
FERRARI
One year on from the last victory achieved by Sebastian Vettel — at Spa — a season of opportunity and optimism has descended into a recurring nightmare for the Prancing Horse.
Last time out in Hungary, both Vettel and team-mate Charles Leclerc finished over a minute behind race-winner Lewis Hamilton in a performance that served to underline the complete collapse of momentum Ferrari had generated in 2017 and 2018.
Since the team was fastest of all in pre-season testing, the performance of the SF90 has been exposed as lacking the mid-corner aerodynamic stability of its rivals but possessing a fair amount of grunt in a straight line.
Fortunate then for Ferrari that Spa rewards a car that packs an impressive punch in sectors one and three as both rely on engine power over aero performance.
"We are more motivated than ever to do well in the second part of the season, starting right now this weekend," team principal Mattia Binotto insisted ahead of the Belgian Grand Prix.
"At Spa, the cars run at a high average speed: the first and last sectors feature long straights where good top speed is the main requirement."
It has been over 365 days since the four-time champion last stood atop the podium, but this weekend represents one of the best chances for Vettel and Leclerc to head the field on genuine pace.
Binotto has kept the ship remarkably steady despite the underperformances of the car and both his drivers, but even he will know that it's now or never for Ferrari.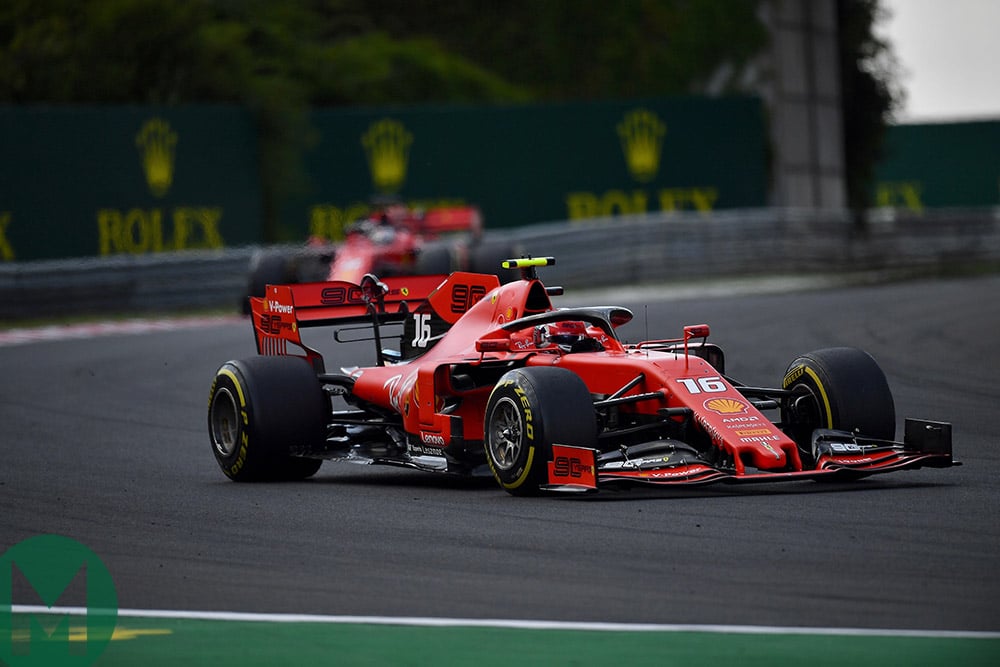 Ferrari could be the team to beat at Spa-Francorchamps Photo: Motorsport Images
MERCEDES
The seemingly unstoppable juggernaut was put on notice by Red Bull as F1 approached the halfway stage of the season. Upgraded power units will be in the cars from first practice so the threat from behind isn't being taken lightly.
The emergence of Max Verstappen and a remarkably strong Honda power unit has meant the Silver Arrows have been under pressure after a serene display of dominance at the first eight rounds of the championship.
Hamilton's response to the young pretender at the last race in Hungary, after a calamitous home event at Hockenheim, showed that Mercedes was back to its race-winning best both in terms of performance and strategy.
However, its once mammoth advantage over the other power unit providers has waned in recent years, and Ferrari could turn up at Spa to win outright despite its underperformances this season.
While Hamilton's final effort before the summer was a vintage display, his team-mate, Valtteri Bottas, ended his first half with his second-worst performance of the season and at a crucial time too.
Speculation had run rife throughout the break as to whether the Finn will be replaced by Esteban Ocon, but confirmation from Mercedes ahead of this weekend has settled the Finn's future.
Many will point to his seat being secured by virtue of not being a match for his five-time champion team-mate but he will be eager to put those suggestions to rest.
There would be no better way of doing that than turning up at Spa in similar fashion to five months ago in Australia, and driving the wheels off the W10.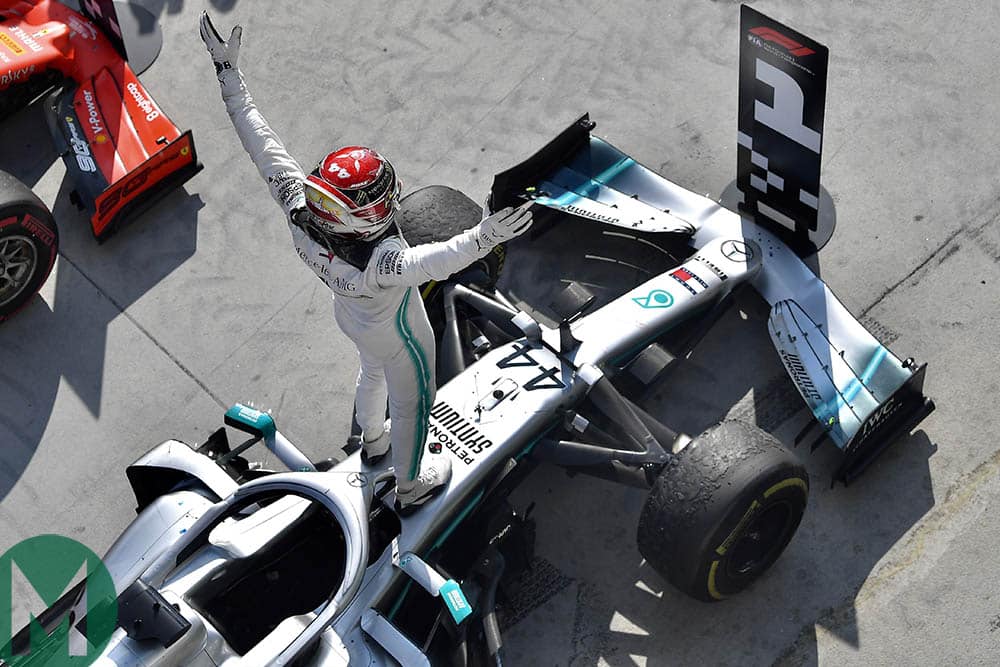 Lewis Hamilton and Mercedes were back on form in Hungary Photo: Motorsport Images
RED BULL
Ruthless. Cut-throat. Unpredictable. Life as a Red Bull driver is surely a case study into the psychology of an athlete and how much of an impact it can have on performance. Pierre Gasly's starring drives last season in the Toro Rosso are a distant memory now.
Just 13 days separated claims by Red Bull motor sport advisor Dr Helmut Marko that Gasly would be retained for the duration of 2019 and the announcement that Alexander Albon would be replacing him.
The final straw may have been the Frenchman's continued lack of improvement, just as the Honda and Red Bull combination was gaining performance. It began to cost the team vital constructor points.
Not only is Red Bull now within touching distance of Ferrari in the constructors' standings, but Max Verstappen has also shown the team has genuine race-winning speed.
Two wins in the last four races may be difficult to add to at Spa, but Verstappen will certainly be in the mix on race day as he looks to close the seven-point gap to Bottas and second place in the drivers' championship.
Albon's debut will be an interesting one. He will be running a newly-fitted spec 4 Honda power unit, and the engine change drops him to the back of the grid, somewhat lifting the pressure from his shoulders.
That's not to say he can't still make an impact. His drive at the Chinese Grand Prix from pit lane start to points finish in 10th demonstrated his speed. But perhaps ensuring he completes a clean weekend is more vital.
Albon admitted himself that he is fully focused making the most of his Red Bull call-up from the very start.
"I'm focused and am ready to be as strong as possible for the second half of the year. I'm new to F1 and I know that better than anyone, so it's about being as prepared as possible!"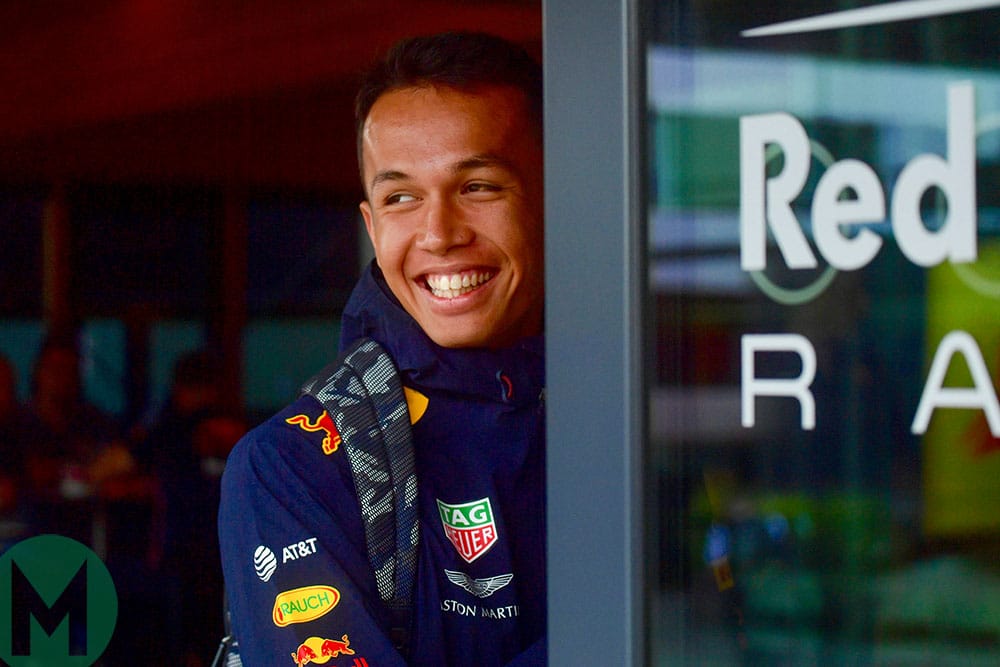 The new guy: Alexander Albon is in at the deep end after being promoted in place of Pierre Gasly Photo: Motorsport Images
THE MIDFIELD
Gasly returns to Toro Rosso to partner Daniil Kvyat, who also knows how brutal Red Bull's treatment of drivers under its umbrella can be.
The only driver in the top three teams to fail to complete a single lap in a podium position, Gasly's days at Red Bull looked increasingly numbered as the summer break approached.
His attitude and performances in the immediate aftermath will be pivotal for the future of his Formula 1 career. Adapting quickly to the STR14 then could be the key to the rest of his season.
The midfield man of the moment is no doubt Carlos Sainz. McLaren's upturn in 2019 has been a high point for many and the Spaniard's performances this season have been commendable.
Eight points finishes in the last nine races demonstrates just how consistent he has been and Sainz is quickly homing in on sixth place in the drivers' standings.
Team-mate Lando Norris hasn't enjoyed quite the same extent of success this year but will be hoping to bounce back at a circuit he achieved a podium at in F2 last season.
A minor worry going into the weekend will be the protective boot the 19-year-old has been seen wearing after picking up a small foot injury while spectating at the British MotoGP race last weekend. It is, however, said to be precautionary.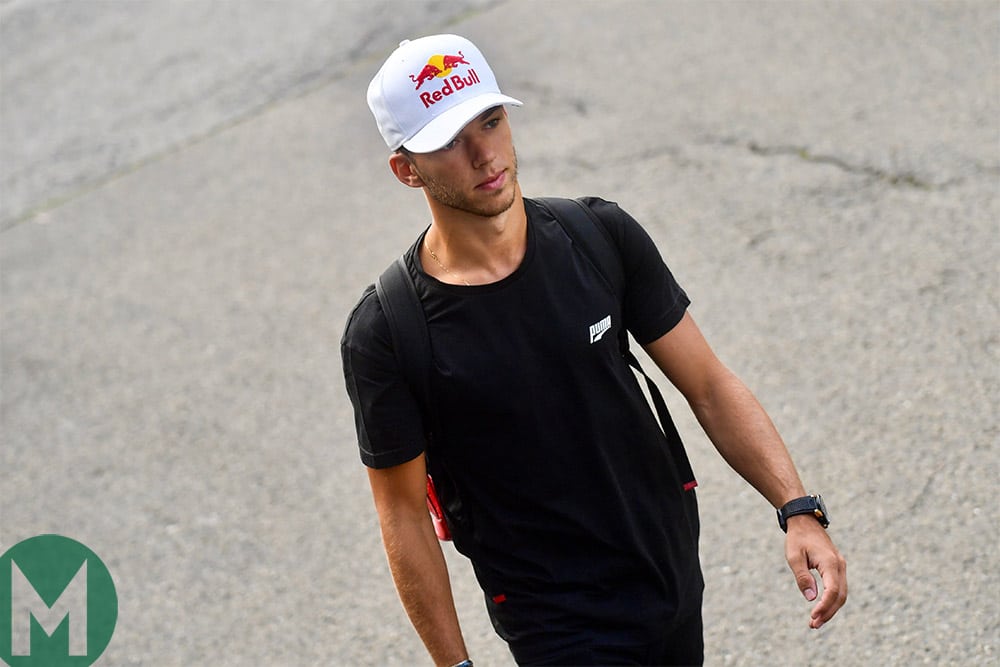 Pierre Gasly walks into the paddock fresh from his demotion from Red Bull to Toro Rosso Photo: Motorsport Images
Alfa Romeo has been turning heads as F1 arrives in Belgium. Ahead of the weekend, it was announced that the team's reserve driver and Schmidt Peterson Motorsports IndyCar racer Marcus Ericsson would be on the ground at Spa, missing the Grand Prix of Portland in the process.
Whispers of a potential injury to Kimi Räikkönen turned out to be true, with the Finn admitting he pulled a muscle in his leg during the summer break. But the team deny Ericsson will be on driving duty come Sunday and his presence is more precaution than preparation.
Räikkönen has shown he isn't quite finished in F1 yet. Four strong points finishes in the last five rounds has the 'Iceman' sitting in seventh position in the drivers' standings, a massive outperformance of the car he is driving as team-mate Antonio Giovinazzi is buried down in 18th.
Haas will revert back to the current spec VF-19 after Romain Grosjean had been running a Melbourne-spec version to aid the team in identifying its weaknesses.
Both Grosjean and Kevin Magnussen will be hoping the tyre temperature issues that have plagued the team all year are finally behind them.
The American outfit has struggled to identify where it was going wrong, but team principal Guenther Steiner is optimistic the team can press on this season.
"For Spa we will go with the upgraded car, which we ran at Hockenheim," he said ahead of the Belgian Grand Prix weekend.
"We've learned quite a bit out of it and tried to improve the car by changing some of the components. Both cars will be the same spec, and hopefully we can still learn more about it."
---
Related content
---
Renault's claims of breaking the 1000bhp barrier were met with laughter at the French team's expense.
Max Verstappen's comment after the Hungarian Grand Prix that the team "must have a really bad car" was made in jest but, after yet another non-points finish in Budapest, maybe the Dutchman was just right.
Daniel Ricciardo is maintaining a veil of optimism, but after seeing what might have been at Red Bull, one has to wonder if a tinge of regret might be creeping in.
"It's been a challenging season so far, we can't hide from that. There have been some positives, some things not so good, so the summer break was ideal for us.
"We're targeting a better second half of the season to catch our competitors. I know we can do it, we just need cleaner weekends."
Team-mate Nico Hulkenberg began the week with a cryptic post on his Instagram page, showing Ocon in Renault overalls.
His prophecy proved to be on the money, and the German is in need of a career parachute. A black and gold coloured one might be the preferential option.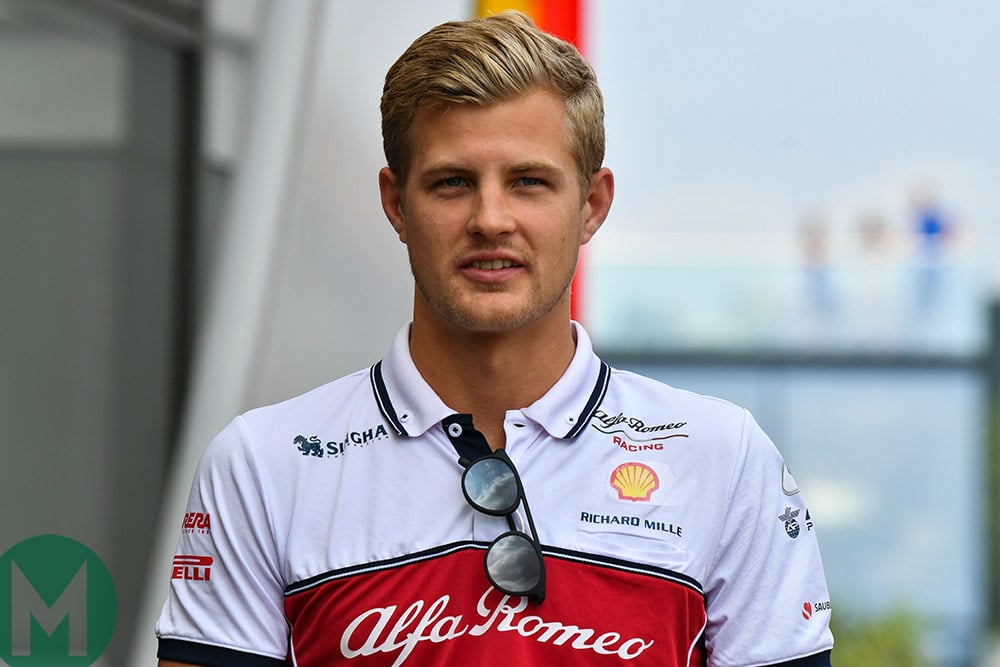 A familiar face: Marcus Ericsson is back in the F1 paddock this weekend on standby Photo: Motorsport Images
On a weekend in which his future has been taken out of his hands, a strong run wouldn't do his F1 credentials any harm.
Racing-Force-Stroll-Point-India narrowly missed out on points in Hungary with Sergio Perez. A heroic drive from Albon in the Toro Rosso kept the Mexican on the outside of the points looking in while Lance Stroll was served with a cold reality check following his Hockenheim heroics.
An upgraded Mercedes power unit will be a welcome present as the team arrives in Belgium.
Williams, however, looked better than ever in Budapest with George Russell putting in his best performance of his short F1 career to date: 16th in qualifying, missing out on Q2 by a slender 0.1sec, and holding on to the position in the race ahead of Stroll, Giovinazzi and Robert Kubica was equally impressive.
It underlined his credentials while the Mercedes maelstrom over the second seat was ongoing, and with Ocon's deal with Renault running over multiple years, he seems to have the attention of those at the Mercedes decision-making table.
The Grove-based team may well be getting on top of its issues, and despite a mammoth performance gap to the next best car, signs of progress will provide further encouragement.
Carrying on the momentum it had begun to build prior to the summer break will mark a hugely successful weekend.