2019 British Grand Prix qualifying report: Bottas on pole but rivals are close
- Last updated: December 5th 2019
Valtteri Bottas secures pole at the 2019 British Grand Prix by six-thousandths of a second, with tight margins raising hopes of a close race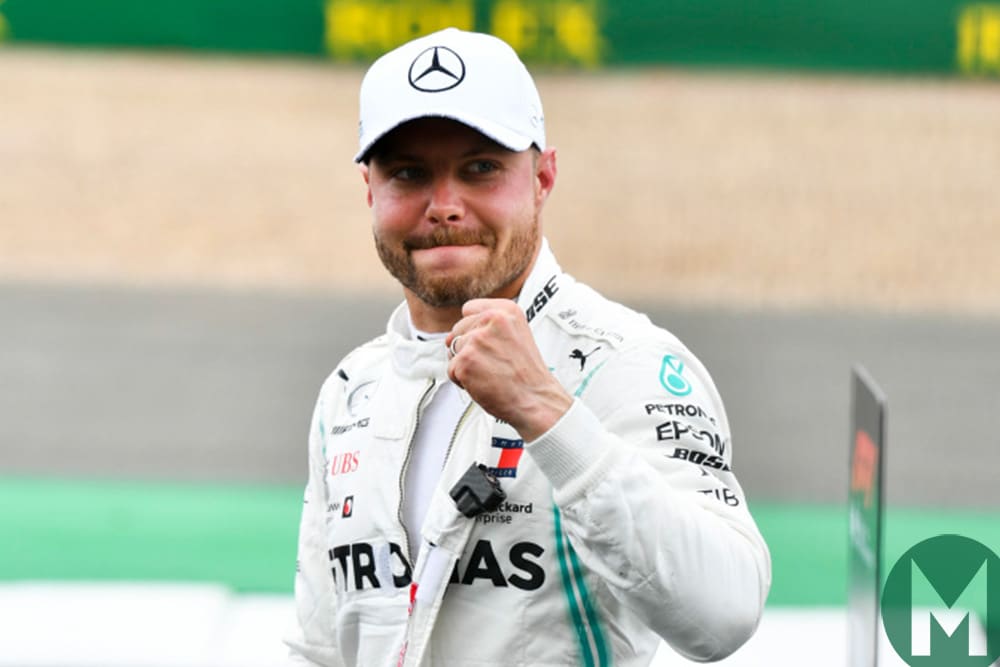 Pole — just Photo: Motorsport Images
Maybe Lewis Hamilton had been looking at the TV scheduling. No point starting from a record seventh British GP pole and leading if, at ten past two on Sunday afternoon, British sports fans might be paying attention to Lords or Wimbledon instead of Silverstone. By twenty to four though, which Mercedes will be in front? Indeed, are we getting ahead of ourselves in presuming that a silver car will win the British GP?
Hamilton had already had a little moan about Silverstone clashing with the Cricket World Cup and the Wimbledon Mens' Final, but had no complaints about Valtteri Bottas pipping him to another home pole by six milliseconds.
"Congratulations to Valtteri," Lewis said, "he's been really strong. I worked hard throughout the session but I sacrificed a lap in Q2 that maybe would've helped me get a better read on the car."
Some late-race excitement down at Vale? It could yet be a much closer race than anyone anticipated
Both Mercedes ran Q2 on the Pirelli Medium compound, meaning it is that tyre on which they will start the race after another front row lock-out. Bottas did a second attack lap on his set and Hamilton didn't, which is what Lewis was referring to. It's hard to see it was that significant though, given that Q3 was obviously run on the red-walled soft compound Pirelli, which has a different feel.
Hamilton pushed a bit too hard on the exit of Brooklands on his first Q3 run and cost himself three and a half tenths (he was 0.25sec down on Bottas) and wasn't quite able to claw it back on his final attempt, despite car 77 failing to improve. A fifth consecutive Silverstone pole was gone and a record seventh would have to wait.
Make no mistake, the 2019 2.0-spec Bottas – his media 'label' — is doing a more than solid job. While never effusive, Valtteri will have taken deep personal satisfaction in nicking top spot in Lewis's back yard. It was his fourth pole of the year, one more than Lewis, and although Hamilton shades him 6-4 in qualifying across the season to date, the average margin between them is less than 0.08sec. This is not just anyone Bottas is being compared with. It's a man whose single-lap prowess is sometimes ranked alongside Ayrton Senna's.
---
Read Mark Hughes' full British GP race report
---
The assumption coming into the race was that Silverstone's sweeping ultra-high speed layout would play to the strengths of Mercedes. But, on closer inspection, so much of the Silverstone lap is now flat-out (since the grip increase from wider tyres) that what were previously proper corners (Turns 1/2/5/9) are now about power. Okay, you still need strong handling performance through Becketts/Chapel, and Stowe/Vale is still very much Mercedes territory, but overall it's a much more balanced equation. So Ferrari, as in Bahrain, Baku, Montreal and Austria, could be properly in the hunt.
A look at the qualifying best sector times bore this out. Charles Leclerc's Ferrari had a tenth on the Mercedes in sector one. There was precious little to choose between them in S2, but Hamilton's best S3 time was fully two-tenths better than Leclerc's.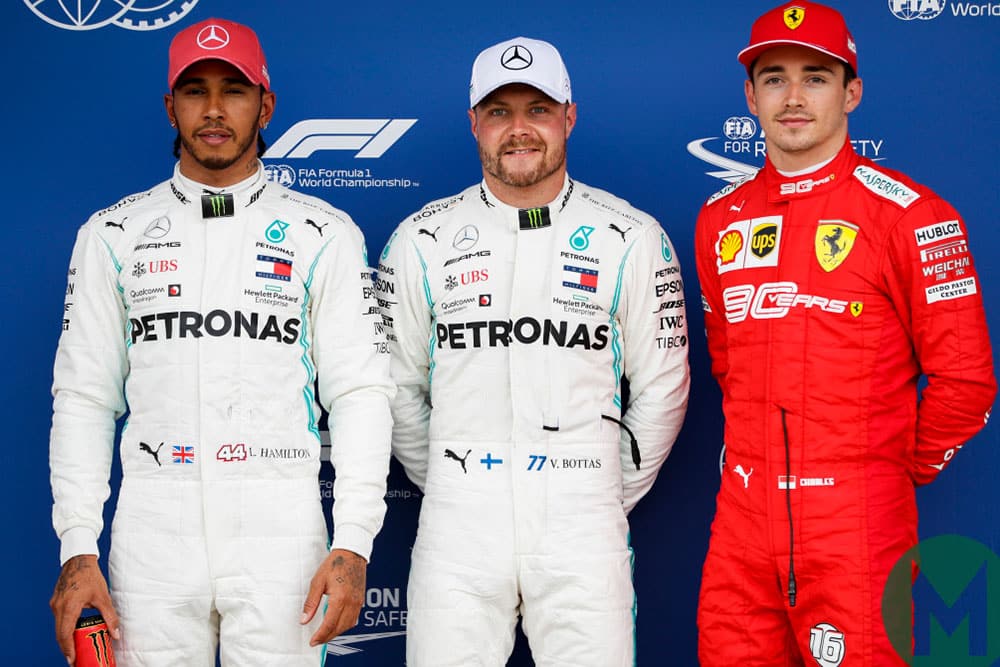 The fastest three on Saturday afternoon Photo: Motorsport Images
Ferrari's Q2 strategy was interesting. Leclerc initially went out on the Pirelli Medium, in keeping with Mercedes and Red Bull, but Sebastian Vettel did his first run on a used set of Softs. Both Ferraris then switched to new Softs for their second runs, Charles topping the session, thereby dictating they would start the race on the softer compound, unlike their main rivals.
With Leclerc topping FP3 on Saturday morning and finishing Q1 just 0.02sec from Hamilton, did they think that they had the pace to qualify on the front row and potentially use the greater grip of the red-walled tyre to grab the lead off the start? Or does it mean they have committed to a two-stop race on a newly resurfaced track on which former tyre degradation patterns cannot be relied on? Whatever, it's intriguing and guarantees strategic variation at the front for the race.
In the final analysis Leclerc couldn't quite get in among the Mercedes, missing Hamilton's second place time by 0.08sec.
"The main issue is still the front end and when we have that we will have more performance," Leclerc said. "I was struggling for front grip in the third sector."
Vettel had an uncharacteristically lacklustre day. He was so far from Leclerc – 0.61sec – that both Red Bulls managed to split the Maranello machines and you assumed that there had to be a problem.
"No," Seb said, "Nothing specific but I couldn't get the right feel and I'm not happy with how it went. I should be more competitive in the race but it's been a bit up and down all weekend."
---
Related content
---
Stripping away Baku and Monaco, where Ferrari strategy bungling tripped up Leclerc, it's now 4-4 in qualifying between the Ferrari drivers with a 0.1sec margin between them, in Charles's favour. Tight…
The biggest team-mate average qualifying disparity on the grid is that between Max Verstappen and Pierre Gasly at 0.78sec. Which is why the Frenchman will be delighted with his Silverstone weekend so far after his best qualifying show of the season to date. Yes, he started fifth in both Monaco and Canada, but was assisted there by respective problems for Leclerc and his team-mate. Here though, he's done the same thing purely on merit. He was right in the ballpark from first thing Friday morning, when he topped a slippery opening session of free practice by more than half a second.
That said, Verstappen's Q3 time was still more than three-tenths faster and quick enough to suggest that, as in Austria, Max will be a real threat in the race. He has qualified fourth, just 0.18sec adrift of Bottas's pole. We know that their respective race engine modes are likely to be closer and we also know that the Red Bull is benign on its tyres. On the same Medium starting tyre there's every chance that Verstappen could stay close enough to the Mercedes to exert undercut pressure on them, triggering a potential repeat of the Austrian scenario in which the Red Bull was able to run longer and finish very strongly on fresher tyres. Some late-race excitement down at Vale? It could yet be a much closer race than anyone anticipated.
The midfield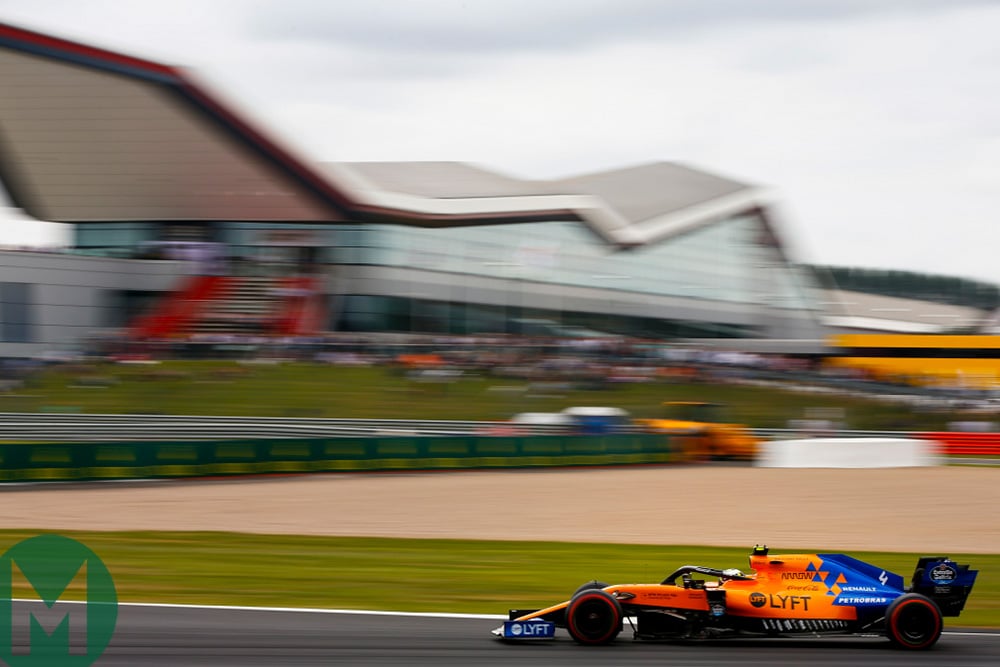 A slide didn't help Norris in the batt;le with Ricciardo Photo: Motorsport Images
Daniel Ricciardo and Renault took best-of-the-rest honours with seventh after a tight battle with Lando Norris and McLaren that saw the works team come out on top by four hundredths.
"I had a slide in the last corner and probably lost four-hundredths there, but not a bad qualifying," Lando said. Subtext: We could have beaten them! It was another stellar effort from Norris, his seventh Q3 performance in 10 F1 starts. The margin between the rookie and acknowledged 'fast man' team-mate Carlos Sainz, at 0.01sec for the season so far, is the tightest on the entire grid.
Carlos was not entirely happy at Silverstone, the MCL34 getting more 'taily' as qualifying wore on. He will start 13th, leaving the last two top 10 start slots to an impressive Alexander Albon in the Toro Rosso, and Nico Hulkenberg.
Williams: 40 years since the team's first grand prix win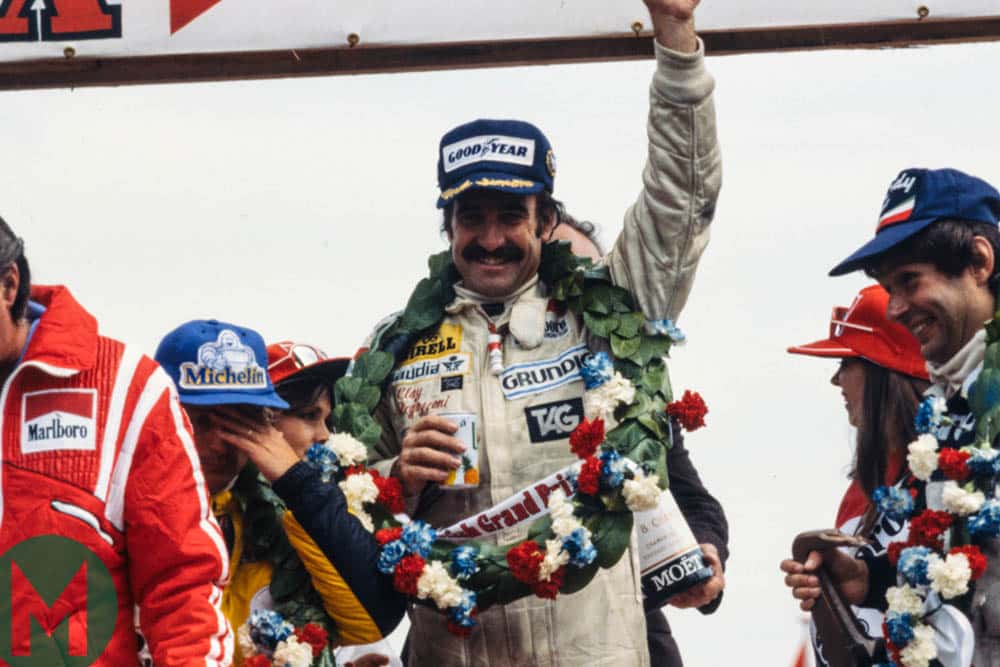 Regazzoni wins at the 1979 British Grand Prix Photo: Motorsport Images
To conclude, a bit of personal indulgence. Forty years ago this weekend, as an 18-year-old entering the Sir Williams Lyons award for aspiring young motoring journalists — an initiative of the Guild of Motoring Writers — I was granted an interview with Frank Williams who, like me, hails from South Shields.
It was in his small caravan in the old paddock and when I arrived – a small man (boy) with a massive tape recorder – I was ushered nervously in. Frank's fizzing energy and enthusiasm for F1 were palpable and soon put me at ease. About five minutes in, there was a knock on the door and Frank opened it. It was Carlos Reutemann, then driving for Lotus. I presumed that would signal the end of my interview, but no. Frank asked Carlos to sit on the couch, gave him a cup of something and gave me at least half an hour of his time. The result was a leg-up for my prospective career.
What Kubica is doing, around here in particular, given the injury he had, is awesome
I left delighted, with a wink from Frank, thinking what a sociable bunch these F1 guys were. Not long later Reutemann was announced as a Williams driver for 1980 alongside Alan Jones and I'd missed my first scoop, on a plate…
Next day, Clay Regazzoni won the Williams team's first grand prix. So it pains me to see George Russell – a great talent in my estimation – and Robert Kubica, 19th and 20th for Williams, a second off the pace of the next slowest car.
And I just want to share an off-mic post-session chat with Mark Webber in the Channel 4 commentary box.
"You know," the two-time British GP winner said, "What that guy (Kubica) is doing, around here in particular, given the injury he had, is awesome. It's truly inspirational. But this is a brutal world and the only thing anyone looks at is Russell."
It's more than a good point. The Williams is so far off that it's impossible to truly judge the performance level of either man. Claire Williams thinks Russell could be a world champion in waiting. As for Kubica, well, his average qualifying deficit to George is not the biggest on the grid. At 0.59sec, it's smaller than that between Verstappen / Gasly and Kimi Räikkönen / Antonio Giovinazzi.
Predictions for the race? You'd be an idiot to bet against Lewis Hamilton and Mercedes at Silverstone, but I just have a feeling that Max Verstappen could push the silver cars. He suffered a bit of turbo lag in qualifying and figured that without it he could have challenged for pole. And, as Christian Horner says, in race rather than qualifying engine modes, the effect won't be as marked. For the second race in succession, all looks beautifully poised, the tedium of Paul Ricard a distant memory!
British Grand Prix qualifying results and starting grid
| Position | Driver | Team | Time |
| --- | --- | --- | --- |
| 1 | Valtteri Bottas | Mercedes | 1min 25.093sec |
| 2 | Lewis Hamilton | Mercedes | 1min 25.099sec |
| 3 | Charles Leclerc | Ferrari | 1min 25.172sec |
| 4 | Max Verstappen | Red Bull | 1min 25.276sec |
| 5 | Pierre Gasly | Red Bull | 1min 25.590sec |
| 6 | Sebastian Vettel | Ferrari | 1min 25.787sec |
| 7 | Daniel Ricciardo | Renault | 1min 26.182sec |
| 8 | Lando Norris | McLaren | 1min 26.224sec |
| 9 | Alex Albon | Toro Rosso | 1min 26.345sec |
| 10 | Nico Hulkenberg | Renault | 1min 26.386sec |
| 11 | Antonio Giovinazzi | Alfa Romeo | 1min 26.519sec |
| 12 | Kimi Räikkönen | Alfa Romeo | 1min 26.546sec |
| 13 | Carlos Sainz | McLaren | 1min 26.578sec |
| 14 | Romain Grosjean | Haas | 1min 26.757sec |
| 15 | Sergio Perez | Racing Point | 1min 26.928sec |
| 16 | Kevin Magnussen | Haas | 1min 26.662sec |
| 17 | Daniil Kvyat | Toro Rosso | 1min 26.721sec |
| 18 | Lance Stroll | Racing Point | 1min 26.762sec |
| 19 | George Russell | Williams | 1min 27.789sec |
| 20 | Robert Kubica | Williams | 1min 28.257sec |