2019 Formula 1 German Grand Prix — race results
- Last updated: December 5th 2019
Race results for the 2019 German Grand Prix. Contains full classification. Click for full race report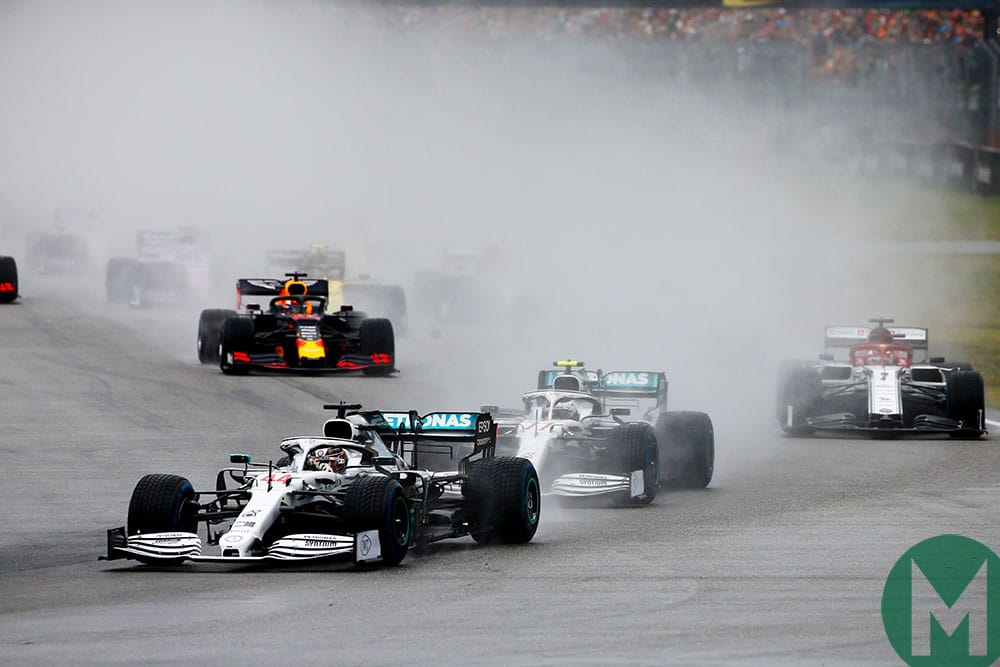 Photo: Motorsport Images
Max Verstappen delighted his hordes of fans in attendance by winning a chaotic wet-dry German Grand Prix at Hockenheim for Red Bull.
Verstappen, having had a very poor start, ran behind the Mercedes pair early on, and vaulted to the front in a madcap spell before half distance, just after most of the field switched to slicks on the drying track.
The tyre choice proved premature and Mercedes' Lewis Hamilton, who had looked in control in first, went off at the penultimate turn and damaged his front wing. Hamilton also got a five-second plenty as in diving immediately to pit he went the wrong side of the pit-entry bollard.
---
Read Mark Hughes' full German Grand Prix race report
---
This let Verstappen through into the lead as he'd pitted for intermediate tyres amid Hamilton's chaos and Hamilton's Mercedes team-mate Valtteri Bottas pitted a lap later from the safety car queue, losing him time. An almost identical off to Hamilton at the same corner ended the race of Ferrari's Charles Leclerc the lap before.
Later on there was more drama as the track finally became good for slicks, and Racing Point's Lance Stroll briefly jumped to the lead after being the first to gamble on a change, doing so under a safety car. He finished fourth with Daniil Kvyat third, the Toro Rosso looking swift in the tricky conditions.
Ferrari's Sebastian Vettel, who had started last, came through the uproar to finish second, while Mercedes' day fell apart. Hamilton dropped further to finish 11th by being one of the last to switch to slicks late on then having a spin. Bottas later crashed out to compound the team's misery.
Read the full story in Mark Hughes' race report
The full race results are below.
2019 German Grand Prix provisional results
| Position | Driver | Team | Time | Points |
| --- | --- | --- | --- | --- |
| 1 | Max Verstappen | Red Bull | 1hr 44min 31.3sec | 26* |
| 2 | Sebastian Vettel | Ferrari | +7.333sec | 18 |
| 3 | Daniil Kvyat | Toro Rosso | +8.305sec | 15 |
| 4 | Lance Stroll | Racing Point | +8.966sec | 12 |
| 5 | Carlos Sainz Jr. | McLaren | +9.583sec | 10 |
| 6 | Alexander Albon | Toro Rosso | +10.052sec | 8 |
| 7 | Kimi Räikkönen | Alfa Romeo | +12.214sec | 6 |
| 8 | A.Giovinazzi | Alfa Romeo | +13.849sec | 4 |
| 9 | Romain Grosjean | Haas | +16.838sec | 2 |
| 10 | Kevin Magnussen | Haas | +18.765sec | 1 |
| 11 | Lewis Hamilton | Mercedes | +19.667sec | |
| 12 | Robert Kubica | Williams | +24.987sec | |
| 13 | George Russell | Williams | +26.404sec | |
| 14 | Pierre Gasly | Red Bull | Collision | |
| | Valtteri Bottas | Mercedes | Spun off | |
| | Nico Hülkenberg | Renault | Spun off | |
| | Charles Leclerc | Ferrari | Spun off | |
| | Lando Norris | McLaren/Renault | Retirement | |
| | Daniel Ricciardo | Renault | Power Unit | |
| | Sergio Pérez | Racing Point/Mercedes | Spun off | |
*Includes point for fastest lap
F1 drivers' championship after Race 11 (Germany)
| Position | Driver | Team | Points |
| --- | --- | --- | --- |
| 1 | Lewis Hamilton | Mercedes | 223 |
| 2 | Valtteri Bottas | Mercedes | 184 |
| 3 | Max Verstappen | Red Bull | 162 |
| 4 | Sebastian Vettel | Ferrari | 141 |
| 5 | Charles Leclerc | Ferrari | 120 |
| 6 | Pierre Gasly | Red Bull | 55 |
| 7 | Carlos Sainz Jr. | McLaren | 48 |
| 8 | Kimi Räikkönen | Alfa Romeo | 31 |
| 9 | Daniil Kvyat | Toro Rosso | 27 |
| 10 | Lando Norris | McLaren | 22 |
| 11 | Daniel Ricciardo | Renault | 22 |
| 12 | Lance Stroll | Racing Point | 18 |
| 13 | Nico Hülkenberg | Renault | 17 |
| 14 | Kevin Magnussen | Haas | 15 |
| 15 | Alexander Albon | Toro Rosso | 15 |
| 16 | Sergio Pérez | Racing Point | 13 |
| 17 | Antonio Giovinazzi | Alfa Romeo | 5 |
| 18 | Romain Grosjean | Haas | 4 |
| 19 | Robert Kubica | Williams | 0 |
| 20 | George Russell | Williams | 0 |