By the time both Ferrari drivers were out of their cars, Lewis Hamilton was leading Max Verstappen away to restart the race after two laps behind the Safety Car to clear debris from the track. It was as close as Verstappen would get to Hamilton all afternoon.
Fresh from a stunning pole position lap, Hamilton had the Red Bull covered from that point onwards, opening up a gap of over two seconds almost instantly to stay out of DRS range, and then pulling a bigger margin on demand ahead of the first round of pit stops. Valtteri Bottas had similarly made swift work of Carlos Sainz after the restart to run third and start to close in on Verstappen, forcing Red Bull to cover off the undercut on lap 24.
Mediums to the end from that point wasn't ideal, and Mercedes had the luxury of pitting Hamilton three laps later to lessen the concern for him. A lack of pace from Alex Albon in fourth – roughly a second per lap slower than the top three – meant Bottas also wasn't under threat and could go aggressive with his strategy, extending his stint to lap 34 before pitting for mediums.
"Initially it was good," Bottas said of his chase of Verstappen. "Why the lap times kind of stabilised, I don't know if that was shown on TV, but I went through quite a bit of traffic, a group of many backmarkers and it was actually pretty shocking with some of them, because sometimes I spent more than one lap behind with them having blue flags and staying in the way. They were just fighting each other in front of me and not really caring they had blue flags. I hope that will have to be looked into. I think that's why I was not getting the lap times. Finally, in the end, it was pretty good once I got back into free air, managed to find the rhythm again, was pretty consistent, the car felt really good, so I think that was that."
In the final ten laps, Bottas really started to close in on Verstappen – who had a slightly damaged front wing – and the pair went side-by-side through Turn Four with five laps remaining. On that occasion, Verstappen regained the position brilliantly around the outside, but it was a stay of execution.
"In the end of course with Valtteri, I could see him coming," Verstappen said. "My tyres were pretty dead. Up until then for me it was a really boring race, just seeing Lewis pulling away. I just tried to do my own pace. One lap of fighting with Valtteri was cool but of course I knew then the lap afterwards he was going to pass me anyway. But a bit of excitement is good."
Albon might not have factored into the front three battle – as Verstappen even took a late stop for soft tyres in search of a fastest lap he ultimately didn't get – but he was at the epicentre of more drama at Turn Four.
Sergio Perez produced a beautiful drive from 17th on the grid, easing into the top ten in the early laps on soft tyres and then picking off Lando Norris and Pierre Gasly, before running long in clear air and switching to mediums as late as lap 38.
As he rejoined, Perez was in a battle with Carlos Sainz who had been struggling despite holding fifth place in the first stint, and then had dropped back due to a slow left rear at his pit stop. Sainz breezed past using DRS into Turn Four as Perez had to get his tyres up to temperature, but the Mexican pulled a beautiful move around the outside of Turn Six to regain the position.
The next ten laps were impressive as Perez worked his way past team-mate Lance Stroll in some hard but fair racing, and then easily cleared Daniel Ricciardo to take fifth and set off after Albon. After a number of fastest laps, Perez's progress stalled until he made a move down the inside into Turn Four on the penultimate lap. Light contact saw front wing damage and Albon pulled clear, while Perez started limping home.
And that's where the déjà vu kicked in.
Lando Norris had appeared to be struggling on high fuel after suffering from pain throughout the weekend, but the McLaren comes alive on lower fuel and the star of last weekend's race was all over his team-mate in the second half of the race, with Sainz graciously accepting a team order to let him go.
From there, Norris reeled in Ricciardo and Stroll fighting ahead of him, with Stroll having struggled to find a way past the Renault in the same way his team-mate did. Finally, frustration got the better of the Canadian and he went for a lunge into Turn Three on the penultimate lap, forcing both wide. Norris took advantage to ensure Ricciardo fell behind both cars, and then on the final lap dispatched Stroll into Turn Four.
That wasn't the end of the excitement though, as Perez's front wing was hanging off and in the remaining four corners Norris closed in and swept by into the final corner to take a fifth place in perhaps more dramatic fashion than last week's podium.
"It was really fun, I got the last three positions in the last three laps," Norris said. "It shows keep fighting until the very last lap, especially with Sergio I overtook him into the last corner. It was a fun race, probably the best race I've done in Formula 1."
Perez, Stroll and Ricciardo finished three-wide in that order, covered by just 0.2sec, while Sainz took ninth and beat Verstappen to the fastest lap after a late pit stop for softs. Daniil Kvyat was tenth as AlphaTauri ended up in a bit of a race of their own, unable to match the leading midfield teams but not under major threat from the likes of Alfa Romeo, Haas and Williams.
But the action didn't finish there, as Renault protested the legality of the Racing Point – and whether they designed all of their listed parts themselves – after the flag. Watch this space.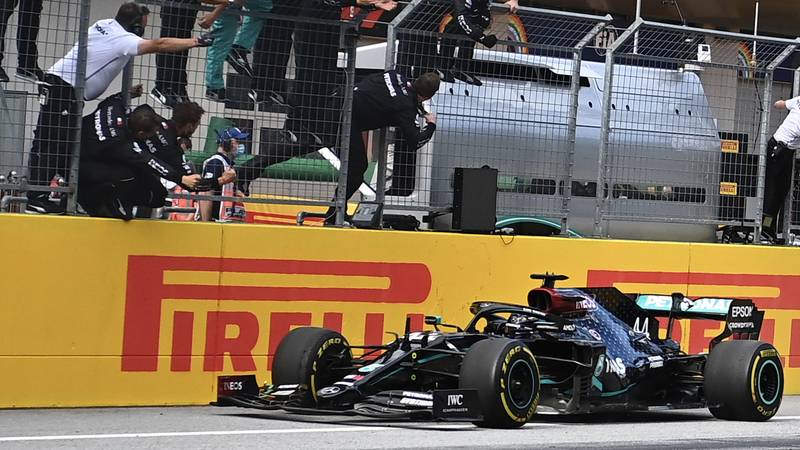 2020 Styrian Grand Prix results
| | | | | |
| --- | --- | --- | --- | --- |
| Position | Driver | Team | Time | Points |
| 1 | Lewis Hamilton | Mercedes | 1hr 22min 50.683sec | 25 |
| 2 | Valtteri Bottas | Mercedes | +13.719sec | 18 |
| 3 | Max Verstappen | Red Bull | +33.698 | 15 |
| 4 | Alex Albon | Red Bull | +44.400 | 12 |
| 5 | Lando Norris | McLaren | +1min 01.470sec | 10 |
| 6 | Sergio Perez | Racing Point | +1min 02.387sec | 8 |
| 7 | Lance Stroll | Racing Point | +1min 02.453sec | 6 |
| 8 | Daniel Ricciardo | Renault | +1min 02.591sec | 4 |
| 9 | Carlos Sainz | McLaren | +1 lap | 3* |
| 10 | Daniil Kvyat | AlphaTauri | +1 lap | 1 |
| 11 | Kimi Räikkönen | Alfa Romeo | +1 lap | |
| 12 | Kevin Magnussen | Haas | +1 lap | |
| 13 | Romain Grosjean | Haas | +1 lap | |
| 14 | Antonio Giovinazzi | Alfa Romeo | +1 lap | |
| 15 | Pierre Gasly | AlphaTauri | +1 lap | |
| 16 | George Russell | Williams | +2 laps | |
| 17 | Nicholas Latifi | Williams | +2 laps | |
| | Esteban Ocon | Renault | DNF | |
| | Charles Leclerc | Ferrari | DNF | |
| | Sebastian Vettel | Ferrari | DNF | |
*Additional point for fastest lap
F1 Drivers' Championship standings after Round Two (Styrian GP)
| | | | |
| --- | --- | --- | --- |
| Position | Driver | Team | Points |
| 1 | Valtteri Bottas | Mercedes | 43 |
| 2 | Lewis Hamilton | Mercedes | 37 |
| 3 | Lando Norris | McLaren | 26 |
| 4 | Charles Leclerc | Ferrari | 18 |
| 5 | Sergio Perez | Racing Point | 16 |
| 6 | Max Verstappen | Red Bull | 15 |
| 7 | Carlos Sainz | McLaren | 13 |
| 8 | Alex Albon | Red Bull | 12 |
| 9 | Pierre Gasly | AlphaTauri | 6 |
| 10 | Lance Stroll | Racing Point | 6 |
| 11 | Daniel Ricciardo | Renault | 4 |
| 12 | Esteban Ocon | Renault | 4 |
| 13 | Antonio Giovinazzi | Alfa Romeo | 2 |
| 14 | Daniil Kvyat | AlphaTauri | 1 |
| 15 | Sebastian Vettel | Ferrari | 1 |
| 16 | Nicholas Latifi | Williams | 0 |
| 17 | Kimi Räikkönen | Alfa Romeo | 0 |
| 18 | Kevin Magnussen | Haas | 0 |
| 19 | Romain Grosjean | Haas | 0 |
| 20 | George Russell | Williams | 0 |
F1 Constructors' Championship standings after Round Two (Styrian GP)
| | | |
| --- | --- | --- |
| Position | Team | Points |
| 1 | Mercedes | 80 |
| 2 | McLaren | 39 |
| 3 | Red Bull | 27 |
| 4 | Racing Point | 22 |
| 5 | Ferrari | 19 |
| 6 | Renault | 8 |
| 7 | AlphaTauri | 7 |
| 8 | Alfa Romeo | 2 |
| 9 | Williams | 0 |
| 10 | Haas | 0 |