Hamilton fastest before qualifying from Verstappen: 2021 Hungarian GP practice round-up
- Last updated: July 31st 2021
Hamilton went fastest of all by just 0.088sec from Verstappen ahead of qualifying
Lewis Hamilton found time in the final qualifying sim runs of FP3 to put himself fastest ahead of Max Verstappen and Valtteri Bottas.
The Mercedes driver as seven-tenths down earlier in the session and struggling to find a balance with his set-up but in the final runs before qualifying in the afternoon, found time in sectors two and three to go 0.088sec clear of his championship rival.
Ferrari looks to have the measure of McLaren on evidence so far this weekend as both Carlos Sainz and Charles Leclerc edged out Lando Norris in the top five, while Esteban Ocon has quietly been putting together a solid start to his weekend at Alpine.
Mick Schumacher could miss qualifying after a crash brought out the red flags with just over a third of FP3 remaining. The Haas driver lost the back end of his car at Turn 11 before crashing into the barriers.
Here is how practice unfolded ahead of the 2021 Hungarian Grand Prix.
FP1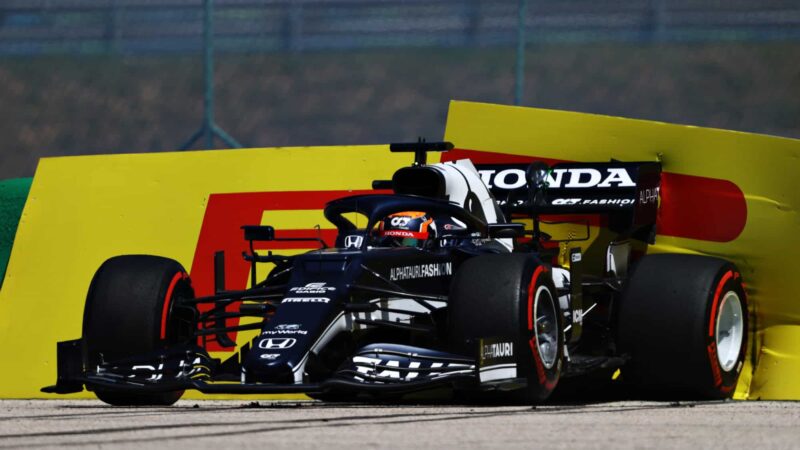 Plenty of drivers were out immediately to get first practice underway including Max Verstappen as Red Bull and Honda got its first chance to check over the power unit following his British GP crash. He went top with his first flying lap on the hard compound tyres with little concern on initial showing.
Charles Leclerc was almost caught out at Turn Five by a snap of oversteer on his second flyer but was able to catch the Ferrari and continue on his way.
Lewis Hamilton's first effort put him P2 to Verstappen, 0.146sec down on the Red Bull driver's time on the same hard compound tyre before the Dutchman improved his own benchmark to go half-a-second clear.
After his team-mate's earlier snap, Carlos Sainz was next onto the runoff area, running wide at the Turn Four left-hander in a similar manner to Leclerc. Moments later, Fernando Alonso suffered a spin at T4 and lost some bodywork from his Alpine over the serrated kerbs. The Spaniard avoided the barriers and recovered to the pits with sizeable flat spots.
Yuki Tsunoda was the next to spin, losing the AlphaTauri on direction change at Turn Nine. He too avoided the walls and was in for fresh rubber after making it back to the pits.
Valtteri Bottas jumped to the top of the times approaching the halfway mark in the session after switching to the softs. His 1min 17.616sec was fastest by 1.4sec as others swapped to the red-walled tyre.
Hamilton suffered with understeer on his first effort and could only go second fastest to his team-mate, 0.380sec down on Bottas's time. He asked for plenty more front wing after completing his lap. His next effort closed the gap to Bottas down to 0.106sec.
McLaren's Lando Norris posted a time a full second down on the ultimate benchmark, behind both Ferraris. Sainz headed up team-mate Leclerc by 0.2sec in third and sixth places respectively. Pierre Gasly and Alonso seperated the Ferraris with 22mins remaining.
After his lucky escape earlier at Turn Nine, Tsunoda crashed at Turn Four, bringing out the red flags with under 20 minutes remaining in the session. An overcorrection on corner entry resulted in a snap and the Japanese driver couldn't catch it again to prevent a spin and tap into the barriers.
Rapid repairs to the wall and car recovery meant there was 13 minutes on the clock as the session went back green. 50deg celcius track temperatures required a very slow out lap to keep tyres in peak condition for a hot lap as drivers emerged on fresh softs.
After being a tenth down in the first sector and 0.05sec down in the middle sector, Verstappen clawed the time back to go fastest of all with his first lap on softs, 0.167sec clear of Hamilton in third. Sergio Perez was fairly anonymous on the softs and finished the session off the pace down in eighth.
FP2
The queues for track position started immediately in the final sector as drivers vied for a clean run.
Bottas battled a very twitchy car in the final corners but set the initial benchmark with a 1min 18.367sec on mediums.
Leclerc struggled on the same compound and suffered a sizeable lock-up into the first corner, immediately ruining a flying lap attempt.
Hamilton slotted into P2 briefly until Verstappen split the Mercedes duo on his first run.
Alonso had shown promising pace in FP1 and continued that momentum into the second practice session, immediately going up to fourth within a second of Bottas's time on the same compound of tyre. Team-mate Esteban Ocon and AlphaTauri's Gasly were able to dislodge the Spaniard on their second efforts.
Perez was some way off of Verstappen in first practice but his first effort more than halved the gap to the Dutchman, slotting into P4 0.2sec down until Verstappen bettered his time to narrow the gap to Bottas to 0.046sec.
Times continued to tumble as the Finn extended his advantage with a 1min 18.2sec while Hamilton usurped him for the top spot and edge towards a flat 1min 18.
George Russell popped up into the top 10 for the first time this weekend with a time good enough for ninth on mediums. Sebastian Vettel then went even better right after to move into second for Aston Martin after both had switched to softs.
Bottas retook his place on the top of the times after Gasly had briefly gone fastest on his soft run. The Mercedes driver went fastest with a 1min 17.012sec and Hamilton could not find the time to better it. 0.027sec seperated the Mercedes team-mates.
Following his FP1 shunt, Tsunoda had not materialised by the halfway point in the second session. His car was up on jacks in the garage with mechanics not looking too busy trying to prepare it in time for a run.
Norris found 1.5sec on his soft tyre run but couldn't go ahead of Vettel, Gasly and Ocon. Verstappen also struggled on his lap and slotted into third some way down on the outright fastest time, 0.3sec off of Bottas. He reported he had far too much understeer for his liking and boxed at the end of the lap for adjustments.
Norris's struggles continued with a slide wide at the Turn Six and Seven chicane and he wasn't the only one having to save it. Hamilton caught a snap of oversteer that sent him wide at Turn 11.
With over 20 minutes remaining in the session, focus switched to race simulation runs. Verstappen abandoned his after a few laps to box for a frontwing adjustment due to the understeer he was suffering from.
Meanwhile, both Mercedes drivers looked comfortable on the medium compound, though another snap of oversteer at Turn 11 for Hamilton sent him off track after a strong opening few laps. He recovered onto the circuit without any damage.
McLaren and Ferrari looked evenly matched but Alpine and Aston Martin were posting respectable times that on face value, would put them in the mix with the upper midfield duo.
FP3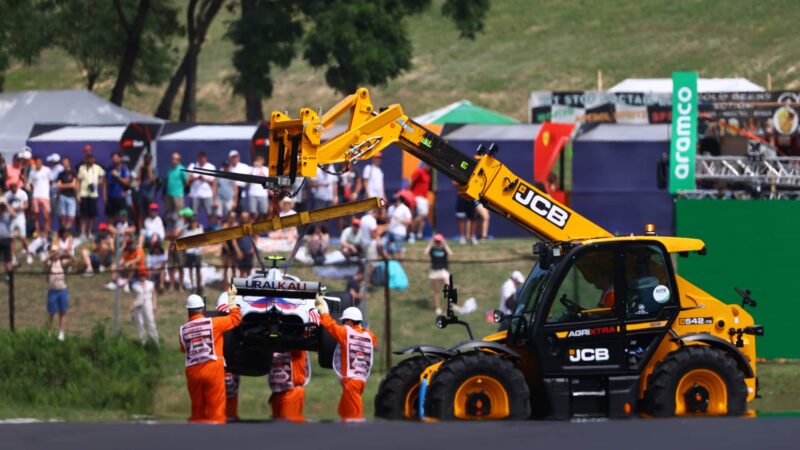 Unlike practice one and two, there was no rush to get out on track for teams in the final hour ahead of qualifying.
Tsunoda was one of the few drivers who ventured out in the opening 10 minutes of the session, eager to make up for the time he lost on Friday following his crash at Turn Four. The AlphaTauri driver set a very early benchmark of a 1min 20.790sec on mediums.
Sainz was also out for installation laps after Ferrari broke the curfew last night to replace his power unit after finding worrying points of data following FP2.
A very twitchy lap for Hamilton on softs put him fastest of all after 15 minutes as he fought oversteer throughout the lap with track temperatures so high. His 1min 18.587sec was narrowly faster than Sainz's effort on mediums.
As the 20-minute-mark ticked by, the track suddenly became a very busy place with garages emptying out
Perez's first flying lap was six-tenths down on Hamilton's lap as his struggles continued around the Hungaroring. Verstappen meanwhile had found a much kinder balance compared to Friday and went seven-tenths clear at the top on a 1min 17.510sec.
On the medium compound too, McLaren could not better the times of both Ferrari drivers. Daniel Ricciardo was stuck down in P16 while Norris slotted into fifth behind Sainz and Leclerc.
Bottas's Mercedes looked much more compliant than his team-mate's and he took the top spot from Verstappen by 0.082sec as he continued his strong weekend.
Perez improved on his second run on softs, rising up to fourth position 0.8sec down on Bottas's table-topping time. Unfortunately for Ricciardo, he couldn't find much time and having dropped to P19, could only move up one place on his second medium run, 0.5sec down on his team-mate.
With under 20 minutes remaining and track temperatures reaching 57 degrees C, Norris managed to find time on soft tyres to move into P3, 0.3sec off the top spot. Ex-McLaren team-mate Sainz then restored the Prancing Horse above their rivals to go second.
Bottas bettered his time just before red flags were thrown for Mick Schumuacher, who crashed at Turn 11 after losing the back end of the Haas. The left side of the car took quite an impact and the team could have one car out of qualifying already.
The session was restarted with 10 minutes left and there was a sizeable queue down the end of the pit lane as teams hoped to get one final qualifying sim in before the end.
Lance Stroll had a very close call in the pit lane after Antonio Giovinazzi was released into his path. The Alfa Romeo rolled into the fast lane just as the Aston Martin came by, rolling over the Alfa's front wing endplate but somehow both escaped without damage. The incident will be investigated by stewards before qualifying.
Verstappen moved to the top of the times by one-tenth over Bottas until Hamilton put himself fastest for the first time all weekend. He made up a deficit from the first sector in the final two sections to go quickest by 0.088sec.