F1 driver line-ups: full grid for the 2022 Formula 1 season
The confirmed 2022 F1 driver line-ups ahead of next season, including Valtteri Bottas's move to Alfa and the new Mercedes pairing
With the tensions of the 2021 season dying down, focus is already switching to next year as Formula 1 introduces a new generation of car.
The new set of rules are intended to create better wheel-to-wheel racing by reducing the impact of dirty air from the car ahead, allowing the drivers to follow each other more easily.
But who is driving where? This list has you covered and lists all of the team line-ups for the 2022 F1 season.
Silly season was finally ended with the confirmation that Guanyu Zhou would be arriving at Alfa Romeo, but his move is far from the only one to happen in between seasons.
Mercedes will also field a new line-up of Lewis Hamilton and George Russell, who makes the jump from Williams to join the seven-time champion.
Here is every team line-up for next season.
Click here to jump to a specific team
2022 F1 driver and team line-ups
Mercedes: Lewis Hamilton & George Russell
Hamilton signed up until 2023

Russell confirmed alongside him after years with Williams

Will Hamilton retire from F1 before the 2022 season starts?

The biggest news at Mercedes heading into 2022 was the arrival of long-term prospect George Russell. That was until the 2021 season finale in Abu Dhabi and Lewis Hamilton's cryptic post-race interview.
In the aftermath of a gut-wrenching loss, Hamilton hinted that he might be considering his future in the sport and whether he will even return to race next season.
Could the seven-time champion really walk away from a team that looks well placed to continue to fight for wins? Stranger things have happened in F1.
Russell will be gearing up for his greatest test yet alongside a driver tipped as one of the greatest of all time. Always highly rated by Mercedes, Russell's journey to the team is finally complete and there's no doubting he can fight with the best of the best in F1.
His deputising for Hamilton in 2020 during the Sakhir GP showed how ready he was, and a phenomenal lap during qualifying for the 2021 Belgian GP put him ahead of both Mercedes' cars despite trecherous conditions.
Whether he'll immediately challenge Hamilton a la Charles Leclerc against Sebastian Vettel at Ferrari remains to be seen, but he won't be pulling any punches.
Red Bull: Max Verstappen & Sergio Perez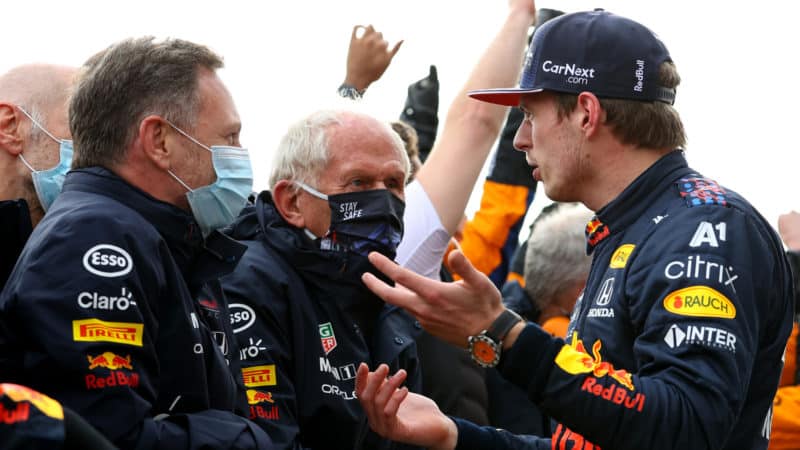 Max Verstappen under contract until 2023 and keen for extension

Sergio Perez on one-year deal through to the end of 2022

Pierre Gasly was denied a promotion back to the team for '22

Fresh from his maiden world title, Max Verstappen will be number one on the grid in 2022 and the Red Bull team for some time yet. He's tied down to the team until the end of 2023 but both parties are keen to extend their relationship for another few years.
"You heard on my radio on the in lap, asking if I could stay for another 10/15 years," Verstappen said at the FIA prize giving gala.
"I am very happy where I am and I can be myself, and that I think is also really important. It's not only about just purely F1: we can have fun, we can have a good laugh. It's not only about performance, also you need to enjoy what you're doing."
Sergio Perez was a great move for the team and he played a crucial role in the outcome of the 2021 battle. But, the Mexican will be in familiar territory and racing without his future secured as his current contract expires at the conclusion of the 2022 season.
Red Bull made clear it was impressed with Perez' contributions to the team despite missing out on the constructors' title, but with Pierre Gasly finding better form since his relegation back to Toro Rosso/AlphaTauri, is Perez on the way out regardless of his form in '22?
The conveyor belt of talent is back up and running for Red Bull after a brief stutter in the late 2010s. 2021 F3 champion Denis Hauger is supported by the Red Bull team while RB junior Jüri Vips will also be competing in F2 again this coming season.
Verstappen is going nowhere any time soon, who's going to be with him for the long run though?
Ferrari: Charles Leclerc & Carlos Sainz
Charles Leclerc under contract until end of 2024 F1 season
Carlos Sainz agreed multi-year deal

Ferrari expecting better performance in 2022 with new regulations

The recovery continues at Maranello with arguably the strongest driver pairing on the grid for the 2022 season.
Charles Leclerc has shown his championship-contending credentials since arriving at Ferrari in 2018 but team-mate Carlos Sainz has gone from strength to strength since cutting ties to Red Bull.
He finished best of the rest in fifth position in the drivers' standings in 2021 and has scored more points in every season since 2018.
The engine settlement the team reached with the FIA set the team back for two years but the boost in power unit performance from the 2021 Russian GP onwards turned the tables on McLaren and Ferrari is expecting strong pace from its 2022 car on the engine front.
It has also had the 'luxury' of being able to focus on the new regulations without a championship to fight for, so with resources pointed at the new regs, is Ferrari best-placed to take advantage and restore itself to the front of the F1 pack?
McLaren: Daniel Ricciardo & Lando Norris

Lando Norris signed new extension up to 2023
Daniel Ricciardo struggled to match pace but has clean start for 2022

McLaren fell to fourth-place in 2021 constructor's standings

McLaren fell in the final third of the season in its fight against Ferrari.
Ferrari updates meant that a regression back to fourth in the constructors' championship was the outcome in a tightly-contested fight for best of the rest.
Despite that, the season had positives. The team is on the right track in its recovery from the dark Honda days and a one-two finish at Monza was a deserved reward for the hard work that has gone on in Working.
Lando Norris's potential shows no signs of peaking any time soon. He was cruelly denied a maiden victory in Russia after controlling much of the race but the team has to build on its 2021 promise next year.
Daniel Ricciardo has struggled to get on terms with Norris since joining the team but will be on equal footing next season as he and the rest of the grid get to grips with the new generation of cars and new regulations.
Is it the reset McLaren needs to become a championship-contender once again?
Alpine: Fernando Alonso & Esteban Ocon
Fernando Alonso will stay at Alpine for 2022 F1 season after signing contract extension

Esteban Ocon has extended his contract to 2024
F2 champion Oscar Piastri ready for F1 but will be reserve driver in 2022

Alpine's strong second half to the 2021 season elevated the team to fifth and included strong displays from both its drivers.
Fernando Alonso will remain with the team in 2022 after extending his deal to stay, while Esteban Ocon is tied down for a few years yet.
The big question will be whether the Enstone/Viry outfit can climb out of the midfield and back to the front of the grid in 2022.
There were fits and bursts of form including Qatar and Saudi Arabia but the team's victory with Ocon at the Hungarian Grand Prix was the high point of the year.
Alonso is banking on the team getting the 2022 rule changes right with his signature for another year so there must be signs behind the scenes that are encouraging.
Whether the Marcin Budkowski-led team can fight for wins next season though will go a long way in determining whether highly-rated and F2 champion Oscar Piastri gets a deserved F1 seat in the future.
AlphaTauri: Pierre Gasly & Yuki Tsunoda
Pierre Gasly and Yuki Tsunoda confirmed for 2022
Friendship between drivers has "been effective for the team"
Tsunoda started strong but lacked consistency. He is still valued at AlphaTauri
AlphaTauri will retain the same line-up in 2022, with contract extensions for Pierre Gasly and Yuki Tsunoda.
There were no shortage of options from the Red Bull junior line-up: Liam Lawson, Jehan Darvuvala and Juri Vips are all competing in F2 under the watchful eye of Helmut Marko.
But the team decided against breaking up the harmonious pairing of Gasly and Tsunoda.
"We have seen that the positive relationship between the two, made of a competitiveness on-track and a friendship off-track, has proven effective for the team," said AlphaTauri team principal Franz Tost.
"Pierre's development in the years has been impressive and in his time with us he managed to make it to all three steps of the podium. I am confident there's more to come and this is why we are excited to have him with us for another season. Furthermore, he is using his experience in F1 to help Yuki with his development.
"As a rookie, Yuki is only at the beginning of this journey, so it's good that he can continue what we've started together. "
Aston Martin: Lance Stroll & Sebastian Vettel
Sebastian Vettel takes up option for 2022
Lance Stroll confirmed for another season
Can focus on 2022 regulations push Aston Martin to upper-midfield team?
Despite some recent uncertainty over Sebastian Vettel's future, the four-time World Champion has agreed to continue with Aston Martin beyond the 2021 season, with both parties agreeing to continue the "multi-year deal" agreed last year.
In recent races Vettel has looked closer to his 2017 and 2018 title-challenging form. But the question remains whether he can build on this when the new regulations come in for 2022.
The likelihood of Lance Stroll leaving the team while father Lawrence has ownership was always extremely low and he will once again partner Vettel. The Canadian has been with the team since Lawrence's investment while it was racing under the Racing Point banner, so this was always likely to be one of the F1 line-ups that didn't undergo any change between '21 and '22.
The team's form dipped in 2021 as it was impacted by the regulations that cut away at the floor. Mercedes and Aston Martin both employ the low-rake aerodynamic philosophy but the latter struggled to find pace in the second half of the year.
Will the new regulations, a new factory and extra wind tunnel and CFD time help Aston Martin move forward in 2022?
Alfa Romeo: Valtteri Bottas & Guanyu Zhou

Valtteri Bottas signs a multi-year deal starting in 2022

Guanyu Zhou will become first Chinese F1 driver next year

Fred Vasseur remains as team principal
The rumours of an Andretti Motorsport takeover withered out just as quickly as they started but Alfa Romeo will have a completely new line-up for 2022.
Valtteri Bottas has long been confirmed as switching to the team from Mercedes but Guanyu Zhou will complete the Formula 1 grid for next season and partner the Finn at the team.
Zhou will be China's first F1 driver and is currently part of Alpine's junior driver programme. Currently second in the Formula 2 standings, Zhou will make the step up to F1 after three season's in the feeder category.
"To be the first ever Chinese driver in Formula 1 is a breakthrough for Chinese motor sport history," said Zhou. "I know a lot of hopes will be resting on me and, as ever, I will take this as motivation to become better and achieve more."
Williams: Alex Albon and Nicholas Latifi
Williams loses George Russell to Mercedes for next season
Nicholas Latifi retains his seat
Alex Albon will return to the grid with Williams in 2022
With George Russell off to Mercedes, Williams is now in the hands of Nicholas Latifi and the returning Alex Albon.
A year on the sidelines for Albon has been eventful. He competed in DTM and took on a driver coaching role for AlphaTauri's Tsunoda. He was also credited by Red Bull as being a big part of the team's success in winning the drivers' title.
Nicholas Latifi will keep his seat and was able to out-qualify Russell on several occassions in 2021.
Jost Capito, Williams Racing's CEO, described Albon as "one of the most exciting young talents in motor sport" and said that next year's line-up will blend youth and experience that will aid the team's further progression up the grid.
2022 will give the team an opportunity to make a big leap towards the other teams after years in the wilderness as a backmarker.
Capito has appointed several ex-Volkswagen personnel within the team as it aims to get back on its feet under Dorilton Capital's ownership.
Haas: Nikita Mazepin & Mick Schumacher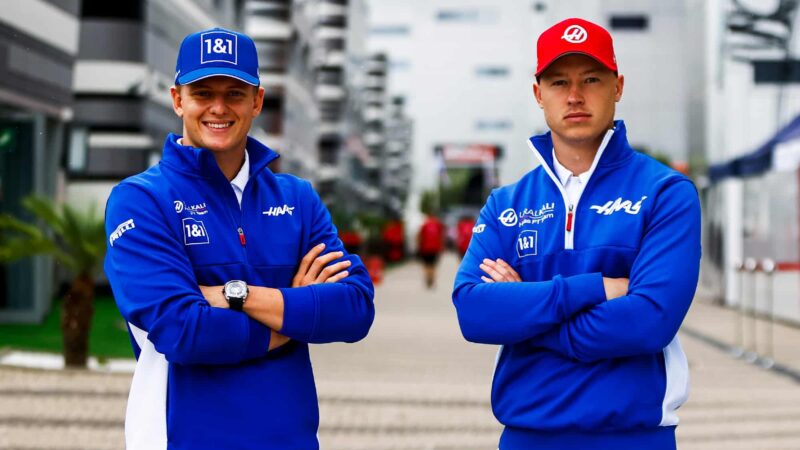 Haas has confirmed both of its drivers will return next season in an unchanged driver line-up

Despite tensions between the team-mates, team boss Guenther Steiner says both can continue to develop with Haas

Team fully focused on 2022 with development throughout this year focused on next season
A tweet from the Haas social media admin about typing P19 and P20 a lot less in 2022 said it all.
F1's only American team has struggled since its early years and close links with Ferrari fell away, and 2021 was as bad as it's been since the team joined the grid.
Well adrift of any other team for the majority of the season, it had an almost exclusive ownership over the last two places on the grid all season. 2022 cannot be worse for Haas.
As the saying goes, the only way is up.
"2021 has afforded both drivers the opportunity to learn Formula 1 – and as rookies – they've done a lot of that this year," Steiner said.
"It's been a tough season for sure with the package we've had, but at the same time they've both embraced the challenge and worked closely with the team to learn our processes and adapt to the rigors of a Formula 1 campaign and all that brings – both internally and externally.
"Now as we look ahead to the 2022 season, we're confident we can move forward as a team and give Mick and Nikita a competitive race package to make the next step in their Formula 1 careers."