A flying lap of Monaco with Ayrton Senna
Few laps are more picturesque than that of the Monaco GP – who better to take you round than Ayrton Senna?
Monaco holds its rightful place as Formula 1's most iconic track, and is indelibly linked with its highest achieving driver – and one many consider to be the greatest of all time – Ayrton Senna, who won its Grand Prix six times.
Who better to take us on a lap of the principality street circuit then, with beautiful imagery supplied by Paul-Henri Cahier, Pascal Rondeau, Gilles Levent and many more, from a time when fewer barriers allowed the glamour to shine through.
Saint Devote
Lights out and it's a blast down to what is perhaps the most famous opening corner in F1 – Saint Devote.
On a flying lap Senna will have hit 170mph in 5th, but he'll have to take one hand off the gear to change through his H-pad gearbox, shifting down to second before blasting up Beau Rivage.
Beau Rivage
What a blast it is too. Cars thread their up the hill, kinking right and left but ultimately heading straight for the Casino, where drivers take a gamble on how late they dare to brake – of which Senna was the master.
You hit 150mph and top gear before peaking the crest on one of F1's great climbs.
Massenet
You might have hit back side of the Casino de Monte-Carlo, but there's Massenet to negotiate first.
In the time of Senna, Mansell and Prost this provided a great viewing point for F1 cars on the edge – if you were lucky enough to secure a space.
To achieve the ideal lap time you need to keep the car in fourth, shaving 60mph off your speed as the g-forces pull at you.
Casino Square
It's down to third and 80mph to make it through one of F1's most picturesque corners. During F1's turbo and V10 era –which Senna drove through – competitors would find themselves just feet away from a manicured lawn, supercar-stuffed carpark and gambling chips as the drivers risked it all.
Casino to Mirabeu
It's now the short chute from Casino down to Mirabeau – don't forget to jink right and avoid the bump…
Mirabeu
You're now on the dive down to the harbour, but it isn't exactly a direct route – change down to first and 50mph as you head towards Loews Hairpin.
Mirabeu to Loews Hairpin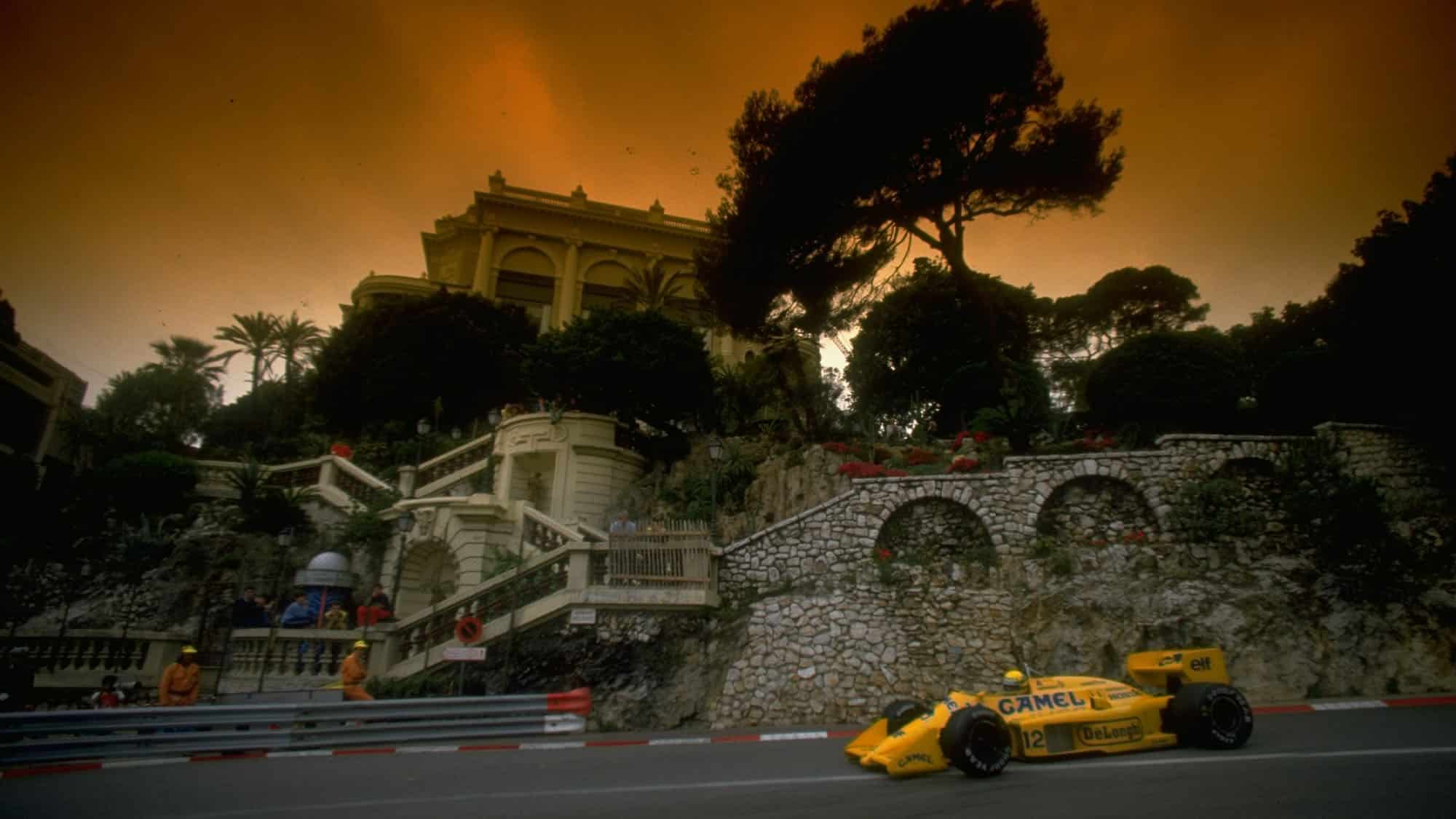 Few short straights must have generated so much imagery, but the dash down to Loews is worth it – here's Senna in 1987 under a classic Côte de Azure sky.
Loews Hairpin
One of the prime viewing points in F1 – particularly if you can park your Lamborghini Countach or Ferrari F40 under the hotel, as pictured here.
Briefly pop up into second before changing down again to take Loews at 35mph.
Tunnel
Increase speeds to get through Mirabeau Bas and Portier before plunging into the ultimate F1 echo chamber – the Monaco tunnel.
Once you emerge back into the light, those who dare will hit 175mph before slamming on the brakes to take on F1's most glamorous chicane.
Nouvelle Chicane
Make sure you're now in second, otherwise it'll be straight on at the Nouvelle Chicane. Though the speedometer will be down to 40mph, there's little time to take in the bevy of super yachts on show.
Nouvelle Chicane to Tabac
Ocean and boats rush by, but you're only focusing on making it through Tabac after reaching 140mph.
Louis Chiron
There are few challenging chicane combinations like Louis Chiron and the Swimming Pool, getting down to the third gear for the former…
Swimming Pool
…before second for the latter – make sure you don't clip the right-hand barrier like so many have.
Rascasse and Anthony Noghes
Just one lap might seem exhausting at Monaco, but it's not over yet – you'll hit third on the run from the Swimming Pool, but change down once more and dip under 50mph to round Rascasse and Anthony Noghes.
Start/ finish straight
Back to the finish straight in under 1min 25sec, just in time for Jacky Ickx to wave you over the line – unless you want to do it all over again, of course.