Bernie Ecclestone: 'Here's how I'd fix F1'
- Last updated: December 5th 2019
Bernie Ecclestone weighs in on Formula 1's current situation and says how he'd level the playing field with a number of ideas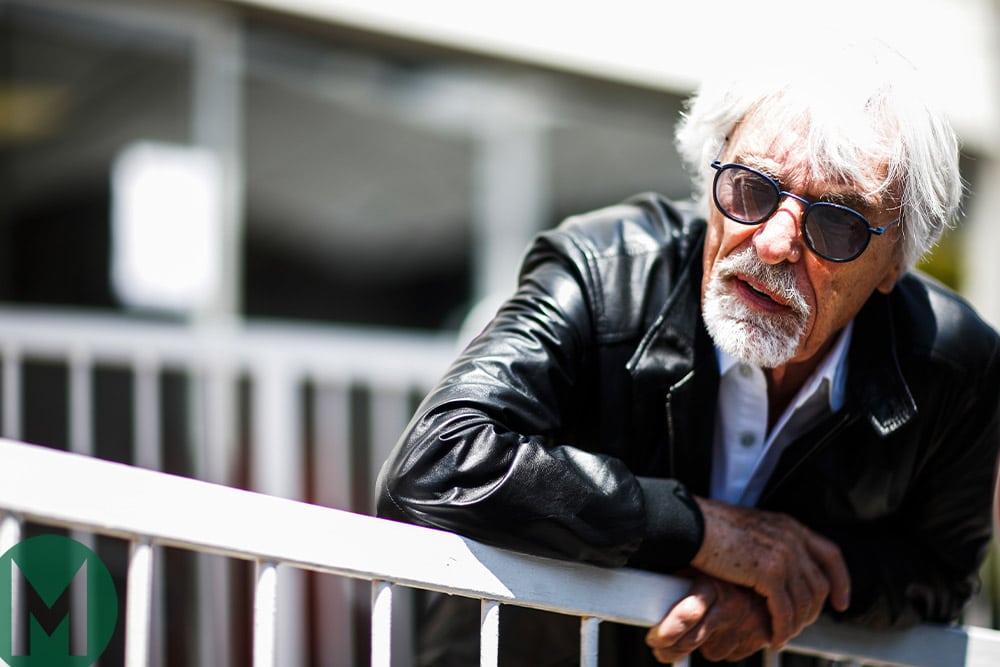 "F1 has to get people's attention again" Photo: Motorsport Images
Formula 1's former boss Bernie Ecclestone has outlined a plan to fix F1's current lack of competition with two manufacturers' championships and spec cars supplied by constructors.
The chairman emeritus would implement a teams' championship alongside the constructors' championship, keeping the drivers' championship intact.
"The constructors' championship is for the teams that manufacture the engine and the chassis; teams such as Ferrari and Mercedes," he says to ESPN's Maurice Hamilton.
"By having two championships – aside from the drivers' – we're helping the small teams while letting the manufacturers race the way they want.
"But if Ferrari want to stop, they can stop. Or they can join the team people if they want to. The choice is theirs."
The teams' championship would introduce a spec car supplied by those constructors, with a $30m payment given to new teams in the championship to encourage more competitors.
"I'd build a car – like a very sophisticated F2 car," he says.
"I'd give you a complete car and a spare engine. And I'd give you $30 million a year.
"That way we can forget all this cost cap nonsense. You've got to run the team as best you can. You've got $30m to get you going, so you need to go out and find some sponsors.
"If Honda decided they weren't going to be in F1 – or if Renault decided not to be a constructor – I'd do a good deal for one of them to supply everyone. These would be engines similar to those we have today. But one engine has to last a full season, with one spare engine only to be used if the original one has a failure."
In turn, the suppliers of the spec cars would receive money for supplying the cars and sponsorship on the cars that they supply.
---
More
---
He goes on to outline his plans to bring back refuelling – a practice that was outlawed under Ecclestone at the end of the 2009 season.
"If you want to, you can refuel. You have just one set of tyres but, if you want to stop and refuel, you can also change tyres. Then maybe we'd have to change the weight of the car. If we found the team cars weren't quick, we'd make sure the constructors' cars were a bit heavier. That way, you could easily find two seconds.
"With a refuelling strategy and change of tyres, you'd find another, say, second a lap. But only if you want to do that. It's up to you.
"And one more thing," he adds, "the teams could enter just one car, if they wanted."
The comments came after a lacklustre French Grand Prix that led to an eighth win for Mercedes, Valtteri Bottas and Lewis Hamilton netting 15 podiums so far this year.
"F1 has to get people's attention again," he continues.
"If you've got four friends going to a race, you want to have a situation where none of them can agree on who is going to win. This is all about Ferrari and Mercedes racing up front, but other teams having a chance to be in among them for about a fifth of the budget.
"Everything is up for discussion. But the bottom line is having affordable entertainment rather than very expensive technology."
Ecclestone claims that Audi was interested in his proposed regulations, but 'dieselgate' stopped short its entry.
"They're confident their engineers are talented enough to design a car and engine that would be competitive within two years," he says.
But F1 never did adopt these plans under Ecclestone's tenure. Now, with every Mercedes victory, Liberty is under increasing pressure to deliver with the next set of F1 regulations.