Verstappen lays down gauntlet ahead of qualifying: 2021 French GP practice round-up
- Last updated: June 19th 2021
Max Verstappen was a massive 0.7sec quicker than anyone else ahead of qualifying at Paul Ricard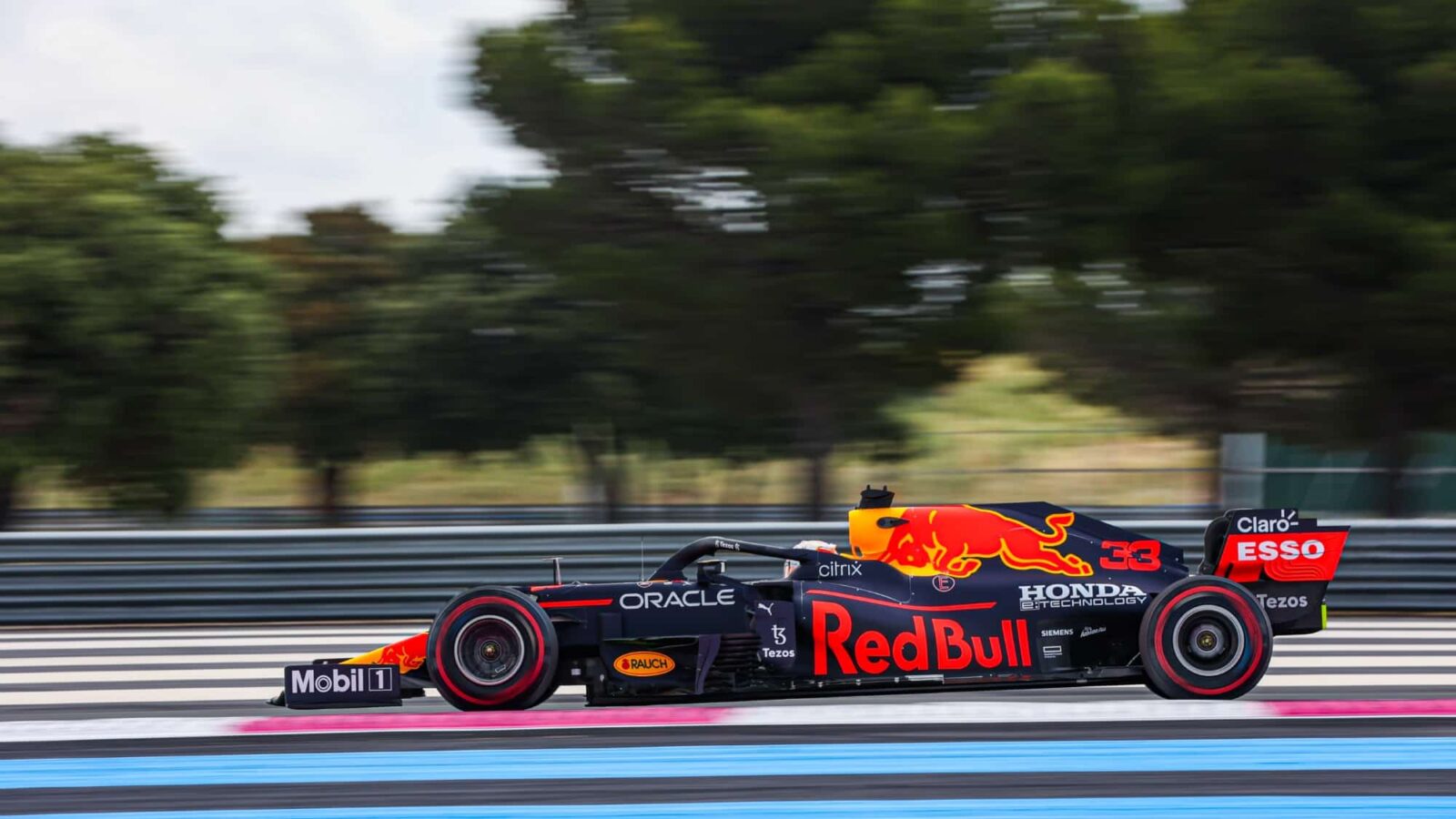 Max Verstappen ended final practice for the French Grand Prix comfortably quicker than his closest rivals to leave the Mercedes team with a lot of time to find.
The Red Bull driver was 0.7sec quicker than Valtteri Bottas and 0.9sec clear of title rival Hamilton, who struggled to get on terms with his team-mate again following a difficult Friday.
Carlos Sainz showed better one-lap pace for Ferrari while Alpine will be hopeful ahead of its home race with both cars well inside the top 10 and showing decent speed.
Here is how practice unfolded ahead of the 2021 French Grand Prix
FP1
Mick Schumacher was facing backwards almost immediately after leaving the pit lane but he wasn't the only one to spin early doors. Yuki Tsunoda was the next to get it wrong, spinning out of the final corner after getting too eager on the throttle.
Valtteri Bottas got it wrong at Turn Two, climbing the exit kerbs and damaging the front wing in the process. He was forced into the pits for repairs. It prompted complaints from Mercedes team manager Ron Meadows to FIA race director Michael Masi due to the amount of damage done to the car.
Max Verstappen wasted no time getting down to business, lapping 1.2sec clear of anybody on the hard compound tyres to take the top spot. Lewis Hamilton slotted into second on the same tyres 0.6sec off after the first 10 minutes of the session.
15 minutes in and Sebastian Vettel found the barriers at Turn 11 to bring out the yellow flags. The Aston Martin driver dropped the back end early in the corner and tapped the outside wall. He was briefly stuck in neutral but recovered to the pit lane with rear wing damage and sizeable flat spots on his soft tyres.
Sergio Perez and Bottas slotted into second and third place respectively approaching the halfway point in the session before teams swapped over to soft tyres.
Hamilton set the first benchmark on the red-walled tyres with a 1min 33.783sec. Verstappen was just 0.097sec off that time but Bottas rebounded from his ride over the kerbs to go fastest of all by 0.3sec.
Carlos Sainz had his own moment at Turn Two on a fast lap, spinning on corner exit and ruining his soft tyres with major flat spots. Team-mate Charles Leclerc was down in fifth approaching the final 20 minutes of the first session but was complaining of struggling with his car.
After a stop for a setup change, Verstappen was set to go fastest of all but ran wide over the kerbs between Turns 11 and 12, bouncing over the raised section, ruining his potentially fastest lap. He reported potential floor damage after the excursion.
Daniel Ricciardo had been faster than team-mate Lando Norris until the final 15 minutes of the session. The British driver popped up to P6, behind a surprise Fernando Alonso up the order for Alpine but there was still time for more laps and they were soon relegated down the table.
Team-mate Esteban Ocon had struggled with his setup for much of the session but shot up the order to P5 in the final 10 minutes. Verstappen had a late moment out of Turn One, sliding off the track and understeering wide.
There was also a close call for Tsunoda and Hamilton in the final moments. The AlphaTauri made a practice start but was almost wiped out by a passing Alpine taking the racing line for Turn One as the pit lane fed out into the racing line.
Hamilton arrived on the scene at Turn One and had to take evasive action from the slow-moving AlphaTauri, going through the runoff area.
FP1 CLASSIFICATION

Mercedes back on form, with Red Bull just behind

And a strong showing from @AlpineF1Team in the opening session at their home race 🔥#FrenchGP 🇫🇷 #F1 pic.twitter.com/rUs0beKoQI

— Formula 1 (@F1) June 18, 2021
FP2
Teams were all out onto the track immediately to get their lower fuel running out of the way early on.
Bottas started where he'd left off in FP1 to go fastest of all by some margin. His initial 1min 32.880sec on medium tyres was over a second quicker than the next best Red Bulls on the same compound. Hamilton went second fastest soon afterwards, 0.4sec down on Bottas's time.
Nikita Mazepin repeated Tsunoda's final corner mistake from the morning session and spun on throttle out of the final corner. The Russian was able to continue without severe flat spots.
A brief virtual safety car interlude after 15 minutes was needed after Verstappen hit the same Turn Two kerbs as Bottas had done in the morning. A broken piece of his front wing was quickly recovered and the Red Bull was in at the end of the lap for repairs.
After 20 minutes, Bottas was onto soft tyres but didn't beat his previous benchmark time, the lap falling away in sectors two and three after setting a session best in the first sector.
Sergio Perez was the next onto the soft tyres and performed a very slow out lap as track temperatures rose. His effort was also slower than his previous best on mediums, a tenth back on the stopwatch despite the step forward in compounds.
Ocon managed to improve his time to go third briefly but ran over the kerbs between Turns 11 and 12 as Verstappen had done so in the morning in the process.
Hamilton was back out on softs with just over half the session remaining for his fast effort. He too ran over the kerbs heavily between 11 and 12 but did find time over his prior lap to go within 0.250sec of Bottas. He later reported that there was something wrong with his car though didn't elaborate over team radio. He narrowly missed out on an improvement on his second run.
Alonso and Kimi Räikkönen managed to find time on the soft tyres to go third and fourth respectively before Verstappen emerged from the garage for his attempt. He found the time and kept his tyres in shape to go fastest of all on a 1min 32.872sec.
Switching onto long runs, Bottas stuck with his soft tyres and reported much quicker pace than in the morning session on the soft compound tyres. Both Red Bull drivers and Hamilton opted for mediums for their race stints.
Verstappen started later than his rivals but with consistent 37s in a race run that was quicker than anyone until Bottas pitted for fresh mediums himself. Hamilton was lapping in the low 38s with Perez, though the two Red Bulls were running in different engine modes according to Gianpiero Lambiase, Verstappen's race engineer.
Alpine's race pace looked consistently quick, particularly that of Alonso, who lapped comfortably in the 38s on the hard compound tyre and was setting quicker lap times than the Ferrari of Leclerc who was also running the hard compound.
Both Verstappen and Hamilton showed how hard they were pushing with separate moments going wide towards the end of their stints. Sainz's pace on mediums was in the mid 38s putting the Prancing Horse in potential battle with Alpine, as McLaren endured a difficult afternoon. The pace for Norris and Ricciardo was down in the 39s running the medium tyres.
Red Bull team manager Jonathan Wheatley complained to the race director following the session about the yellow kerbs at the Turn Two exit but his pleas fell on deaf ears. A bemused Michael Masi showed little sympathy in response to claims the deterrent was causing too much damage to cars.
Here's how FP2 finished 👀#FrenchGP 🇫🇷 #F1 pic.twitter.com/6BIKVUu9kI

— Formula 1 (@F1) June 18, 2021
FP3
Unlike Friday, there was no rush to get out onto the track right away. Haas was the first to blink after 10 minutes of quiet in the garages before being joined by Ocon and Räikkönen a quarter of the way into the session.
Perez's initial benchmark was narrowly topped by Ocon and then smashed by Alonso to continue Alpine's strong weekend.
Mazepin was the next to suffer another spin at Turn Two and ruined his soft tyres in the process, sliding across the hugely abrasive run-off area.
Both Mercedes cars and Verstappen eventually emerged from the garages with 37 minutes remaining of the session for their first run on softs.
Hamilton just shaded Alonso's effort but Bottas's effort was a mighty one, going 0.8sec quicker than his team-mate for the top spot. Verstappen made his final sector count to nab the fastest time by 0.009sec but the Dutchman wasn't happy with his lap. A lock-up at Turn 12 suggested there could be more time in the Red Bull yet.
On their second attempts, Bottas and Verstappen improved but the latter breached track limits marginally at Turn Six. His time had been 0.28sec faster than the Mercedes. Hamilton could only improve to third and within 0.4sec of his team-mate.
McLaren broke the curfew last night to get their cars sorted out for Saturday but the set-up changes made to Ricciardo's car seemed to work out. The Australian was up in sixth place after an anonymous Friday.
Gasly was making his home advantage count as he displaced Alonso for fourth fastest with 20 minutes left of the session.
His rivals had set their second times immediately after the first run but after having some floor damage fixed in the garage, Hamilton was back out for another flying lap on a quiet track.
His time moved him up to P2 but was still 0.2sec down on Bottas and half a second down on Verstappen's theoretical best.
Sainz moved Ferrari up the timing charts to second place on his second flying lap with a time better than Perez, who'd enjoyed multiple tows around the track. His team-mate wasn't hanging around for a slipstream though and he didn't need one either. Verstappen's 1min 31.300sec put him 0.7sec clear of anyone.