Charles Leclerc supreme on home streets: 2022 Monaco GP qualifying
Charles Leclerc will start on pole for the 2022 Monaco Grand Prix, but was disappointed he didn't get to finish his final lap after Sergio Perez crashed out
Charles Leclerc looked on a different level as he clinched pole position for the Monaco Grand Prix by more than 0.2sec and looked to be on an even faster lap when Sergio Perez crashed in pursuit, ending the session.
The Monégasque, in his home race, was top in each of the qualifying sessions and will start alongside his team-mate Carlos Sainz as Ferrari locked out the front row.
Championship leader Max Verstappen could only manage fourth after struggling to match third-placed Perez's pace.
Lando Norris, still recovering from tonsillitis was best of the rest, ahead of George Russell and Fernando Alonso who also crashed — at Mirabeau — in the final moments of Q3.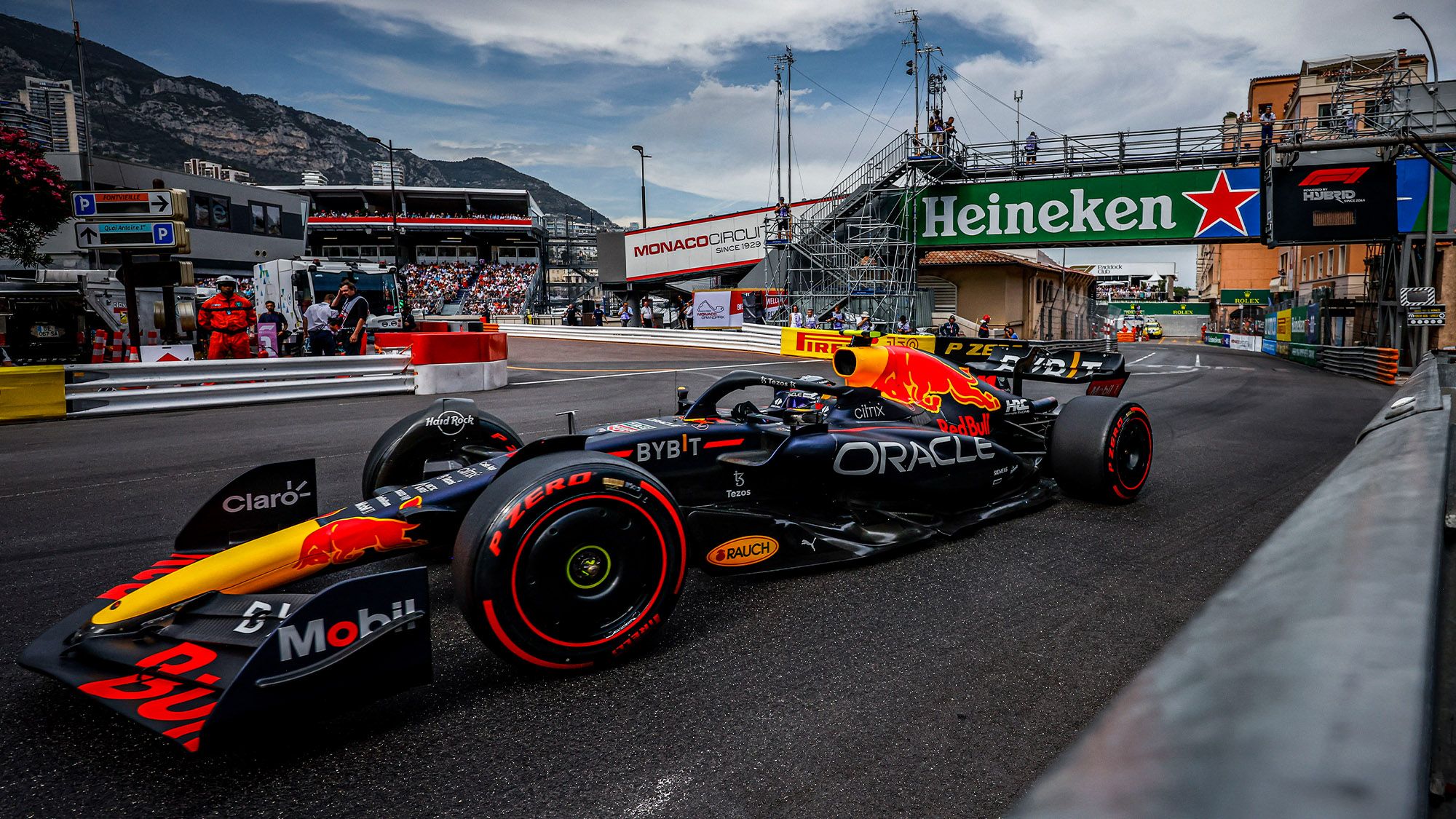 All the focus, however, was on Perez, who had been the closest challenger to the Ferraris, but lost the rear of his car accelerating out of Portier towards the tunnel on his final push lap.
The Red Bull span round and smashed into the barrier, blocking the track. The first on the scene — with yellow flags already waving — was Sainz, who hit the brakes hard and also span round into the Ferrari.
Sainz said that he didn't see the yellow flags, which may land him in further trouble, and was disappointed that he hadn't had a chance to challenge Leclerc for pole. When asked if he thought it was possible, Sainz responded: "I think so, we had really good pace all day. We will never know so it's impossible to say but I was feeling good with the car."
It would have taken something special to beat Leclerc who said he was up on his fastest time when the red flags were waved.
"It was really really on the limit," he said of his final run. "I had quite a bit of oversteer: I was improving quite a bit, I think I was four-tenths faster — but it doesn't matter now."
Throughout the session, Leclerc had been complaining of traffic, as cars lapped slowly between push laps. He seemed as relieved as he was elated to secure pole. "It is very special," he said. I'm so incredibly happy. It's been a very smooth weekend until now. I knew the pace was in the car.
The possibility of rain tomorrow could make the race less predictable than in recent years, and it's likely Verstappen will be looking at the skies in hope, as he looks to progress from fourth.
Behind the top teams, Lando Norris, George Russell, Fernando Alonso and Lewis Hamilton will battle to be best of the rest.
Pierre Gasly will be looking for disruption, as he looks to recover from a Q1 exit, along with Daniel Ricciardo, starting 14th, and Valtteri Bottas in 12th.
Here is qualifying as it happened
Q1
Max Verstappen took the early advantage with a 1min 14.295sec lap, with Perez less than a tenth behind and Lewis Hamilton more than a second back.
There was plenty of track progression, as more rubber was laid down during the session, increasing the surface grip. As a result, Kevin Magnussen, Fernando Alonso and Lando Norris were among the drivers appearing near the top of the timesheets during the session.
George Russell wasn't among them, the Mercedes apparently struggling again with set-up. "I have no grip whatsoever," he said,
Leclerc wasn't happy either, appearing to struggle with traffic: "What's going on, we a re so much out of sequence to the others," he radioed in.
He soon moved to his customary 2022 position at the top of the table, though, his 1min 12.939sec lap just under five hundredths of a second faster than team-mate Sainz and 0.4sec faster than Verstappen with 5min to go in the session.
Down at the bottom, the increasing grip meant that the order was rapidly reshuffling when Yuki Tsunoda clipped a barrier at the swimming pool chicane, which brought out precautionary red flags with 2min and 25sec to go.
Lando Norris was on the brink of elimination in 16th, while Esteban Ocon and Daniel Ricciardo were in the bottom five, along with Zhou, Ocon and Tsunoda, who had made it back to his garage,.
The session resumed with a slow-moving traffic jam in the pits, delaying Latifi and Zhou who were among those failing to get round in time before the chequered flag came out. Further up the queue were both McLaren drivers who climbed to safety.
Pierre Gasly, who just missed out on setting a faster time when the red flags were waved, was less fortunate and found himself in the bottom five alongside Lance Stroll and Albon. Charles Leclerc remained top of the other end of the table, followed by Sainz, Russell, Ocon, Norris and then Verstappen.
Eliminated in Q1:
Alex Albon
Pierre Gasly
Lance Stroll
Nicholas Latifi
Zhou Guanyu
Q2
There was a sign of the battle to come early in Q2 when the first three were split by three hundredths of a second: Perez heading Sainz and Leclerc with ten minutes remaining.
Lewis Hamilton was among the drivers attempting two fast laps on the same set of tyres, but told his team that he needed more than one cool-down lap in between. "I told you, rears are not ready", he said as he missed an apex and had his lap time deleted.
Leclerc was top with 5min remaining with a 1min 11.864sec lap but overshot the weighbridge when he was called to be checked. His mechanics pushed him back, avoiding a penalty.
Ricciardo was again at risk, in 11th with 2min remaining. He did go faster on his final run but could only do enough for 14th, dropping out along with Bottas, Tsunoda and both Haas cars.
Perez remained the lead Red Bull, finishing a tenth down on Leclerc who was fastest in Q2. Sainz was a further tenth behind Perez, followed closely by Verstappen.
Eliminated in Q2:
Yuki Tsunoda
Valtteri Bottas
Kevin Magnussen
Daniel Ricciardo
Mick Schumacher
Q3
"We are not doing prep, try to push," Carlos Sainz was told as the Ferrari left the pits for the final run, but with two Mercedes in front, there was a limit to how fast he could go.
Leclerc had been released ahead of Hamilton and Russell, and he set down a marker with a 1min 11.376sec lap at the start of the session, more than two-tenths clear of Sainz, with Perez and Verstappen a few hundredths further back.
Alonso was best of the rest after the first runs, 0.87sec down on Leclerc, and ahead of Norris.
The scene was set for the finale: Leclerc ahead, purple sectors indicating that he was going even faster, while Perez was also flying in pursuit, followed by Sainz and Verstappen.
But for the second year in a row, the dramatic conclusion wasn't to be. Last year, it was Leclerc who confirmed pole when he crashed and ended the session. This time Perez was at fault, sliding into the barriers at Portier as he put the power down to head into the tunnel.
Carlos Sainz failed to see the yellow flags and braked too late to avoid the Red Bull, sliding and hitting the stricken car.
At the same time, Fernando Alonso crashed at Mirabeau.
Leclerc intially seemed more disappointed that he hadn't posted his final time, than enthused about pole. "That last lap was oooh, I don't know if anyone was improving that much but it felt good," he radioed.
2022 Monaco Grand Prix qualifying results
Position
Driver
Team
Time (Q3)
1
Charles Leclerc
Ferrari
1min 11.376sec
2
Carlos Sainz
Ferrari
1min 11.6016sec
3
Sergio Perez
Red Bull
1min 11.629sec
4
Max Verstappen
Red Bull
1min 11.666sec
5
Lando Norris
McLaren
1min 11.849sec
6
George Russell
Mercedes
1min 12.112sec
7
Fernando Alonso
Alpine
1min 12.247sec
8
Lewis Hamilton
Mercedes
1min 12.560sec
9
Sebastian Vettel
AlphaTauri
1min 12.732sec
10
Esteban Ocon
Alpine
1min 13.047sec
Q2 times
11
Yuki Tsunoda
AlphaTauri
1min 12.797sec
12
Valtteri Bottas
Alfa Romeo
1min 12.909sec
13
Kevin Magnussen
Haas
1min 12.921sec
14
Daniel Ricciardo
McLaren
1min 12.964sec
15
Mick Schumacher
Haas
1min 13.081sec
Q1 times
16
Alex Albon
Williams
1min 13.611sec
17
Pierre Gasly
AlphTauri
1min 13.660sec
18
Lance Stroll
Aston Martin
1min 13.678sec
19
Nicholas Latifi
Williams
1min 14.403sec
20
Zhou Guanyu
Alfa Romeo
1min 15.606sec