Crofty: 'My children fast-forward my commentary in the F1 games'
- Last updated: December 5th 2019
Sky Sports F1 commentator David Croft tells us how he produces the commentary for the F1 games ahead of F1 2019's release next week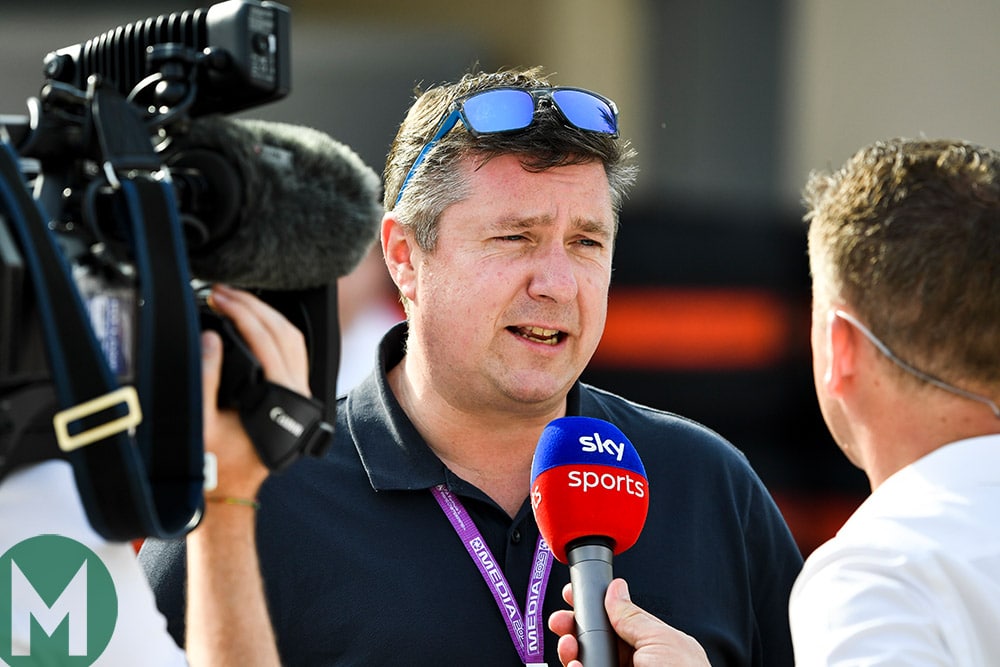 Photo: Motorsport Images
David Croft is the voice of Formula 1 on British broadcaster Sky Sports F1 and in Codemasters' F1 game series, and he took the time to tell us how it's done before the game's release on June 28.
The dialogue that Croft recorded, which plays before and after sessions, was recorded in early 2019 and aims to evoke the broadcast. And while the script wasn't as big as previous games' as the developer can re-use some dialogue, it's far from a simple operation.
"Remember that episode of The Simpsons where Krusty the Clown comes in [Lisa vs Malibu Stacy] and starts rattling off his lines?" asks Croft. "It's not like that. there's a bit more to it."
Case in point, after the lines were recorded, Sauber changed its team name to Alfa Romeo Racing. Cue a return to the booth…
"When you're having a 'conversation' with Anthony Davidson, he's not there. I'm just doing one side of the conversation and trying to imagine his reply. I don't get it in my headphones so I have to visualise how I'd reply," he explains.
"So, introducing a topic, I'd say: 'let's talk about Lando [Norris]'.
"But that line might be repeated 200 times with different names every time. You have to say it exactly the same way because it's a line within the game that's leading onto something else: 'Let's talk about Danny, let's talk about Charles, let's talk about…'"
He trails off, repeating the same line with the same intonation.
"You get into a rhythm," continues Croft, "and you have to find that rhythm and produce the same line. It's like we're making tins of high-quality baked beans; every tin has the same amount of beans, sauce and they all have to taste the same: it's a human conveyor belt."
As for Formula 2, world feed commentators Alex Jacques and Davide Valsecchi will provide their voices in-game. More details of the F2 career mode have been announced, including the chance for F2 drivers to be drafted into driver academies (such as Red Bull's) to gear them up for their F1 career.
Transfers will be included in the game, with young drivers replacing retirees – both postseason and during the season.
F1 2019 won't have commentary during the races (Murray Walker screaming "this is terrible, he's down, down, down out of the top six!" comes to mind from Formula 1 97) but there's greater involvement from Croft and Davidson in Codemasters' latest game.
"It's becoming more [broadcast] commentary-style than it was right at the start. There's conversation on the podium, during career mode discussing whether someone's had a good or bad season.
"But the actual racing itself? We haven't quite had that commentary yet. Maybe we'll get there.
"There's a lot of [our voices] in the game, enough so that my children – brutal as they are – will deliberately fast-forward it. They will. 'We've heard it all before, dad!'", he exclaims.
A number of drivers on the grid play the game, including Max Verstappen – who has a console and steering wheel that he takes on the road – and Lando Norris, but out of the commentary team, Croft would put his money on one driver only.
"I think they all play it on the quiet but they're never going to say it. I play it, Ant [Davidson] plays it, I don't know if Paul [di Resta] does.
"We ought to have a feature where we all play the game and see how good we are and who actually… my money would be on Johnny Herbert, he's still fast, he's not lost his speed. F1 2019 – we need this at a race," he says, before a rare pause.
"Russia! We could bring a console and a wheel and we could play F1 2019 all night."
---
Of course, the official Formula 1 theme returns, and it's no surprise that Croft – synonymous with the theme tune as much as the sport itself – is well acquainted with it.
"There were a few comments anti- the F1 theme but I love it. You hear it a lot at the racetrack over the weekend but I see it in the same way that Ski Sunday or cricket had its own theme. I really enjoy it," he says.
"When I see clips of the orchestra [rendition] I think it's fabulous, I really do. Fair play to the man who wrote that. he's done an excellent job."
Croft breaks into his own rendition of the theme, even adding his own lyrics.
"Well I've heard the F1 theme a lot, because we cover every second on Sky Sports F1 and the world feed has 20 seconds when I think: 'Right, what am I going to say when this kicks in?'
"I'm always listening to it. I don't plan what I'm going to say – I'm in the moment and I'll know what to say when I open my mouth. It's not a problem.
"I truly believe you have to be in the moment to be a good commentator."