Donington Park: The Pioneers – extract 4
- Last updated: December 4th 2019
Our final extract from John Bailie's 'Donington Park: The Pioneers' takes us to the beginning of the Second World War, and what could have been for Donington
Read extract one
Read extract two
Read extract three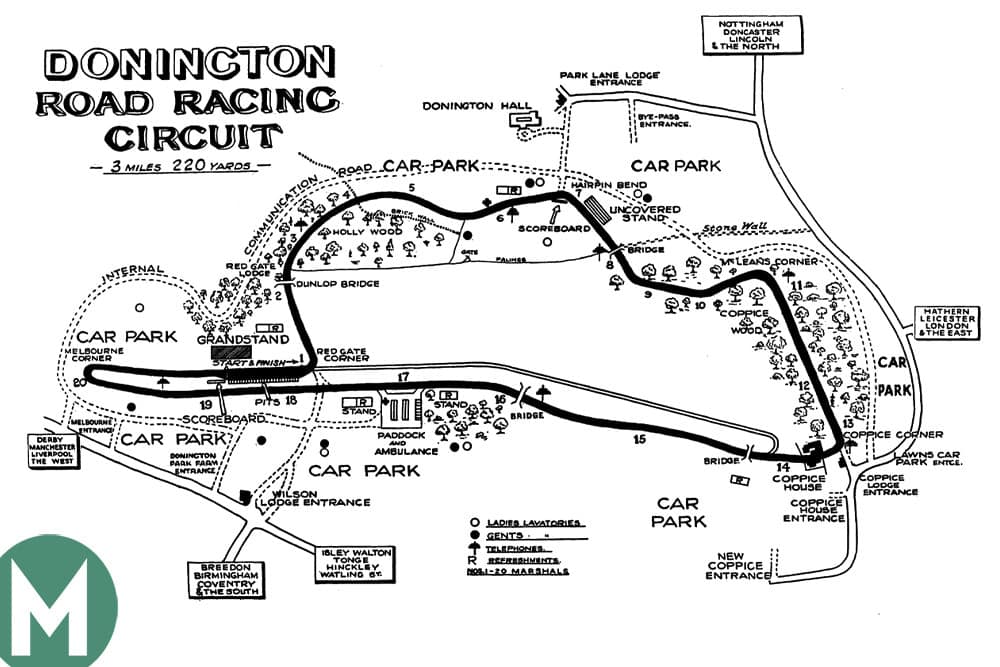 The ultimate pre-war Donington Park circuit
JG's grandson David Shields vividly recollects, when he was just nine years old, the occasion that was to bring an end to the circuit's dramatic progress as a world renowned Grand Prix circuit:
"It was Sunday 3rd September 1939. I remember my grandfather JG, my father Captain Charles Frederick Shields, my sister Jean, my uncle Johnnie Shields, Peter Moore, JG's housekeeper Alice Roulstone and several others, gathered around a wireless that had been trailed out onto the lawn at the side of Donington Hall.
Just on 11 o'clock the chattering stopped as the ominous tones of Big Ben rang out. And then: "Here is the news and this is Alvar Liddel reading it". This was followed by the voice of Prime Minister Neville Chamberlain who confirmed the news we had all been dreading; "This country is now at war with Germany".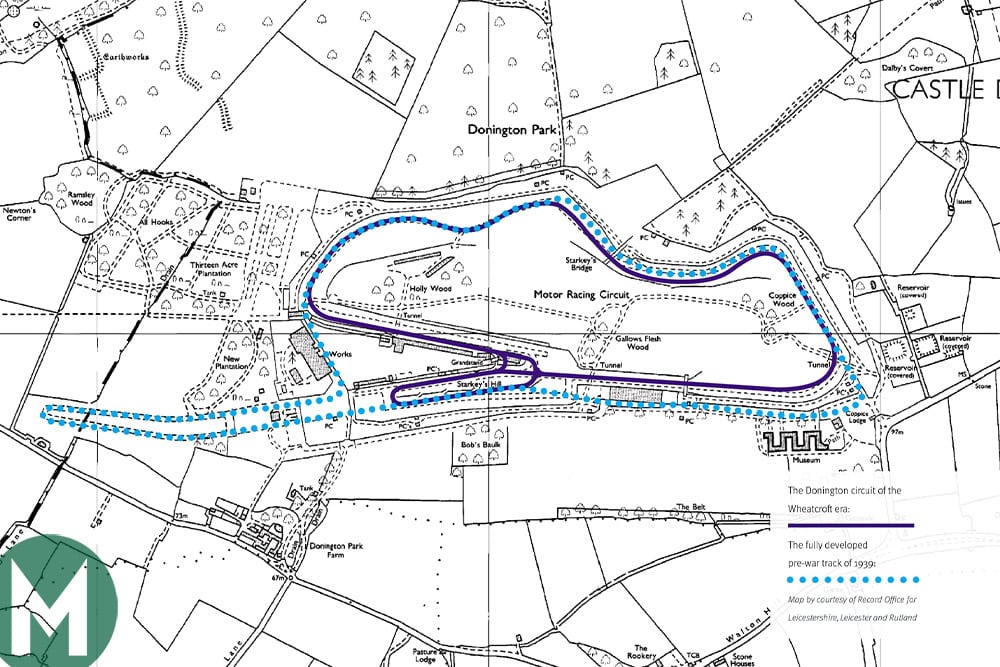 The present-day circuit / pre-war track dotted
Immediately following the announcement, I remember a man in military uniform approaching my grandfather. I found out later that he was issuing instructions to the effect that the army was commandeering Donington Hall and Park once again."
The chequered flag had dropped for the final time on one of the most exciting periods of British motor racing history and certainly a significant chapter in the history of the UK's first permanent road circuit. One wonders how Donington Park would have progressed, had its dramatic development not been interrupted by the events which followed 3rd September 1939.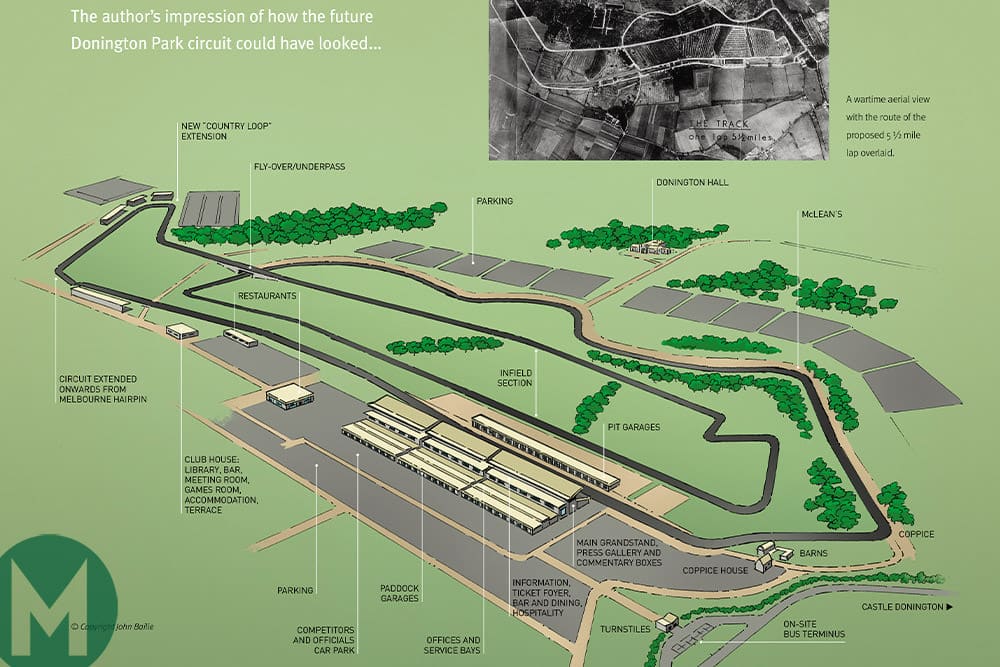 What might have been in 1960…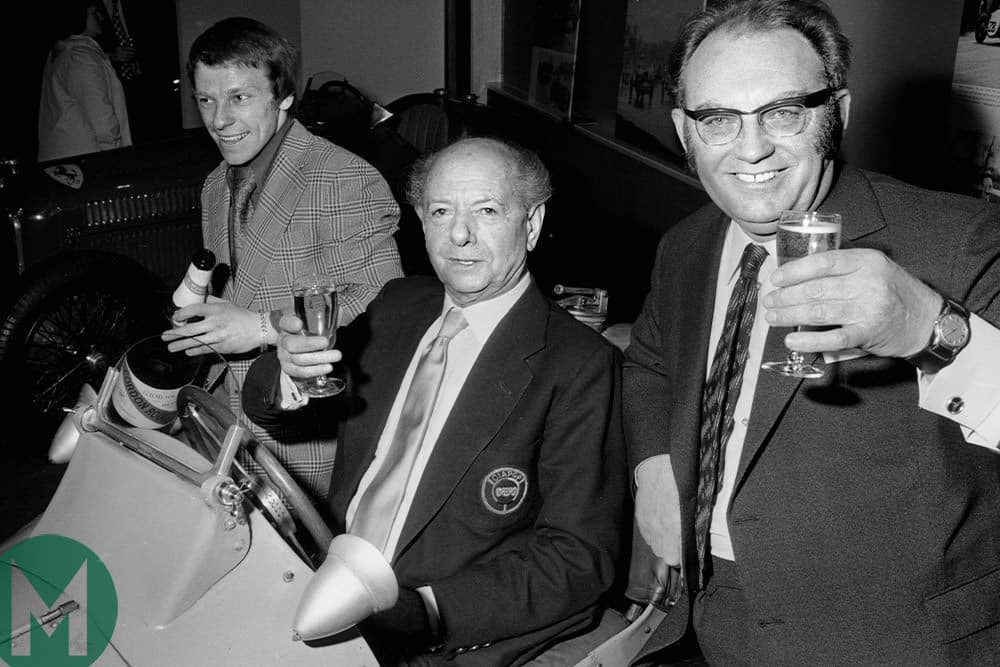 Tom Wheatcroft celebrates the opening of his Donington Collection with his star for the future Roger Williamson and veteran Raymond Mays. Photo: Motorsport Images
---
Buy Donington Park: The Pioneers in the Motor Sport shop
---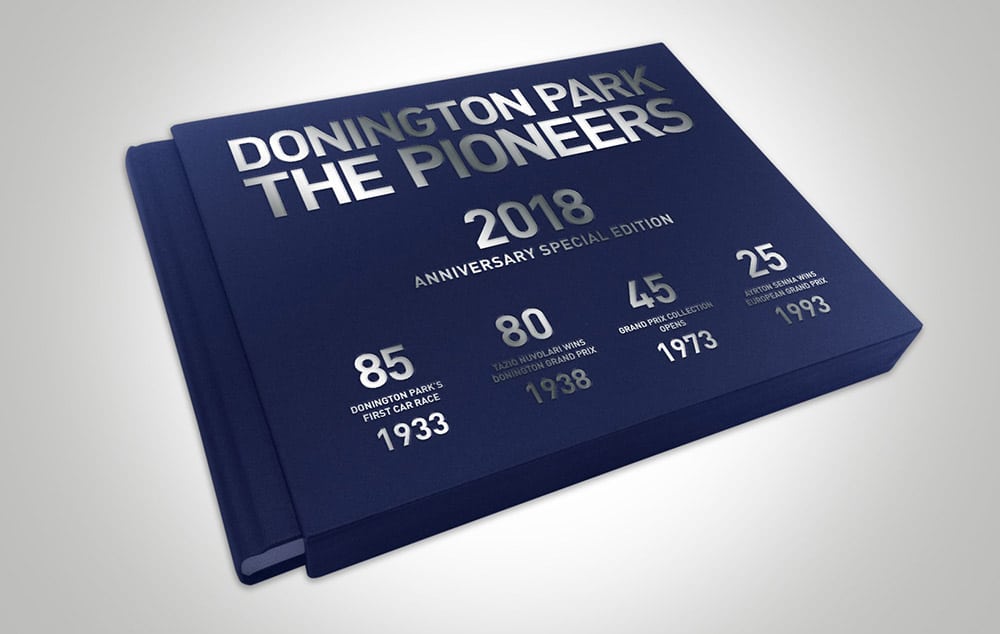 "The most comprehensive, deeply researched and generously illustrated history of any circuit I've seen, amplified by elegant graphics" Motor Sport
This book tells the remarkable story of how two pioneers, Fred Craner and John Gillies Shields, backed by members of the Derby and District Motor Club, created Britain's first road racing circuit in 1931 and developed it at an astonishing rate, culminating in the world famous "Silver Arrows" Grands Prix of 1937 and 1938.
It tells how the army took over Donington Park in 1939 and the many failed attempts to bring racing back after they left in 1956; and it tells how Tom Wheatcroft racing finally relaunched the circuit in 1977 and how his son echoed his achievement in recent times. The story is brought up to date with the takeover of circuit operations by Jonathan Palmer's MSV organisation.
Author John Bailie said: "Donington Park is a very special place, and some very special people played their part in its creation and rapid development. It is the only active circuit in the UK with such a long history and unique heritage. My aim was to write and design a book that is a suitable tribute not just to the early pioneers who created it but also to those who saved it and revitalised it in recent times"
This isn't a book just about motor racing. It's about people. It's about the pioneers who created Britain's first permanent true road racing circuit…firstly for motor cycles in 1931 and then also for cars from 1933.
It's about the phenomenal success and dramatic progress that saw the circuit expand from loose-surfaced tracks created for horse-drawn carriages to hosting four pre-war Grands Prix, the first in 1935, the final two the "Silver Arrows" Grands Prix of 1937 and 1938. It's about how the Army took over during the war years and the many attempts that came very close to bringing racing back in the 1960s with innovative, state-of-the-art facilities…and it describes the Tom Wheatcroft era from 1977, son Kevin's revival of the track in 2010 and the New Vision of MSV's first full season in 2018.
Researched, written and designed by John Bailie, the book includes many new photographs plus documents, maps and diagrams, unique then-and-now images, illustrations by the author, personal anecdotes and memories, together with extracts from on-the-spot race reports by Bill Boddy MBE, founding editor of Motor Sport magazine.
There are two hardcover editions: the Standard Edition, and the Special Anniversary Limited Edition of 85 copies with silver cover and silver edging, signed by Kevin Wheatcroft and the author, individually numbered and presented in a special slip case.