F1 2019 review: "more immersive than any other racing title ever made"
- Last updated: December 5th 2019
A review of the single-player portion of Codemasters' latest game in the F1 series: F1 2019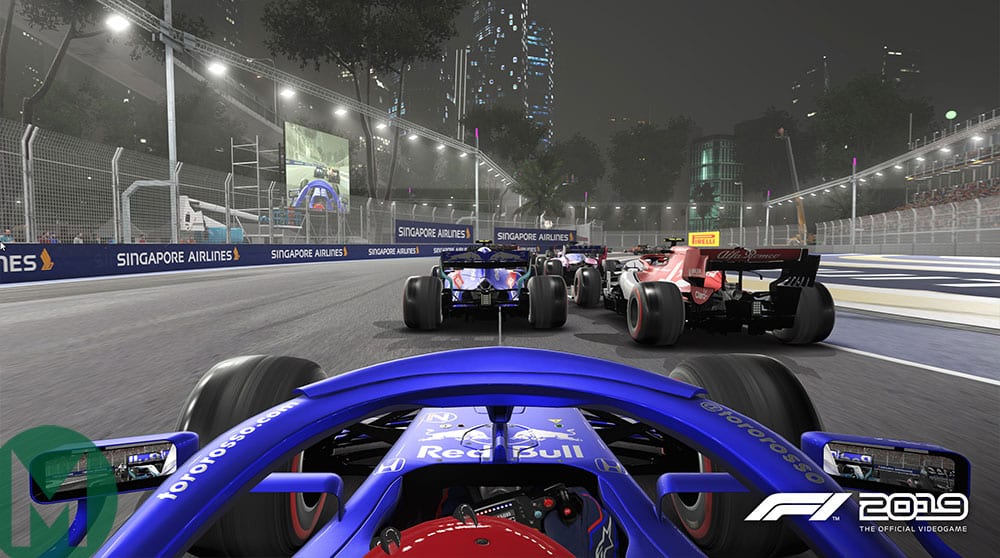 The latest official Formula 1 game presents a world much like ours, brimming with authenticity and personality, but offers excitement unrivalled by F1's latest grands prix: Codemasters' F1 2019 is the peak of its series so far.
Commendably, F1 2019 (released on June 28) hits shelves two months earlier than last year, but it isn't a superficial update in the vein of the myriad EA Sports games that are churned out every year. Yes, updated visuals make this the most attractive iteration in Codemasters' F1 series, but it's the Artificial Intelligence (AI) that makes F1 2019 the best in the series so far.
There isn't an overtaking manoeuvre that your offline competitors in F1 2019 don't make hard work. Jostling for position at every circuit is a given, and more often than not you'll have to pull out of a move to avoid contact. There's no repeat of last year's single-file train into any given first corner with you skating down the inside for a triple overtake.
And your competitors give each other hell, too. In our Bahrain race, Valtteri Bottas cut off Lewis Hamilton and caused damage to the five-time world champion's front wing; Pierre Gasly and Max Verstappen constantly cause each other to lock up with presumable glee; though I haven't caught sight of either one of the Ferraris in my playthrough yet as they're so far out front.
Ferrari's in-game dominance aside, it's that aspect of the AI that makes F1 2019 feel so realistic. This is immersion beyond any other racing game's single-player offering, and it makes the racing so much more rewarding as a result. Your heart will tighten as you chase down a car for laps upon end, hoping for a mistake or for their tyres to drop off just enough to let you past.
While it is billed as a simulation, F1 2019 is forgiving when it comes to lock-ups, with little in the way of repercussion when you do hammer down the brake too hard going into Turn One at Spa, or Monaco's chicane. Play it on a controller, however, and you'll struggle to avoid lock-ups at any heavy braking zone. You'll need to tweak the differential and brake bias settings on the fly, which could be an understandable turn off for any casual player.
Tyres shine, then dull ominously, and clouds loom overhead ready to unleash
When it comes to the campaign mode, it's mostly untouched from last year, with features such as car upgrades, media interviews and minigames in practice sessions that have you conserving fuel and tyres in exchange for upgrade points, retained.
This year's big change comes in the form of Formula 2, the single-seater F1 feeder series featuring for the first time in Codemasters' series and any F1 game in recent memory. And it's a big inclusion, the cars themselves a world apart from F1's and a definite handful in their own right. However, the 2019 F2 season isn't included in the game just yet and will be made available for free post-release – not a black mark on F1 2019 by any means.
Start the career mode and the game will frame a rivalry between you and a snotty competitor called 'Devon Butler', and it plays out similarly on each occasion.
Unfortunately, while fictional duo Butler and your team-mate Lukas Weber carry over to your debut F1 season, the storyline doesn't. It's an attention-grabbing and bravely penned start to a racing campaign but, ultimately, a half-baked one.
The story builds itself here, with the new in-game transfer system allowing for the ridiculous: play enough and Charles Leclerc could well join Mercedes, if the game so chooses…
---
You may be tempted to pay for the 'Legends Edition' that features Ayrton Senna and Alain Prost's likenesses, their (sponsorless) helmets and race suits, and – most importantly – the 1990 McLaren MP4/5B and Ferrari F1-90 for time trials and races.
But the 'Legends Issue' is a short-lived expansion to the game, requiring you to complete three or four easy challenges in order to unlock Prost and Senna's cars and little else. It may be worth a pass if you're sticking to F1 2019's core content.
This year, it's evident that developer Codemasters has turned its single-player career mode into an addictive, captivating and tense affair, with the best AI of any racing game and a thoroughly authentic feel from the TV-style graphics to the generous use of the F1 theme; commentary from the F2 duo and Sky Sports F1 pairing of David Croft and Anthony Davidson brings you into the world of F1 deeper than ever before.
And with lighting no longer as lifeless as before, cars shining on the grid as the in-game clock reaches 10-past-whenever, visuals are at their best too. Rooster tails bloom gloriously in the rain and tyres shine, then dull ominously, and clouds loom overhead ready to unleash. It's a beautiful rendition of F1, and Codies has built a world in which the 20 drivers actually compete for every position; cars retire at random and every race is worth playing.
---
---
It should be noted that the game doesn't look as sharp on a stock Playstation 4 than it does on an Xbox One X, with Microsoft's console enhancing the game to remove nearly every jagged edge and keeping the game running at a buttery-smooth framerate.
But the graphical improvements are noticeable on both consoles. It's the wheel and pedals, which we had connected to our PS4, that make the big difference in gameplay.
Codemasters has accomplished so much with its F1 franchise that this game is more immersive than any other racing title ever made; if F1 were actually like F1 2019, you'd never turn it off.
F1 2019
Platforms: Xbox One, PS4, PC
Tested on: Xbox One with controller, PS4 with Thrustmaster wheel and pedals