F1 2021 game review
A new Netflix-style career mode and greater control over career and online modes are some of F1 2021's best plus points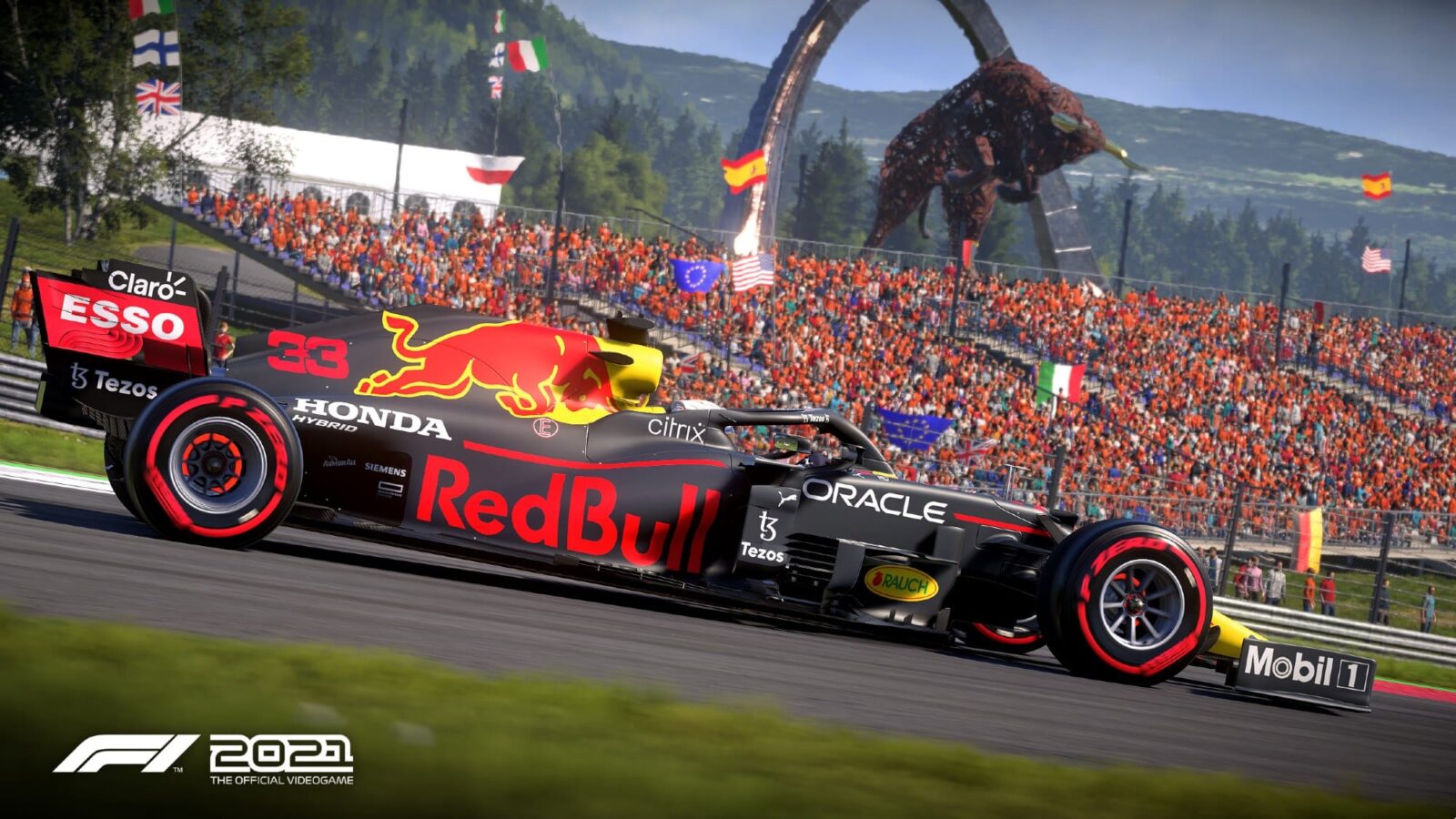 F1 2021 is set to be fully released on Friday this week. We've had access to an early-release version for the best part of a week, so how does the latest effort stack up against what is already a solid racing game?
The newest official Formula 1 title from Codemasters is the first under the Electronic Arts umbrella and like the publisher's other sports titles, now includes a story mode which is F1 2021's headline feature.
The Braking Point feature is the newest mode but does not replace any of the previous career options. My Team returns with a few tweaks from last year's version while the single-player driver career can now be played online with friends.
With new features, improved graphics and the promise of free downloadable content later this year, does F1 2021 rank as the best Codemasters effort yet?
Click here to jump to each section
Braking Point
The headline mode for this year's game, Braking Point looks to combine the typical F1 game career mode with a dramatised storyline straight out of the Netflix Drive to Survive mould.
You play as rookie Aiden Jackson as he embarks on his Formula 1 career after making the step up from F2. Your team-mate, experienced driver Casper Akkerman, partners you at whichever of the teams you pick to race for. With the dream of driving for Ferrari (a non-customisable goal), you take control of Jackson during his rookie season and play out various scenarios from the season rather than drive every round.
In each scenario, you'll have to achieve a certain target to progress the storyline onto the next chapter. The mode uses some gorgeous cut scenes to progress the narrative as your on-track results affect relationships with other drivers and team members in the paddock.
Antagonist Devon Butler returns in 2021 as well and is a thorn in your side throughout the mode. Each scene is acted out very well and the motion capture and facial recognition technology Codemasters has used really does bring an added element of immersion to the story.
Tensions rise between the team-mates as competing egos and on-track differences of opinion threaten to cost the team vital championship points and derail the season of both drivers. Team principals are nowhere to be found outside of the occasional email, so team manager Brian Doyle is the team authority figure you'll be dealing with as he tries to keep a lid on the growing discontent.
While it definitely leans more towards a Hollywood-style story based in the world of F1, it occupies a great couple of hours and the narrative itself is better than it has any right to be for a sports game career mode. It's likely a one-and-done experience though, as without a branching narrative it lacks replay value.
It's a solid first effort but one that could always be added upon in next year's game. Braking Point is worth your time even if you don't usually enjoy this sort of game mode.
Career/My Team modes
If Braking Point really isn't your thing, fear not as the usual driver and My Team career modes return in the same format. Choose to tackle the Formula 2 grid as a driver and progress to F1 or take on the Formula 1 grid with your own outfit in My Team.
In My Team, depending on your choice of power unit provider and pre-season development path, you won't have to start rooted to the bottom of the grid. It's possible to immediately fight for points even on the higher difficulty levels which is a nice change of pace for those not wanting to slog it out for season after season to make the upper midfield.
You can also hire some experienced talent to drive for your team with the deluxe edition of the game allowing you to pick from several retired drivers to join you. Nico Rosberg, Felipe Massa, David Coulthard and Jenson Button join Alain Prost, Ayrton Senna and Michael Schumacher as selectable drivers in the game mode.
Drivers are still ranked and rated by experience, racecraft, awareness, pace as well as the newly-introduced focus rating. Each stat can be improved across the My Team mode with different stat boosting opportunities via events outside of race weekends. The rest of the grid's ratings will also fluctaute based on real life form. Ratings will be updated throughout the season to reflect true performance levels race to race.
Menus have been changed in the My Team and My Career modes. Research and development menus are now filtered into their own sections with aerodynamics, chassis, powertrain and durability submenus tweaked. Navigating the new menus is a little confusing on first visit and keeping track of your development path is slightly more complex though the visual representation of each upgrade is a nice touch.
You can now also choose to have a PR representative handle all of your interviews with the media, a great addition if you don't want to answer Claire's 1000th question about how good your day was.
Real-Season Start gives players the chance to takeover the current Formula 1 season in their own career mode saves from wherever the 2021 championship is up to in real life. Players can then finish off the campaign, allowing for great scenarios to play out if you tried to revive your favourite driver's season or take them to title glory.
Another great new addition to both is the quick practice option. You can now simulate a practice session and choose which development programmes you complete for potential R&D boosts and points to spend. Each practice module will take up a certain amount of time and come with a success percentage rating.
The longer the programme, the more likely your driver is to complete it. The trade-off is obviously not fitting in as many practice modules but you should have no problem doing every one across three full hour-long sessions.
Players also now have the ability to take F1 career mode online with a friend. You can choose to work together in the same team or go up against each other in separate garages throughout the 10-year mode.
Otherwise, both modes remain as they were in previous editions of the F1 games, and that's not a bad thing.
Visuals and graphics
F1 2021 is the first of the Codemasters games to come out on the PS5/Xbox Series S/X and there has been a step up in the visuals department.
Track surfaces look much more weathered, torrential rain looks much more defined than a short shower and standing water is much easier to pick out while racing.
Grass looks much more lifelike while mechanics' shirts actually have texture to them in more attention-to-detail aspects that make F1 2021 a clear improvement over its predecessor visually.
Presentation has also been tweaked with replay cameras and spectator modes now using a clearer user interface that allows spectators to understand how the race is unfolding live through better position towers.
The HUD has received a refresh though this is one area the game has taken a step back with. The semi-transparent interface while racing makes some HUD elements difficult to pick out but you can still customise each individual element from its on-screen position to its size and transparency.
Not using the official F1 Halo graphic design is still a majorly missed opportunity with several other areas of the game already using the real-life F1 presentation.
Character models still look odd both in menus and in post-race cutscenes. They haven't received the Braking Point motion capture treatment so movements and facial expressions still look alien at times.
Gameplay
There is one glaring ommission to this year's F1 game and that is the lack of sprint qualifying mode. Set to debut at this weekend's British Grand Prix, the Friday sprint races are nowhere to be seen in the F1 2021 game. F2 also features just the two races across a weekend instead of the three seen in the real-life '21 season.
Controller users will be happy to hear that the penalty for using thumbstick over Thrustmaster and co. is not as heavy as it was in 2020. Auto spin kerbs and bumps are also more forgiving than in previous F1 games.
Newly added simulation settings allow for greater control over the experience you have in the game. New damage models on full settings will unlock the chance for floor and bargeboard damage as well as the usual front wing and tyre damage. You also have control over how often the safety car is deployed, with the game offering you the choice to have the race director operate conservatively or become trigger happy with the deployment rate.
Casual, standard and expert race modes allow for players of all experience levels to get to grips with the game. Newer players can opt for the Casual settings and learn the ropes with the help of assists while Expert will test seasoned players with more jeopardy when it comes to damage, component failures and general difficulty levels.
The lack of clarity in the F1 calendar has led to a few alterations in the real world but, so far, those are not reflected in F1 2021. The changes to Albert Park and the Circuit de Barcelona Catalunya are not yet in the game while Imola, Jeddah and Portimao are set to be added later this year via a free download.
Other consequences from the Covid-impacted season such as Pirelli's over-arching choice on tyre selections for race weekends is included in the game though, and in-season breaks during the first year of career mode are implemented to mirror the in-season factory shutdowns.
Another noticeable missing element is the lack of classic cars. No old F1 machines will be playable in this year's game with Codemasters removing iconic racers like the Jordan 191, McLaren MP4/4 and F2004.
F1 2021 builds on the already solid platform Codemasters has come up with across the PS4/Xbox One era of games and is refining the elements it already has nailed while experimenting with out-of-the-box ideas for a racing game.
If you're going into this looking for a full sim-racing experience you are setting yourself up for disappointment but as far as F1 racing games go, F1 2021 stands up as one of the best the studio has come out with, even if moment-to-moment gameplay feels a little familiar to series veterans.
While there are certainly missing features and areas to improve, the newest F1 title is well worth playing and will be able to satisfy racing game fans no matter their experiences or lack thereof with the series.