F1 history: Can Ferrari continue its glorious Silverstone past?
Ferrari boss Mattia Binotto says the team and Silverstone aren't a good match. But the Scuderia has had plenty of Formula 1 success at the British Grand Prix venue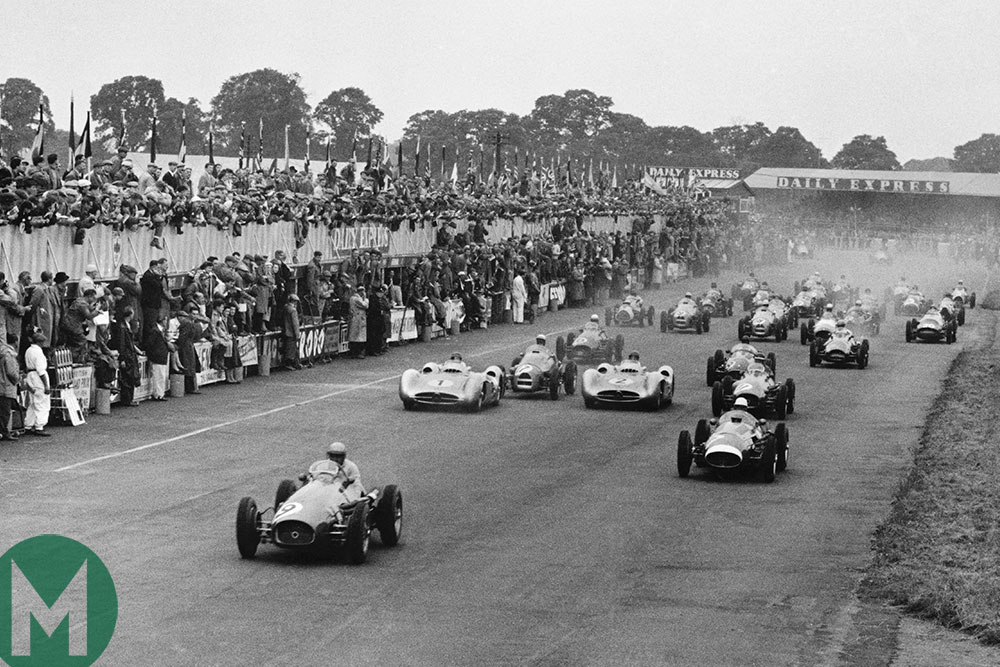 José Froilán González leads from the off for Ferrari in the 1954 British Grand Prix at Silverstone Photo: Motorsport Images
Team boss Mattia Binotto doesn't expect Ferrari and Silverstone "to be a good match" this weekend.
But throughout history, Ferrrai has been confounding its doubters at the circuit and winning against the odds.
Few expected Maranello to defeat Mercedes-Benz at the 1954 British Grand Prix.
The Silver Arrows arrived at Silverstone immediately after a sensational winning return to grand prix racing at Reims. The curves and undulations of an ex-bomber base's perimeter road, however, would highlight the shortcomings of its W196 in a way that the triangular French road course had not.
Its victories at Monza are Ferrari's emotional highs. But the heart of the matter is Silverstone
Juan Manuel Fangio summoned up a pole position but could do nothing about the Ferrari 625 of Argentine compatriot José Froilán González during the race. The latter led all 90 laps while Fangio, scattering marker barrels hither and yon, could do no better than fourth.
The boot had been on the other lead-foot in 1951.
González – using all of the road and more while marking the occasional barrel – qualified on pole despite using older specifications of chassis and engine than his Ferrari team-mates.
Fangio took the fight to him in the early stages of the race but knew that the game was up unless his friend suffered misfortune. For not only was González's unsupercharged V12 more frugal but also it was as fast as the blown straight-eight in the rival Alfetta.
Enzo Ferrari reckoned that he had "killed his mother" that July day at Silverstone.
---
1954 British Grand Prix report
---
No doubt the occasion of his team's first world championship victory was moving but, operatic outbursts aside, he had been gunning to defeat Alfa Romeo since its sacking of him in 1939.
That he also considered the Alfetta his – funded by Portello and designed by Giaochino Colombo, it was built at Ferrari's Modena HQ – made the win doubly bittersweet.
It was, however, neither Ferrari's maiden victory at Silverstone nor defeat of Alfa Romeo.
The 1949 BRDC International Trophy was the first to use that perimeter road in its entirety. Prior, sharper turns at Copse and Stowe had directed competitors along the runways.
The race resulted in a 1-2-3 for Ferrari, in the order of Alberto Ascari, Giuseppe Farina and Luigi Villoresi.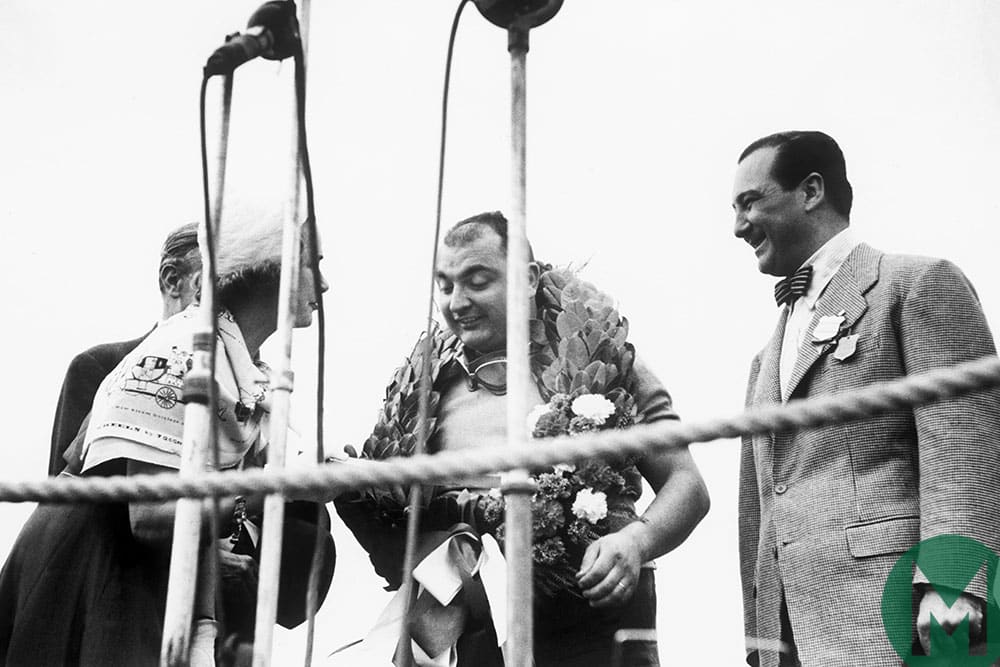 González also won the 1951 British Grand Prix for Ferrari Photo: Motorsport Images
The 1951 International Trophy was struck by a monsoon that limited it to a flooded five laps. When sense prevailed and the race was stopped, Reg Parnell's 'Thinwall Special' Ferrari was leading despite the presence of a quartet of Alfettas.
The 1950s was fecund for Ferrari at Silverstone.
Ascari led every lap of the British GPs of 1952 and 1953 in his Formula 2 500.
And, as had González four years before, Peter Collins prefaced his 1958 British GP win with victory in that same year's International Trophy.
The 1960s in contrast were barren bar a consummate performance by Mike Parkes in the 1967 International Trophy. Having been allowed his long-awaited Formula 1 opportunity, truly he looked the part.
Sadly his hopes would be dashed two months later when he slid wide on oil and was thrown from his 312 during the Belgian GP at Spa. Both his legs were broken.
The 1970s followed a similar pattern.
The 1973 British GP marked a low point in Ferrari's history – though Jacky Ickx's lone 312B3 looked and sounded good to a five-year-old me.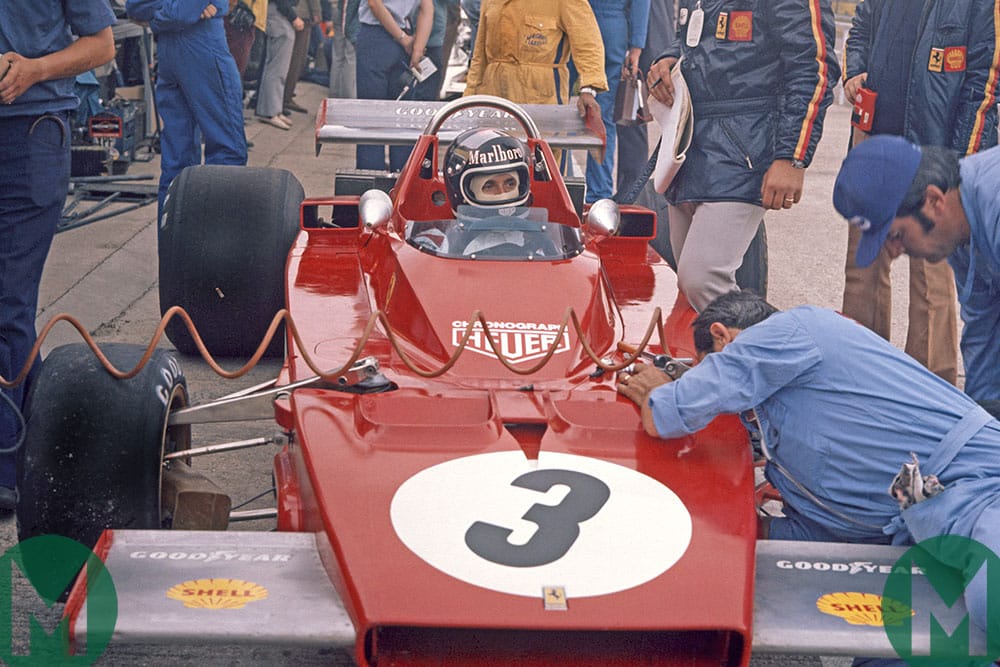 Ferrari struggled in 1973 – here Jacky Ickx is behind the wheel at Silverstone Photo: Motorsport Images
It was also a turning point.
Luca Montezemolo – a 25-year-old on his fourth day in Enzo's employ – was aghast at the chaos in Ferrari's unhappy camp.
Less than two years later Niki Lauda's victory – the first for 312T – over world champion Emerson Fittipaldi's McLaren M23 in the International Trophy triggered a sequence of results unimaginable during the Scuderia's absence from the 1973 Dutch and German Grands Prix.
312T's debut at the South African GP had been disappointing and Ferrari again might have turned against itself but for that single tenth separating Niki from Emmo.
Even so, Ferrari wouldn't win again at Silverstone for another 15 years.
---
1990 British Grand Prix report
---
The latter event was the occasion of Nigel Mansell's "definite" decision to retire after gearbox failure cost him the lead and fuelled his belief that winning team-mate Alain Prost was benefiting from preferential treatment.
That Frank Williams – still hopeful of obtaining Ayrton Senna's services for 1991 – had suddenly gone cold on their deal had been the Camel straw in the wind that broke Mansell's spirit. Albeit only briefly.
'Mansell mania' would hit new heights – some would say lows – with Williams at Silverstone in 1991 and 1992. By which time Scuderia Ferrari, having sacked Prost at the end of 1991 for telling the truth – sounds familiar – was nowhere again.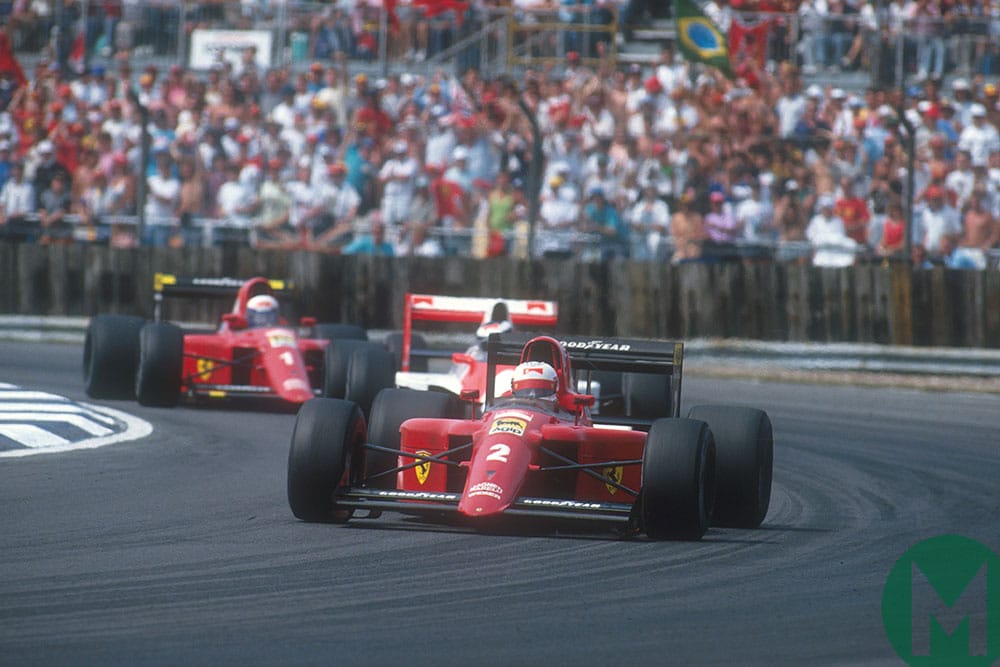 Nigel Mansell (briefly) retired after failing to win the 1990 British Grand Prix Photo: Motorsport Images
Only in the Noughties were all of its inherent advantages rounded up and pointed in the right direction.
That might have occurred in 1999 but for Michael Schumacher's fracturing a leg when his F399's brakes failed approaching Stowe.
The quick thinking of 1998 when Schumacher won at Silverstone by 'taking' a stop-go penalty – subsequently rescinded – after 'crossing' the finish line in the pitlane had been an indication of how Ferrari had wised up.
Its three Silverstone wins on the bounce – a brace for Schumacher sandwiching one for Rubens Barrichello (2003) – epitomised consistent efficiency so long beyond its ken.
It has lost it since, of course.
Kimi Raïkkönen's 2007 British GP victory rested on the soon-to-crumble Schumacher foundations.
Fernando Alonso's victory of 2011 was the only win of a faltering campaign sandwiched between title near-misses.
And Sebastian Vettel has won just once since leaving Silverstone last year with an eight-point championship lead over Lewis Hamilton.
Ferrari in turn was 20 points ahead of Mercedes-Benz.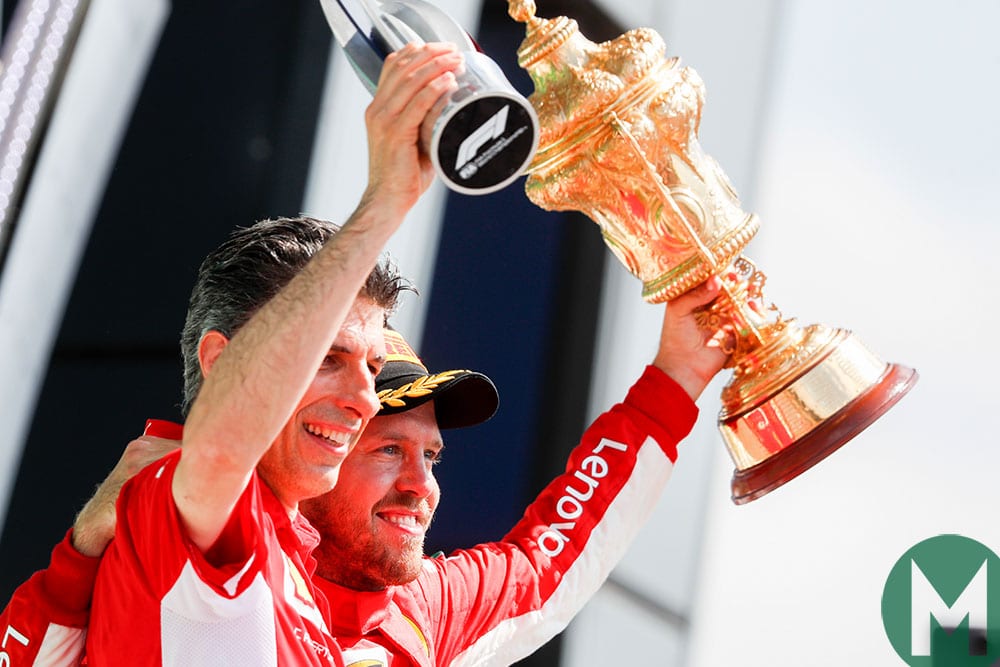 Sebastian Vettel celebrates 2018 British Grand Prix victory Photo: Motorsport Images
Its victories at Monza – 18 since 1951 – are Ferrari's emotional highs.
But the heart of the matter is Silverstone.
Its 17 British Grand Prix victories – including two at Brands Hatch and one at Aintree – in the same period have often been pivotal.
Binotto, playing a cool hand while occupying a hot seat, is therefore playing down expectation with good – and bad – reason.
And Vettel?
He's just looking forward to the buzz of Maggotts/Becketts, come what may.
And why the hell not?
Ferrari gets the blood pumping, too. But also it can drain it.
As such, this writer doubts very much that the German – in danger of becoming a pale shadow and apparently increasingly demob happy as a result – will not see out Silverstone's new five-year contract with Liberty Media.
---
More: Nigel Robuck on José Froilán González
---
In 1956, the 'retired' González agreed to a one-off grand prix drive in order to revisit his beloved Silverstone. His Vanwall lurched, sagged and stopped at the start.
Fangio won that grainy day but gained little pleasure from it. His Lancia-Ferrari was an inconsistent handful and the team's politicking had made him ill.
Knowing when to stop or get out – the perspicacious Fangio signed with Maserati for an Indian Summer in 1957 – is a successful racing driver's most difficult decision.
This year's championship is all but decided and yet this weekend feels like an acid test.
Bitter or sweet?