F1 history: the tragic 1959 German Grand Prix at AVUS
The German Grand Prix is most associated with the Nürburgring and Hockenheim. Yet sixty years ago it was held at the bland, but dangerous, AVUS track near Berlin. Here is the tragic tale.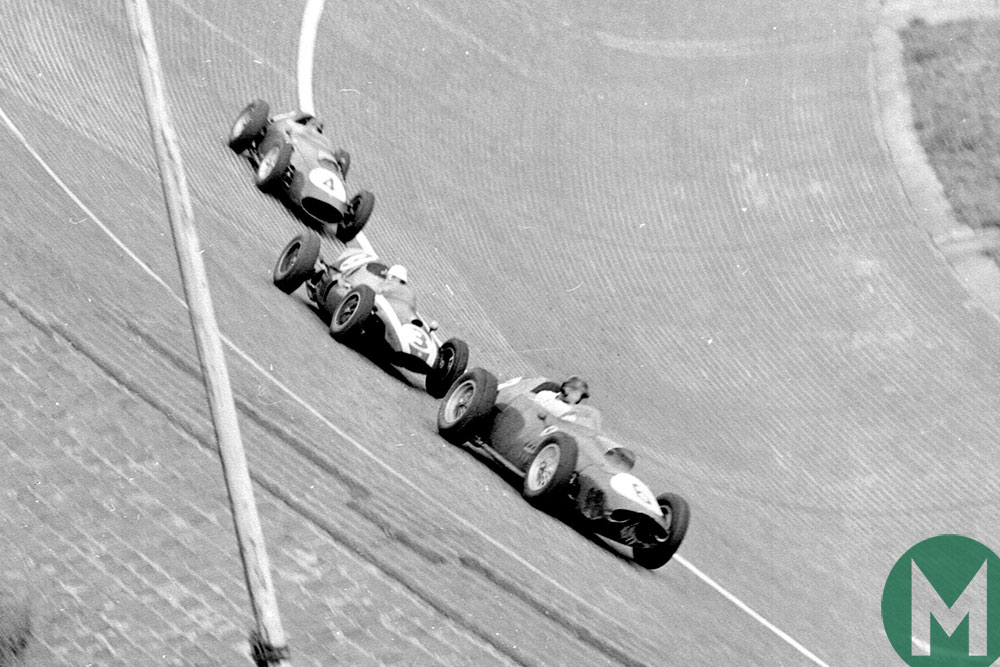 Dan Gurney's Ferrari leads Masten Gregory's Cooper and Tony Brooks' Ferrari on AVUS's notorious banking in the 1959 German Grand Prix Photo: Motorsport Images
AVUS was hopeless – and Stirling Moss said so.
He wasn't alone in his condemnation of the switching of the 1959 German Grand Prix from the sublime – though undeniably quirky – Nürburgring Nordschleife to the patently ridiculous Automobil Verkehrs und Übungsstrasse.
This 'Automobile Traffic and Training Road' in southwest Berlin was exactly that, and thus an unsuitable test for the world's best drivers.
The northern curve was monolithic and therefore unchanged: partly sunk into the ground, its banking was 43 degrees at its steepest; its brick surface slippery even when dry
Speeds were very high – Nazi-backed Silver Arrows had lapped at 170mph-plus back in 1937 – but any challenge was far outweighed by the bravery/lack of imagination required to hold full throttle on long outward and inward straights separated by a narrow central reservation.
AVUS had a claim to fame – but the world's fastest road circuit was also its blandest.
Those straights had been halved since WWII. Some said this was because of the political carve-up of the city and its environs. The truth was more mundane: five miles of such madness was plenty.
The old southern curve had been a long-radius hairpin, gently banked. Its replacement consisted of a concrete apron and straw bales.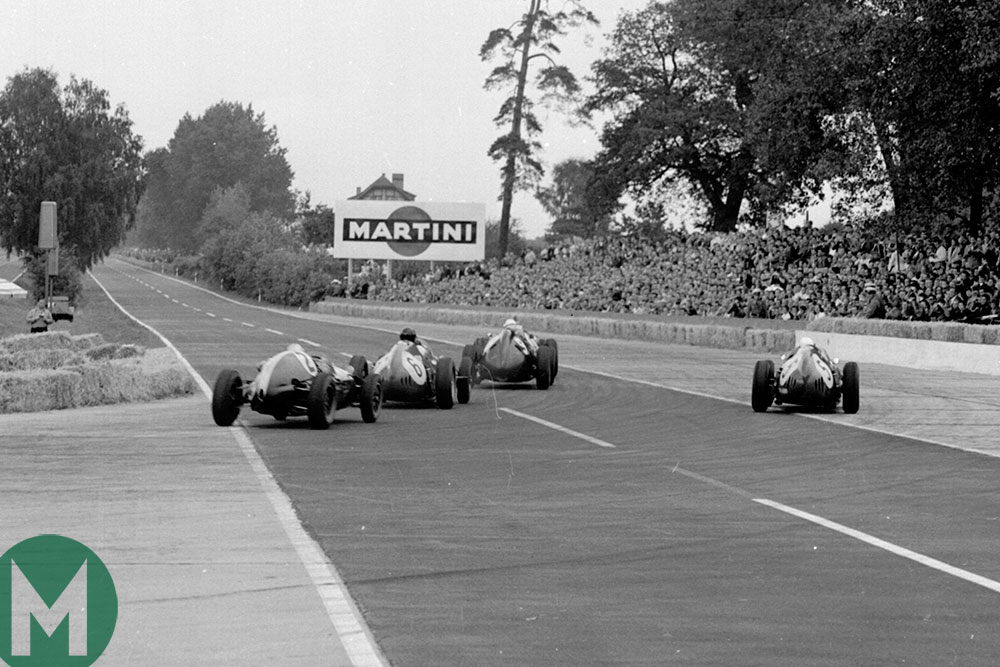 Jo Bonnier's BRM, Gurney and Phil Hill's Ferraris and Bruce McLaren's Cooper set off on one of AVUS's lengthy straights Photo: Motorsport Images
The northern curve – new for the aforementioned 1937 Avusrennen and thus designed to last for 1000 years – was monolithic and therefore unchanged: partly sunk into the ground, its banking was 43 degrees at its steepest; its brick surface slippery even when dry.
Which is why Hans Herrmann attempted to persuade friend Jean Behra not to start the rain-slicked Berlin Grand Prix support race for 1.5-litre sportscars.
The circuit was dry for the following day's main event – although all had agreed to stay below the banking's central white line should a yellow warning light be shown.
Until such time, however, Masten Gregory intended to hang it all out.
---
More: Tony Brooks' greatest victory: forgotten genius' win at the 1958 German Grand Prix
---
The 'Kansas City Flash' Gregory driving for Cooper was in team leader Jack Brabham's estimation "the most fearless man I've ever known." His taking the lead from Ferrari's Tony Brooks by way of an audacious pass on the banking was, therefore, entirely in character.
But no less thrilling for that.
Ferrari had sent four cars across Germany's Eastern Zone – whereas it had mustered a big, fat zero for the preceding British GP at Aintree – and was expected to dominate due to the superior maximum speed of its front-engined Dino.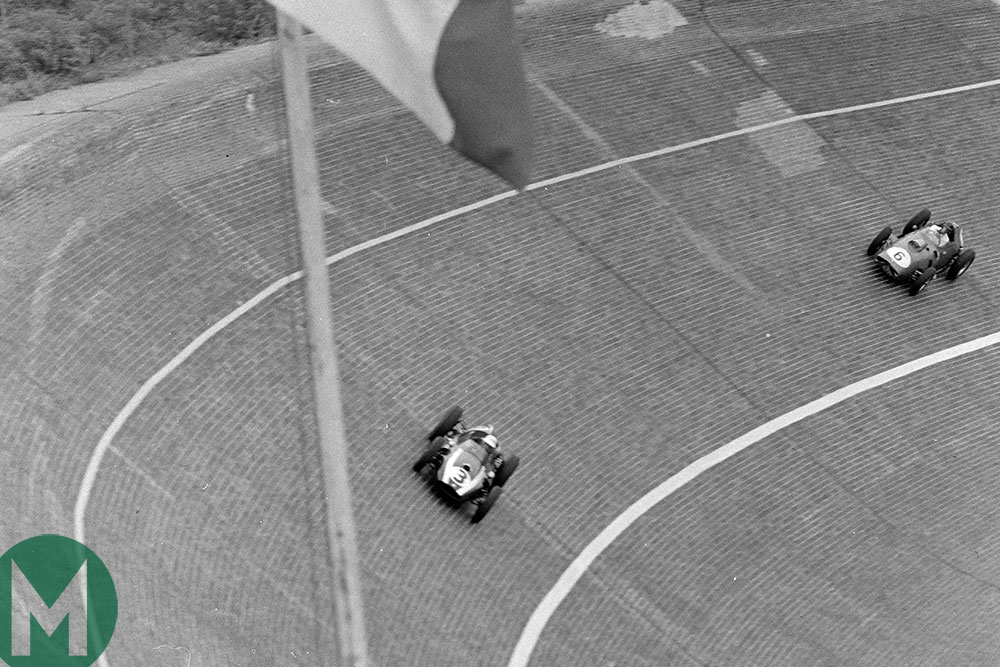 Masten Gregory's Cooper mixed it with the Ferraris early on Photo: Motorsport Images
Gregory, however, bobbed and weaved in and around their 180mph slipstreams for 23 laps.
This world championship grand prix was unique in being premeditatedly decided by the aggregate time across two heats. These in turn were restricted to 30 laps apiece – approximately one hour – due to Dunlop's concerns over tread longevity.
AVUS was – because of rather than despite all its faults – a formidable test of machine.
And on lap 24 a broken con rod bolt all but chopped in half the Coventry Climax engine in Gregory's Cooper.
Whereupon Brooks was able to throttle back and lead home a Maranello 1-2-3.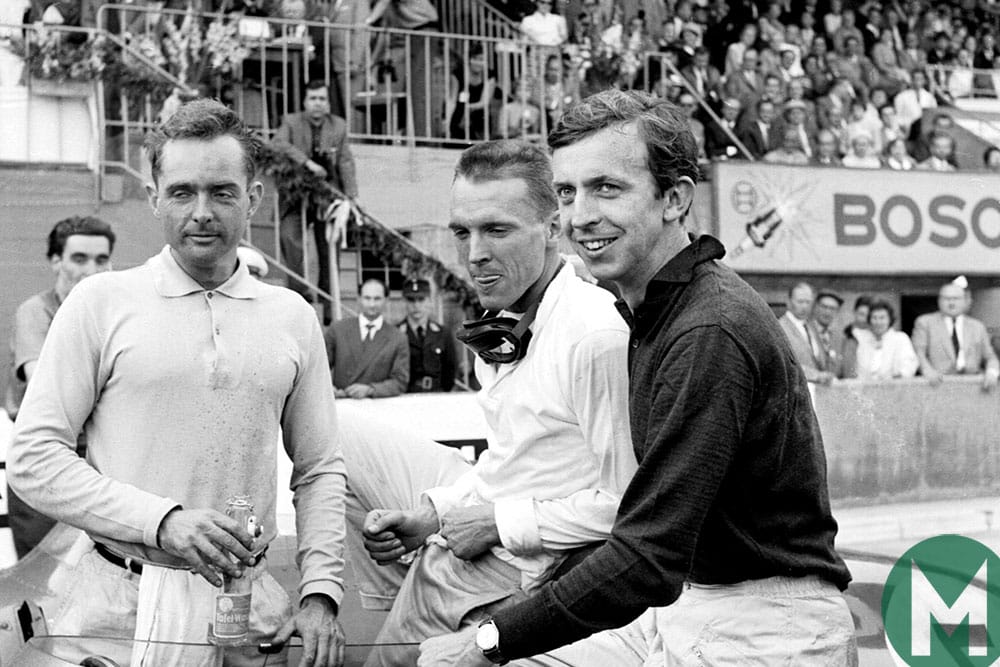 The Ferrari trio of Brooks, Gurney and Hill reflect on the race Photo: Motorsport Images
A result he repeated, with as much comfort as the bumpy banking allowed, in the second heat.
Brooks' lap of honour saw him flanked by 'wing men' Dan Gurney and Phil Hill, both Americans content to accede to his primacy.
Not that the modest Englishman had asked for preferential treatment.
Things might not have been so serene had Behra been with the Scuderia still.
The feisty Frenchman had had his contract terminated following a row with team manager Romolo Tavoni – and later with Enzo himself – at the French Grand Prix at Reims over number one status.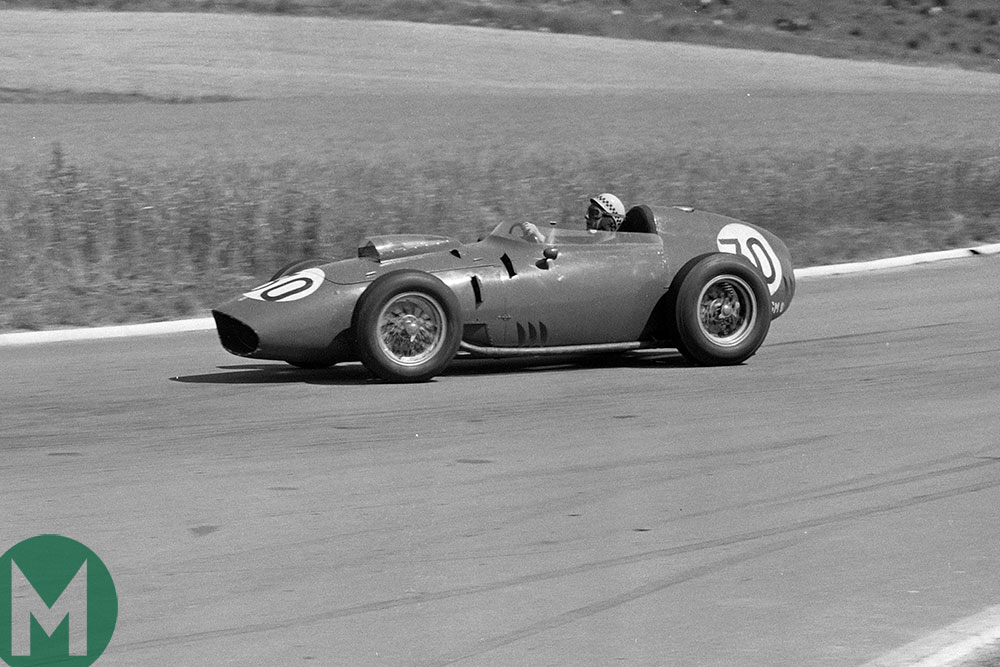 Jean Behra had fallen out with the Ferrari management after the recent French Grand Prix at Reims Photo: Motorsport Images
Thus he cut a somewhat lonely figure at AVUS. His eponymous Porsche-based Formula 2 single-seater – another bone of contention for Enzo – had been entered for the grand prix to make up the numbers and give the locals something to cheer.
So the sportscar event was Behra's chance to shine, on a glistening track.
He was challenging the works Porsche 718 RSKs of Wolfgang von Trips and Jo Bonnier for the lead when his privateer version got away from him on the banking. It sailed over its rim and struck the remains of a concrete gun emplacement.
Behra was ejected and snapped a flagpole during a forlorn fatal flight.
Hill and Gurney, with just 10 grands prix between them, saw it all. The former was introspective and nervy whereas the latter was outgoing and apparently serene. But both were in thrall to continental road racing and arguably naïve as a result.
---
---
They were not alone in frowning upon Carel Godin de Beaufort's light-hearted reaction to his having survived a similar accident in the same race – his Porsche toppled over the banking and re-emerged, battered but unbowed, at the paddock gate before resuming the race – but that was how the jovial Dutchman dealt with the dangers of his chosen sport.
Each driver had their own mechanism.
Few had a firmer grasp on the sanctity of life than did Brooks. Yet he grabbed pole in the final practice session, held after Behra's crash. His mark, however, was one-tenth slower than Ferrari reserve driver Cliff Allison's best.
The latter was only allowed to start the grand prix – from the back, as first reserve – because of Porsche's respectful withdrawal of its single-seater, intended for von Trips.
And as for Herrmann, he somehow survived the most almighty accident when his BRM's brakes failed on the approach to the southern hairpin during the second heat.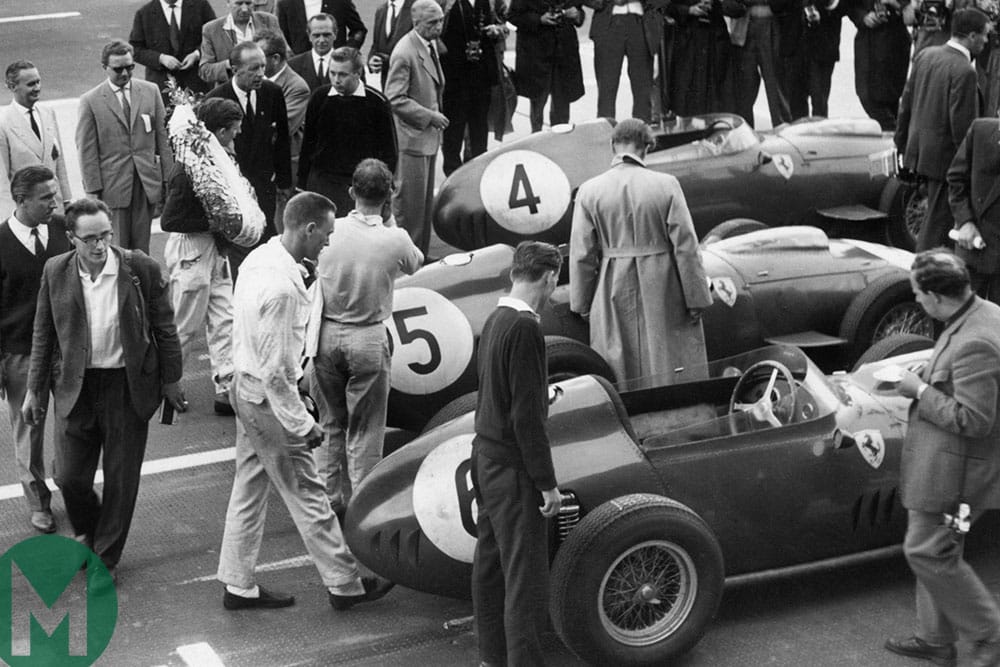 The three Ferraris in parc fermé Photo: Motorsport Images
BRM held a high opinion of Behra – he had driven for it on winning occasion in 1957 and throughout '58 – and yet it had been unable to find a place for him, despite the presence of a spare works P25, plus a semi-works version run (for Herrmann) by the British Racing Partnership.
The Niçois had a reputation for surviving big accidents and returning from injury. It could have been him sliding backwards on his knees, looking over his shoulder as his car tumbled from him and to destruction.
If that is he had been in a 'better place' and heeded Herrmann's counsel.
Moss copped flak in the local press for criticising the circuit. But only the most blinkered could disagree with him now.