F1 in the winter sun: New Year racing with Clark, Hill, Stewart and Moss
- Last updated: January 13th 2020
For the leading drivers of the 1960s, Christmas and New Year heralded racing in the South African sun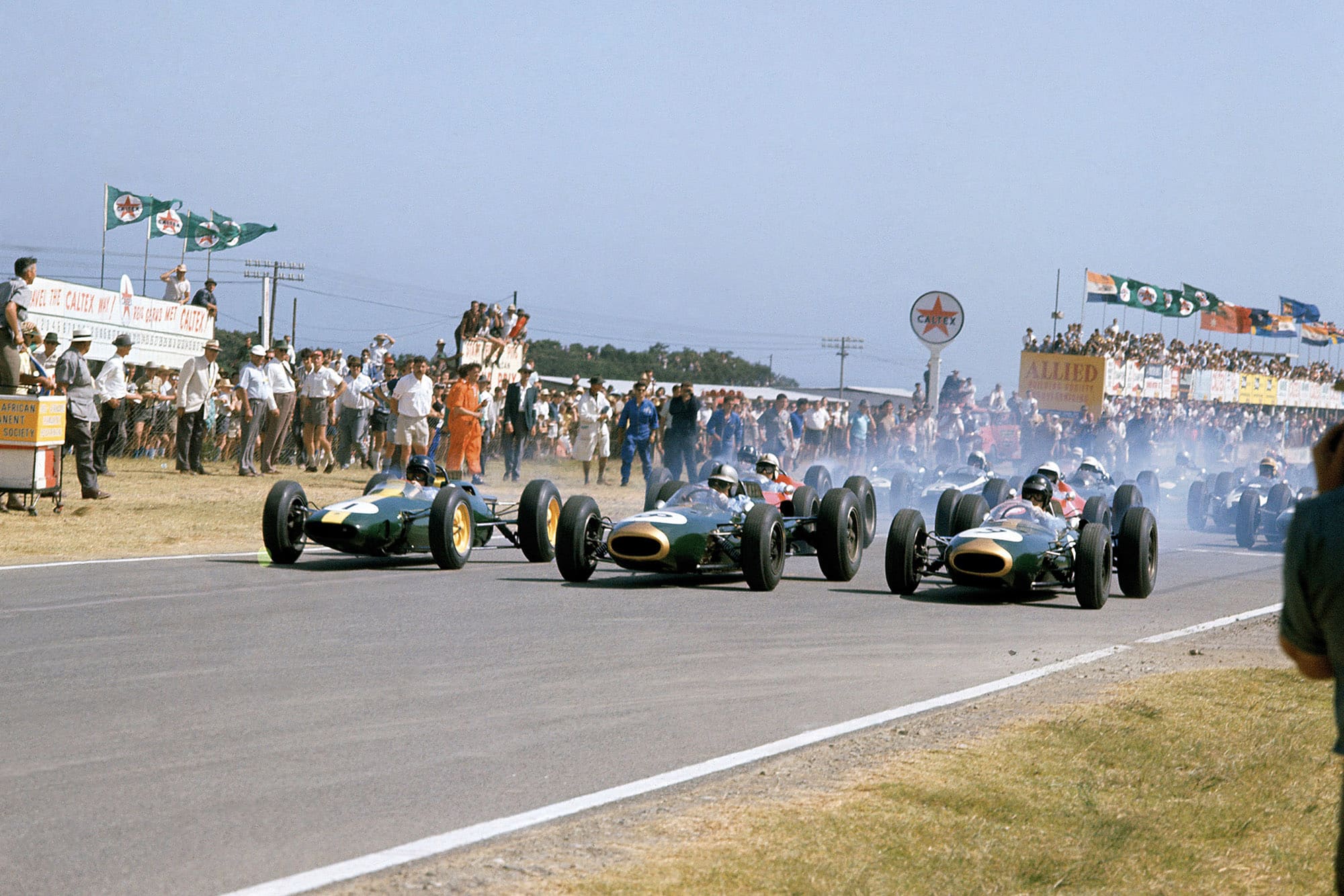 Clark, Brabham and Gurney lead at the start of the 1963 South African GP Photo: Motorsport Images
Jackie Stewart made his World Championship Grand Prix debut at East London on New Year's Day, 1965: he finished sixth.
It was not, however, his first Formula 1 race.
It wasn't even his first F1 race in South Africa.
But it was his first for BRM.
A month earlier he had answered a late call from Team Lotus requesting that he replace fellow Scot Jim Clark – injured during a snowball fight in Cortina d'Ampezzo! – at Kyalami's non-championship Rand GP of 12 December 1964.
Stewart had already signed with BRM for 1965, but Lotus boss Colin Chapman was insistent – and intermediary Ford's Walter Hayes provided the velvet glove – and a deal was struck.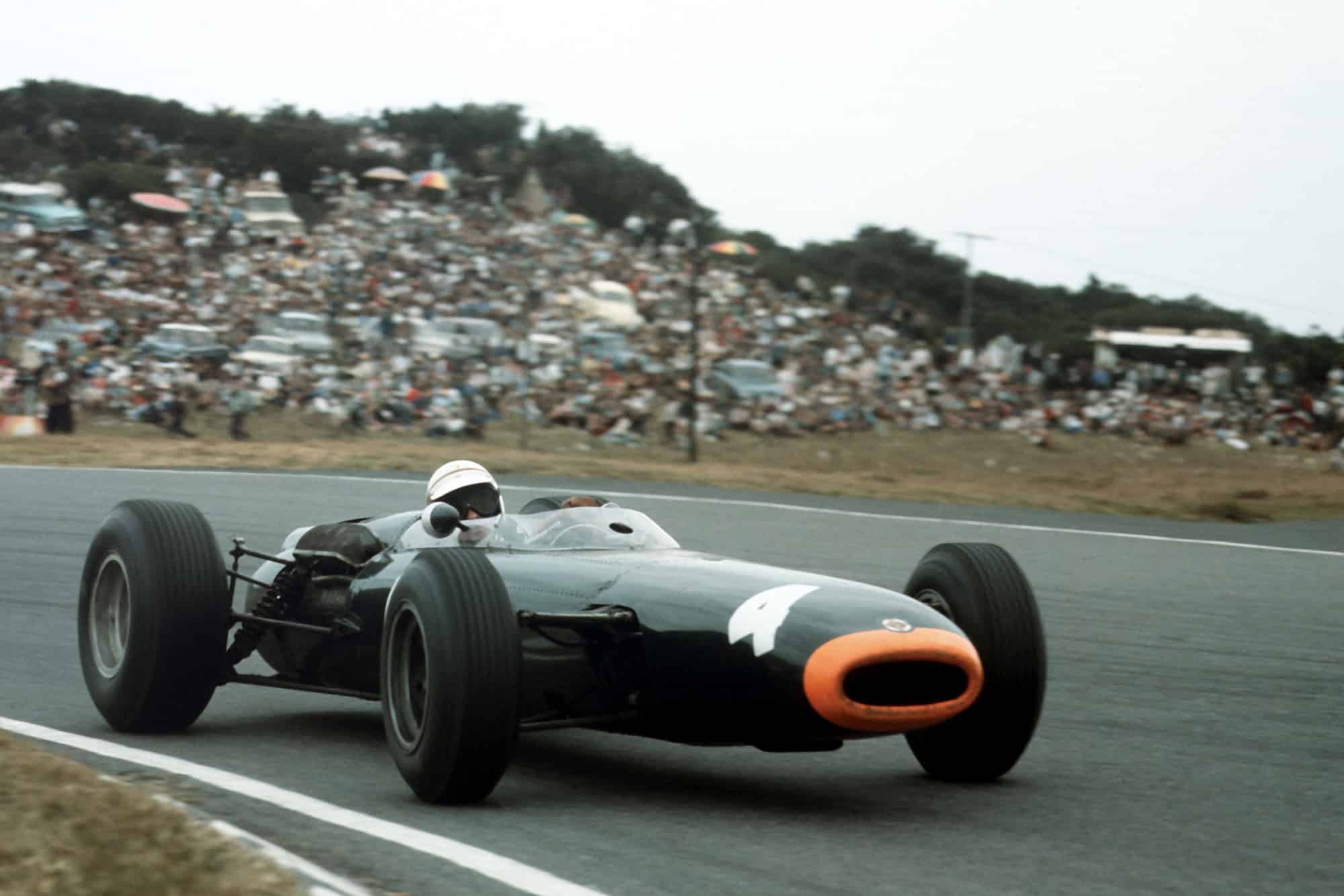 Stewart at East London on New Year's Day 1965 Photo: Motorsport Images
In the space of a weekend Stewart would discover what he would be missing – good and bad – in 1965.
On pole by six-tenths – from Clark's designated team-mate for 1965, Mike Spence – Stewart's new Lotus 33-Coventry Climax travelled no more than a handful of feet in the first of two 25-lap heats before a failing, flailing driveshaft flung its rubber-doughnut coupling 100ft high.
On the back row for the second heat, therefore, Stewart sliced through the field to win by 10sec having set fastest lap. The final rival he tucked away was his BRM team leader for 1965, Graham Hill.
The latter had been unable to set a qualifying time in his John Willment Automobiles-run Brabham BT11-BRM and so had done 'a Stewart' by winning the first heat from back to front.
Hill also won on aggregate. 'Grandad' still had a few tricks up his sleeve.
Two years earlier Hill had at East London secured the first of his world titles by winning a showdown with Clark on 29 December 1962.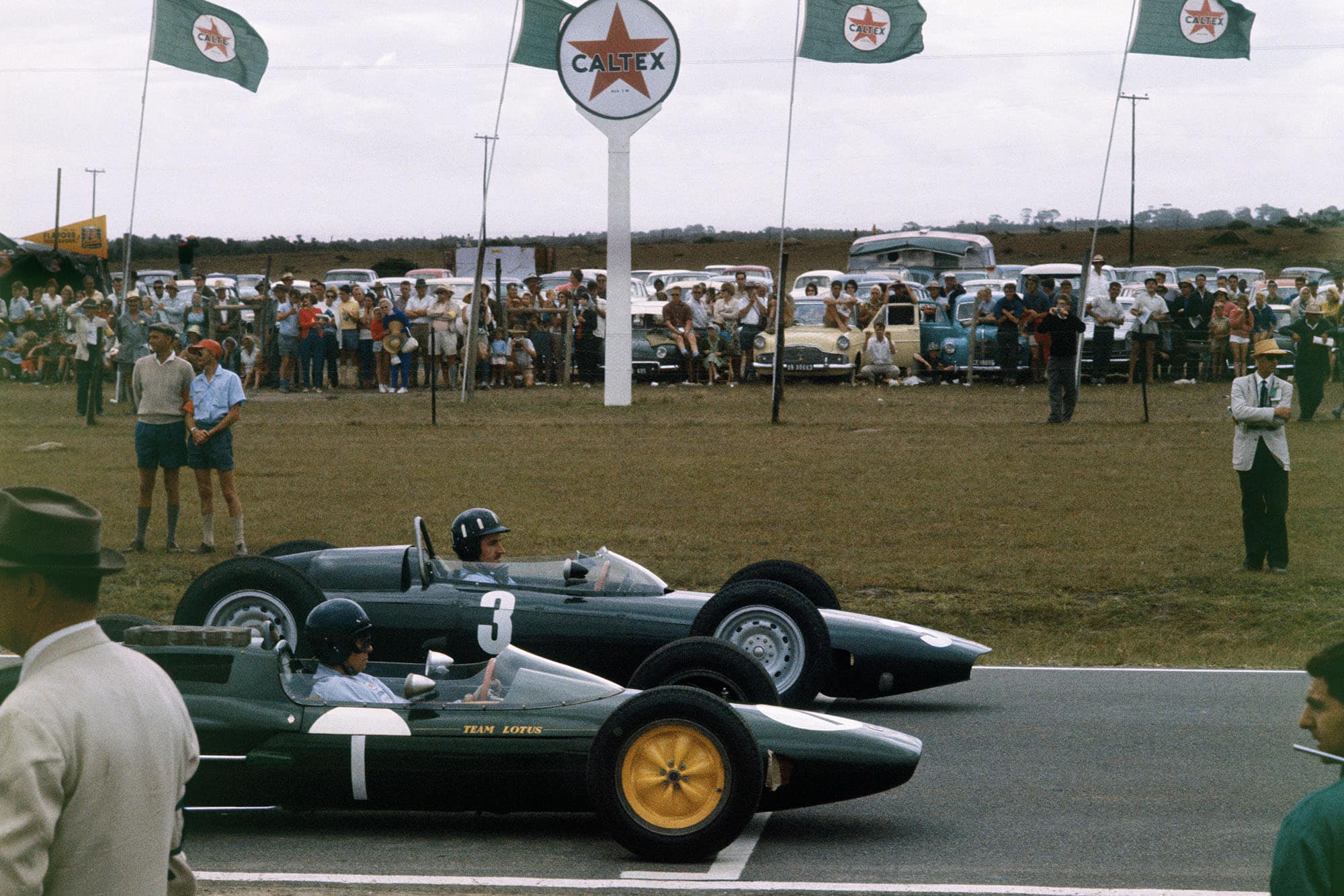 Hill and Clark line up at the start of the 1962 South African GP Photo: Motorsport Images
This, after suffering worrying ignition problems in the preceding Rand and Natal GPs – the latter held at Durban's Westmead. BRM had been forewarned at least.
Until the Antipodean races codified into the Tasman Cup – run to its own formula – as from 1964, South Africa had provided a rival/complementary sequence of winter-sun races for some of the sport's big names.
Stirling Moss was the first to partake, coming within 10 laps of winning a brace of non-championship South African GPs at East London in the same year: 1960.
On New Year's Day, his Rob Walker-run Formula 2 Cooper-Borgward led for 50 laps before a split fuel injection pipe cost it victory; Belgian Paul Frère's Cooper-Climax sweeping past.
Moss had no such problems 362 days later, winning by 14sec from F2 Porsche team-mate Jo Bonnier – despite having a picked up a cold while sunbathing on the beach on Boxing Day.
(Moss and his Porsche had 10 days before won the Cape GP at Killarney, a suburb of Jo'burg.)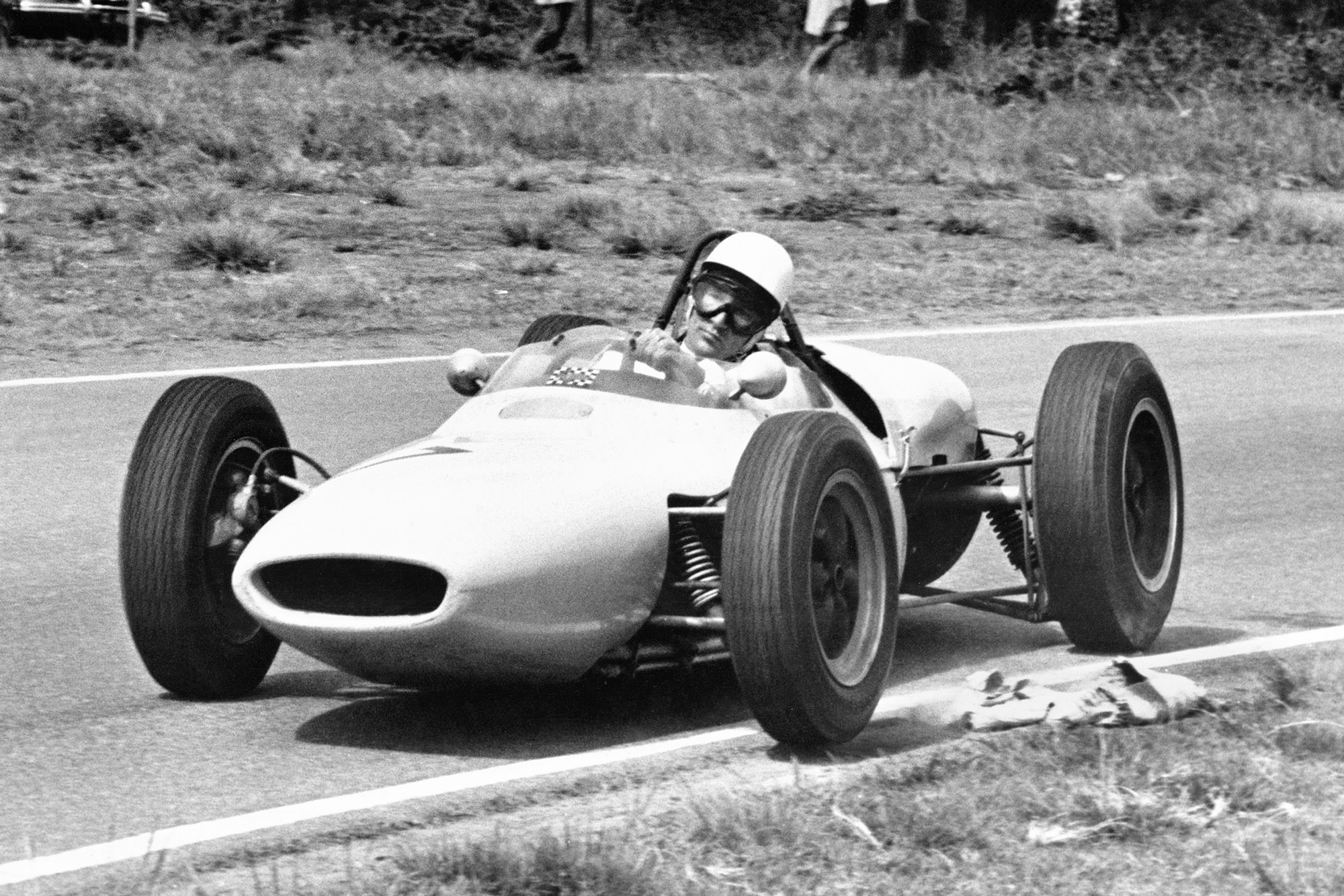 Moss in the 1961 South African GP at East London Photo: Motorsport Images
Twelve months later Moss was at the height of his powers and fame – he dashed to South Africa having accepted the BBC Sports Personality of the Year Award – but he could do nothing about Clark in a superior car.
The latter reckoned his four South African F1 races of 1961/'62 – three wins and a second place – to be "the tonic" he needed after a problematic World Championship campaign.
His first victory – achieved in Moss's absence at Kyalami – was obtained from pole and by 0.14sec from the sister works Lotus 21-Climax of Trevor Taylor.
"I had the added satisfaction of beating Stirling twice in two weeks on this trip," wrote Clark
Moss was present a fortnight later at Westmead but "couldn't make any way on [Clark]" having risen from last – he had arrived too late to set a qualifying time – to second place in British Racing Partnership's meadow-green Lotus 18/21. Clark's winning margin was 31.9sec.
The battle at East London on Boxing Day was a fairer fight – with the same outcome. Clark pipped Moss to pole and led before spinning, perhaps feeling the pressure of leading the undisputed world's best.
Moss, again feeling ill – he had spent Christmas Eve teaching Clark to water-ski – held a 14sec advantage at one point. But his diary said it all: "Couldn't keep him off. Too quick." The recovering Scot won by 15.7sec.
Moss returned home in the knowledge that he would need an equal car to beat Clark in 1962: "Jimmy was good."
The pretender, meanwhile, stayed on to contest the Cape GP on 2 January – Taylor this time winning the staged finish.
"I had the added satisfaction of beating Stirling twice in two weeks on this trip," wrote Clark in At the Wheel, "although, in fairness, my car was newer than his."
Given that Moss had struck a deal to run a tiring Ferrari 'Sharknose' in 1962, while Chapman had the groundbreaking 'bathtub' monocoque Lotus 25 up his sleeve for Clark and Climax's new V8, it's likely that this changing of the guard would have continued apace.
Of course, we will never know because of Moss's sickening Easter Monday crash at Goodwood.
He was only 32. Had Moss been able to extend his relationship with Ferrari, align closely with inexperienced but clearly bright and usefully open-minded technical chief Mauro Forghieri, and spent more time at Maranello, might he have pushed the Scuderia higher, further, faster?
The redoubtable John Surtees tried his utmost – with some modernising success – in 1963, but it's likely that Moss, whom an admiring Enzo likened to Tazio Nuvolari, would have had more clout, had he been willing to wield it.
Towards the end of 1963, Ferrari was showing encouraging signs of getting with the programme. Forghieri's new semi-stressed 'Aero' monocoque – it wasn't fully what Surtees craved, but it was a start – proved quick even though its new V8 and/or flat-12, both designed to act as a fully stressed member à la Lotus 49 of 1967, were not yet ready.
Reliability issues cost it at Monza and Mexico City, but at Kyalami for the Rand GP on 14 December, Surtees won both heats from pole position, in the presence of Clark.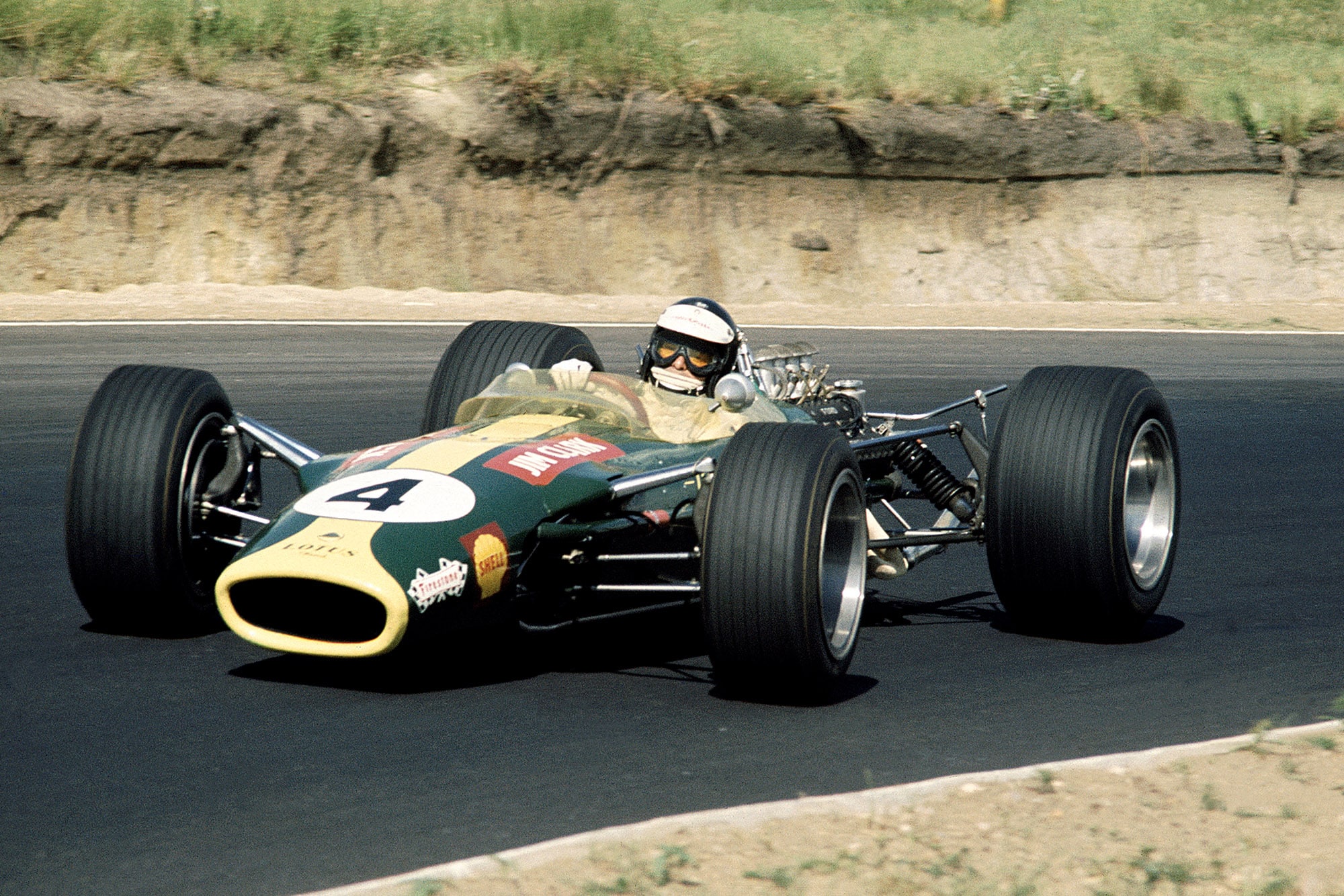 Clark on his way to his final World Championship GP win in 1968 Photo: Motorsport Images
The Lotus man had qualified fourth and been blighted by issues with his fuel pump during the races. Lotus had been forewarned at least.
Order would be restored in the South African GP a fortnight later, Clark winning his seventh World Championship GP of the season, from pole, leading from start to finish.
He would repeat this feat in 1965 and – bar the opening lap being led by Stewart in a Matra – 1968, by which time the national race been relocated to Kyalami.
The latter victory was Clark's 25th – eclipsing Juan Manuel Fangio – and last World Championship GP win.
By the time Stewart set about replacing his irreplaceable friend, mentor and rival as the benchmark – leading every lap at Kyalami in 1969 – the South African GP had been rescheduled for March.