Gil de Ferran: 'Alonso is one of the best drivers who's ever lived'
- Last updated: December 5th 2019
In the latest Motor Sport podcast, Gil de Ferran talks through his career, and says that McLaren was "exposed to failure" by wanting to be at the 2019 Indy 500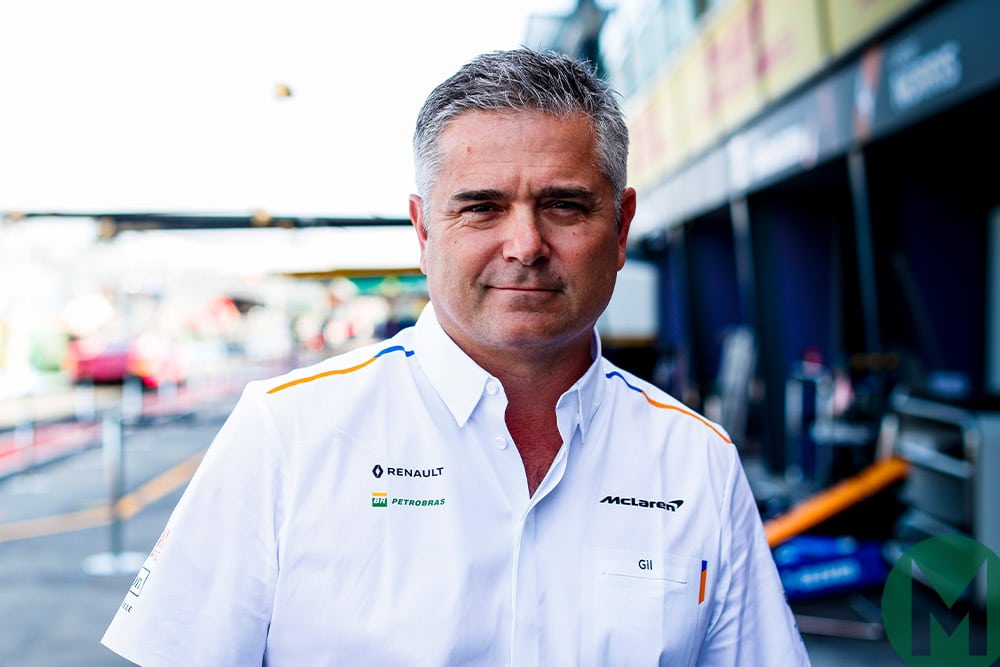 Photo: Motorsport Images
McLaren sporting director Gil de Ferran says that Fernando Alonso is one of the best drivers ever in the latest Motor Sport podcast, and gives a very recent example that shows the Spaniard's incredible talent.
"Regarding Fernando… the guy is one of the best drivers who's ever lived, frankly. It's hard to know because I wasn't around when people like Jim Clark and Fangio were racing, or even Jackie [Stewart].
"The guy has incredible feel, it's just a combination of intelligence, talent, determination, knowledge, experience and everything into one.
"I always say to these young guys who say 'I'm really fast', I reply 'congratulations, you've reached level number [one]. You have one ingredient out of a hundred that you need to be a successful racing driver!'
---
---
"It's a big one, emotional control, and a guy like Fernando, he scores a nine and a half or 10 out of 10 in all of these 100 ingredients: how do you deal with the team? How do you set up the car? How do you control your own emotions under certain circumstances?
"That guy is incredible. I've seen him do things in a racing car… sometimes if you watch it on TV, you can't appreciate it.
"And I'm a little bit arrogant, I thought I was good, but [when I watch him] I go 'Yeah! OK, that was pretty impressive'."
De Ferran, as an example, says that Alonso's qualifying performance in Monaco last year showed his brilliance.
"We were having a difficult weekend," he recalls. "We had a mechanical failure in FP1, then had another problem in FP2. In FP3 we were struggling with the balance of the car and we go to qualifying and we literally changed the whole car: floor, front wing, springs, you name it. It was a wholesale change, not a roll of the dice, but based on the data.
"You go into qualifying with less fuel, more engine, completely different car, track has changed from FP3 to qualifying and he goes out – and it's a street circuit, so you can't run wide… you're in the fence – and Monaco has some pretty fast corners where you have to commit.
---
"And he nails every corner, miles faster than he had been throughout the weekend, including very committed corners like Tabac, which is one downshift and straight back on the throttle.
"And I'm sitting there going 'I guess you didn't need to get used to that, did you?'. That lap would have been good enough to go forward. I think he eventually got to Q3 in that race.
"The rest of qualifying was impressive [from him], but not as impressive as that first lap."
On Alonso's failure to qualify for the 2019 Indy 500
Things turned sour when Alonso attempted to qualify for this year's Indianapolis 500, falling short at the first hurdle when he was bumped out of the grid of 33. De Ferran didn't go into specifics, but explained that McLaren paid the price for a lack of preparation.
"Well," he laughs, "A lot went wrong.
"I'll start with the negatives. At the end of the day, it's our fault: we didn't prepare ourselves well enough, we didn't execute well enough and [at] Indianapolis you pay the price. We certainly learned a lot of lessons and some incredibly painful lessons, you know.
"We exposed ourselves to failure by wanting to be there, by putting ourselves in that position. And trying to meet a very difficult challenge, and we failed. And it was painful. And we move on. we absorb those lessons and try not to repeat them, and if we ever go back – which I hope we will – we'll try to tackle that challenge with those lessons in mind."