Goin' up, goin' down: 2021 Hungarian GP
F1 pins scattered as one man tries to save his career, whilst the two drivers with a combined aged of 76 provide the most intense racing – here's our Budapest barometer
Hungary 2021 had that 'last day of school before holidays' atmosphere about it. As a result, everyone got silly, some kids had to go home early, and only a few got to take part in afternoon playtime before everyone broke up for half term.
Here's who's going up, going down from the championship featuring the, er, 'best drivers in the world'.
Going up
Les Bleus Brothers
They looked a little lost early on the season, but now everyone at Alpine appears to be singing Les Bleus from the same hymn sheet.
Sure there was good fortune in it, but Esteban Ocon refused to crack under pressure from a four-time world champion, and newly 40'd Fernando Alonso put on one of the great defensive displays to keep Lewis Hamilton at bay. This one is sure to take off the heat from the Groupe Renault CEOs at the next budget discussion.
Bravo.
DHL Fastest Tweet Award…
Nice bowling game. So frustrating.

— Charles Leclerc (@Charles_Leclerc) August 1, 2021
…goes to Charles Leclerc. As soon as he was out of the race, Charlie was straight on the mobile blower to vent his frustration about the destruction derby start via 4G.
Unfiltered and excellent.
From the bonkers to the bizarre
Lewis taking the We Race As One message literally pic.twitter.com/XgRkmebIV7

— Engine 11 🧡 #ThankYouMarshals (@EngineMode11) August 1, 2021
Every season needs at least one crazy race with a midfield plodder winning just to relieve the tension of a title fight a bit.
Austria '75; Detroit '83; Nurburgring '99 and now the Mogyoród mayhem.
One car on the restarting grid, George Russell overtaking the rest of the field in the pitlane, Max Verstappen's car taped up like something out of The Clangers – what was not to love about Hungary '21?
Miserable Maranello
Ferrari's pre-Hungary press release was brilliant in its anti-PR-ness. For a team that's won at the track seven times, it sure doesn't seem to like the Hungaroring. It can't even understand why it's going there to be honest.
"And still today, the Hungarian GP attracts the attention of the F1, despite the fact that the 4.381km Hungaroring, is narrow, short, slow, always very dirty, with overtaking all but impossible," it read.
The post-race press release was similarly earnest. Sainz's podium apparently "cannot make up for the disappointment of the points lost, that the Scuderia could have scored, if Charles Leclerc had not been knocked out of the race when another driver got it completely wrong and smacked into the number 16 SF21 at the first corner."
In a sea of beige PR positivity, Ferrari's realness is refreshing and makes us chortle.
Going down
Bowling Bottas Ball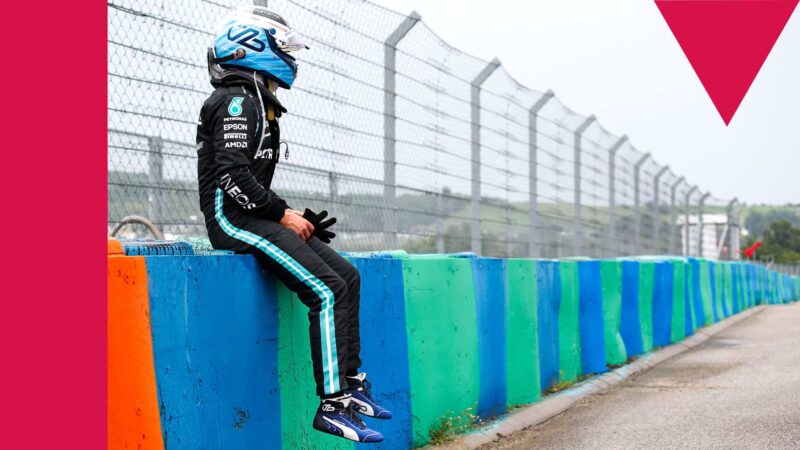 Fair play to Valtteri Bottas, in a renewed attempt to keep his Mercedes seat, he tried something different, thought out of the box.
What did Toto say to him pre-race? "Visualise how you're going to help us win the title?" Something like that. Maybe.
It worked brilliantly for Brackley, drivers' and constructors' championship leads both claimed. Will it be enough though, or will Bottas have to get even more imaginative next time?
Love-in intensifies
The heart emojis flowed after Carlos Sainz's fairly innocuous (well, as innocuous as 22g can be) exit from Q2.
Can't imagine employees of Messrs Tyrrell or Chapman getting so lovey-dovey in the '70s.
Still, Toto and Christian are making up for it by looking like they're about to break into a scuffle at any moment.
Russell-ing up a point or four
We're all with you, @GeorgeRussell63! 🥺

🎥 x Duna TV#HungarianGP 🇭🇺 #F1 pic.twitter.com/GK8jKArzYG

— Formula 1 (@F1) August 1, 2021
Poor George Russell. Spends almost three years trying to muster up just a single point in a hopeless Williams, then gets beaten in the race by rent-a-drive Latifi when he finally does so.
That was what those tears were really about!
Alfa Rubbish
Alfa really are showing everyone how to have a lacklustre season – even when half the field gets wiped out, and it aces the tyre strategy, the Hinwil squad still can't get into the points (before, ahem, disqualifications).
"Box, we gamble," Antonio Giovinazzi radioed in before he dived into the pits to put slicks on at the start of the race, but then didn't get to feel the benefit as the race was red flagged, before he got a penalty for speeding in the pitlane.
Räikkönen then got walloped coming out of his pit box by the spin doctor himself Nikita Mazepin, after the Finn's team demonstrated a perfectly an orchestrated unsafe release – so he got a penalty too. The Niceman managed to score a point though, after Sebastian Vettel was disqualified (pending appeal).
Mamma mia.