Goin' up, goin' down: 2021 Qatar GP
- Last updated: December 21st 2021
The old man hauling his blue teapot into the podium places, horrific levels of sportswashing and Pirellis exploding like they're going out of fashion were the order of the day at the Qatar GP
Turned out that the Qatar Grand Prix, held at the Cookie Cutter Arena – sorry, Losail International Circuit – actually provided decent racing (unless your name was Hamilton or Verstappen) with much overtaking, plus some spectacular blowouts – which led to a chain of events where some people who make a habit of saying unreasonable things said some more unreasonable things.
You just had to look past the cringeworthy (that's putting it lightly) association with a football tournament that's a testament to a country with a horrific human rights record, and it was actually a decent event.
Here's what was going up and down at the Qatar Grand Prix.
The genius of Gasly
Big brain time for Pierre Gasly. Score a decent time good enough for fourth in Q3, then destroy your car Wacky Races-style on the final run, bringing out the yellow which Verstappen and Bottas then ignore and get penalised, meaning you get promoted to second on race day – voila!
El plan
Fernando Alonso – world's greatest qualifier – actually didn't have to make up for his shonky grid position this time, by virtue of clocking a commendable fifth then moving up to third after aforementioned grid penalties.
And he brilliantly maintained it, taking his first podium for three decades, whilst telling the team to instruct stablemate Esteban Ocon to "defend like a lion". Box office every race this Spaniard. Can't see Ocon similarly dictating matters across the team from his cockpit in 15 years' time somehow.
Speaking out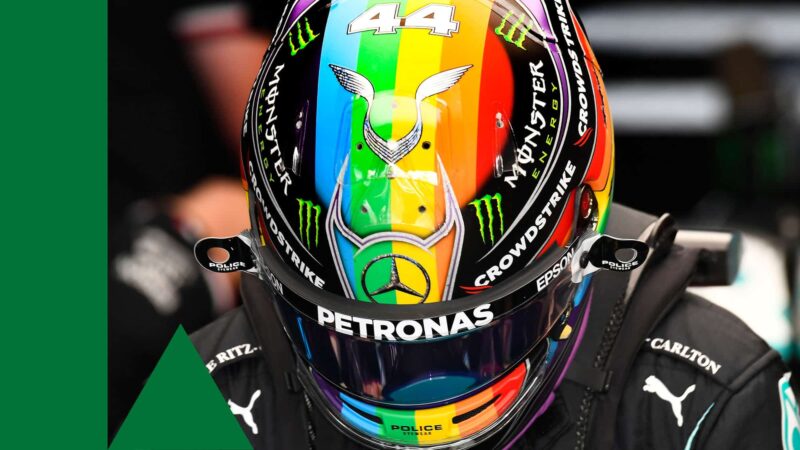 Driver press conferences often make Dulux drying seem like the last lap of the Daytona 500, but at Losail Lewis Hamilton actually said something – and used his words wisely.
We know to some degree it's a familiar tune for Hamilton, but calling out other athletes to do more to raise awareness for human rights was again highly commendable, particularly as it's often difficult to get drivers to even name their favourite biscuit and why.
His rainbow crash helmet wasn't a bad shout either, in one of the least hospitable countries to equal rights.
The rogue marshal
Solidarity with the "rogue marshal", who has given up their time, free of charge, to help one of the world's most moneyed sports operate – and did their job completely to the letter of the law – only to get hauled over the coals for their troubles.
You gotta laugh
He might have had an awful weekend, which at one point involved going slower than a 50th anniversary Formula Ford Festival car to save his Macca, but at least Daniel Ricciardo has sense of humour. "We might protest them".
Going down
Footie washing
Associating your own morally dubious professional sport with another less than ethical professional sport's big tournament, hosted in a country in which allegedly 6,500 migrant workers have died since said competition's announcement? Charming…
Really going down
It's very easy to participate in a Pirelli pile-on, but bringing your hardest compounds to a circuit, only to see multiple tyres failures across the weekend, surely is a poor show?
Pirelli said they saw nothing in their simulations to suggest four late-stint punctures…
No competition
Even by their usual standards, Hamilton and Verstappen simply drove off into the distance in Qatar, making the rest of the field look a bit F2.
Whilst in this case it might be down to the drivers, if one team cracks the new regulations next year a la Brawn 2009, we better get ready for a whole lot more of this…
Radio Gaga
Carlos Sainz's Ferrari pitwall sounding like it had descended into a Year 2 recorder practice there mid-GP.