Hamilton hunts down Verstappen for victory: 2021 Spanish Grand Prix lap by lap report
Lewis Hamilton took another Spanish GP win as he denied Max Verstappen victory in the closing laps
Lewis Hamilton took a brilliant victory in Spain to extend his championship lead after a race-long battle with Max Verstappen.
The Red Bull driver stole the lead at the first corner but in a rerun of the 2019 Hungarian Grand Prix, a surprise second stop for Mercedes set up a hunt for the win and Hamilton reeled off electric laps to charge back up and take the lead in the final laps.
The clouds had gathered pre-race and there were reports of rain drops on the reconnaissance laps to the grid but there was no precipitation come lights out.
Hamilton might have got the better initial launch but on the run down to the first corner, but the Red Bull driver was able to get a decent slipstream and launch into a dive to take the lead.
A late-braking manoeuvre put the Dutchman on the inside and showed no mercy, forcing Hamilton to cede position or run wide.
Bottas dropped third place to Charles Leclerc on a poor first lap for Mercedes, sweeping around the outside of the Finn at Turn Three.
Pierre Gasly was out of the top 10 in 13th place and to make his afternoon worse, was placed under investigation for being out of his grid slot at the start. He was handed a five-second time penalty for the error.
Verstappen's lead was out to 1.5sec after the first five laps but Hamilton started piling on the pressure with a few fastest laps.
Leclerc's Ferrari was proving to be a bit of a moving roadblock for the second Mercedes, dropping a second a lap to the leading duo and unable to clear the Monégasque.
George Russell had dropped behind Mick Schumacher at the start but got back past the Haas driver for P16 with DRS on lap 8.
Tsunoda was the first retirement of the race, pulling over to the side of the track at Turn 10 with no power.
His stranded AlphaTauri brought out the safety car on lap 9.
Antonio Giovinazzi took the chance to pit but his Alfa Romeo pit crew spotted a flat front left as they fitted the new tyres. The race to find a new set of tyres delayed him by almost a full minute.
Williams opted to double-stack their drivers for new mediums on the following lap, a minor delay for Russell not too troubling but dropped both Russell and Nicholas Latifi to 17th and 18th respectively.
The safety car was withdrawn on lap 11 with Verstappen opting to pull the pin out of the final chicane rather than his customary late-dash.
Hamilton was under pressure but able to defend from Leclerc but Sergio Perez was the man on the move into Turn One, taking sixth from Esteban Ocon.
Fernando Alonso and Lance Stroll came close to contact fighting for 10th but the Aston Martin put the squeeze on the Alpine driver going into Turn Six to retain the position.
Hamilton was endeavouring to stay within a second of Verstappen as the gap hovered around 0.9-1sec prior to DRS being enabled post-safety car.
The race leader just squeezed the gap to over a second though after the three-lap delay expired, staying just out of reach of his title rival.
Both were comfortably the fastest two on track, lapping around one second per lap quicker than anyone else.
By lap 17, the gap had slipped to 0.7sec but the Red Bull's speed in the final sector kept Verstappen out of trouble and back out of DRS range.
Having been in the turbulent air of the leader for the entirety of the race, Hamilton reported his tyres were starting to fade by lap 18. Off-board shots of the Mercedes showed his rear right blistering.
Gasly served his penalty on lap 19, fitting medium tyres and dropping down to last place of the remaining runners.
The safety car interlude had made a one-stop race a possibility and drivers were nursing the soft tyres that were quickly falling away after the first 20 laps.
Alonso and Sebastian Vettel were both in on lap 22 for mediums, coming out in 17th and 19th places. Vettel had a slightly slower stop and the four-second delay cost him against Gasly as he rejoined the track in last.
It didn't take the four-time champion long to make up for the lost time, seizing position against Gasly with DRS on the following lap.
Their stops started the chain reaction with Carlos Sainz and Stroll responding on the following lap.
Bottas hadn't made any headway against Leclerc and was in on lap 23 for mediums. He dropped back into clear air with Lando Norris and Ocon pitting too from the lower end of the top 10.
Hamilton meanwhile had made serious gains on Verstappen, getting the gap down to half a second and Red Bull was immediately forced to pit to block a potential undercut on lap 24.
Crucially though, Verstappen's stop was slow and cost him two extra seconds as he fed back out into fifth behind team-mate Perez and Daniel Ricciardo.
An uncharacteristically slow Red Bull pit crew emerged from the garage without all of the tyres in place as their man entered the pit box.
Mercedes didn't respond right away, Verstappen clearing Perez quickly with assistance from the team and received a gift as McLaren pitted Ricciardo, freeing up the Dutchman once again to make up for the mistake.
Toto Wolff was left unimpressed with Nikita Mazepin as the Russian once again didn't get the blue flag memo and held Hamilton up to end any hopes of a positional gain if he pitted.
With the jump in the stops off the table, Mercedes chose to leave Hamilton out for an extended first stint
Hamilton was brought in for his stop on lap 28, giving him a four-lap tyre delta over his rival.
Leclerc had also run long on his first stint and made his sole stop to rejoin P4, behind Bottas but clear of Ricciardo.
Alonso would have been hoping for a strong result at home but reported a potential engine issue on lap 30.
Vettel was carving his way through those around him on his mediums, taking 15th from Gasly and diving up the inside of Giovinazzi for 14th to gain two places in as many corners.
Hamilton was wasting no time using his fresher tyres to his advantage, setting fastest laps to the tune of 1.2sec and then 1.5sec quicker than the leader on laps 30 and 31
Having rejoined 8sec back following his stop, he was back to 1sec and in the Red Bull's mirrors by lap 34.
The gap dipped below a second opening lap 36 but not close enough for Hamilton to attempt a pass into Turn One.
Kimi Räikkönen had ploughed on with a very long first stint on mediums tyres and was the final man to pit on lap 38 for fresh softs.
Vettel was the first in for a second set of new tyres the following lap, switching back onto the soft tyres for the remaining laps.
Hamilton was as close as he'd been entering lap 43 as Verstappen caught a Williams in the final sector but he didn't take his chance to pass as the strategy game came into play.
He pitted for a second time to fit scrubbed mediums to set up the hunt to the flag for the lead. Verstappen was immediately informed "it could be Hungary all over again" by race engineer Gianpiero Lambiase.
Hamilton was left with a 22sec gap to make up in 22 laps to re-catch the leader. A fastest lap on lap 44 immediately knocked 1.1sec off of that target.
Perez had been battling with Ricciardo for a number of laps but finally got a move nailed on lap 46 to take fifth place from the Australian with a late-braking dive into Turn One.
McLaren pitted their driver for fresh softs in response and he was followed in by Sainz for the same service.
Sainz put his new tyres to good use against his former team-mate on lap 51. A late swerve in defence by Norris wasn't enough to put the Spaniard off and keep him from taking eighth.
Norris's late move earned him a warning from race control as he was shown the black and white flag for his actions.
Bottas was informed by his team to not hold Hamilton up as the championship leader continued his pursuit of Verstappen but the Finn didn't quite play along as planned.
It required a late lunge by Hamilton into Turn 10 to clear his team-mate but got the move done though lost 0.3sec to Verstappen in the process. Lap 53 and the lead was at 10sec.
Bottas was brought in for softs on lap 54, dropping him to fourth place 4sec down on Leclerc. He was clear of the Ferrari by lap 57 on his new rubber.
With 10 laps to go, the gap for the lead was down to 5.2sec and Hamilton was showing no signs of slowing.
Leclerc and Perez were the next to make late stops for softs, the Ferrari driver remaining ahead of the Red Bull following both of their pit stops.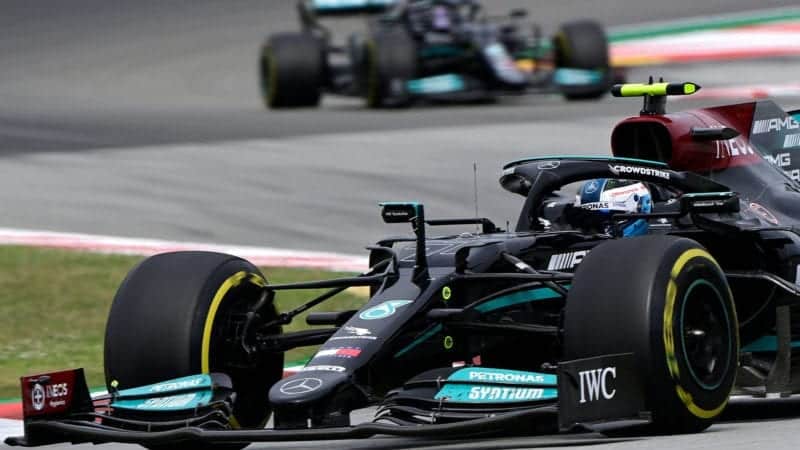 On lap 59, Hamilton made it onto the gearbox of Verstappen and with DRS assistance, took the lead of the race at Turn One on lap 60.
Bottas hadn't closed the gap enough to Verstappen and Red Bull opted to take the chance to fit Verstappen with new softs for an attempt at fastest lap without losing position.
The Finn was almost caught up in Alonso and Stroll's tangle at Turn One as the Spaniard forced the Aston Martin driver across the kerbs to hold onto his 10th place.
Alonso's defence lasted just one lap longer as he lost out to both Gasly and Stroll the following lap and pitted for new tyres.
The stop for his rival allowed Hamilton to cruise to his third win of the 2021 season after a stellar drive.
Verstappen was able to get his fastest lap on lap 63 to limit the damage and notch up 19 points for his efforts.
Bottas ended up a distant third 10sec down on Verstappen and couldn't deprive the Red Bull man the additional fastest lap point.
Leclerc secured a great fourth place for Ferrari ahead of Perez and Ricciardo who just about held off Sainz for P6.
Lando Norris, Ocon and Gasly rounded out the points as the French duo fought to the line for ninth place.
2021 Spanish Grand Prix race results
| | | | | |
| --- | --- | --- | --- | --- |
| Position | Driver | Team | Time | Points |
| 1 | Lewis Hamilton | Mercedes | 66 laps | 25 |
| 2 | Max Verstappen | Red Bull | +15.841sec | 19* |
| 3 | Valtteri Bottas | Mercedes | +26.610sec | 15 |
| 4 | Charles Leclerc | Ferrari | +54.616sec | 12 |
| 5 | Sergio Perez | Red Bull | +1min 03.671sec | 10 |
| 6 | Daniel Ricciardo | McLaren | +1min 13.768sec | 8 |
| 7 | Carlos Sainz | Ferrari | +1min 14.670sec | 6 |
| 8 | Lando Norris | McLaren | + 1 lap | 4 |
| 9 | Esteban Ocon | Alpine | + 1 lap | 2 |
| 10 | Pierre Gasly | AlphaTauri | + 1 lap | 1 |
| 11 | Lance Stroll | Aston Martin | + 1 lap | |
| 12 | Kimi Räikkönen | Alfa Romeo | + 1 lap | |
| 13 | Sebastian Vettel | Williams | + 1 lap | |
| 14 | George Russell | Aston Martin | + 1 lap | |
| 15 | Antonio Giovinazzi | Alfa Romeo | + 1 lap | |
| 16 | Nicolas Latifi | Williams | +1 lap | |
| 17 | Fernando Alonso | Alpine | +1 lap | |
| 18 | Mick Schumacher | Haas | +2 laps | |
| 19 | Nikita Mazepin | Haas | +2 laps | |
| | Yuki Tsunoda | Alfa Romeo | DNF | |
*Includes additional point for fastest lap